The Honda Element has somewhat of a cult following and unfortunately for its fans, was discontinued after the 2011 model.
Over 300,000 units were sold in its 8-year lifespan.
In this article we'll uncover how long can you expect a Honda Element to last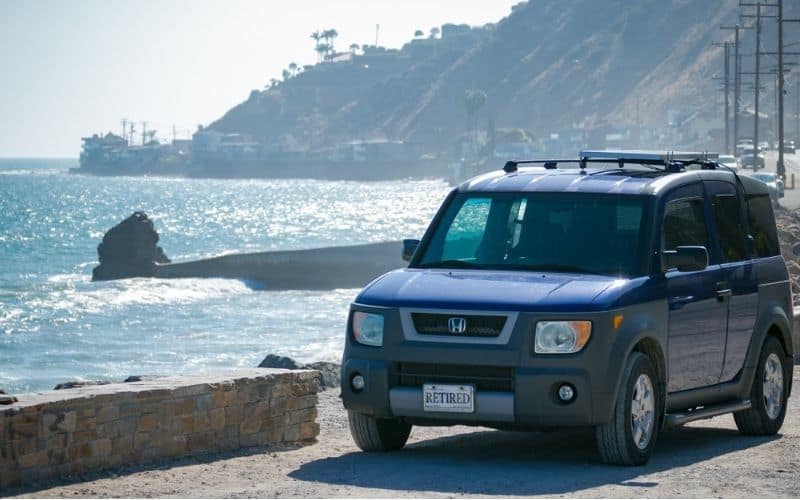 Here's the short answer to how long will a Honda Element last:
The Honda Element was built for durability and can last between 250,000 to 300,000 miles, that's the equivalent of 15 – 20 years of service with good maintenance and sensible driving. This is based on the average annual mileage for an American of 15,000 miles per year.
How Many Miles Can You Expect from a Honda Element?
The Honda Element is an SUV crossover and is easily discernible by its boxy exterior and square doors.
It was built to last and marketed as a commuter with larger cargo space for drivers who may need to haul larger items.
Multiple owners on forums report over 300,000 miles on their Elements with proper maintenance. That's over 20 years of driving before serious auto repairs need to take place.
A joke among Element owners is that that their car will last longer than they will.
Honda has the highest reliability rating of all car manufacturers on RepairPal.com.
The Element has a 4.0/5.0 reliability rating.
Given that the Element was discontinued 10 years ago, there is really no saying how long one can last, however, it's safe to say a well-maintained Element can last well over 250,000 miles.
How Soon Should You Expect Rust on A Honda Element?
Honda Elements can be victims of "Honda Rot", an area of rust behind the rear wheels and quarter panels.
There are also reports of rust on the undercarriage of Honda Elements, especially in the Rust Belt.
This is a particular area of concern, which is underneath the rocker panel between the driver's seat and the firewall. This area can be rusted right through on some Elements.
The Honda Element is built to last, but unfortunately the undercarriage often can't keep up with the engine.
This problem can be exacerbated by the Rust Belt and any seaside town. The Rust Belt is a strip of States that require salt and chemicals to clear ice in the winter. This can result in unusually high rust levels on vehicles.
Seaside areas can be just as bad due to the salt in the air that eats away at the undercarriage and metal parts of a vehicle.
To mitigate the issues, washing a vehicle thoroughly to get the salt and chemicals off the car. Make sure to open the hood during a wash and to get the undercarriage during routine washes.
How Long Do Honda Elements Last Compared to Similar Car Models?
Honda Elements are an SUV crossover that boasted a boxy design popular for less than a decade. With only one version and no redesigns, there aren't many current models in order to offer a comparison.
All comparison were done with 2010 models of the vehicles (when available).
Honda Element vs. Scion xB
Scion xB is a five-door hatchback model made by Toyota for the United states between 2004 and 2015.
There are many reports of Scion xB's lasting over 200,000 miles.
They have the same engine as a Camry, which can last over 200,000 miles.
Due to the Scion being made by Toyota, it would have the same amount of miles as a Honda in regards to durability.
Scion xB has a reliability of 3.0/5.0, but there are reports of a lagging transmission and the vehicle not able to reach highway speeds.
It has cargo space and a boxy body, but there are driver visibility issues. The element has the same issues with body, and only sits 4 where the Scion seats 5.
Honda Element vs Kia Soul
Just like the Hondas and Toyotas on this list, the Kia Soul can get well over 200,000 miles with proper care and maintenance.
Just like the Honda Element, the Kia Soul boasts a boxy exterior with branding aimed at a young, adventurous driver. It has better fuel mileage vs the Element at 30mpg vs the 25 for the Honda.
One area where the Element is vastly better than the Soul is the interior space.
The Honda Element has a higher reliability rating than the Kia Soul, and drivers boast less trouble seeing out of the windows and higher visibility. Kia's are smaller with a smaller amount of trunk space than the Element.
The redesigned Kia Soul is available in the 2021 model, putting the interior electronics and accessories of the Element to shame.
Honda Element vs Mazda 5
The Mazda 5 is a hatchback that boasts lower headroom than the Honda Element and a fraction of the cargo space.
Though smaller than a minivan, a Mazda 5 has decent fuel economy, and is built with a Mazda motor that can last 200,000 miles.
Seating can be a problem in the Honda Element, with only room for 4 in the boxy crossover.
Though the Mazda 5 looks like a classic van, it seats 6. The "hip" driver with pets might prefer the Element, as it had a pet model come out with a pet safety cargo net, extra ventilation, a portable ramp and decals declaring the driver a dog lover
The Mazda 5 had problems in 2015 with suspension. Like most other boxy vehicles, they were discontinued in 2016 due to the change in aesthetics required by the marketplace.
Honda Element vs Subaru Forester
A Subaru Forester is the newest available remodel of the SUV crossover. Designed and launched in 2020, there are only 2 models released.
As the Forester is new, it beats the Element in most of the categories (mpg, cargo space, interior space, emissions, towing capacity). However, it's got a MSRP of $25,000, which is well beyond what a used Element is sold for.
Subaru's are known as a reliable and durable vehicle and the Forester can last for up to 250,000 miles on average.
How Reliable Is a Honda Element?
The Honda Element is ranked on RepairPal as 4.0/5.0 and is one of the highest in its class. It has an annual repair cost of $491.
It's ranked 16th overall in Honda vehicles, and Honda has the highest reliability rating of any other car manufacturer (1st out of 32 on RepairPal).
Reliability Compared to Other SUVs
| | |
| --- | --- |
| Model | Reliability |
| Subaru Crosstrek | 4.5 / 5.0 |
| Honda CR-V | 4.5 / 5.0 |
| Toyota RAV4 | 4.0 / 5.0 |
| Nissan Rogue Select | 4.0 / 5.0 |
| Hyundai Tucson | 4.0 / 5.0 |
| Kia Sportage | 4.0 / 5.0 |
| Mitsubishi Outlander Sport | 4.0 / 5.0 |
| Mitsubishi Outlander | 4.0 / 5.0 |
| Jeep Cherokee | 4.0 / 5.0 |
| Mazda Tribute | 4.0 / 5.0 |
| Jeep Compass | 4.0 / 5.0 |
| Kia Sorento | 4.0 / 5.0 |
| Nissan Rogue | 4.0 / 5.0 |
| Honda Element | 4.0 / 5.0 |
| Jeep Patriot | 4.0 / 5.0 |
| Ford Escape | 4.0 / 5.0 |
| Subaru XV Crosstrek | 4.0 / 5.0 |
| Nissan Xterra | 4.0 / 5.0 |
| Chevrolet Captiva | 3.5 / 5.0 |
| Nissan Murano | 3.5 / 5.0 |
| Subaru Forester | 3.5 / 5.0 |
| GMC Terrain | 3.5 / 5.0 |
| Chevrolet Equinox | 3.5 / 5.0 |
| Fiat 500L | 3.5 / 5.0 |
| Jeep Wrangler | 3.5 / 5.0 |
| Volkswagen Tiguan | 3.0 / 5.0 |
| Avg. Compact SUV | 4.0 |
The Best and Worst Years for the Honda Element
CarComplaints keeps track of complaints in vehicles over the different models. The worst year for the Honda Element is 2003.
The majority of the complaints in 2003 (68 total) is due to the interior accessories, with the highest complaints revolving around the key not going into the outer lock or the ignition.
The best year for the Honda Element was 2011, with 1 complaint. The complaint was mainly about the Element feeling like it was going to stall, but the dealer could not find anything. 
Related: 9 Best & Worst Honda Element Years (With Facts & Stats)
What About Recalls for These Models?
There have been 24 total recalls for the Honda Element, as per cars.com. They are listed below in descending order.
The recalls are mainly for interior accessories and safety features.
If you have a Honda Element that hasn't been taken to the dealership, the recalls are associated with the airbag inflation models and should be taken to the dealership immediately.
2008 Honda Element 13 Recalls
2007 Honda Element 12 Recalls
2003 Honda Element 12 Recalls
2011 Honda Element 11 Recalls
2010 Honda Element 11 Recalls
2006 Honda Element 11 Recalls
2004 Honda Element 11 Recalls
2005 Honda Element 10 Recalls
2009 Honda Element 9 Recalls
Honda Element Model Year List
The Honda Element was introduced in 2003 and was discontinued in 2011. Below is the model list of the Honda Element.
2003 Honda Element
2004 Honda Element
2005 Honda Element
2006 Honda Element
2007 Honda Element
2008 Honda Element
2009 Honda Element
2010 Honda Element
2011 Honda Element
Please also read our article: Honda Element in snow and winter driving
Are Honda Element Expensive to Maintain?
A Honda Element has an estimated annual maintenance cost of $491. There is no major fixes for the Element that has surfaced over the years.
Model
Avg. Annual Repair Cost
Frequency of
Unscheduled Repairs (per year)
Probability of
Severe Repairs
Subaru Crosstrek
$492
0.1
7%
Honda CR-V
$407
0.3
9%
Toyota RAV4
$429
0.3
10%
Nissan Rogue Select
$436
0.3
10%
Hyundai Tucson
$426
0.3
10%
Kia Sportage
$462
0.2
11%
Mitsubishi Outlander Sport
$498
0.3
10%
Mitsubishi Outlander
$519
0.3
11%
Jeep Cherokee
$420
0.2
12%
Mazda Tribute
$523
0.3
11%
Jeep Compass
$526
0.3
11%
Kia Sorento
$533
0.3
11%
Nissan Rogue
$467
0.3
12%
Honda Element
$491
0.6
10%
Jeep Patriot
$596
0.3
12%
Ford Escape
$600
0.3
11%
Subaru XV Crosstrek
$631
0.4
11%
Nissan Xterra
$514
0.3
14%
Chevrolet Captiva
$585
0.3
13%
Nissan Murano
$507
0.5
14%
Subaru Forester
$632
0.4
13%
GMC Terrain
$558
0.3
17%
Chevrolet Equinox
$537
0.3
18%
Fiat 500L
$640
0.2
17%
Jeep Wrangler
$694
0.3
16%
Volkswagen Tiguan
$730
0.9
12%
Avg. Compact SUV
$521
0.3
11%
How Long Do the Brakes Last?
There are reports of the brakes lasting almost 100,000 miles on a Honda Element. As with all brake jobs, they need to be done when there is excessive wear on the pads.
How Long Do the Tires Last?
The tires on the Honda Element can last upwards of 30,000 miles and should be changed depending on wear and tear and driving habits.
How Long Do the Transmissions Last?
Honda transmissions in general will last around 7 years, depending on driving habits and general maintenance.
How Long Do the Spark Plugs Last?
The spark plugs on a Honda Element can last over 100,000 miles.
What About Insurance Cost?
The average annual insurance cost on a Honda Element is $1150, which is under $100 a month.
Tips to Prolong the Life of Your Honda Element
There are some general tips to prolonging the life of your Honda Element:
They aren't made for off-roading.
Gentle acceleration and braking will keep your car running for longer
Honda Elements can be overloaded at 650 lbs – this makes it easy to overload the unit, causing wear and tear on the suspension.
Resources
https://repairpal.com/honda/element/car_reviews
http://www.hondaproblems.com/models/element/#:~:text=The%20Element%20ranks%2016th%20in,com%20over%209%20model%20years. https://www.carcomplaints.com/Honda/Element/