The Forester is Subaru's flagship compact crossover SUV, known for being robust, practical and good off-road.
The Forester comes equipped with a 2.5L Boxer engine, an abundance of cargo space and All-Wheel-Drive as standard, perfect for families, adventure seekers and seniors alike.
If you're interested in purchasing a Forester than you might be wondering about its longevity.
In this article, we will analyze how many years of service the Subaru Forester can provide.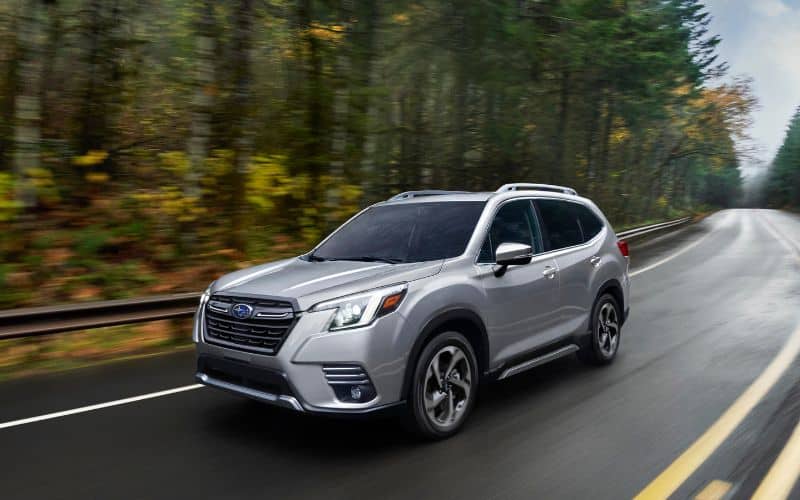 Here is the short answer to how long do Subaru Forester last:
The Subaru Forester is a durable vehicle and can last between 200,000 miles and 250,000 miles. This means with an average of 15,000 miles driven per year, you can expect the Forester to last around 13 – 17 years. This is dependent on proper maintenance and good driving habits.
How Many Miles Can You Expect from a Subaru Forester?
The Subaru Forester is built to last. With an average lifespan of 13 – 17 years it can last you for a considerable amount of time and can certainly be considered a good long-term investment.
Undoubtedly, with exceptional care these vehicles are more than capable of exceeding these averages.
Some of the original 1st Generation Forester models, which debuted in '97 can still be found on the road today whilst other Foresters have reached over 300,000 miles on the clock, all of which is testament to the Japanese automaker's ability to produce long-lasting vehicles.
A look into the used car market also shows Foresters in good working condition from the early 2000s, where models resembled more of a station wagon than an SUV.
As with any vehicle, longevity reports can vary greatly depending on a number of factors. Primarily these include maintenance, driving habits and generally how much care the owner gives their car.
The more stress a vehicle's engine is put under the faster components accumulate wear and tear, with this in mind be sure to tow within the vehicle's 1500 lb limit and avoid aggressive driving.
In order to get the most life out of your Subaru Forester:
Adopt smooth driving habits
Learn basic maintenance tasks such as topping up of fluids and checking tire pressures
Stay up to date with factory scheduled maintenance.
Do not exceed the 1,500 lbs. towing limits
How Soon Should You Expect Rust on a Subaru Forester?
In the competitive compact crossover market, few other vehicles are as well equipped to prevent rust as the Subaru Forester.
All body panels on the Forester are galvanized with zinc. Subaru puts all of its vehicles through several treatment processes to ensure rust prevention.
These treatments include the galvanization process, oven-cured primer coats, chip guard, and electrolytic paint.
As a result, we feel it is not necessary to invest in an aftermarket ceramic coating.
For areas subject to heavy snowfall, such as the Salt Belt States and regions close to the sea, we recommend taking extra precautions to mitigate rust, primarily keeping the vehicle clean.
Salt buildup on vehicle surfaces is corrosive, and the sand, dirt and snow that accumulate can trap moisture in wheel wells and underbody structures.
To help keep rust at bay, we recommend the following:
Regular car washes
Rustproofing sprays
Keeping the car's interior dry
Ceramic paint protection
Rust-proofing treatments
Keep your Forester parked in a garage
Related: 11 Most Common Problems With the Subaru Forester (Explained)
What is High Mileage for a Subaru Forester?
A Subaru Forester with over 100,000 miles on the odometer is considered high mileage and a riskier investment although there are multiple factors to take into consideration, most importantly the vehicle's maintenance history.
Buying a second-hand Forester with over 100k miles doesn't necessarily mean a sour outcome.
Some important factors to consider are:
Amount of previous owners. As a general rule less is better. More owners generally equates to more wear and tear. If one family owned it and drove the full 100k miles and serviced the car, then you can almost guarantee they took good care of it throughout ownership.
Service history. That the vehicle was properly serviced and the seller can provide proof of this.
Check the CarFax. This doesn't guarentee anything but can help provide a clearer picture of wear and tear. Make sure it has minimal damage, if any. Analyze the data to make sure if something did happen, it wasn't engine related or mechanical.
How long you intend to keep the car. If you're planning on keeping the car for many years, you have to ask yourself – do the short-term savings outweigh spending a little extra into something more reliable.
How Long Does the Subaru Forester Last Compared to Similar Car Models?
With an ever-increasing demand for compact SUVs, the Subaru Forester stands out by providing high standards of safety and comfort features, as well as light off-roading capabilities not commonly found on vehicles of this size.
In this section, we'll see how the Subaru Forester compares to its rivals.
Subaru Forester vs. Toyota RAV4
Both compact SUVs offer excellent longevity, the Toyota RAV4 is on par with its fellow Japanese rival, with an average lifespan of 200,000 – 250,000 miles each.
The RAV4 is much cheaper in terms of annual maintenance costs. The difference between the two is sizeable $203, with Forester and RAV4 costing $632 and $429, respectively.
When looking at reliability Toyota wins by quite a margin. The RAV4 ranks as the 3rd most reliable compact crossover on the market with a reliability score of 4.0 out of 5.0.
The Subaru Forester has a 3.5 out of 5.0 rating, and a disappointing ranking of 21st out of 26 vehicles in this segment.
The decision between a Subaru Forester and a Toyota RAV4 comes down to personal preference in terms of interior styling, trim level options, and exterior design.
Subaru Forester vs Honda CR-V
The Honda CR-V is regarded by many as the king of compact, economy SUVs, it is on par with the Subaru Forester's predicted longevity, with an average lifespan of 200,000 – 250,000 miles.
The annual maintenance cost of the Honda CR-V is $407, which makes it $225 cheaper than the $632 maintenance cost of the Subaru Forester.
The Honda CR-V outperforms the Forester in terms of reliability, and ranks second in the compact SUV category for reliability, with a score of 4.5 out of 5.
Both vehicles have similar longevity, starting price and both come with All-Wheel-Drive as standard.
The Forester has marginally better safety and superior interior whereas the CR-V has better reliability and fuel economy, both vehicles are evenly matched and it would ultimately be down to personal preferences.
Subaru Forester vs. Mazda CX-5
The Mazda CX-5 caters to drivers looking for a more engaging driving experience. However, it falls short of its fellow Japanese rival, the Subaru Forester, in terms of longevity.
The CX-5 has an average life expectancy of 200,000 miles, slightly less than what you might expect of the Forester which would reach between 200,000 and 250,000 miles.
The annual maintenance cost of the CX-5 is $447, which makes it $185 cheaper than the $632 maintenance cost of the Subaru Forester.
When it comes to reliability, no other compact SUV in the market is more reliable than the Mazda CX-5. With a reliability rating of 4.5 out of 5, the CX-5 ranks as the most reliable in the compact SUV category.
On top of offering the best reliability in the market, the CX-5 also offers more standard horsepower and torque than the Forester, better safety features and interior technology.
Despite a projected shorter longevity our pick would still be the Mazda which offers a better all round driving experience for a slightly higher price tag.
How Reliable is a Subaru Forester?
The Forester isn't particularly known for its reliability although most ratings are more than acceptable.
Repair Pal gives the Subaru Forester a reliability rating of 3.5 out of 5.0 and ranks it 21st out of 26 for compact SUVs, Consumer Reports awarded a score of 84/100, and J.D. Power gave a similar score of 81/100.
Based on 43 owner reviews, Kelley Blue Book has awarded the Forester a reliability score of 4.6 stars out of 5.
Despite an otherwise glowing review, U.S. News & World Report has given the 2021 Forester the lowest possible predicted reliability rating of two out of five.
To help improve the reliability of your vehicle it is recommended to keep up to date with factory scheduled maintenance and adopt smooth driving habits.
Please also read our article: where are Subaru Forester made and 11 Subaru Forester facts and statistics
Reliability Compared to Other SUVs
| | |
| --- | --- |
| Model | Reliability |
| Subaru Crosstrek | 4.5 / 5.0 |
| Honda CR-V | 4.5 / 5.0 |
| Toyota RAV4 | 4.0 / 5.0 |
| Nissan Rogue Select | 4.0 / 5.0 |
| Hyundai Tucson | 4.0 / 5.0 |
| Kia Sportage | 4.0 / 5.0 |
| Mitsubishi Outlander Sport | 4.0 / 5.0 |
| Mitsubishi Outlander | 4.0 / 5.0 |
| Jeep Cherokee | 4.0 / 5.0 |
| Mazda Tribute | 4.0 / 5.0 |
| Jeep Compass | 4.0 / 5.0 |
| Kia Sorento | 4.0 / 5.0 |
| Nissan Rogue | 4.0 / 5.0 |
| Honda Element | 4.0 / 5.0 |
| Jeep Patriot | 4.0 / 5.0 |
| Ford Escape | 4.0 / 5.0 |
| Subaru XV Crosstrek | 4.0 / 5.0 |
| Nissan Xterra | 4.0 / 5.0 |
| Chevrolet Captiva | 3.5 / 5.0 |
| Nissan Murano | 3.5 / 5.0 |
| Subaru Forester | 3.5 / 5.0 |
| GMC Terrain | 3.5 / 5.0 |
| Chevrolet Equinox | 3.5 / 5.0 |
| Fiat 500L | 3.5 / 5.0 |
| Jeep Wrangler | 3.5 / 5.0 |
| Volkswagen Tiguan | 3.0 / 5.0 |
| Avg. Compact SUV | 4.0 |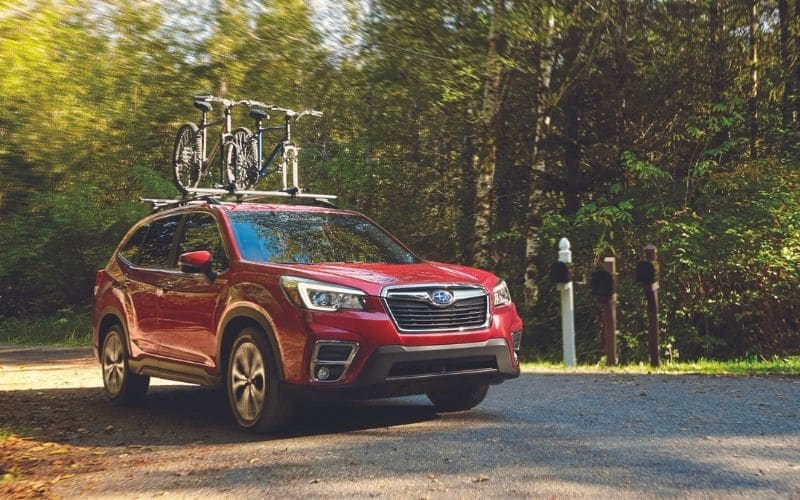 The Best and Worst Years of the Subaru Forester
The Subaru Forester like many vehicles has had its share of problems throughout the years, however the most notable spikes occurred in 2014, 2015, and 2017.
According to CarComplaints' extensive database, 2014 ranks as the worst model year of the Subaru Forester. Owners reported excessively high oil consumption. This problem cost an average of $2,000 to repair and occurred in as little as 26,000 miles.
Other problems found primarily in model years 2014, 2015, and 2017 include:
Transmission problems
Interior accessory problems
Electrical issues
Faulty suspension
The model years with the most reported complaints were 2015 and 2014 with 142 and 103 complaints respectively, we would advise avoiding these model years if possible.
The current 2021 model year of the Subaru Forester has so far not had a single complaint listed, and is one of the safest choices when looking to purchase.
Here is a chart using data from Car Complaints breaking down the number of complaints made by model year:
| | |
| --- | --- |
| Model Year | Number of Complaints |
| 2020 | 1 |
| 2019 | 37 |
| 2018 | 19 |
| 2017 | 62 |
| 2016 | 28 |
| 2015 | 142 |
| 2014 | 103 |
| 2013 | 11 |
| 2012 | 18 |
| 2011 | 47 |
| 2010 | 39 |
| 2009 | 33 |
| 2008 | 4 |
| 2007 | 25 |
| 2006 | 25 |
| 2005 | 19 |
| 2004 | 13 |
| 2003 | 31 |
| 2002 | 10 |
| 2001 | 23 |
| 2000 | 11 |
| 1999 | 12 |
Related: 18 Best & Worst Subaru Forester Years (With Facts & Stats)
What About Recalls?
Here is the full list of recalls:
1998: 1 recalls
1999: 1 recalls
2000: 0 recalls
2001: 0 recalls
2002: 1 recalls
2003: 3 recalls
2004: 2 recalls
2005: 1 recalls
2006: 2 recalls
2007: 1 recalls
2008: 1 recalls
2009: 16 recall
2010: 15 recalls
2011: 14 recalls
2012: 13 recalls
2013: 10 recalls
2014: 3 recalls
2015: 2 recalls
2016: 3 recalls
2017: 1 recalls
2018: 2 recall
2019: 1 recall
2020: 0 recalls
2021: 0 recalls
Subaru Forester Model Year List:
There have been five generations of Forester since its inception:
1998-2002 (1st Generation)
1998 Subaru Forester
1999 Subaru Forester
2000 Subaru Forester
2001 Subaru Forester
2002 Subaru Forester
2003-2008 (2nd Generation)
2003 Subaru Forester
2004 Subaru Forester
2005 Subaru Forester
2006 Subaru Forester
2007 Subaru Forester
2008 Subaru Forester
2009-2013 (3rd Generation)
2009 Subaru Forester
2010 Subaru Forester
2011 Subaru Forester
2012 Subaru Forester
2013 Subaru Forester
2014-2018 (4th Generation)
2014 Subaru Forester
2015 Subaru Forester
2016 Subaru Forester
2017 Subaru Forester
2018 Subaru Forester
2019-2021 (5th Generation)
2019 Subaru Forester
2020 Subaru Forester
2021 Subaru Forester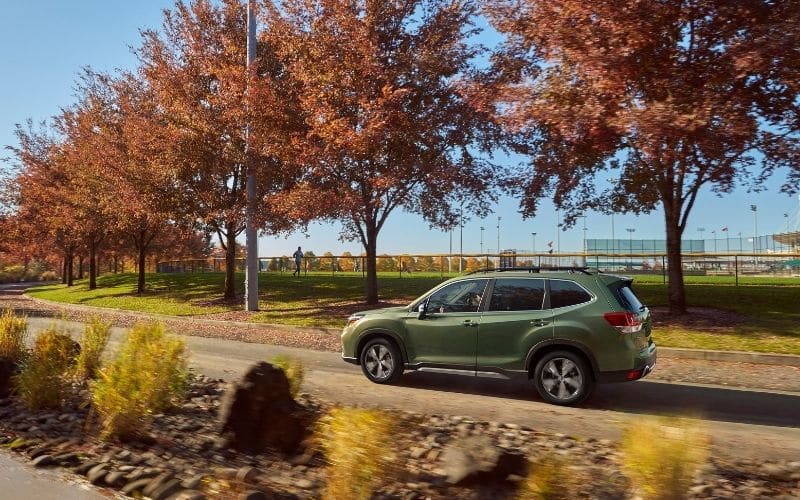 Is the Subaru Forester Expensive to Maintain?
The Subaru Forester will cost approximately $632 a year to maintain, with an expected cost of $4,287 over a 5 year period which means it has average ownership costs.
The Forester comes with a three-year/36,000-mile limited warranty and a five-year/60,000-mile powertrain warranty.
Model
Avg. Annual Repair Cost
Frequency of
Unscheduled Repairs (per year)
Probability of
Severe Repairs
Subaru Crosstrek
$492
0.1
7%
Honda CR-V
$407
0.3
9%
Toyota RAV4
$429
0.3
10%
Nissan Rogue Select
$436
0.3
10%
Hyundai Tucson
$426
0.3
10%
Kia Sportage
$462
0.2
11%
Mitsubishi Outlander Sport
$498
0.3
10%
Mitsubishi Outlander
$519
0.3
11%
Jeep Cherokee
$420
0.2
12%
Mazda Tribute
$523
0.3
11%
Jeep Compass
$526
0.3
11%
Kia Sorento
$533
0.3
11%
Nissan Rogue
$467
0.3
12%
Honda Element
$491
0.6
10%
Jeep Patriot
$596
0.3
12%
Ford Escape
$600
0.3
11%
Subaru XV Crosstrek
$631
0.4
11%
Nissan Xterra
$514
0.3
14%
Chevrolet Captiva
$585
0.3
13%
Nissan Murano
$507
0.5
14%
Subaru Forester
$632
0.4
13%
GMC Terrain
$558
0.3
17%
Chevrolet Equinox
$537
0.3
18%
Fiat 500L
$640
0.2
17%
Jeep Wrangler
$694
0.3
16%
Volkswagen Tiguan
$730
0.9
12%
Avg. Compact SUV
$521
0.3
11%
How Long Do the Brakes Last?
Subaru Forester brake pads usually last between 30,000 and 70,000 miles.
How you drive your vehicle will play a big part in brake longevity. If you tend to do a lot of stop-and-go driving or are prone to heavy braking then your brakes will need frequent replacement.
Full and complete stops from a high speed are the biggest culprit of premature brake pad wear.
How Long Do Subaru Forester Batteries Last?
Subaru Forester batteries should last on average between 3-5 years. This can vary, depending on factors such as climate, driving habits, the type of battery, and more.
Four tips below to help prolong your Foresters battery:
Keep you battery tightly fastened: The vibrations of your car can loosen the connections potentially resulting in short circuits and internal damage.
Limit short rides: Quick car rides prevent the battery from fully charging. To help maintain battery power, drive your Forester frequently and for extended periords.
Sorage: Keep your Forester stored indoors away from extreme changes in temperature
Control Corrosion: Clean the terminals (toothbrush dipped in baking soda and water mixture) and keep them free from buildup.
How Long Do the Tires Last?
Subaru Forester tires last up to 4 years, which means an average of 60,000 miles given the 15,000 miles driven per year.
Maintaining the correct tire pressure will not only keep you safe it will also bolster your tire's lifespan, the correct pressure for your tires is usually located in the driver's door jamb.
To ensure even wear of your tires, have them rotated regularly as specified in the owner's manual or new-tire warranty guidelines, this is usually every 5,000 – 8,000 miles.
How Long Does the Transmission Last?
The continuously variable transmission on the Subaru Forester is built to last all the way to 300,000 miles without replacement. However, major servicing may occur at around the 150,000-mile mark.
Ensure fluid levels are topped up and fix any problems immediately to keep the transmission running smoothly.
You may also be interested in our article: How Long Do Mitsubishi Outlanders Last?
How Long Do Spark Plugs Last?
Subaru Forester spark plugs are built to last between 30,000 – 100,000 miles before needing replacement.
Spark plugs are responsible for creating the spark that ignites the air/fuel mixture, causing the explosion which makes the engine produce power.
They are usually inspected and if needed, replaced when you go for a tune up.
What About Insurance Cost?
The average insurance costs for a Subaru Forester is $112 per month or $1,346 annually according to Finder.
Insurance costs can vary from person to person; be sure to shop around to find the best possible deal.
Tips to Prolong the Life of Your Subaru Forester
Keep up to date with factory scheduled maintenance.
Keep fluids topped up and check fluid levels regularly
Drive smoothly, use controlled acceleration and braking
Check your tire pressures at regular intervals
Check engine oil every two weeks
If possible, keep the vehicle stored in a garage, out of the elements
Use good quality parts and fluids
Invest in a ceramic coating to protect against contaminants and minor scratches
Consider all rust-proofing options
Wash the vehicle regularly particularly when encountering salt and snow
Confirm the weight of objects before attempting to tow them, do not overload your vehicle.
Please also read our article: Subaru Forester in snow and winter driving
Resources
https://www.edmunds.com/subaru/forester/2021/cost-to-own/
https://www.carcomplaints.com/Subaru/Forester/2021/
https://www.jdpower.com/cars/2020/subaru/forester/2-5i-limited
https://repairpal.com/reliability/subaru/forester
https://enginepatrol.com/how-long-subaru-outback-last/
https://enginepatrol.com/how-long-subaru-crosstrek-last
https://enginepatrol.com/suv-hard-easy-drive/