The Infiniti Q50 is a head-turning luxury sedan that comes standard with a 3.0-liter twin-turbocharged V6 engine.
Aside from offering base and premium models, Infiniti also offers a performance-oriented Q50 Red Sport model.
If you're considering the Q50 as your next car you might be wondering what its average lifespan is.
We'll cover that and much more in this article, read on to find out…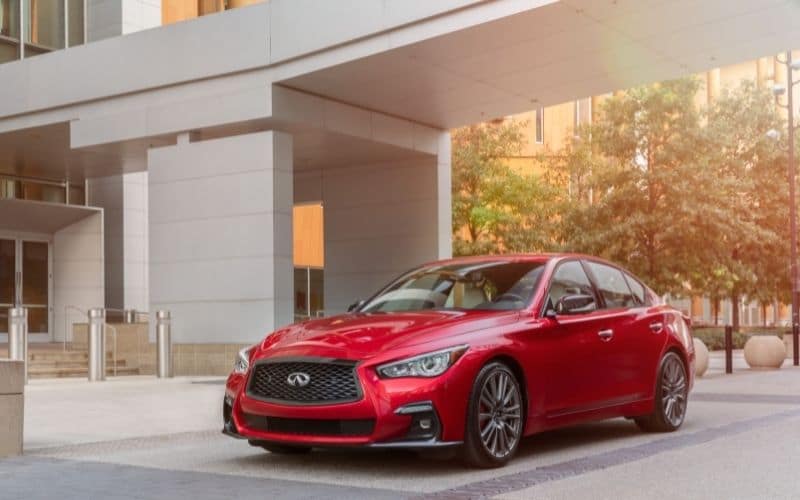 Here is the short answer to how long do Infiniti Q50 last:
The INFINITI Q50 has proven to be a durable and reliable car that can last between 250,000 – 300,000 miles with proper maintenance. Based on an annual mileage of 15,000 miles, you can expect the INFINITI Q50 to provide 15 to 20 years of service before breaking down or requiring expensive repairs.
How Many Miles Can You Expect from a Infiniti Q50?
Infiniti is the luxury brand of Nissan which is one of the top Japanese car manufacturers.
Japanese vehicles are renowned for being extremely reliable and the Infiniti Q50 is no exception.
A fair projection for the Q50's lifespan falls within the range of 250k – 300k miles, once these mileages have been achieved there is a much greater chance big-ticket items such as the engine or transmission will fail, and the cost of repairs could well outweigh the cost of the car.
Most high mileage Q50s have only started to go over 120,000 miles having debuted in 2013.
But we can deduce its long-term reliability using its predecessors – the Infiniti G35 and G37.
There are many examples of these much older vehicles even going over 300,000 miles on their original engines, and you'll still see them on the road today racking up miles.
The Q50 uses the same FM platform as the G35 and G37, and its earlier models also use the same engines. So we expect the Q50 to last just as long – if not longer.
The quality of materials and design play a pivotal role in the longevity of any vehicle, ultimately though how long your Q50 lasts will come down to a few key factors at ownership level, primarily:
Following the manufacturers reccomemended maintenance schedules
Adopting smooth, conservative driving habits
Carrying out routine checks such as fluid levels and tire pressures
How Soon Should You Expect Rust on an Infiniti Q50?
The Q50 is generally quite resilient against rust and there are few complaints against the model in this regard.
Rust on a new vehicle is not to be expected, and should this occur your first point of call will be your Infiniti dealership.
All models are covered under Infinitis 84 month corrosion warranty, although the small print indicates this may only apply to sheet metal panels, what is not covered will be in your vehicle's Warranty Information Booklet.
Infiniti has gone on record stating that no additional rust proofing applications are required, however some owners swear by taking their Q50 to Krown for treatment.
Areas reported to be susceptible to rust on the Q50 are:
Exhaust
Trunk edge near the tail light
Depending on where you live, rusting can be much more of an issue, such as regions that aggressively salt their roads in the winter and coastal areas with salt air; salt can significantly accelerate rusting on any vehicle.
If you live in a higher-risk part of the country it's important to take extra precautions.
To help keep your Q50 rust free, we advise:
Washing your car regularly, including the undercarriage – Especially after exposure to rain, dirt, snow and salt.
Store indoors – If possible, keep your car in a garage out of the elements and safe from bird droppings.
Repair damaged paint spots and scratches – Exposed metal will oxidize, the sooner scratches and chips are fixed, the better.
Rust proofing treatments – If you live in an area that experiences harsh winters and the accompanying road salt, it could be worthwhile investing in an added layer of rust protection, Krown are regarded as a reputable option.
What is Considered High Mileage for the Infiniti Q50?
An Infiniti QX50 with over 120,000 miles on the clock is considered high mileage and a riskier investment although there are many factors to take into account, primarily the vehicle's maintenance history, modifications and number of previous owners.
Buying a used QX60 with over 120k miles doesn't necessarily mean the car will be unreliable or prone to problems.
Models with the 3.7 liter naturally aspirated engine will be slightly more reliable at these higher mileages because turbocharged engines have more parts that can break down and are inherently more complicated.
Some important factors to consider when buying a used Q50:
Maintenance history. Check that the car was properly serviced and the owner can provide evidence of this.
Check the CarFax. This doesn't guarentee anything but can help give a clearer picture of wear and tear. Make sure it has minimal damage, if any. Analyze the information to make sure if something did happen, it wasn't transmission related or mechanical.
How long you are planning on keeping the car. If you're planning on keeping the car for many years, you should evaluate whether the short-term savings outweigh spending a bit extra into somthing more reliable.
Number of owners. As a general rule less is better. More owners usaully means more wear and tear. If one family owned it and drove the full 120k miles and serviced the car, then you can almost guarantee they took good care of it throughout ownership.
Avoid Modified Cars. Due to its popularity with car enthusiasts, there are a number of modified Q50s featuring aftermarket parts. Modified cars will likely have been subjected to more abuse which inherently shortens the lifespan of components.
You may also be interested in our article: Infiniti Q50 in Snow & Winter Driving
How Long Does the Infiniti Q50 Last Compared to Similar Car Models?
In this section we'll take a look at how the Q50 stacks up against its closest rivals in terms of longevity and reliability.
Infiniti Q50 vs. Acura TLX
Honda and reliability pretty much go hand in hand, so we expect the TLX to last a very long time.
The Acura TLX succeeds the older Acura TSX – and both are closely related to the wildly successful Honda Accord.
Based on Honda's track record with the Accord and the TSX, the average TLX should be able to reach 250,000 – 300,000 with good maintenance.
Looking at RepairPal's data, the Acura TLX received a Reliability Rating of 4.5 stars while the Q50 scored a very respectable 4 stars.
The Acura TLX also got first place for reliability when compared to other luxury sedans while the Q50 got 10th place out of the 31 vehicles that were rated.
The TLX is also cheaper to maintain and costs only an average of $440 per year in maintenance compared to the Q50's $648 average annual repair cost.
So you'll be saving around 30% or $200 per year in maintenance expenses with the TLX versus the Q50.
You may also be interested in our article: How Long Do Acura TLX Last?
Infiniti Q50 vs. Lexus IS
Lexus is the luxury branch of Toyota, another Japanese automaker synonymous with reliability.
The Lexus IS shouldn't break a sweat reaching 100k, with most well-kept models lasting 250k – 300k.
Having been sold for over 20 years the IS is currently in its third generation.
It's quite popular with enthusiasts, as well as regular people who just want a reliable and luxurious vehicle.
RepairPal gave the Lexus IS350 4.0 / 5.0 stars for reliability which is the same as its rating for the Q50.
The Lexus is slightly cheaper to maintain, costing only $543 on average per year; around $100 less than the Q50.
You may also be interested in our article: How Long Do Lexus IS Last?
Infiniti Q50 vs. Genesis G70
Genesis is a new player in the luxury segment and is Hyundai's upmarket brand.
The Genesis G70 is only a couple of years old but it's already gotten lots of very positive reviews and even won some awards.
It's closely related to the Kia Stinger and also uses the same engine.
Hyundai has done a lot over the last 10 to 15 years to improve its reliability and we expect the Genesis G70 to last 200,000 to 250,000 miles with good maintenance.
There's not much data available for the Genesis G70 yet, but RepairPal gave the older and larger Hyundai Genesis 3.5 stars out of 5.0 for reliability; only slightly lower than the Q50's 4 stars.
However, its average annual repair cost is slightly lower at $565 (similar to the Lexus), compared to $648 for the Q50.
Lots of owners have also reported having no trouble reaching 200,000 miles in the older Hyundai Genesis, so the G70 should last just as long – if not longer.
How Reliable is the Infiniti Q50?
Although not touted as the most reliable car in its segment, the Q50 has scored impressive reliability scores from both customers and car experts.
The Q50 uses the extremely reliable, tried and tested FM platform, which has seen many applications and lots of development in different Nissan and Infiniti models over the past two decades.
Based on all model years, Repair Pal has issued the Q50 with a respectable reliability score of 4.0 / 5.0 which ranks it in 10th place out of 31 for luxury midsize cars.
J.D. Power has given the following quality and reliability scores for the respective model years:
2021 Q50 – 81/100 'GREAT'
2020 Q50 – 81/100 'GREAT'
2019 Q50 – 79/100 'AVERAGE'
2018 Q50 – 84/100 'GREAT' (highest score)
2017 Q50 – 79/100 'AVERAGE'
2016 Q50 – N/A
2015 Q50 – 79/100 'AVERAGE'
2014 Q50 – 72/100 'AVERAGE' (lowest score)
Based on 66 consumer reviews, Kelley Blue Book has given the Q50 a reliability rating of 4.5 stars out of 5.
Taking these ratings into consideration it's safe to say the Q50 is a reliable choice.
Reliability Compared to Other Luxury Midsize Cars
| | |
| --- | --- |
| Model | Reliability |
| Acura TLX | 4.5 / 5.0 |
| Acura TSX | 4.5 / 5.0 |
| Lexus ES300h | 4.5 / 5.0 |
| Lexus ES350 | 4.0 / 5.0 |
| Infiniti G25 | 4.0 / 5.0 |
| Acura TL | 4.0 / 5.0 |
| Lexus IS250 | 4.0 / 5.0 |
| Infiniti G37 | 4.0 / 5.0 |
| Lexus IS350 | 4.0 / 5.0 |
| Infiniti Q50 | 4.0 / 5.0 |
| Volvo S60 | 3.5 / 5.0 |
| Mercedes-Benz C350 | 3.5 / 5.0 |
| Mercedes-Benz C300 | 3.5 / 5.0 |
| Audi A4 | 3.5 / 5.0 |
| Mercedes-Benz C250 | 3.5 / 5.0 |
| Hyundai Genesis Coupe | 3.5 / 5.0 |
| Cadillac CTS | 3.5 / 5.0 |
| Cadillac STS | 3.0 / 5.0 |
| BMW 328i | 3.0 / 5.0 |
| Lincoln MKZ | 3.0 / 5.0 |
| Audi A4 Quattro | 3.0 / 5.0 |
| Jaguar XF | 3.0 / 5.0 |
| Audi A5 Quattro | 3.0 / 5.0 |
| BMW 328i xDrive | 2.5 / 5.0 |
| Porsche 911 | 2.0 / 5.0 |
| BMW 335i xDrive | 2.0 / 5.0 |
| Audi S4 | 2.0 / 5.0 |
| BMW 335i | 2.0 / 5.0 |
| BMW M3 | 2.0 / 5.0 |
| Audi S5 | 2.0 / 5.0 |
| BMW 335d | 1.5 / 5.0 |
| Avg. Lux. Midsize Car | 3.5 |
Source: Repair Pal
The Best and Worst Years of the Infiniti Q50
In its relatively short life, some models of the Q50 stand out more than others…
Worst Model Year
Based on data from the Car Complaints website and J.D. Power the worst model year is the 2014 Infiniti Q50.
The 2014 models has the most reported issues although some of the complaints are quite minor such as a sluggish infotainment system.
The other complaints include issues with:
Brakes
AC/Heating
Paint quality
J.D. Power has given the 2014 Q50 the lowest score for quality and reliability out of all the model years scoring just 72/100.
Best Model Year
Model years from 2018 onward are considered the best model years.
Not only do they have the most up-to-date tech and safety features, they also received the lowest number of complaints.
Number of Complaints Per Model Year
| | |
| --- | --- |
| Model Year | Number of Complaints |
| 2014 | 15 |
| 2015 | 9 |
| 2016 | 4 |
| 2017 | 2 |
| 2018 | 0 |
| 2019 | 0 |
| 2020 | 1 |
What About Recalls?
Since 2014 the Q50 has been recalled 20 times in total.
Recalls are manufacturing faults repaired by the manufacturer at no charge to the owner.
You can easily establish if there are any recalls specific to your Q50 by entering your car's VIN into the search bar on the Infiniti recall web page.
Here's a full list of recalls for the Q50 based on data from the NHTSA website.
| | |
| --- | --- |
| Model Year | Number of Recalls |
| 2014 | 7 |
| 2015 | 2 |
| 2016 | 3 |
| 2017 | 3 |
| 2018 | 2 |
| 2019 | 1 |
| 2020 | 0 |
| 2021 | 2 |
Infiniti Q50 Model Year List
2013 Infiniti Q50
2014 Infiniti Q50
2015 Infiniti Q50
2016 Infiniti Q50
2017 Infiniti Q50
2018 Infiniti Q50
2019 Infiniti Q50
2020 Infiniti Q50
2021 Infiniti Q50
Is the Infiniti Q50 Expensive to Maintain?
The Q50 is relatively cheap to maintain and costs on average $648 per year in ownership fees compared to an average of $739 for the luxury midsize car segment.
Model
Avg. Annual
Repair Cost
Frequency of
Unscheduled
Repairs (per year)
Probability of
Severe Repairs
Acura TLX
$440
0.2
6%
Acura TSX
$415
0.4
6%
Lexus ES300h
$524
0.4
4%
Lexus ES350
$468
0.6
6%
Infiniti G25
$533
0.5
7%
Acura TL
$467
0.4
9%
Lexus IS250
$487
0.6
8%
Infiniti G37
$540
0.5
8%
Lexus IS350
$543
0.7
9%
Infiniti Q50
$648
0.6
8%
Volvo S60
$750
0.5
8%
Mercedes-Benz C350
$724
0.5
10%
Mercedes-Benz C300
$739
0.7
9%
Audi A4
$739
0.4
13%
Mercedes-Benz C250
$770
0.8
9%
Hyundai Genesis Coupe
$621
0.4
17%
Cadillac CTS
$663
0.4
16%
Cadillac STS
$669
0.4
17%
BMW 328i
$773
1.0
12%
Lincoln MKZ
$831
0.6
15%
Audi A4 Quattro
$925
0.7
14%
Jaguar XF
$1,066
0.7
12%
Audi A5 Quattro
$887
1.2
12%
BMW 328i xDrive
$900
1.2
12%
Porsche 911
$1,072
0.5
22%
BMW 335i xDrive
$1,079
1.2
16%
Audi S4
$1,171
0.9
17%
BMW 335i
$1,030
1.2
18%
BMW M3
$1,161
0.8
21%
Audi S5
$1,164
1.2
17%
BMW 335d
$1,113
1.4
24%
Avg. Lux. Midsize Car
$739
0.6
12%
How Long Do the Brakes Last?
According to Infiniti, the average brake life for the Q50 is between 25,000 and 65,000 miles, noting that some people will have brake pads that last beyond 80,000 miles.
If you drive in a lot of stop-and-go traffic, you can expect your brakes to be at the lower end of this range.
You may also be interested in our article: how long do Infiniti QX60 last?
How Long Do Infiniti Q50 Batteries Last?
The Infiniti Q50 battery should last between 3 to 5 years.
The batteries of the hybrid models should be able to last at least 10 years.
If they fail prematurely, Infiniti offers an 8-year/100,000-mile warranty for their hybrid batteries.
To get the most life from your car battery:
Avoid parking outside in extreme climates, hot and cold.
Hook it up to a battery tender during the winter
Don't run any electrical accessories while the engine is off
Make sure the battery is tightly connected and clean away any debris and corrosion
How Long Do the Tires Last?
You can expect around 30,000 to 50,000 miles out of the stock Q50 tires before they need to be changed.
The Infiniti Q50 comes stock with run flat tires which are known to wear out quicker than regular tires.
Run-flat tires otherwise known as MOExtended tires, are engineered to let you drive a limited distance after a total loss of tire pressure.
To get the most life from your tires:
Have them rotated every 5,000 miles to ensure even wear
Check the tire pressures regularly, they should be 35 psi
How Long Does the Transmission Last?
The Infiniti Q50 transmission should last 250,00 – 300,000 miles provided its been regularly serviced throughout its life.
Smooth driving habits and regular maintenance are the key ingredients here.
How Long Do Spark Plugs Last?
The 4 cylinder Q50 models have the shortest spark plug replacement intervals at 45,000 miles. The earlier 3.7 liter V6 engines have a recommended interval of 60,000 miles while the more modern 3.0 liter turbo V6 engines only have to be replaced at 100,000 miles.
Spark plugs will be inspected and if needed, replaced when you go for scheduled maintenance.
What About Insurance Cost?
The Infiniti Q50 is more expensive than the average sedan so you can expect higher insurance costs.
According to Finder, the average insurance rate for the Q50 is $2,640 annually or $220 a month.
SmartFinancial pegs the average at $2,964 a year with the cheapest quote at $2,034.
You may also be interested in our article: How Long Do Acura TSX Last?
Tips to Prolong the Life of Your Infiniti Q50
Follow the factory recommended service intervals
Keep vehicle modifications to a minimum
Regularly check fluids and tire pressures
Apply paint protection film or a ceramic coating
Address rock chips and scratches immediately
Wash and rinse the vehicle regularly, especially in the winter
Keep the vehicle garaged as much as possible
Resources
https://www.caranddriver.com/infiniti/q50
https://www.goodcarbadcar.net/2020-us-small-luxury-car-sales-figure/
https://repairpal.com/reliability/infiniti/q50
https://repairpal.com/reliability/acura/tlx
https://enginepatrol.com/infiniti-q50-snow-winter
https://repairpal.com/reliability/lexus/is350
https://enginepatrol.com/how-long-buick-lacrosse-last/
https://enginepatrol.com/acura-tlx-snow-winter-driving/
https://repairpal.com/reliability/hyundai/genesis
https://repairpal.com/reliability/luxury-compact-car
https://www.infinitiusa.com/owners/vehicle-resources/warranty.html
https://www.edmunds.com/driving-tips/run-flat-tires-a-primer.html
https://smartfinancial.com/vehicles/infiniti/q50
https://www.finder.com/car-insurance/infiniti-q50-insurance-rates