The Buick LaCrosse is a midsize luxury sedan that was sold in the U.S. from 2005 to 2019.
It's spacious, comfortable and quiet – making it an excellent daily driver.
If you're considering a LaCrosse as your next vehicle, you might be wondering about its average lifespan.
We'll cover that in this article, read on to find out…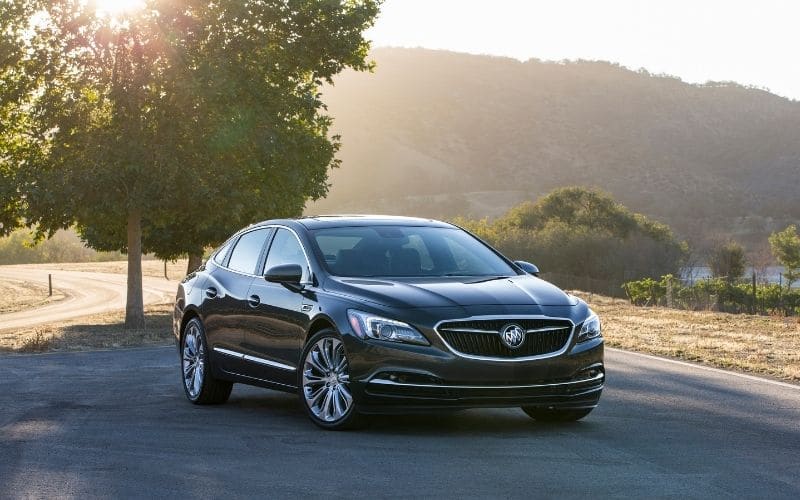 Here is the short answer to how long the Buick LaCrosse lasts:
The Buick LacCrosse is a well-built sedan that can last between 200,000 – 250,000 miles with proper maintenance and conservative driving habits. Based on an annual mileage of 15,000 miles, the LaCrosse can offer 13 – 17 years of service before breaking down or requiring expensive repairs.
How Many Miles Can You Expect from a Buick LaCrosse?
With exception to the 2010 model year, the LaCrosse has a good track record for reliability and longevity.
You can still find many first generation models from 2005 to 2009 still on the roads today which is a testament to the durability of these cars.
Its longevity becomes more apparent when you look up some of the older models on CarGurus, as many of them are listed for sale with over 150,000 miles on the odometer and some have almost 300,000 miles.
Ultimately its lifespan will depend on the owner as design and quality of materials will only get you so far, however with proper care there's no reason why a LaCrosse shouldn't last 200k – 250k miles.
At these mileages there is a much greater chance of big-ticket items failing such as the engine or transmission – when this happens the costs of repairs may outweigh the cost of the car.
To keep your LaCrosse running smoothly for many years to come, we recommend:
Keeping up to date with the manufacturer's maintenance schedule
Carrying out basic routine checks such as tire pressures and fluid levels.
Adopting smooth driving habits to reduce wear and tear on components
Your result will be heavily impacted by usage, personal care, and to some extent, luck.
Does the Buick LaCrosse Rust Easily?
The Buick LaCrosse does not have any widespread rust or corrosion issues. With regular cleaning – including the undercarriage and wheel wells, you shouldn't see any significant rust within the first 10 years.
Buick did recently issue a recall for the 2010 to 2013 models due to incorrect application of rustproofing on the rear toe links which could cause it to rust and fracture prematurely.
This recall only affects vehicles that were sold and registered in states that use salt on their roads during the winter.
A common cause of rust on any vehicle is from rocks that get kicked up whilst driving – these can chip the paint and expose the raw metal which over time rusts.
If you live in a region that heavily salts the road in the wintertime or by the coast where salt air is all too common – it's important to stay on top of your rust prevention regime however additional rustproofing isn't generally recommended on a LaCrosse.
Tips to protect your Buick LaCrosse from rust:
Regularly wash and dry your car: This includes its underside (especially during the winter) to remove the salt, dirt and grime that causes rust. We recommend having a detail shop wash everything underneath at the end of each winter.
Repair paint damage and scratches: Exposed metal will oxidize. If it's beyond a DIY fix, speak to your local body repair shop.
Garage: Store your Buick LaCrosse in a garage to protect it from harsh weather and bird droppings.
Waxing: Wax your car twice a year. Not only will this give your Buick a nice shine, it also gives it a protective coating against rust.
Rustproofing: If you're planning on keeping your Buick LaCrosse for a very long time, you might want to consider a rustproofing treatment; popular choices are Krown and Rust Check.
Ceramic Coating: A popular choice for those who want to add an extra layer of protection to the paint job.
Since the last LaCrosses were sold in 2019, they all came with Buick's 4-year/50,000-mile corrosion warranty, as well as a 6-year/unlimited mile corrosion perforation warranty.
What is High Mileage for a Buick LaCrosse?
A Buick LaCrosse with 120,000 miles on the odometer is considered high mileage. Although it may deliver many more years of service, it will likely have more than a few parts that are nearing the end of their effective lifespan and the risk of major component failure is much higher.
This can include water pumps, shocks, bushings, engine mounts, belts, and hoses, among many other things.
Although individually these repairs shouldn't be too expensive, having to do them all in a short period of time can certainly put a dent in your budget.
A high mileage LaCrosse doesn't necessarily mean it's going to turn into a money pit as long as you're confident about its condition, history and it's been regularly serviced.
A well-kept LaCrosse with 120,000 miles might be a better purchase than one with 80,000 miles that had lots of owners and led a rough life or was previously a rental car.
When buying a used Buick LaCrosse, always consider the following:
Maintenance history. Check that the car was properly serviced and the owner can provide evidence of this.
Get a second opinion. Take it to an independent auto repair shop or at least have it inspected by a mechanic you trust.
Check the CarFax. This doesn't guarantee anything but it will provide a clearer picture of wear-and-tear. Ensure it has minimal damage, if any. Review the information to make sure if something happened such as engine- or transmission-related.
Number of previous owners. As a general rule, less is better. More owners usually means more wear-and-tear. If one family owned it and drove the full mileage and serviced the car, then you can almost guarantee they took good care of it throughout their ownership.
How long you are planning on keeping the car. If you're planning on keeping the car for a long time, you should evaluate whether the short-term savings outweigh spending a bit extra on something more reliable.
A full assessment of the vehicle should be undertaken and any decision should not be based on mileage alone.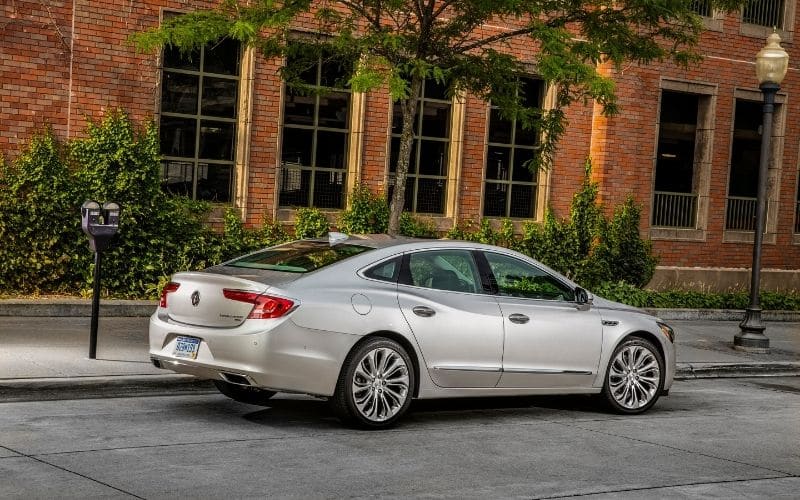 How Long Do Buick LaCrosses Last Compared to Similar Car Models?
In this section we'll compare the Buick LaCrosse to some of its rivals.
Buick LaCrosse vs. Chevy Impala
The Chevrolet Impala was discontinued in 2020 and used the same platform as the first and second-generation Lacrosse.
Impalas are just as reliable as the Buick LaCrosse and can last 200,000 – 250,000 miles or 13 – 17 years with proper maintenance.
RepairPal gave both the Impala and LaCrosse identical reliability scores of 4/5 which is classed as above average.
Average annual repair and maintenance costs are similar for both vehicles with the Impala costing $568 a year compared to $569 for the LaCrosse.
Kelley Blue Book's consumer rating index gave the Impala 4.6/5 stars for reliability which is almost the same as the 4.5/5 stars it gave to the LaCrosse.
J.D. Power gave the 2016 Impala a slightly higher Quality and Reliability score of 87/100 compared to LaCrosse's 90/100.
The Impala is more affordable than the Buick but lacks the latter's sophisticated styling and premium interior.
Long-term reliability is going to be the same for both vehicles, but the LaCrosse definitely wins in terms of comfort and ride quality.
Buick LaCrosse vs. Toyota Avalon
The Avalon is a flagship sedan that's been available since 1995. It will soon suffer the same fate as the LaCrosse as it's destined to be discontinued after the 2022 model year.
The Toyota Avalon benefits from Toyota's legendary reliability and is estimated to last 250,000 – 300,000 miles or 17 – 20 years, which is slightly higher than the LaCrosse's lifespan.
RepairPal gave the Avalon and LaCrosse matching reliability scores of 4/5.
The average annual repair costs for the Avalon is lower at $463 vs. the LaCrosse's $569.
Kelley Blue Book's consumer rating index gave the Avalon a lower reliability rating of 4.2/5 stars vs the LaCrosse's 4.5/5 stars.
J.D. Power gave the 2016 Avalon a lower Quality and Reliability score of 85/100 compared to LaCrosse's 90/100.
Overall reliability, ride comfort and features are about the same for the LaCrosse and Avalon however the Avalon is slightly more expensive in the used market.
The choice will ultimately boil down to personal preference as the Avalon boasts a sportier design.
Buick LaCrosse vs. Cadillac XTS
Like the LaCrosse, the Cadillac was discontinued in 2019. It uses the same platform as the second generation LaCrosse and offers a more premium experience overall.
The Cadillac XTS will have the same reliability as the LaCrosse which means it can last 200,000 – 250,000 miles or 13 – 17 years.
RepairPal gave the Cadillac XTS a slightly lower reliability rating of 3.5/5 compared to the 4/5 it gave to the LaCrosse.
The Cadillac XTS has more expensive maintenance costs averaging at $875 per year compared to only $569 for the LaCrosse.
Kelley Blue Book's consumer rating index gave the Cadillac XTS and Buick LaCrosse the same reliability score of 4.5/5 stars.
J.D. Power gave the 2016 Cadillac XTS a Quality and Reliability rating of 82/100 while the 2016 LaCrosse received a much higher score of 90/100.
The Cadillac XTS slightly edges out the LaCrosse in terms of fit and finish, as well as road presence. But used prices and maintenance for the Cadillac will be much higher.
Comparison Chart
| | | | | |
| --- | --- | --- | --- | --- |
| | Buick LaCrosse | Chevy Impala | Toyota Avalon | Cadillac XTS |
| Annual Repair Cost | $569 | $568 | $463 | $875 |
| Reliability Rating | 4/5 | 4/5 | 4/5 | 3.5/5 |
| KBB Consumer Rating | 4.5/5 | 4.6/5 | 4.2/5 | 4.5/5 |
| J.D. Power Rating | 90/100 | 87/100 | 85/100 | 82/100 |
| Lifespan (miles) | 200k – 250k | 200k – 250k | 250k – 300k | 200k – 250k |
Is the Buick LaCrosse Reliable?
The Buick LaCrosse has a strong reputation for reliability across the second and third generations however the first generation was less dependable and experienced more problems overall.
A lot of Buick LaCrosses were used as rental vehicles which means they were subjected to a fair amount of miles and abuse, and they rarely ever missed a beat.
Owners from different automotive forums also have nothing but praise for the reliability of the vehicle, on top of the incredible value and driving comfort it delivers.
Here are a couple of other data points to further demonstrate its reliability:
RepairPal gave the Buick LaCrosse an above average reliability rating of 4/5.
RepairPal ranks the LaCrosse in 15th place out of 24 other midsize sedans.
Kelley Blue Book's consumer rating for quality gave the LaCrosse a very respectable 4.5/5 stars.
J.D. Power gave the 2016 LaCrosse a Quality and Reliability rating of 90/100 while the 2019 models got 79/100.
Consumer reports gave the following Reliability verdict:
| | |
| --- | --- |
| Model Year | Reliability |
| 2019 | NA |
| 2018 | NA |
| 2017 | 4/5 |
| 2016 | 5/5 |
| 2015 | 3/5 |
| 2014 | 3/5 |
| 2013 | 3/5 |
| 2012 | 4/5 |
| 2011 | 3/5 |
| 2010 | 1/5 |
Consumer Report has no available reliability data from 2005-2009 for the LaCrosse.
Reliability Compared to Other Midsize Cars
| | |
| --- | --- |
| Model | Reliability |
| Honda Accord | 4.5 / 5.0 |
| Mitsubishi Galant | 4.5 / 5.0 |
| Toyota Camry | 4.0 / 5.0 |
| Toyota Prius V | 4.0 / 5.0 |
| Hyundai Sonata | 4.0 / 5.0 |
| Mazda6 | 4.0 / 5.0 |
| Chevrolet Malibu Limited | 4.0 / 5.0 |
| Kia Optima | 4.0 / 5.0 |
| Chevrolet Malibu | 4.0 / 5.0 |
| Toyota Prius | 4.0 / 5.0 |
| Nissan Altima | 4.0 / 5.0 |
| Chrysler 200 | 4.0 / 5.0 |
| Buick Regal | 4.0 / 5.0 |
| Honda Crosstour | 4.0 / 5.0 |
| Buick LaCrosse | 4.0 / 5.0 |
| Subaru Legacy | 4.0 / 5.0 |
| Volkswagen Passat | 4.0 / 5.0 |
| Ford Fusion | 4.0 / 5.0 |
| Dodge Challenger | 3.5 / 5.0 |
| Ford Mustang | 3.5 / 5.0 |
| Chevrolet Camaro | 3.5 / 5.0 |
| Honda Accord Crosstour | 3.5 / 5.0 |
| Chevrolet Corvette | 3.0 / 5.0 |
| Volkswagen CC | 2.5 / 5.0 |
| Avg. Midsize Car | 4.0 |
The Best and Worst Years for the Buick LaCrosse
After being on the market for almost 15 years, the Buick LaCrosse has had its good and bad years.
Worst Model Year
According to CarComplaints, the 2011 Buick LaCrosse is the worst model year due to the higher repair costs and amount of problems showing up at lower mileages, this model received most of its complaints due to engine faults and problems with interior accessories.
The 2010 Buick LaCrosse recorded the highest number of complaints across all three generations.
These were mostly engine issues although no catastrophic failures were reported – Consumer Reports also gave this model a dismal 1/5 for reliability.
Data from Car Problem Zoo shows the first generation LaCrosse to be significantly more problematic than the second and first generation – the most commonly reported complaints were related to the electrical system.
Best Model Year
The 2017 to 2019 Buick Lacrosse are the best model years. These models benefited from all the hard learnt lessons from the older model years and this is reflected in the increased reliability, lower number of complaints and fewer reported problems.
These models also benefit from updated styling.
For the second generation models, the 2016 Buick LaCrosse is a good choice since it has not had any engine issues reported so far.
It also received a significantly higher Quality and Reliability score from J.D. Power than the third-generation models and has relatively few reported complaints and problems.
Model Year and Number of Complaints
Here is the total number of complaints and problems reported for every Buick LaCrosse model year from the CarComplaints and Car Problem Zoo databases.
Model Year
Car Complaints
No. of Complaints
Car Problem Zoo
No. of Problems
2019 (Best year)
0
2
2018
3
4
2017
4
25
2016
1
26
2015
3
38
2014
15
71
2013
17
136
2012
22
229
2011 (Worst year)
44
211
2010
51
254
2009
17
140
2008
43
323
2007
23
288
2006
40
354
2005
46
364
What About Recalls for These Models?
The Buick LaCrosse has had a total of 46 recalls since 2005.
You can check if your Buick LaCrosse has been subject to a recall campaign by entering your VIN (Vehicle Identification Number) on Buick's Recall Center web page.
It is important to note that recalls are manufacturing faults repaired at no charge to the consumer.
Here are the total number of recall campaigns for every model year of the Buick LaCrosse:
2019: 2
2018: 3
2017: 2
2016: 2
2015: 3
2014: 5
2013: 4
2012: 4
2011: 3
2010: 1
2009: 2
2008: 2
2007: 4
2006: 4
2005: 5
Buick LaCrosse Model Year List
First Generation:
2005 Buick LaCrosse
2006 Buick LaCrosse
2007 Buick LaCrosse
2008 Buick LaCrosse
2009 Buick LaCrosse
Second Generation:
2010 Buick LaCrosse
2011 Buick LaCrosse
2012 Buick LaCrosse
2013 Buick LaCrosse
2014 Buick LaCrosse
2015 Buick LaCrosse
2016 Buick LaCrosse
Third Generation:
2017 Buick LaCrosse
2018 Buick LaCrosse
2019 Buick LaCrosse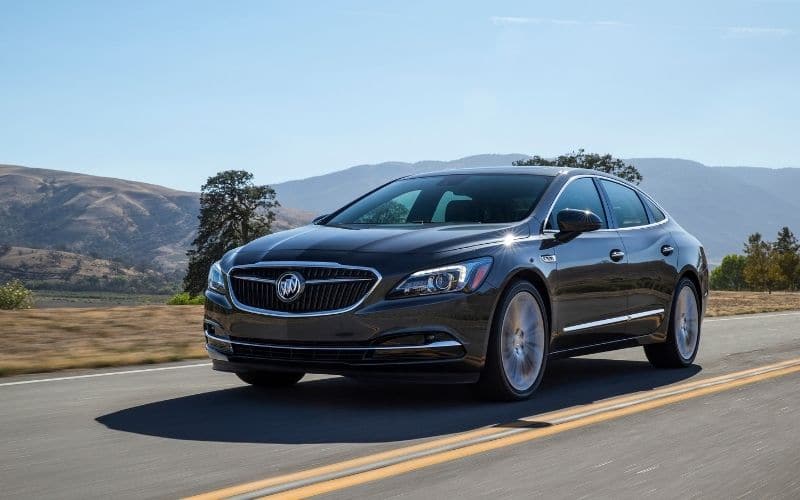 Are Buick LaCrosses Expensive to Maintain?
The Buick LaCrosse is a very reliable vehicle which means it won't cost a fortune to maintain.
It also shares a lot of parts with other GM vehicles so replacements shouldn't be too hard to find or be very expensive.
Many owners also report not having to do much to their vehicles aside from basic maintenance and replacing typical wear items as they reach higher mileages.
According to RepairPal:
The average repair and maintenance cost for the LaCrosse is only $569 per year which is only slightly higher than the average for midsize cars at $526 and lower than the average for all vehicles at $659.
According to CarEdge:
A Buick LaCrosse will cost you roughly $5,440 in upkeep during its first 10 years.
This beats the average maintenance and repair costs for all popular sedan models by $1,339.
Model
Avg. Annual
Repair Cost
Frequency of
Unscheduled Repairs
(per year)
Probability of
Severe Repairs
Honda Accord
$400
0.3
9%
Mitsubishi Galant
$448
0.1
10%
Toyota Camry
$388
0.3
11%
Toyota Prius V
$437
0.5
9%
Hyundai Sonata
$458
0.3
11%
Mazda6
$481
0.4
9%
Chevrolet Malibu Limited
$448
0.2
12%
Kia Optima
$471
0.2
12%
Chevrolet Malibu
$532
0.3
11%
Toyota Prius
$408
0.5
11%
Nissan Altima
$483
0.3
12%
Chrysler 200
$549
0.3
12%
Buick Regal
$563
0.2
12%
Honda Crosstour
$520
0.7
9%
Buick LaCrosse
$569
0.3
12%
Subaru Legacy
$563
0.3
12%
Volkswagen Passat
$639
0.5
9%
Ford Fusion
$581
0.3
12%
Dodge Challenger
$650
0.2
14%
Ford Mustang
$709
0.2
14%
Chevrolet Camaro
$585
0.2
17%
Honda Accord Crosstour
$493
0.8
13%
Chevrolet Corvette
$737
0.3
22%
Volkswagen CC
$880
1.4
12%
Avg. Midsize Car
$526
0.3
12%
How Long Do the Brakes Last?
Buick LaCrosse brakes pads will typically last between 30,000 – 60,000 miles and this is largely dependent on driving conditions and styles. While it's impossible to give an exact number, the 40,000-mile range is the general mileage to keep in mind when planning for vehicle maintenance.
You can expect your brakes to wear out sooner if you frequently stop and accelerate in rush-hour traffic
Brake pad replacement, which includes parts and labor, can cost anywhere between $150 – $300 per axle.
Full and complete stops from a high speed are the #1 cause of premature brake pad wear.
A sporty driving style will lead to faster deterioration of brakes, a slow and steady style will help them last longer.
How Long Do the Tires Last?
Buick LaCrosse tires usually last around 50,000 to 60,000 miles or 3 to 5 years. However, they can wear out much sooner. This is dependent on various factors such as driving habits, climate, and road conditions.
Rotate tires every 5,000 miles to ensure even wear.
If you have to drive on rough or flooded roads, or go off-roading, your tires will take more of a beating.
Check your tire pressures every few weeks to make sure they're at the correct tire pressure.
Have a mechanic or tire shop check your wheel alignment every 6 months.
Most tires should be inspected, if not replaced, at about 6 years and should definitely be swapped out after 10 years, regardless of how much tread is left.
How Long Do Buick LaCrosse Engines Last?
The Buick LaCrosse is available with a wide range of engines across its three generations.
Generally, all of these engines should go past the 150,000-mile mark and with meticulous care they may even last beyond 300,000 miles. On average though, between 200,000 – 250,000 miles.
All the Buick LaCrosse engines also used timing chains which are more reliable than timing belts.
You may also be interested in our article: How Long Do Buick Enclaves Last?
How Long Do Buick LaCrosse Batteries Last?
The Buick LaCrosse battery will typically last between 3 – 5 years. A vehicle's battery life varies depending on many different factors such as climate, driving habits, and battery type, among many others.
Keep your battery tightly fastened: The vibrations of your car can loosen the connections, potentially resulting in short circuits and internal damage.
Limit short rides: Quick car rides prevent the battery from fully charging.
Storage: Keep your Buick stored indoors away from extreme changes in temperature.
Control Corrosion: Clean the terminals (toothbrush dipped in baking soda and water mixture) and keep them free from build-up.
How Long Do the Spark Plugs Last?
The Buick LaCrosse's spark plugs will usually need to be replaced every 100,000 miles and it is part of the vehicle's scheduled maintenance.
The LaCrosse uses iridium-tipped spark plugs which last significantly longer.
Signs of a fouled spark plug include:
Reduced gas mileage
Lack of acceleration
Rough idling
Hard starts
Engine misfires
What About Insurance Costs?
The average cost of full comprehensive coverage for a Buick LaCrosse is $1,446 per year or around $121 per month.
In comparison, its rivals in the midsize sedan segment cost an average of $1,456 per year, which is $10 more expensive.
Insurance costs can vary from person to person; be sure to shop around to find the best possible deal for your Buick LaCrosse.
Please also check out our article: How Long Do Buick Encores Last?
Tips to Prolong the Life of Your Buick LaCrosse
Adopt smooth driving habits.
Keep up to date with factory-recommended maintenance.
Use quality parts and fluids.
Keep on top of repairs to prevent them from developing into larger problems.
Regularly wash your Buick LaCrosse to remove dirt and grime to protect the paint and undercarriage from rust developing.
Check your Enclave's engine oil, coolant, brake, and transmission fluid levels and top them up when required.
Keep your Buick in a garage to help protect it from the elements.
Look after the cars interior, this will help keep its resale value up.
Read the owner's manual to learn the location of important components, what your Buick needs and what quantity, and to understand the symbols and dashboard warning lights.
Resources
https://www.buick.com/discover/legacy-vehicles/lacrosse
https://www.consumerreports.org/car-recalls-defects/buick-chevrolet-sedans-recalled-to-fix-suspension-rust-problem-a5124710351/
https://www.buick.com/warranty-information
https://repairpal.com/reliability/buick/lacrosse
https://www.kbb.com/buick/lacrosse/
https://repairpal.com/reliability/chevrolet/impala
https://repairpal.com/reliability/toyota/avalon
https://repairpal.com/reliability/cadillac/xts
https://www.kbb.com/chevrolet/impala/2019/
https://www.jdpower.com/cars/2016/chevrolet/impala/4dr-sdn-ltz-w-2lz
https://www.jdpower.com/cars/2016/toyota/avalon/4dr-sdn-xle

https://www.carproblemzoo.com/buick/lacrosse/
https://www.kbb.com/toyota/avalon/2019/consumer-reviews/
https://www.kbb.com/cadillac/xts/
https://www.jdpower.com/cars/2016/cadillac/xts
https://www.jdpower.com/cars/2016/buick/lacrosse
https://www.carcomplaints.com/Buick/LaCrosse/
https://caredge.com/buick/lacrosse/depreciation
https://my.buick.com/content/dam/gmownercenter/gmna/dynamic/manuals/2017/Buick/LaCrosse/Maintenance%20Schedule.pdf