Formerly known as the Infiniti EX35, the QX50 is a 5-seater luxury crossover SUV.
Combining handsome styling both inside and out, the QX50 offers lots of space, comfy seats and available AWD.
In this article, we'll take a look at its average lifespan.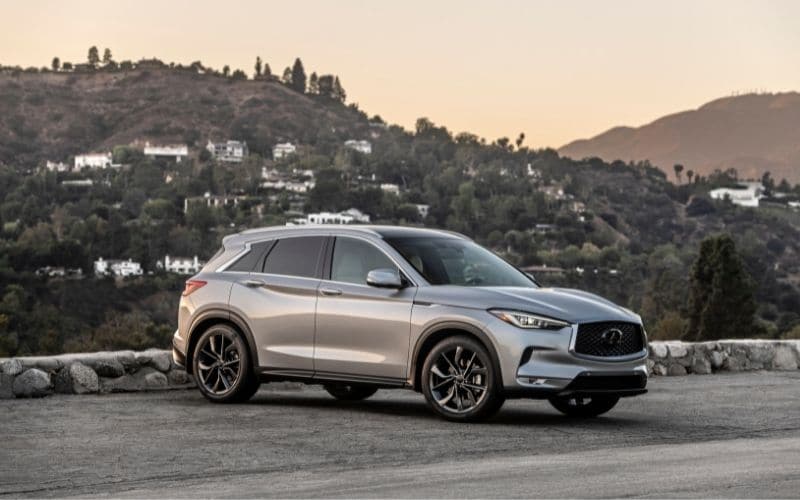 Here is the short answer to how long the Infiniti QX50 lasts:
The Infiniti QX50 is a highly reliable and durable crossover that can last 250,000 to 300,000 miles when properly maintained and driven conservatively. Based on driving 15,000 miles per year, you can expect the Infiniti QX50 to last 17 to 20 years before requiring overly expensive repairs.
How Many Miles Can You Expect from a Infiniti QX50?
It should come as no great surprise that the QX50 is expected to go the distance.
Infiniti is the luxury division of Japanese automaker Nissan, who have earned a reputation for building durable and dependable vehicles.
On the Nissan and Infiniti owners forum nicoclub.com, one long-term member posted: "I know several people that have taken them to 200k and beyond…they're an extremely well-built car, just like the Nissans….(they are Nissan!)"
Repair Pal ranks the EX35 3rd out of 11 for luxury compact SUVs and you can expect the same high standard from the QX50, which is essentially the same car.
On used car websites such as Car Gurus and AutoTrader, you can find lots of high mileage EX and QX models, many of which with over 200,000 miles and still going strong.
Once you approach the 250k mark, there's a greater chance of incurring uneconomical repairs such as engine or transmission failure and there's also a greater chance of poor reliability despite constant repairs.
At which point it's best to invest your money into a new vehicle.
Keep in mind, if you want to reach high miles in your QX50 you have to be very pro-active with maintenance, and it's even advised to go above and beyond the factory recommended maintenance as this is considered the bare minimum.
This means keeping all your filters and fluids fresh and of high-quality, preferably synthetic. Oil change intervals are critical for longevity.
Your style of driving is also a key factor; smooth controlled use of the gas and brake pedals will ensure wear and tear of components is kept to a minimum.
The life expectancy of your Infiniti QX50 will be cut short if you avoid:
Using quality parts
Service appointments
Routine oil changes
Regular car washes
Tire rotations
Driving smoothly
Do Infiniti QX50 Rust Easily?
The INFINITI QX50 is not expected to rust easily and there are minimal customer complaints pertaining to rust issues for both the EX35 and QX50. Infiniti models benefit from high-quality rust protection as standard from the factory and good quality paintwork.
According to INFINITI's website, they provide an 84-month limited warranty on corrosion.
If your INFINITI QX60 is 7 years and younger, your local INFINITI dealership will cover the rust protection, treatment, repaint, and replacement of affected parts under warranty.
It's important to note that the salt used to de-ice the roads has an adverse effect on cars. Salt, moisture, and salty air can accelerate the spread of rust.
Rust can affect any vehicle, but with regular car washes (including the under chassis and wheel wells) and the occasional wax coat, you should be able to keep it to an absolute minimum.
Related: 11 Most Common Infiniti QX50 Problems (Explained)
What is High Mileage for a Infiniti QX50?
An Infiniti QX50 with over 120,000 miles is considered high mileage. This means there is a higher chance of problems arising as most parts will have some degree of wear and tear. However, you should not assess the car on mileage alone.
Buying a high mileage QX won't necessarily lead to a sour outcome – it really depends on how well it's been looked after.
A well-maintained model with over 120,000 miles could well be a better option than one with 80,000 miles that had many owners and led a tough life or was previously a hire car.
If you're buying a used Infiniti QX50, consider the following:
Check that the car was properly maintained and the owner can provide evidence of this.
Take it for a test drive, ask the owner to leave the engine cold and listen out for strange noises.
Check for rust including under the car. Rust is a problem that will spread.
As a general rule, less previous owners is better. More owners usually equate to more wear-and-tear. If one family owned it and drove the full mileage and serviced the car, then you can almost guarantee they took good care of it throughout their ownership.
Examine the interior. The condition of the interior tells the story of how well the car was maintained and cared for.
How Long Does the Infiniti QX50 Last Compared to Similar SUVs?
In this section, we'll compare the QX50 to its closest competitors.
Infiniti QX50 vs. Acura RDX
The Acura RDX can last 250,000 to 300,000 miles or 17 – 20 years, equal to what is expected of the Infiniti QX50.
Infiniti QX50
Acura RDX
RepairPal Reliability Rating
4.0/5.0
4.5/5.0
RepairPal Reliability Ranking
3rd / 11
Luxury Compact SUVs
1st / 11
Luxury Compact SUVs
Average Annual Repair Cost
$1,066
$497
You may also be interested in our article: How Long Do Acura RDX Last?
Infiniti QX50 vs. BMW X3
The BMW X3 can last 150,000 – 200,000 miles or 10 – 13 years, less than what is expected of the Infiniti QX50.
Infiniti QX50
BMW X3
RepairPal Reliability Rating
4.0/5.0
2.5/5.0
RepairPal Reliability Ranking
3rd / 11
Luxury Compact SUVs
10th / 11
Luxury Compact SUVs
Average Annual Repair Cost
$588
$1,034
You may also be interested in our article: How Long Do BMW X3 Last?
Infiniti QX50 vs. Volvo XC60
The Mazda CX-5 can last 200,000 – 250,000 miles or 13 – 17 years, slightly less than what is expected of the Infiniti QX50.
Infiniti QX50
Mazda CX-5
RepairPal Reliability Rating
4.0/5.0
4.5/5.0
RepairPal Reliability Ranking
3rd / 11
Luxury Compact SUVs
4th / 11
Luxury Compact SUVs
Average Annual Repair Cost
$588
$447
You may also be interested in our article: How Long Do Volvo XC60 Last?
Comparison Chart
| | | | | |
| --- | --- | --- | --- | --- |
| | Infiniti QX50 | Acura RDX | BMW X3 | Volvo XC60 |
| Annual Repair Cost | $1,066 | $497 | $1,034 | $746 |
| Reliability Rating | NA | 4.5/5.0 | 2.5/5.0 | 4.0/5.0 |
| Lifespan (miles) | 250k-300k | 250k-300k | 150k-200k | 200k-250k |
Is the Infiniti QX50 Reliable?
The Infiniti QX50 and its predecessor the EX35 have received solid reliability ratings from the major auto review sites and it is considered one of the most reliable vehicles in the luxury compact SUV segment.
The QX50 isn't perfect though and you'll find a few complaints about it online here and there, but this is common for any vehicle.
The most common grievance professional reviewers have pertains to the inconsistent power delivery due to CVT automatic transmission although one owner had this to say:
"The car 'experts' love to complain about the CVT transmission. Don't listen to that nonsense. You won't be able to tell. Infiniti has done a great job with it. Drive the car. See for yourself."
The QX50 received the following reliability reviews:
Kelley Blue Book's consumer rating index gave the Infiniti QX50 an above-average reliability rating of 4.4/5.0.
J.D. Power gave the Infiniti QX50 an average reliability rating of 77/100.
Repair Pal ranks the EX35 (essentially the QX50) in 3rd place out of 11 luxury compact SUVs with a reliability score of 4.0/5.0
As with longevity, the reliability of your Infiniti QX50 will also depend on regular maintenance and adopting good driving habits.
Reliability of Luxury Compact SUVs
Model
Reliability
Acura RDX
4.5 / 5.0
Lexus NX200t
4.0 / 5.0
Infiniti EX35
(Infiniti QX50)
4.0 / 5.0
Volvo XC60
4.0 / 5.0
Mercedes-Benz GLK350
3.5 / 5.0
BMW X1
3.5 / 5.0
Lincoln MKC
3.5 / 5.0
Land Rover LR2
3.0 / 5.0
Land Rover Range Rover Evoque
3.0 / 5.0
BMW X3
2.5 / 5.0
Porsche Macan
1.5 / 5.0
Avg. Luxury Compact SUV
3.5
The Best and Worst Years for the Infiniti QX50
We've done some digging to find the best and worst model years for the Infiniti QX50.
Worst Model Year
The worst year for the QX50 is the 2019 model year, it has received the worst customer feedback score across all model years.
On the popular car website Edmunds.com the 2019 model year stands out as one to avoid, its overall rating based on owner reviews is 2.8 / 5.0 stars which is notably lower than its other years.
Complaints from unhappy owners include:
"Bought this car three weeks ago and it's already in the shop for gas smells filling up my garage. So strong in fact that I have to either park my brand new luxury SUV outside in the cold or leave my garage door open for hours while it 'cools off'."
"This car has been with us for 75 days, of which it's been in the shop for 70 of those days. Infiniti has been terrible to deal with. They "know" it has a lot of problems, but refuse to buy it back."
And the most common and worrying complaint seems to be the car randomly stopping and hitting the brakes for no apparent reason.
Best Model Year
The best model year for the QX50 is 2017 with 82% of owners giving it 5.0 / 5.0 stars. Other top picks include 2021 and 2016.
The 2017 model has received the highest customer feedback across all model years scoring 4.6 / 5.0 on average.
There are far fewer negative reviews for this model in comparison to the notorious 2019 model.
One owner commented:
"I've put 10,000 miles on it within a year and so far so good with no problems. I would recommend this for families that are looking for a cheap luxury crossover."
Model Year and Customer Rating
Data is taken from Edmunds.com and is based on owner reviews.
Model Year
Edmunds
Customer Rating
2022
NA
2021
4.4 / 5.0
2020
3.4 / 5.0
2019
2.8 / 5.0
2018
NA
2017
4.6 / 5.0
2016
4.4 / 5.0
2015
4.3 / 5.0
2014
3.8 / 5.0
Related: How Long Do Genesis GV70 Last?
What About Recalls for These Models?
According to Cars.com, the Infiniti QX50 has had a total of 4 recall campaigns since 2014.
You can check if your Infiniti QX50 has been subjected to a recall campaign by entering your VIN (Vehicle Identification Number) on Infiniti's recall page on their website.
Recalls are manufacturing faults repaired at no cost to the consumer.
Here is the total number of recall campaigns for every model year of the Infiniti QX50:
2022 Infiniti QX50: 0
2021 Infiniti QX50: 1
2020 Infiniti QX50: 1
2019 Infiniti QX50: 2
2018 Infiniti QX50: NA
2017 Infiniti QX50: 0
2016 Infiniti QX50: 0
2015 Infiniti QX50: 0
2014 Infiniti QX50: 0
Infiniti QX50 Model Year List
First Generation (2007 – 2013)
2007 Infiniti EX35
2008 Infiniti EX35
2009 Infiniti EX35
2010 Infiniti EX35
2011 Infiniti EX35
2012 Infiniti EX35
2013 Infiniti EX37
Second Generation (2014 – Present)
2014 Infiniti QX50
2015 Infiniti QX50
2016 Infiniti QX50
2017 Infiniti QX50
2018 Infiniti QX50
2019 Infiniti QX50
2020 Infiniti QX50
2021 Infiniti QX50
2022 Infiniti QX50
Are Infiniti QX50 Expensive to Maintain?
The Infiniti QX50 is one of the most affordable vehicles in its class in terms of maintenance with costs averaging at $588 per year. This is notably less than the average of $859 for luxury midsize SUVs and slightly lower than the average for all vehicles across different segments, which is estimated at $652.
Despite being a luxury SUV the QX50 won't cost an arm and a leg to own, this is partly because it shares interchangeable parts with Nissan vehicles and also because it has a strong reliability record which means it spends less time in the shop.
Model
Avg. Annual
Repair Cost
Frequency of
Unscheduled Repairs
(per year)
Probability of
SevereRepairs
Acura RDX
$497
0.4
6%
Lexus NX200t
$690
0.3
6%
Infiniti EX35
(Infiniti QX50)
$588
0.7
8%
Volvo XC60
$746
0.5
7%
Mercedes-Benz GLK350
$859
0.6
10%
BMW X1
$915
0.7
8%
Lincoln MKC
$853
0.4
12%
Land Rover LR2
$895
0.8
11%
Land Rover Range Rover Evoque
$1,102
0.6
12%
BMW X3
$1,034
0.8
14%
Porsche Macan
$1,265
1.3
20%
Avg. Luxury Compact SUV
$859
0.6
10%
How Long Do the Brakes Last?
Infiniti QX50 brake pads will typically last between 25,000 and 65,000 miles although some will last beyond 80,000 miles. Brake pad longevity depends on a multitude of factors including style of driving, traffic conditions and climate.
You can expect your brakes to wear out sooner if you frequently stop and accelerate in rush-hour traffic.
Full and complete stops from a high speed are the #1 cause of premature brake pad wear.
A sporty driving style will lead to faster deterioration of brakes. A slow and steady style will help them last longer.
How Long Do the Tires Last?
The Infiniti QX50's stock tires usually last around 30,000 to 50,000 miles or 2 to 4 years. However, they can wear out much sooner. This depends on various factors, such as driving habits, climate, and road conditions.
Rotate tires every 5,000 miles to ensure even wear.
Check your tire pressure every few weeks to make sure they're at the correct tire pressure.
Have a mechanic or tire shop check your wheel alignment every 6 months.
How Long Do Infiniti QX50 Engines Last?
The Infiniti QX50 features a turbocharged 16-valve 2.0 liter engine producing 268hp which should last at least 250,000 miles with proper maintenance.
If you want your engine to go the distance then routine oil changes are a must.
How Long Do Infiniti QX50 Batteries Last?
The Infiniti QX50 12V battery should last between 3 – 5 years. A vehicle's battery life varies depending on many factors such as climate, driving habits, and battery type, among many others.
Keep your battery tightly fastened: The vibrations of your car can loosen the connections, potentially resulting in short circuits and internal damage.
Limit short rides: Quick car rides prevent the battery from fully charging.
Storage: Keep your Infiniti QX50 stored indoors to protect it from extreme temperature changes.
Control Corrosion: Clean the terminals (toothbrush dipped in baking soda and water mixture) and keep them free from build-up.
How Long Do the Spark Plugs Last?
For the Infiniti QX50, Infiniti recommends changing the stock iridium spark plugs every 100,000 miles although they may last much longer with some owners changing them at 130,000 miles.
Spark plugs are usually inspected every time you take your car in for routine maintenance.
Signs of a fouled spark plug include:
Reduced gas mileage
Lack of acceleration
Rough idling
Hard starts
Engine misfires
What About Insurance Costs?
The average cost of full comprehensive coverage for an Infiniti QX50 is $1,586 per year or around $132 per month.
Insurance costs can vary from person to person; be sure to shop around to find the best potential deal.
Tips to Prolong the Life of Your Infiniti QX50
Adopt smooth driving habits.
Keep up to date with factory-recommended maintenance.
Use quality parts and fluids.
Keep on top of repairs to prevent them from developing into larger problems.
Regularly wash your Infiniti QX50 to remove dirt and grime to protect the paint and undercarriage from rust developing.
Check your Infiniti QX50's engine oil, coolant, brake, and transmission fluid levels and top them up when required.
Keep your Infiniti QX50 stored in a garage to help protect it from the elements.
Read the owner's manual to learn the location of important components, what your Infiniti QX50 needs and what quantity, and to understand the symbols and dashboard warning lights.
Resources