Making its debut in 2007, the RDX is a luxury midsize crossover that holds the top spot as Acura's best selling model.
This stylish SUV is more affordable than many of its competitors and offers an exciting driving experience combined with a premium crafted interior.
If you're considering the RDX as your next vehicle, you might be wondering what its average lifespan is.
We'll cover that in this article and much more, read on to find out…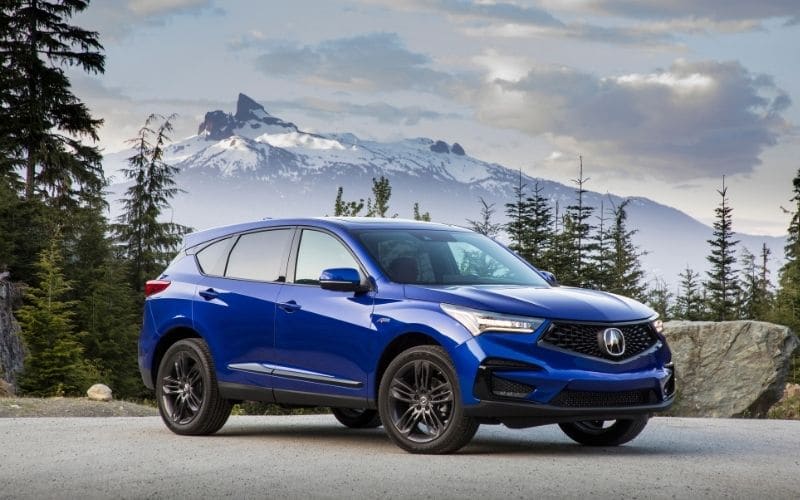 Here is the short answer to how long the Acura RDX lasts:
The Acura RDX is a reliable, durable SUV that can last between 250,000 – 300,000 miles with regular maintenance and conservative driving. Based on an annual mileage of 15,000 miles, you can expect the Acura RDX to provide 15 to 20 years of service before breaking down or requiring expensive repairs.
How Many Miles Can You Expect from an Acura RDX?
If you're looking for a long-lasting luxury crossover, the RDX won't disappoint.
Many owners have reported reaching 250,000 to 300,000 miles in their RDX on the original engine, transmission and turbo and you'll still see lots of first-generation models on the road today.
This should come as no surprise though, as Acura is the luxury branch of Honda, the Japanese automaker synonymous with reliability.
Honda has always been known for their long-lasting engines and the RDX is no exception, with plenty of positive owner reports across forums and even featuring in Forbes list of 10 vehicles that can run for over 250,000 miles.
Design and build quality play a pivotal role in longevity, however it is down to the owner to get the most life from their vehicle.
To help your RDX achieve 300k on the odometer:
Strictly follow the factory recommended service intervals
Always use high quality oils, fluids and parts
Drive smoothly and avoid exceeding the car's 1,500 lb towing capacity
Find a reliable dealership or independent mechanic to make sure your RDX is treated properly
Address even minor issues as soon as possible so they don't develop into bigger problems
How Soon Should You Expect Rust on an Acura RDX?
The Acura RDX is no more rust prone than any other vehicle, however there are some reports of them showing surface rust quickly and you might start to see rust spots in as little as 2 to 4 years especially if you live in a high-risk region, such as the salt belt states or by the coast.
Nowadays rust on a new car is uncommon and most cases should be covered under warranty although you'll need to read the small print – if you experience any early signs of rust you should contact your dealership.
According to the Acura website, surface corrosion is covered for 4 years/80,00 km whilst rust perforation is covered for 5 years/no distance limit,
Paint damage caused by road debris, acid rain, tree sap, bird droppings and industrial fallout are not covered by this warranty.
Some common areas that are reportedly more susceptible to rust on the RDX are:
Exhaust and talipipe
Struts above the rotor
Suspension components
Note: Corrosion issues won't necessarily affect the functionality of the vehicle.
Tips to keep your RDX rust free:
Wash regularly including the underside – especially after expose to road salt – any quality auto carwash will suffice.
Apply a paint protection film or ceramic coating
Look into rust proofing options especially if you live by the coast or somewhere that use a lot of road salt
Keep the vehicle in a garage out of the elements
What is High Mileage for an Acura RDX?
An Acura RDX with over 120,000 miles on the odometer is considered high mileage and a riskier investment. There are many factors to take into consideration though, primarily the vehicle's service history and the overall condition of the car.
Buying a used RDX with over 120k miles will not necessarily equate to a bad outcome, but it's important to assess the car carefully before handing over your cash.
Some important points to consider:
Maintenance history. Check that the car was properly serviced and the owner can provide evidence of this.
Get a second opinion: Have it inspected by a mechanic
Take it for a test drive: While test driving, drive it for a while varying the speed from 30-50 and listen carefully for (what Acura describes as) 'juddering.' It will sound like you are driving over rumble strips. This is the torque converter and will likely cause you problems down the road.
Check the CarFax. This doesn't guarentee anything but can help give a clearer picture of wear and tear. Make sure it has minimal damage, if any. Analyze the information to make sure if something did happen, it wasn't transmission related or mechanical.
How long you are planning on keeping the car. If you're planning on keeping the car for many years, you should evaluate whether the short-term savings outweigh spending a bit extra into somthing more reliable.
Number of previous owners. As a general rule less is better. More owners usaully means more wear and tear. If one family owned it and drove the full 120k miles and serviced the car, then you can almost guarantee they took good care of it throughout ownership.
You may also be interested in our article: Acura RDX in Snow & Winter Driving
How Long Does the Acura RDX Last Compared to Similar Car Models?
Let's take a quick look at how the RDX stacks up against some of its competitors.
Acura RDX vs. Lexus NX
The NX from rival Japanese automaker Lexus has distinctive styling, great equipment levels and a classy cabin.
You can expect a well-kept NX to last 250,000 to 300,000 miles, on par with the RDX.
According to RepairPal, the RDX edges out the NX with a Reliability Rating of 4.5 stars while the NX gets a slightly lower 4 stars.
The NX is ranked in 2nd place for the segment in terms of reliability and is only outpointed by the RDX which comes in first place.
The RDX is also much cheaper to maintain, costing only an average of $497 per year while the Lexus costs $690.
Acura RDX vs. BMW X3
The latest generation of the BMW X3 is the best-selling luxury compact SUV, offering a comfortable driving experience and plenty of high-tech features.
The X3 is expected to last 150,000 to 200,000 miles before repair costs become uneconomical and therefore has a much shorter expected lifespan than the RDX.
RepairPal gives the BMW 2.5 / 5 for reliability which is below the average of 3.5 for the whole segment and pales in comparison to the RDX's stellar 4.5 star rating.
Repair Pal has ranked the X3 right near the bottom of the pack for reliability at 10th place out of 11 whereas the RDX is ranked right at the very top.
Average annual repair costs for the X3 will also be twice as much at $1,034 compared to the RDX's $497 per year.
If reliability and cost of maintenance are on your list of your priorities, the RDX is the clear winner in this comparison.
Please also read our article: How Long Do BMW X3 Last?
Acura RDX vs. Audi Q5
The Audi Q5 is the best-selling vehicle of the German luxury brand and offers an upscale look and a host of high-end features.
The Audi Q5 is projected to last 150,000 to 200,000 miles before requiring expensive repairs which is less than what is expected of the RDX's 250,000 to 300,000 miles.
According to RepairPal, the Audi Q5 has a Reliability Rating of 3/5 which is slightly lower than the average 3.5/5 for the segment and significantly less than the 4.5/5 given to the Acura RDX.
Based on their Repair Pal scores, the Q5 is ranked 11th out of 14 for luxury midsize SUVs while the Acura RDX is ranked first out of 11 luxury compact SUVs.
Cost of ownership will also be much higher for the Q5 with an estimated annual repair cost of $928 compared to $497 for the RDX.
Again, the RDX has a clear advantage in terms of reliability and maintenance costs.
How Reliable is the Acura RDX?
As can be expected from a Honda, the Acura RDX is an extremely reliable vehicle that will provide many years of trouble-free motoring.
The RepairPal website gave the Acura RDX a Reliability Rating of 4.5 out of 5.0, and ranks it in 1st place out of 11 other luxury compact SUVs.
Based on 55 consumer reviews, Kelley Blue Book has awarded the RDX 4.1 stars out of 5.0 in terms of reliability.
The 1st and 2nd generation RDX are largely based on and share many components with the Honda CR-V (Reliability Rating of 4.5 / 5.0 and ranked 2nd out of 26 for compact SUVs)
The 1st and 3rd generation RDX use Honda's K-series engines which have a reputation for being the most reliable engine ever developed.
The 2nd generation RDX comes with the same V6 engine used in the Honda Accord – another extremely reliable vehicle.
Reliability Compared to Other SUVs
Model
Reliability
Acura RDX
4.5 / 5.0
Lexus NX200t
4.0 / 5.0
Infiniti EX35
(Infiniti QX50)
4.0 / 5.0
Volvo XC60
4.0 / 5.0
Mercedes-Benz GLK350
3.5 / 5.0
BMW X1
3.5 / 5.0
Lincoln MKC
3.5 / 5.0
Land Rover LR2
3.0 / 5.0
Land Rover Range Rover Evoque
3.0 / 5.0
BMW X3
2.5 / 5.0
Porsche Macan
1.5 / 5.0
Avg. Luxury Compact SUV
3.5
The Best and Worst Years of the Acura RDX
The RDX like every other vehicle has had its good and bad years…
Worst Year
According to the CarComplaints website, 2015 is the worst model year for the RDX. The 2015 model features soy-based insulation on the electrical wiring, which may be better for the environment, but also attracts hungry vermin, this cost customers in the region of $2000 to repair.
The 2019 RDX (the first model year of the 3rd generation) has received the highest number of complaints of all the model years with 26 complaints in total.
The most common complaint with the 2019 model is loss of power when accelerating or 'limp mode' followed by stalling issues.
Other RDX problems include:
Brake squealing on the 2016 RDX
Cracked axles on the 2012 RDX
Best Model Year
The model years with the least number of complaints are 2009 and 2021.
Our top pick would be the 2021 model year as it features the latest safety and most up-to-date tech including a 10.2-inch touch screen display and Apple CarPlay and Android Auto as standard.
Related: 17 Best & Worst Acura RDX Years (With Facts & Stats)
Number of Complaints
Here's a rundown of the number of complaints registered on the Car Complaints website against RDX:
| | |
| --- | --- |
| Model Year | Number of Complaints |
| 2007 | 8 |
| 2008 | 7 |
| 2009 | 1 |
| 2010 | 14 |
| 2011 | 4 |
| 2012 | 2 |
| 2013 | 13 |
| 2014 | 7 |
| 2015 | 9 |
| 2016 | 16 |
| 2017 | 13 |
| 2018 | 2 |
| 2019 | 26 |
| 2020 | 4 |
| 2021 | 0 |
What About Recalls?
At the time of writing, the Acura RDX has a total of 28 recalls across all model years, ranging from airbag defects to faulty fuel pumps.
Recalls are manufacturing repairs that are offered at no cost to the consumer.
Here's a full list of recalls for the Acura RDX based on data from the NHTSA website.
| | |
| --- | --- |
| Model Year | Number of Recalls |
| 2007 | 3 |
| 2008 | 3 |
| 2009 | 2 |
| 2010 | 2 |
| 2011 | 2 |
| 2012 | 2 |
| 2013 | 3 |
| 2014 | 2 |
| 2015 | 3 |
| 2016 | 2 |
| 2017 | 1 |
| 2018 | 0 |
| 2019 | 2 |
| 2020 | 1 |
| 2021 | 0 |
Acura RDX Model Year List
Here are all the model years for the Acura RDX:
First Generation (2007 to 2012)
2007 Acura RDX
2008 Acura RDX
2009 Acura RDX
2010 Acura RDX
2011 Acura RDX
2012 Acura RDX
Second Generation (2013 to 2018)
2013 Acura RDX
2014 Acura RDX
2015 Acura RDX
2016 Acura RDX
2017 Acura RDX
2018 Acura RDX
Third Generation (2019 to present)
2019 Acura RDX
2020 Acura RDX
2021 Acura RDX
Is the Acura RDX Expensive to Maintain?
The Acura RDX is one of the cheapest luxury SUVs to maintain, costing only $497 per year. The average annual repair cost for all luxury compact SUVs is $859 per year compared to $652 across all makes and models, according to RepairPal.
Over a 5-year period, you can expect to spend around $2,485 on the RDX.
The RDX has a standard 4-year/50,000-mile warranty, it also comes with a 6-year/70,000-mile powertrain warranty which covers the engine and transmission from any major failures.
Model
Avg. Annual
Repair Cost
Frequency of
Unscheduled Repairs
(per year)
Probability of
SevereRepairs
Acura RDX
$497
0.4
6%
Lexus NX200t
$690
0.3
6%
Infiniti EX35
$588
0.7
8%
Volvo XC60
$746
0.5
7%
Mercedes-Benz GLK350
$859
0.6
10%
BMW X1
$915
0.7
8%
Lincoln MKC
$853
0.4
12%
Land Rover LR2
$895
0.8
11%
Land Rover Range Rover Evoque
$1,102
0.6
12%
BMW X3
$1,034
0.8
14%
Porsche Macan
$1,265
1.3
20%
Avg. Luxury Compact SUV
$859
0.6
10%
Related: 6 Most Common Acura RDX Problems (Explained)
How Long Do the Brakes Last?
The Acura RDX brake pads should last 30,000 to 70,000 miles.
The front pads will wear out faster than the rear, so you don't have to change all four at once.
Of course, the mileage you get out of your brakes will depend on your driving habits. If you drive smoothly, they'll last much longer.
How Long Do the Batteries Last?
The average lifespan of Acura RDX batteries is around 3 to 5 years.
To prolong your RDX battery:
Avoid parking outside in extreme climates
Hook it up to a battery tender during the winter
Don't run any electrical accessories while the engine is off
Make sure the battery is properly connected and remove any corrosion
How Long Do the Tires Last?
With regular tire rotations and wheel alignments, the Acura RDX's tires should last anywhere from 50,000 to 70,000 miles or 3 to 5 years.
Rotating the tires every 5,000 miles ensures even wear and will help you get the most life from them.
It is recommended that you check your tire pressure once every couple of weeks – deflated tires result in excessive and uneven wearing of the tread.
How Long Does the Transmission Last?
The transmission of the Acura RDX should easily last 150,000 miles and on average will last 250,00 – 300,000 miles.
Acura recommends having your RDX oil & filter changed every 3,000-5,000 miles for conventional oil. Synthetic oil frequently should be changed every 7,500 – 10,000 miles.
How Long Do Spark Plugs Last?
The Acura RDX manual recommends changing the spark plugs every 100,000 miles.
The RDX uses high-quality iridium tipped spark plugs.
What About Insurance Cost?
According to quotes collected by Finder, the average insurance rate for a brand new Acura RDX is $1,836 annually or $153 a month.
Insurance quotes will vary widely and will depend on lots of factors such as your age, driving history, state, and existing insurance policies.
Tips to Prolong the Life of Your Acura RDX
Follow the factory recommended service intervals
Keep vehicle modifications to a minimum
Drive smoothly; avoid harsh acceleration and braking
Regularly check fluids and tire pressures
Apply paint protection film or ceramic coating
Address rock chips and scratches immediately
Wash the vehicle regularly, especially in the winter
Keep the vehicle garaged as much as possible
Resources
https://www.motortrend.com/features/best-selling-luxury-vehicles-2020
https://owners.acura.com/Documentum/Warranty/Handbooks/2021_Acura_Warranty_Basebook.pdf
https://repairpal.com/reliability/acura/rdx
https://repairpal.com/reliability/lexus/nx200t
https://repairpal.com/reliability/audi/q5
https://enginepatrol.com/acura-tlx-snow-winter-driving/
https://repairpal.com/reliability/bmw/x3
https://www.motortrend.com/features/best-selling-luxury-vehicles-2020/
https://www.nalleyacura.com/acura-rdx-brake-pads.htm
https://enginepatrol.com/how-long-acura-mdx-last/
https://www.nalleyacura.com/acura-rdx-battery.htm
https://www.davidmcdavidacuraofaustin.com/2021-acura-rdx-oil-change.htm
https://www.finder.com/car-insurance/acura-rdx-insurance-rates