The Renegade is Jeep's entry into the crossover SUV market and has been produced since 2015.
This subcompact crossover features options for both all-wheel and front-wheel drive, and offers Jeep's signature off-road capabilities along with the daily usability of vehicles in this segment.
In this article we'll take a look at how many years of service you can expect from the Jeep Renegade.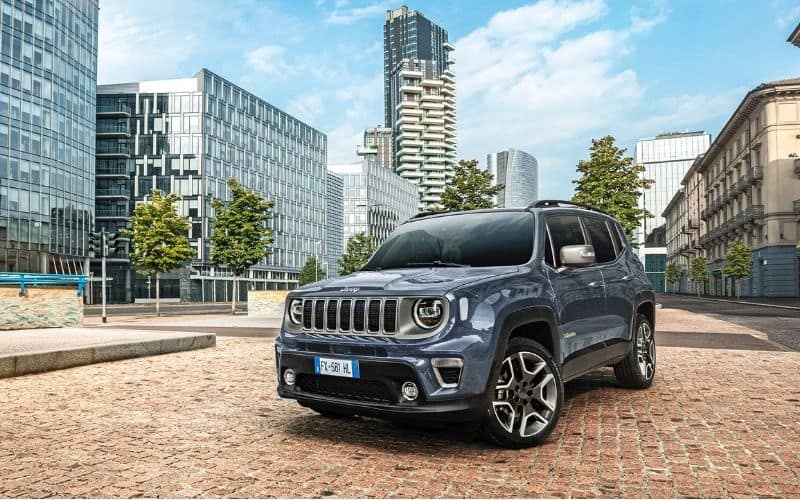 Here is the Short Answer to How Long the Jeep Renegade Lasts:
The Jeep Renegade can be expected to last 100,000 to 150,000 miles which is the equivalent of 7 to 10 years of service before major repairs are required. This is providing the vehicle is driven sensibly, serviced regularly and subject to good maintenance habits.
How Many Miles Can You Expect from a Jeep Renegade?
The Jeep Renegade has mixed reviews regarding its longevity, most of the issues are related to the earlier models.
There are reports of Renegade owners from 2015 to present, averaging 80,000 to 90,000 miles before encountering major problems and costly repairs.
However some owners have been able to reach over 150,000 miles without any issues.
Hence, we can suggest a Jeep Renegades longevity is around 100,000 – 150,000 miles or 6 to 10 years based on the average 15,000 miles driven per year, we would expect the newer models to exceed this or be at the upper end of this spectrum.
As with most cars, case-to-case reports of longevity can vary based on a number of factors.
If you're looking to buy a Renegade we would advise avoiding models before 2017, especially the 2015 model.
Careful driving and regular maintenance are the best ways to get the most life out of your vehicle.
How Soon Should You Expect Rust on a Jeep Renegade?
Some customers who purchased the Renegade when it debuted in 2015 reported rusted components underneath the car within the first year.
Premature rust problems on under body components and brake rotors have been known to 2015-2017 models as early as 800 miles.
Newer models have fewer reports of rusting, and is not considered a widespread issue.
Residents of the Salt Belt States and coastal areas where salty sea air is prevalent are more susceptible to rust related issues.
Salt buildup on vehicle surfaces is corrosive, and the sand, dirt and snow that accumulate can trap moisture in wheel wells and underbody structures.
For Renegade owners we suggest:
Regular washing: Salt and grime tend to collect in the corners and crevices of the undercarriage, but if you clean it regularly you can flush away corrosion-causing chemicals. Also, bear in mind that when the undercarriage and frame rust, it can eventually lead to safety issues and reduced structural integrity.
Rustproofing: Even new cars can, and do, need rustproofing. Rustproofing is something that, if done right, can last for years. The process involves treating the car with an anti-rust solution, this can be done professionally at specialist shops.
You may also be interested in our article: where are Jeep Renegade made?
How Long Does the Jeep Renegade Last Compared to Similar Car Models?
In a market saturated with SUVs of all shapes and sizes, the Jeep Renegade stands out from other subcompact crossovers for its ability to offer maneuverability and daily usability while being a capable off-roader.
Let's see how the Jeep Renegade stacks up to its competitors.
Jeep Renegade vs. Subaru Crosstrek
When it comes to longevity, the Subaru Crosstrek has the advantage. With an average life expectancy of 200,000 to 250,000 miles, the Crosstrek is capable of 13+ years of service.
In terms of cost to maintain, the Subaru Crosstrek and Jeep Renegade have a difference of just $6.
With the Crosstrek costing $492 per year in maintenance, while the Renegade costs $498.
Although both vehicles offer similar off-road capabilities, the Subaru Crosstrek boasts high safety scores from both the National Highway Safety Administration and the Insurance Institute for Highway Safety.
On top of lasting longer, having better safety reports, and costing slightly less to maintain, the Subaru Crosstrek has been proven to be the more reliable choice. With Consumer Reports giving the Renegade a reliability score of just 36% out of 100.
You may also be interested in our articles: Subaru Crosstrek in snow & winter driving and how long do Subaru Crosstreks last?
Jeep Renegade vs. Honda HR-V
The Honda HRV has an average lifespan of 200,000 miles, with owners often being able to reach 300,000.
This means that the Honda HRV has been proven to provide anywhere between 13 and 20 years of service, compared to the Jeep Renegade which has struggled since its debut to push 150,000 miles without any problems.
The Honda HRV is able to reach high mileage and run for several years with an annual maintenance cost of $428.
This makes for a $70 difference compared to the Jeep Renegade $498 cost to maintain per year.
When it comes to pure off-road performance, the Jeep Renegade is considerably more capable than the Honda HRV.
However, the superior ride comfort, practicality, cost efficiency, and proven longevity of the Honda HRV make it the optimal choice for everyday use.
Jeep Renegade vs. Ford Ecosport
The Ford Ecosport was ahead of its time, debuting in 2003, well before the current boom of compact crossovers we're experiencing today.
Despite having a headstart on the Jeep Renegade, the Ecosport averages only 7 years of service, matching the Renegade at 100,000 miles.
What the Ford Ecosport lacks in longevity, it makes up for in affordable maintenance. With an average maintenance cost of only $191 per year, the difference between the Ecosport and the Renegade is a whopping $307.
The Jeep Renegade certainly offers better off-road capabilities than the Ecosport while sharing the same expected longevity. However, taking maintenance costs into account, the Ecosport may be a better value for money option.
How Reliable is a Jeep Renegade?
The Jeep Renegade has the potential to offer years of satisfying off-road performance, while also being compact enough to make it around the city with ease.
However, the Renegade has a questionable reliability.
Consumer Reports rates the Jeep Renegade 36% out of 100 for reliability, while J.D. Power gives the Renegade a similarly poor reliability rating of 2 out of 5.
It is important to note that despite the low reliability ratings, effort from the owner to keep up with maintenance and servicing will go a long way in extending the service life of the Jeep Renegade.
You may also be interested in our article: how long do Hyundai Tucson last?
Reliability Compared to Other Subcompact SUVs
| | |
| --- | --- |
| Model | Reliability |
| Honda HR-V | 5.0 / 5.0 |
| Mazda CX-3 | 4.5 / 5.0 |
| Kia Soul | 4.5 / 5.0 |
| Jeep Renegade | 4.0 / 5.0 |
| Buick Encore | 4.0 / 5.0 |
| Chevrolet Trax | 4.0 / 5.0 |
| Nissan Juke | 4.0 / 5.0 |
| Avg. Subcompact SUV | 4.0 |
The Best and Worst Years of the Jeep Renegade
According to the CarComplaints database, the 2015 Jeep Renegade is ranked as the worst model year of the car's history.
The 2015 model has the most number of complaints, as well as the most costly repairs occurring at low mileage. This model year was also infamous for reports of day 1 rusted components.
Other problems found primarily in 2015-2018 model years include:
Squealing brakes
Check engine light on
Electrical problems
Faulty transmission
Interior accessory problems
As it stands, the 2019-2021 model years of the Jeep Renegade are safe choices with little to no complaints and major repairs needed. 
Related: 9 Best & Worst Jeep Renegade Years (With Facts & Stats)
What About Recalls?
Despite a few notably problematic years, the Jeep Renegade has encountered few recalls since it debuted in 2015.
Here is the full list of recalls:
2015: 4 recalls
2016: 2 recalls
2017: 3 recalls
2018: 2 recalls
2019: 3 recalls
2020: 2 recall
2021: 0 recalls
Jeep Renegade Model Year List:
Full list of model years for the Jeep Renegade:
2015 Jeep Renegade
2016 Jeep Renegade
2017 Jeep Renegade
2018 Jeep Renegade
2019 Jeep Renegade
2020 Jeep Renegade
2021 Jeep Renegade
Is the Jeep Renegade Expensive to Maintain?
The Jeep Renegade will cost an average of $498 a year to maintain, with an expected cost of $3,933 over a 5 year period.
Model
Avg. Annual
Repair Cost
Frequency of
Unscheduled
Repairs (per year)
Probability of
SevereRepairs
Honda HR-V
$301
0.1
5%
Mazda CX-3
$345
0.2
7%
Kia Soul
$437
0.2
9%
Jeep Renegade
$498
0.2
9%
Buick Encore
$466
0.2
12%
Chevrolet Trax
$488
0.2
12%
Nissan Juke
$548
0.4
12%
Avg. Subcompact SUV
$466
0.2
9%
Related: Jeep Renegade Tune-Up & Maintenance Costs
How Long Do the Brakes Last?
Jeep Renegade brake pads usually last between 30,000 and 70,000 miles.
Commuting in heavy stop-and-go traffic will result in needing more frequent brake replacements as will excessive or heavy braking.
How Long Do the Tires Last?
Jeep Renegade tires can last as long as 50,000 to 60,000 miles, and as little as 10,000 miles depending on a number of factors.
Factors affecting the longevity of your tires include poor roadway conditions, driving and braking habbits.
How Long Does the Transmission Last?
The transmission on the Jeep Renegade is designed to last over 100,000 miles with proper servicing.
How Long Do Spark Plugs Last?
Jeep Renegade spark plugs are built to last between 30,000 and 40,000 miles before needing replacement.
What About Insurance Cost?
The average insurance costs for a Jeep Renegade is $220 per month, or $2,640 annually.
Related: How Long Do VW Taos Last?
Tips to Prolong the Life of Your Jeep Renegade
Have your vehicle rustproofed by a rustproofing specialist
Keep up to service schedule and maintenance
Keep your interior dry at all times.
Drive carefully to prolong the life of your tires, brake pads, and to get the best possible longevity
Resources
https://www.jeep.com/renegade.html
https://www.edmunds.com/jeep/renegade/2020/cost-to-own/
https://cars.usnews.com/cars-trucks/jeep/renegade
https://www.carcomplaints.com/Jeep/Renegade/