The Crosstrek is a popular compact SUV from Japanese automaker Subaru.
Offering ruggedness, utility and practicality the Crosstrek is a great choice for those who want the ability of a full-size SUV in a smaller package.
If you're researching the Crosstrek you might be wondering how long it will last.
We'll cover that and much more in this article, read on to find out…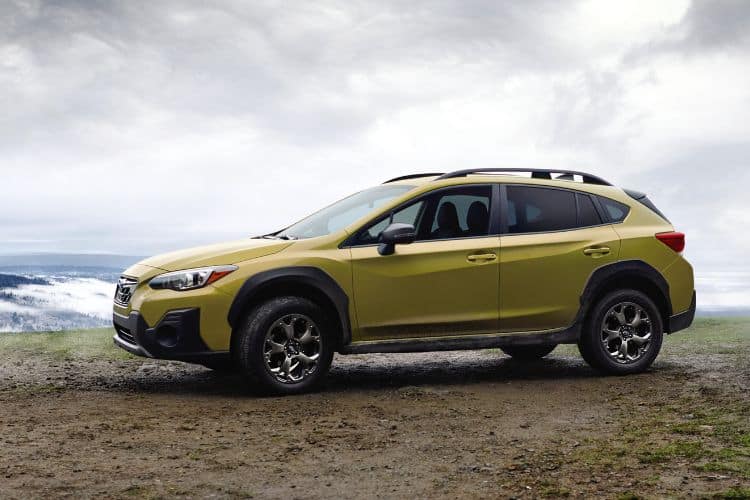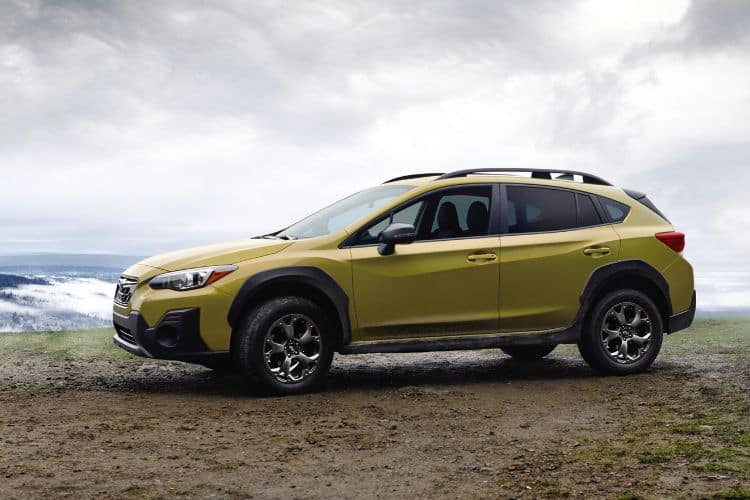 Here is the short answer to how long do Subaru Crosstrek Last:
The Subaru Crosstrek is a robust, compact SUV that can last between 200,000 miles and 250,000 miles when properly maintained and driven conservatively. Based on driving 15,000 miles per year, you can expect the Crosstrek to last 13 – 17 years before requiring uneconomical repairs or breaking down.
How Many Miles Can You Expect from a Subaru Crosstrek?
A well-kept Crosstrek can run for a very long time and despite having only been around since 2013 there are plenty of positive testimonies regarding its durability.
Many owners report comfortably passing the 100k mark with no problem at all, just the basic replacements of tires and brake pads along the way.
The boxer engines used in the Crosstrek are not only incredibly fuel-efficient they have also done very well in reliability tests.
A reasonable projection for the average Crosstreks lifespan would fall in the region of 200k – 250k, when these types of mileages have been achieved you can expect costly repair bills that may be more than the car is worth.
Of course, it's more than possible to exceed these figures but for the most part, this is where you'll likely encounter the failure of big-ticket items such as the engine and transmission; reaching 300k is by no means unrealistic.
Japanese automakers are well known for building durable cars and although not in the same league as Honda or Toyota, Subarus boast a very respectable lifespan.
So much so that Subaru has even created its own high mileage club called 'To the Moon and Back' where owners can share their stories of achieving 500,000 miles on the odometer.
Quality of materials and design play a major role when it comes to longevity, ultimately though it is down to the owners to get the most life from their vehicle.
To keep your Crosstrek running smoothly for many years to come, we recommend:
Keeping up to date with the manufacturer's maintenance schedule
Carrying out basic routine checks such as fluid levels and tire pressures.
Adopting smooth driving habits to reduce wear and tear on components
What is High Mileage for a Subaru Crosstrek?
A Subaru Crosstrek with over 120,000 miles is considered high mileage and a riskier investment although there are many factors to take into consideration, most importantly the vehicle's maintenance history.
Buying a used Crosstrek with over 120k miles doesn't necessarily mean a sour outcome.
Some important factors to consider are:
Service history. That the vehicle was properly serviced and the owner can provide proof of this.
How many owners there were. As a general rule less is better. More owners usaully means more wear and tear. If one family owned it and drove the full 120k miles and serviced the car, then you can almost guarantee they took good care of it throughout ownership.
Check the CarFax. This doesn't guarentee anything but can help give a clearer picture of wear and tear. Make sure it has minimal damage, if any. Analyze the data to make sure if something did happen, it wasn't engine related or mechanical.
How long you are planning on keeping the car. If you're planning on keeping the car for many years, you have to ask yourself – do the short-term savings outweigh spending a little extra into something more reliable.
Does the Subaru Crosstrek Have Rust Issues?
There have been a few isolated reports of Crosstreks rusting however for the most part it doesn't seem to be a widespread issue. Currently, there have been no corrosion-related recalls for this model.
Rust on a new Crosstrek is out of the ordinary and in most instances will be covered under Subarus 5 year rust perforation coverage.
During production the Crosstrek is equipped with various rust proofing and is built using galvanized metals to ensure optimum protection.
Subaru has gone on record to say they do not recommend the use of third-party rustproofing, however some owners are in favor of taking extra precautions.
Depending on your location rust can be much more of an issue, particularly in states where roads are aggressively salted in the winter.
The chemicals and salt used to melt the snow can accelerate corrosion and deteriorate paint and underbody parts.
In the past Subaru garnered a reputation for rust-prone vehicles however this was likely attributed to the popularity of their cars in cold, snowy regions.
Similarly in coastal areas where salt from the ocean mixes with the air, cars are more prone to rusting.
To help keep corrosion off your Crosstrek, here are a few tips:
Clean your car regularly – Especially after exposure to rain, dirt, snow and salt. Be sure to get the underside of the vehicle too and rinse thoroughly.
Fix paint chips straight away – Exposed metal will oxidize, if it's beyond a DIY fix speak to your local body repair shop.
Storage – If possible, keep your car stored in a garage protected from sunlight, rain, snow and bird droppings.
Waxing: Wax your car twice a year. Not only will this make your Crosstrek look amazing, it also gives a protective coating against rust
Rustproof your vehicle: At your own discretion, you may wish to add an additional layer of protection to your Crosstrek
Apply a ceramic coating: This can be done by qualified proffesionals and will help preserve your cars paint job
You may also be interested in our article: Subaru Crosstrek in Snow & Winter Driving
How Long Does the Subaru Crosstrek Last Compared to Similar Car Models?
In this section we'll compare the Crosstrek to some of its competitors.
Subaru Crosstrek vs. Toyota Rav4
The Rav4 is produced by Japanese automakers Toyota and is one of the top-selling compact SUVs.
A well-kept Rav4 is projected to last anywhere from 250,000 – 300,000 miles and there are even some reports of owners who have achieved 400k on the odometer, slightly outdoing the Crosstreks projection of 200k – 250k.
RepairPal has scored the Rav4 4.0 / 5.0 in terms of reliability which ranks it 3rd out of 26 for compact SUVs.
The Crosstrek is awarded an impressive 4.5 / 5.0 from Repair Pal and they have ranked it as their number one choice in the segment.
J.D Power awards the Crosstrek 77/100 for quality and reliability which outpoints the Rav4s score of 74/100.
In terms of maintenance costs, the Rav4 is expected to set you back $429 per year which is slightly less than the $492 for the Crosstrek.
The Crosstrek is a better choice for those who want comfort and luxury whilst the Rav4 offers superior off-road performance and more cargo space, however both are exceptional SUVs.
Subaru Crosstrek vs. BMW X1
The BMW X1 features a strong engine, zesty handling, and great gas mileage.
The X1 is expected to last between 150,000 – 200,000 miles before breaking down and therefore has a shorter life expectancy than the Crosstrek.
The BMW X1 falls in the luxury compact SUV segment and Repair Pal has ranked it in 6th position out of 11 based on its reliability score of 3.5 out of 5.0, this pales in comparison to the Crosstreks first place position and 4.5 / 5.0 score.
Average repair costs for the X1 are almost double that of the Crosstrek, costing $915 a year in ownership costs, the Crosstrek only costing $492 per year.
If your more concerned with status and luxury then the X1 is for you, however for durability and reliability the Crosstrek is the winner here.
Subaru Crosstrek vs. Hyundai Kona
The Kona is Hyundai's smallest SUV and features a funky-looking design.
The Kona's average lifespan is the same as the Crosstreks, with both vehicles expected to last in the region of 200k – 250k miles or 13 – 17 years based on 15,000 miles driven per year.
There are currently no reliability scores specifically for the Kona on Repair Pal however the Hyundai brand is rated 4.0 out of 5.0 for reliability with average ownership costs across all its vehicles at $468.
J.D. Power has given the Kona a score of 81/100 for reliability and quality which is classed as 'great', which is a few points higher than the 77/100 awarded to the Crosstrek.
The choice between these two will be down to which styling you prefer as this is really what sets these two vehicles apart.
You may also be interested in our article: How Long Do Hyundai Kona Last?
How Reliable is the Subaru Crosstrek
From our research we can safely say the Subaru Crosstrek is a very reliable SUV.
Repair Pal has given the Crosstrek the highest reliability score in its segment, with a rating of 4.5 / 5.0 and has ranked it in first place above rival compact SUVs such as the Honda CR-V and the Toyota Rav4.
The scores given by Repair Pal give an indication of the vehicle's dependability and the likelihood of facing unscheduled repairs and maintenance.
Motor Trend has also positioned the Crosstrek in pole position and has awarded it the #1 ranking in its class with an overall score of 9/10.
Based on 52 owner reviews, Kelley Blue Book has awarded the Crosstrek with a reliability rating of 4.5 stars out of 5 which again, is well above average.
With such glowing reviews, you really can't go wrong with a Crosstrek.
Reliability Compared to Other SUVs
The Best and Worst Years of the Subaru Crosstrek
In this section we'll take a quick look at the Crosstrek's best and worst years.
Worst Model Year
The Subaru Crosstrek has been on the receiving end of some complaints over the years.
Some of the highest complaints occurred in 2016 and 2018 with issues ranging from interior accessories faults to suspension problems.
According to Car Complaints, the worst model year for the Crosstrek was 2019, despite not having the highest number of complaints the model suffered from a windshield that cracked easily and cost on average $1500 to fix and usually occurred after only 3,000 miles.
The 2018 model year saw a total of 28 filed complaints, the most common issue being a rear-end that slides easily.
Related: 11 Best & Worst Subaru Crosstrek Years (With Facts & Stats)
Best Model Year
Since its release, Subaru has ironed out a lot of the Crosstreks flaws and complaints have significantly tapered off in the past couple of years.
At the time of writing both the 2020 and 2021 models are relatively free of any complaints and across automotive review sites, these models score the most favorably.
These models also feature 20% more available horsepower, the most up-to-date tech and safety features including Subaru EyeSight® Driver Assist Technology fitted as standard.
As such, either the 2020 or 2021 models would be our top picks.
Complaints by Model Year
This information is collected from the Car Complaints database.
| | |
| --- | --- |
| Crosstrek Model Year | Number of Complaints |
| 2021 | 0 |
| 2020 | 0 |
| 2019 | 8 |
| 2018 | 28 |
| 2017 | 6 |
| 2016 | 18 |
What About Recalls?
According to the National Highway Traffic Safety Administration (NHTSA) database, the Subaru Crosstrek has been recalled a total of 14 times since 2016.
A recall is issued when a manufacturer or the NHTSA (National Highway Traffic Safety Administration) deems that a vehicle or one or more of its components creates an unreasonable safety risk or does not meet minimum safety requirements – recall related problems are fixed free of charge.
To find out if your Crosstrek has been subject to a recall you can check the Subaru website recall page, you'll need your car's 17-digit VIN.
Here is the full list of recalls for the Crosstrek:
2016: 1
2017: 1
2018: 5
2019: 7
2020: Currently no recorded recalls
2021: Currently no recorded recalls
Subaru Crosstrek Model Year List:
There have been two generations of Crosstrek since its inception:
2016-2017 (1st Generation)
2016 Subaru Crosstrek
2017 Subaru Crosstrek
2018-2021 (2nd Generation)
2018 Subaru Crosstrek
2019 Subaru Crosstrek
2020 Subaru Crosstrek
2021 Subaru Crosstrek
Is the Subaru Crosstrek Expensive to Maintain?
The Subaru Corsstrek is a reasonably inexpensive vehicle to maintain. Average ownership costs are about $492 per year.
According to Repair Pal the average cost for repairs across all vehicles is $652.
Model
Avg. Annual Repair Cost
Frequency of
Unscheduled Repairs (per year)
Probability of
Severe Repairs
Subaru Crosstrek
$492
0.1
7%
Honda CR-V
$407
0.3
9%
Toyota RAV4
$429
0.3
10%
Nissan Rogue Select
$436
0.3
10%
Hyundai Tucson
$426
0.3
10%
Kia Sportage
$462
0.2
11%
Mitsubishi Outlander Sport
$498
0.3
10%
Mitsubishi Outlander
$519
0.3
11%
Jeep Cherokee
$420
0.2
12%
Mazda Tribute
$523
0.3
11%
Jeep Compass
$526
0.3
11%
Kia Sorento
$533
0.3
11%
Nissan Rogue
$467
0.3
12%
Honda Element
$491
0.6
10%
Jeep Patriot
$596
0.3
12%
Ford Escape
$600
0.3
11%
Subaru XV Crosstrek
$631
0.4
11%
Nissan Xterra
$514
0.3
14%
Chevrolet Captiva
$585
0.3
13%
Nissan Murano
$507
0.5
14%
Subaru Forester
$632
0.4
13%
GMC Terrain
$558
0.3
17%
Chevrolet Equinox
$537
0.3
18%
Fiat 500L
$640
0.2
17%
Jeep Wrangler
$694
0.3
16%
Volkswagen Tiguan
$730
0.9
12%
Avg. Compact SUV
$521
0.3
11%
How Long Do the Brakes Last?
Subaru Crosstrek brake pads usually last between 30,000 and 70,000 miles.
Driving habits will play a big part in brake longevity. If you tend to do a lot of stop-and-go driving or are prone to heavy braking then your brakes will need frequent replacement.
Full and complete stops from a high speed are the biggest culprit of premature brake pad wear.
How Long Do Subaru Crosstrek Batteries Last?
Subaru Crosstrek batteries should last between 3-5 years. This can vary, depending on factors such as driving habits, climate, the type of battery, and more.
Four tips below to help prolong your Crosstreks battery:
Keep you battery tightly fastened: The vibrations of your car can loosen the connections potentially resulting in short circuits and internal damage.
Limit short rides: Quick car rides prevent the battery from fully charging. To help maintain battery power, drive your Forester frequently and for extended periords.
Control Corrosion: Clean the terminals (toothbrush dipped in baking soda and water mixture) and keep them free from buildup.
Sorage: Keep your Crosstrek stored indoors away from extreme changes in temperature
How Long Do the Tires Last?
Subaru Crosstrek tires usually last up to 4 years, which means an average of 60,000 miles based on 15,000 miles driven per year.
Maintaining the correct tire pressure will not only keep you safe it will also bolster your tire's lifespan, the correct pressure for your tires is usually located in the driver's door jamb.
To ensure even wear of your tires, have them rotated regularly as specified in the owner's manual or new-tire warranty guidelines, this is usually every 5,000 – 8,000 miles.
How Long Does the Transmission Last?
The continuously variable transmission on the Subaru Crosstrek is built to last all the way to 250,000 miles without replacement. However, major servicing may occur at around the 150,000-mile mark.
Ensure fluid levels are topped up and fix any problems immediately to keep the transmission running smoothly.
How Long Do Spark Plugs Last?
Subaru Crosstrek spark plugs last between 30,000 – 100,000 miles before needing replacement.
Spark plugs are responsible for creating the spark that ignites the air/fuel mixture, causing the explosion which makes the engine produce power.
They are usually inspected and if needed, replaced when you go for a tune-up.
What About Insurance Cost?
According to Finder the average insurance cost for a Subaru Crosstrek is $220 a month or $2,640 a year.
Insurance costs can vary from person to person; be sure to shop around to find the best possible deal.
Tips to Prolong the Life of Your Subaru Crosstrek
Follow the maintenance schedule outlined in the owners manual
Use original parts and quality fluids
Always use reputable mechanics
If possible, keep the vehicle stored in a garage, out of the elements
Invest in ceramic paint protection to keep the car looking new
Do not exceed the vehicle's hauling limits
Drive smoothly and conservatively
Check your tire pressure regularly and rotate your tires
Resources
https://www.subaru.com/vehicles/crosstrek/index.html
https://www.motortrend.com/cars/subaru/crosstrek/2021/
https://repairpal.com/reliability/subaru/crosstrek
https://enginepatrol.com/how-long-subaru-outback-last/
https://www.carcomplaints.com/Subaru/Crosstrek/
https://enginepatrol.com/subaru-outback-snow-winter-driving/
https://www.jdpower.com/cars/2021/subaru/crosstrek