The Mazda CX-5 is a fun compact SUV that combines sporty driving with practicality.
Ideal for families, the CX-5 is safe, spacious and provides good fuel economy.
In this article, we'll examine the average lifespan of a Mazda CX-5, read on to find out more…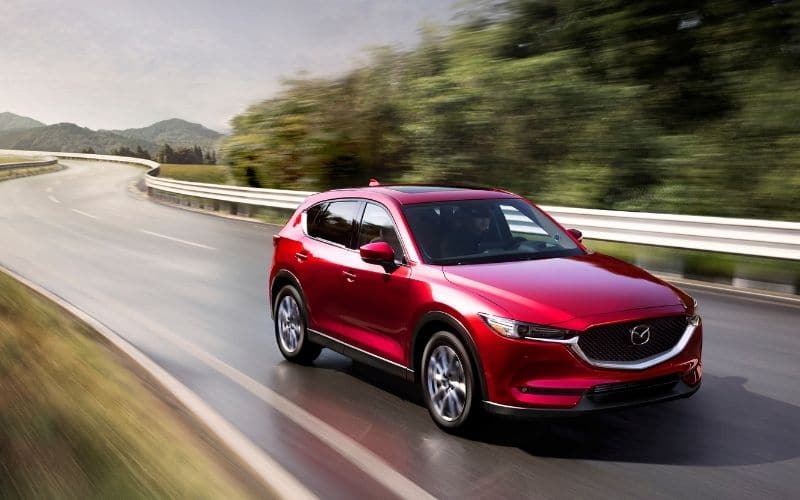 Here is the short answer to how long Mazda CX-5s last:
A Mazda CX-5 can last between 200,000 and 250,000 miles when driven conservatively and well maintained. The Mazda CX-5 is considered to be a reliable, durable vehicle, and owners can expect 13 – 17 years of service based on driving 15,000 miles per year.
How Many Miles Can You Expect from a Mazda CX-5?
Since the first Mazda CX-5 rolled off the assembly line in 2013, the model has demonstrated its longevity.
Based on current data, owners can expect their Mazda CX-5 to last somewhere between 200,000 and 250,000 miles, with newer models having an easier time reaching or exceeding these milestones.
Reportedly, some Mazda CX-5 owners have surpassed 300,000 miles, and although careful maintenance makes this possible, it should not be expected.
One of the best ways to extend the life of your Mazda CX-5 is to keep up to date with maintenance requirements.
The Mazda CX-5 owner's manual outlines regular service intervals that an owner must adhere to after a certain number of miles.
Following these maintenance intervals and carrying out repairs as problems arise, thereby preventing more significant issues, can help you get the maximum mileage from your vehicle.
Smooth driving habits can also help prevent mechanical problems from appearing by reducing wear and tear on components.
How Soon Should You Expect Rust on a Mazda CX-5?
Owners have not reported extensive rust problems for the Mazda CX-5, and it is not considered to be a widespread issue.
There have isolated reports from CX-5 owners on the Mazda forum mazdas247.com of surface rusting in the following areas:
Exhaust pipes
Cross-members
Other parts of the vehicle's underside
Most of this was reported to be harmless and did not impact the safety or performance of the vehicle.
One owner we encountered who lives in a 'rust prone region' reported that surface rust appeared after 3 years of use on their CX-5's underside.
Where you live can play a large role in the likelihood and severity of developing rust, some high risk areas are:
By the coast – where salt in the air can cling to your vehicle and accelerate corrosion.
Regions that salt their roads in the winter – the salt/chemicals used to melt the snow are corrosive agents and can wreak havoc on your vehicle.
Areas with high humidity due to the amount of moisture in the air
To help keep rust to a minimum we advise the following:
Apply a rustproofing treatment: This provides an added layer of protection for your CX-5, and can help prevent or delay rusting.
Washing. Regular washing of your CX-5 can help prevent the buildup of substances that speed up corrosion. Washing is an absolute must after driving on muddy, snowy or salt-covered roads.
Storage. Keep your Mazda CX-5 in a garage or under a carport to help reduce the vehicle's exposure to the elements.
Keep an eye out for rust. Rust usually starts small before it becomes a big issue. Inspect the car's undercarriage for rust regularly, and be sure to pay attention to chips in body paint that can expose the untreated metal to moisture – if it's too severe for a DIY fix have a body shop take a look at it.
Related: 6 Most Common Problems With Mazda CX-5 (Explained)
How Long Does the Mazda CX-5 Last Compared to Similar Car Models?
There is no shortage of options when it comes to compact SUVs, in this section we'll see how the CX-5 fares against its closest competitors.
Mazda CX-5 vs. Nissan Rogue
The Nissan Rogue is a compact SUV that is priced to compete with the CX-5.
The Nissan Rogue has a slightly shorter lifespan than the Mazda CX-5. The Rogue is estimated to last around 200,000 miles, while the CX-5 can reasonably last 250,000 miles.
On RepairPal, the Mazda CX-5's reliability rating of 4.5 out of 5 exceeds the Nissan Rogue's rating of 4.0.
Compared to the Rogue, the CX-5 experiences fewer and less severe breakdowns.
Furthermore, the estimated annual repair cost of the Nissan Rogue is $467 compared to the Mazda CX-5s estimated yearly repair cost of $447.
This means that Nissan Rogue owners pay more each year for a less reliable vehicle than the Mazda CX-5.
Please also read our article: How long do Nissan Rogue last
Mazda CX-5 vs. Honda CR-V
The Honda CR-V features a stylish appearance and sporty performance like the CX-5.
The Honda CR-V is one of the longest-lasting compact SUVs on the market, offering an expected lifespan of 250,00 to 300,000 miles. Drivers can expect up to 20 years of service.
The Mazda CX-5 is more expensive to maintain than the CR-V.
The annual estimated repair cost of a Honda CR-V is $407, while the Mazda CX-5's estimated annual repair cost is $447.
Both the CX-5 and the CR-V have a reliability rating of 4.5 on RepairPal, indicating that both models are highly reliable.
In terms of overall reliability rankings, the Mazda CX-5 is rated 1st out of 26 compact SUVs (reviewed by RepairPal), whilst the Honda Accord gets the 2nd place spot.
Both the Honda CR-V and Mazda CX-5 have an exceptional reputation for reliability, although the CX-5 costs slightly more to maintain.
Mazda CX-5 vs. Ford Escape
The Ford Escape is one of the most common and well-known midsize SUVs.
It features a bulkier body style than the CX-5 and boasts similar performance features.
Despite updates in recent model years, the Ford Escape has one of the shortest lifespans of vehicles in its class, with an expected service life of only 150,000 to 200,000 miles.
The Ford Escape has a reliability rating of 4.0 out of 5 on RepairPal, which is above average but still lower than the Mazda CX-5's rating of 4.5.
The Escape is more expensive to repair, and is reportedly more prone to breakdown.
The Mazda CX-5 has an annual estimated repair cost of $447, while the Ford Escape has an estimated annual repair cost of $600.
Comparison Chart
Reliability Comparison Chart
Mazda CX-5
Nissan Rogue
Honda CR-V
Ford Escape
Annual Repair Cost
$447
$467
$407
$400
Lifespan(miles)
200,000 – 250,000
200,000
250,000 – 300,000
150,000 – 200,000
RepairPal Reliability Star Rating
4.5 out of 5
4.0 out of 5
4.5 out of 5
4.0 out of 5.0
RepairPal Reliability Rank
1st out of 26
13th out of 26
2nd out of 26
16th out of 26
How Reliable is the Mazda CX-5?
Japanese cars are synonymous with reliability and the Mazda CX-5 is no exception.
The CX-5 is one of the most reliable cars in its class and has gained a solid reputation for reliability and longevity. This is a testament to the Japanese automaker, who is well regarded as one of the most reliable brands in the industry.
The RepairPal rating of 4.5/ 5 for the Mazda CX-5 shows that the CX-5 is exceptionally reliable.
RepairPal also gave the CX-5 the 1st-place position on their list of most reliable compact SUVs.
The Mazda CX-5 achieved a reliability rating of 8.1/10 from Edmunds.
A rating of 8.1 indicates above-average reliability compared to similar vehicles.
Kelly Blue Book awarded the Mazda CX-5 a reliability rating of 4.5/5 based on customer feedback, which again indicates that the CX-5 has above-average reliability.
Overall, it is safe to say the Mazda CX-5 is a very reliable vehicle.
Reliability Compared to Other SUVs
| | |
| --- | --- |
| Model | Reliability |
| Mazda CX-5 | 4.5 / 5.0 |
| Hyundai Santa Fe | 4.0 / 5.0 |
| Toyota Venza | 4.0 / 5.0 |
| Hyundai Veracruz | 4.0 / 5.0 |
| Mitsubishi Endeavor | 4.0 / 5.0 |
| Dodge Journey | 4.0 / 5.0 |
| Toyota Highlander | 4.0 / 5.0 |
| Dodge Nitro | 4.0 / 5.0 |
| Toyota 4Runner | 4.0 / 5.0 |
| Subaru Outback | 3.5 / 5.0 |
| Ford Edge | 3.5 / 5.0 |
| Toyota FJ Cruiser | 3.5 / 5.0 |
| Honda Pilot | 3.5 / 5.0 |
| Jeep Liberty | 3.5 / 5.0 |
| Jeep Grand Cherokee | 3.5 / 5.0 |
| Mazda CX-7 | 3.5 / 5.0 |
| Nissan Pathfinder | 3.5 / 5.0 |
| Subaru Tribeca | 3.5 / 5.0 |
| Ford Explorer | 3.5 / 5.0 |
| Ford Explorer Sport Trac | 3.5 / 5.0 |
| Chevrolet Tahoe | 3.5 / 5.0 |
| Chevrolet Traverse | 3.0 / 5.0 |
| GMC Acadia | 3.0 / 5.0 |
| Buick Enclave | 3.0 / 5.0 |
| Volkswagen Touareg | 3.0 / 5.0 |
| Ford Police Interceptor Utility | 2.0 / 5.0 |
| Avg. Midsize SUV | 3.5 |
The Best and Worst Years for the Mazda CX-5
While the Mazda CX-5 has gained a reputation for reliability, some model years are worse than others…
Mazda CX-5 Worst Model Year
The database Car Complaints, which archives owner complaints about their vehicles, indicates that the worst production year of the Mazda CX-5 was 2016.
The 2016 CX-5 received the highest number of complaints compared to any other model year by quite some margin with 137 complaints in total.
This model year was known for windshields that broke easily and premature brake wear and in some cases, complete brake failure.
The loss of braking action associated with this model year was a severe safety issue.
Many owners also reported the failure of the LED daytime running lights, costing around $1,100 to fix and occurring at around the 44,000 mile mark.
These three issues dominated the complaints for this model year.
Mazda CX-5 Best Model Year
Since 2016, the Mazda CX-5 has seen a big drop in the number of complaints, this shows they've been proactively addressing issues and fine tuning their vehicle.
From our research, we believe the best model year is the 2020 Mazda CX-5.
At the time of writing it has no complaints registered against it on Car Complaints.
It is the most technologically advanced of all the model years and is also the most environmentally friendly.
Complaints by model year:
2013: 57 complaints
2014: 96 complaints
2015: 38 complaints
2016: 137 complaints (worst year)
2017: 17 complaints
2018: 25 complaints
2019: 4 complaints
2020: 0 complaints
Related: 11 Best & Worst Mazda CX-5 Years (With Facts & Stats)
What About Recalls for These Models?
According to statistics collected by the National Highway Traffic Safety Administration (NHTSA), there have been a total of 8 recalls for the Mazda CX-5 since 2013.
Mazda issued a recall for the 2016 CX-5 due to a possible failure of a critical bolt in the steering assembly.
When this bolt breaks, it causes the vehicle to become impossible to steer.
A recall was issued for the 2018 and 2019 Mazda CX-5 model years concerning engine operation. In some cases, the engine computer can fail and cause the engine to shut down while driving.
Recalls for individual model years are listed below:
2013: 0 recalls
2014: 0 recalls
2015: 0 recalls
2016: 4 recalls
2017: 1 recall
2018: 1 recall
2019: 1 recall
2020: 1 recall
Mazda CX-5 Model Year List
First Generation:
2013 Mazda CX-5
2014 Mazda CX-5
2015 Mazda CX-5
2016 Mazda CX-5
Second Generation:
2018 Mazda CX-5
2019 Mazda CX-5
2020 Mazda CX-5
Are Mazda CX-5s Expensive to Maintain?
Owners can expect to pay less than average to maintain their Mazda CX-5. The CX-5 has an estimated annual repair cost of $447, significantly lower than the average annual repair cost of $526 for compact SUVs.
Model
Avg. Annual Repair Cost
Frequency of
Unscheduled Repairs (per year)
Probability of
SevereRepairs
Mazda CX-5
$447
0.3
8%
Hyundai Santa Fe
$515
0.2
10%
Toyota Venza
$444
0.5
10%
Hyundai Veracruz
$524
0.5
9%
Mitsubishi Endeavor
$515
0.2
12%
Dodge Journey
$562
0.3
12%
Toyota Highlander
$489
0.3
13%
Dodge Nitro
$582
0.3
13%
Toyota 4Runner
$514
0.4
13%
Subaru Outback
$607
0.4
12%
Ford Edge
$611
0.3
13%
Toyota FJ Cruiser
$506
0.5
14%
Honda Pilot
$542
0.5
13%
Jeep Liberty
$674
0.3
12%
Jeep Grand Cherokee
$666
0.3
13%
Mazda CX-7
$470
0.7
14%
Nissan Pathfinder
$542
0.4
15%
Subaru Tribeca
$563
0.7
13%
Ford Explorer
$732
0.2
14%
Ford Explorer Sport Trac
$720
0.3
14%
Chevrolet Tahoe
$744
0.3
16%
Chevrolet Traverse
$656
0.4
18%
GMC Acadia
$734
0.4
19%
Buick Enclave
$720
0.5
18%
Volkswagen Touareg
$937
0.9
13%
Ford Police Interceptor Utility
$1,160
1.0
20%
Avg. Midsize SUV
$573
0.4
13%
You may also be interested in our article: How Long Do Mazda CX-9 Last?
How Long do the Brakes Last?
Factory-standard brakes on the Mazda CX-5 should last between 30,000 and 60,000 miles depending on how aggressively the vehicle is driven.
Controlled and smooth braking will help make your brakes last longer.
How Long do the Tires Last?
Standard tires on a new Mazda can last approximately 50,000 miles.
Maintain the correct tire pressure as specified by your owner's manual.
Have your tires rotated regularly to ensure even wear. 
Related: How Long Do Mazda CX-5 Tires Last?
How Long do the Spark Plugs Last?
Like most modern vehicles, the modern spark plugs in a Mazda CX-5 should last at least 100,000 miles.
How Long do the Transmissions Last?
With appropriate maintenance, a Mazda CX-5's transmission should last over 150,000 miles.
Check your transmission fluid regularly to keep your car running smoothly and safely
Immediately bring your CX-5 in for service if you hear grinding or whining from the transmission.
What About Insurance Cost?
The Mazda CX-5 costs about the same to insure as most vehicles in its class. The average annual insurance cost is reported to be $1,350.
Tips to Prolong the Life of your Mazda CX-5
Follow maintenance procedures closely.
Wash and inspect your vehicle regularly.
Drive gently and avoid aggressive stops and starts.
Be vigilant and aware of problems as they occur.
If you notice a problem, address it before it becomes a more significant issue
Related: where are Mazda CX-5 made?
Resources:
https://www.edmunds.com/mazda/cx-5/
https://www.kbb.com/mazda/cx-5/
https://www.jdpower.com/cars/2019/mazda/cx-5
https://repairpal.com/cars/compare/mazda-cx-5-vs-ford-escape
https://repairpal.com/cars/compare/mazda-cx-5-vs-nissan-rogue
https://repairpal.com/cars/compare/mazda-cx-5-vs-honda-crv
https://enginepatrol.com/where-mazda6-made/
https://enginepatrol.com/how-long-mazda-cx-30-last/
https://www.carcomplaints.com/Mazda/CX-5/
https://www.cars.com/research/mazda-cx_5/recalls/