The CX-5 is a compact crossover SUV that was first introduced for the 2013 model year.
It's often viewed as a luxury vehicle with an accessible price tag and over the years has received stellar reviews from auto critics.
Despite the high praise, no vehicle is perfect and in this article we'll uncover the most common issues with the Mazda CX-5.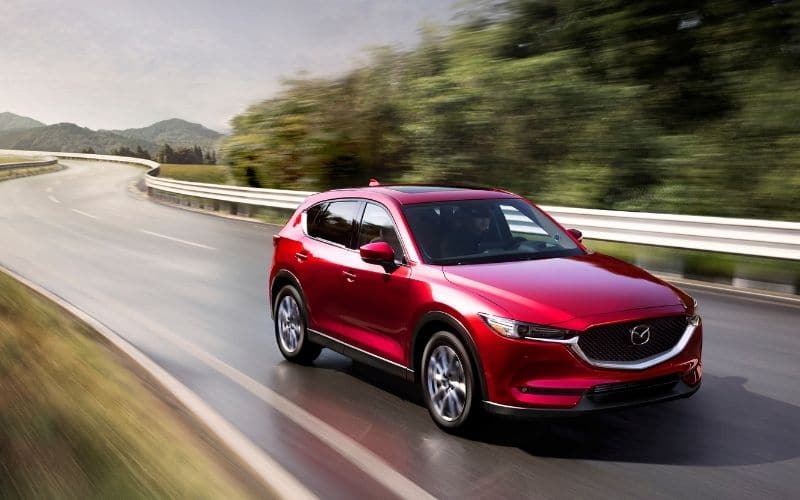 1. Infotainment Issues
According to Car Problem Zoo, a site dedicated to collecting owner feedback – one of the most prevalent issues on the CX-5 is related to the infotainment system.
The problem is affectionately referred to as "ghost touch", and as the name implies the infotainment screen scrolls through and clicks random buttons as if it were possessed by an evil spirit.
Owners have reported this phenomenon both whilst parked and driving.
Common symptoms include:
Changing of radio stations
Exiting navigation
Selecting random buttons
Switching between functions
Beeping sounds
Dialing phone numbers
Turning the system display to night mode
Continuously rebooting and freezing
This issue may not be life-threatening however it is hugely frustrating, the ghost issues have been reported on models from 2017 – 2021.
Solution
Some owners have been forced to buy a new display which can cost over $1,200, our research indicates there is no recall for this issue on the CX-5 specifically.
Outside of warranty, owners have reported Mazda will not fix the issue.
Some owners have been able to work around this issue by disabling the touchscreen, thereby removing the ghost touch issues.
The process involves:
Removing the dash using a trim removal kit – this will give you full access to the display.
Using a 10mm socket remove the bolts on the left and the right, just below the display (look for 2 big circles on the left and right).
Then remove the screws which are just below the bolts.
Put the bolts and screws somewhere safe.
You will see wires going into the back of the unit, unclip these and the unit should come off.
Once you have the radio unit out you will need to locate a small yellow ribbon.
You may be able to fish it out or you may need to cut away part of the unit to gain access to it.
Then, simply cut the ribbon and put the unit back together in the reverse order of how you disassembled it.
2. Won't Shut Off Properly
A commonly reported complaint for Mazda CX-5 owners is that the car will not shut off properly. The engine shuts down, but the accessory power (battery) stays on. This issue has mostly been reported on the 2013 and 2014 model years.
The issue is the electrical/ignition system fails to turn the battery off when the vehicle is turned off.
This can be identified by the clock and the dashboard remaining on.
The consequence of this issue is that it drains the battery, and therefore the car will not start – leaving owners stranded.
Here's one owner's account:
"Took the family into NYC the other night and parked at an outdoor valet lot. When we returned to the lot after dinner, the battery was dead. We were one of the last cars in the lot, but thankfully I had jumper cables and the parking attendant was able to use another person's car to jump-start us."
Solution
The issue is caused by a faulty sensor on the transmission, if you take your CX-5 to the dealership they should be able to replace it for about $250.
To reproduce the issue i.e. car engine turns off but battery remains on:
Put the car in park
Push the power button.
One suggested workaround is to turn the car back on, shift into different gears and turn the power off – at some random iteration, it will power the battery off.
Other owners have suggested driving the car a little bit and then trying again to power off.
Related: 11 Best & Worst Mazda CX-5 Years (With Facts & Stats)
3. Exploding Sunroof
A number of Mazda CX-5 owners have reported that the sunroof glass suddenly, spontaneously shattered for no apparent reason. To be completely clear, this is not caused by falling objects or impacts from above.
This has terrified unsuspecting drivers as the noise has been likened to a gunshot going off, and has even caused some to be left with scratches on the face.
Here's one owner's experience:
"I was driving on the interstate with my husband and our sunroof glass spontaneously shattered. We just heard a really loud bang and all of the sudden, we could hear the wind blowing and our sunroof cover was being forced open. We stopped immediately and found our sunroof broken to pieces."
This frightening phenomenon has been reported on CX-5 models from 2016 – 2022 and reports suggest this happens mostly on hot, sunny days.
Solution
As this usually occurs on sunny days when the weather is hot, some have speculated that it is caused by a design defect that hasn't allowed for heat expansion.
The manufacturer will need to adjust clearances to prevent this from happening.
If your sunroof shatters there's no legal requirement to have it replaced however it is probably best to do so, and you should contact your insurance if the dealership won't replace it under warranty.
Some owners have reported that Mazda reimbursed their insurance deductible.
4. Daytime Running Lights Failure
A problem that plagued the 2016 CX-5 was the failure of its LED daytime running lights (DRLs). This issue did not affect the operation of the low and high beam headlights.
DRLs are designed to make the car more visible during the day and they enhance road safety by helping drivers see other vehicles quickly.
The failure of these headlights puts pedestrians and other motorists in danger.
Solution
As this issue directly impacted the safety of others, Mazda recalled more than 36,761 CX-5s for faulty DRLs. As this is a recall, it should be fixed at no cost to the customer by the dealer.
Owners who have already paid for the repair themselves should contact Mazda to have the costs reimbursed.
The problem is caused by incorrect specifications for a gasket that seals a wiring connector.
Consequently, the circuit that is responsible for controlling the lights is prone to corrosion which results in the light not receiving power.
To fix this issue, the sealing gasket will need to be replaced although in some instances the whole headlight may need replacing.
5. Windshield Defrosting Problems
Some owners of CX-5 SUVs have complained that the windshield defrost only works in the center part of the windshield and whilst driving in cold weather conditions, they have severely degraded visibility.
Although we only found a handful of complaints about this (for models 2016 – 2021) we thought it was worth mentioning; if you live in a region that gets harsh winters, this is something you should inspect before handing over your hard-earned cash.
Owners have complained that when temperatures drop below 25F it becomes almost impossible to keep the windshield clear of ice.
Here's what one unhappy driver had to say:
"Vision is severely impaired during rainy or snowy days (worse during nights) while driving and it makes the driving very dangerous. You can only see what is in front of you, but very limited side views due to the fog on both sides of the windshield."
Solution
According to owners who have spoken to Mazda about this issue there isn't much that can be done as this is how the vehicle has been designed.
To quote one owner:
"The car was taken to the dealer and inspected under warranty. The technician inspected the defroster and wipers and said everything was working properly and there is nothing they can do to improve the situation."
The only suggestion we can make is always carry an ice scraper with you in your car in case you experience these difficulties.
6. Windshield Cracking
A common Mazda CX-5 problem reported online is that the windshield cracks too easily. According to owners the crack appears out of nowhere, starts out small and then keeps expanding.
A common theme with this complaint is that there is no sign of anything hitting the windshield, some owners have even left their car in the garage overnight only to return to it in the morning to find a spider-web crack has formed.
Driving with a crack in the windshield is very distracting, and depending on which state you're in, you may be breaking the law if you don't get it fixed.
This problem is most common on model years 2014 – 2017.
Solution
If your windshield cracks the only solution is to have it replaced asap.
You should really push to have this covered under warranty, always ask to speak to senior management if you feel like you're not getting anywhere with the person your dealing with.
Otherwise, it will be covered by insurance.
Mazda CX-5 Model Years With the Most Problems
To get a better idea of which Mazda CX-5 has the most problems the fairest way is to compare models based on the number of vehicles sold in relation to the number of reported problems.
We're using Car Complaints PPMY index which means problems reported per thousand vehicles per Year.
For example, newer cars will have fewer complaints simply because they've been around for less time.
Based on this index, the most problematic years are:
2014 – 0.57 PPMY
2013 – 0.56 PPMY
2016 – 0.33 PPMY
And the least problematic years are:
2020 – 0.14 PPMY
2021 – 0.17 PPMY
2019 – 0.18 PPMY
| | | | | |
| --- | --- | --- | --- | --- |
| Mazda CX-5Model Year | Problems | Sales | VehicleAge | PPMY Index |
| 2022 | 2 | – | – | – |
| 2021 | 33 | 190,392 | 1 | 0.17 |
| 2020 | 37 | 128,558 | 2 | 0.14 |
| 2019 | 83 | 156,443 | 3 | 0.18 |
| 2018 | 158 | 142,430 | 4 | 0.28 |
| 2017 | 98 | 97,789 | 5 | 0.20 |
| 2016 | 478 | 241,320 | 6 | 0.33 |
| 2015 | 141 | 94,247 | 7 | 0.21 |
| 2014 | 443 | 97,168 | 8 | 0.57 |
| 2013 | 273 | 53,732 | 9 | 0.56 |
Source: Car Problem Zoo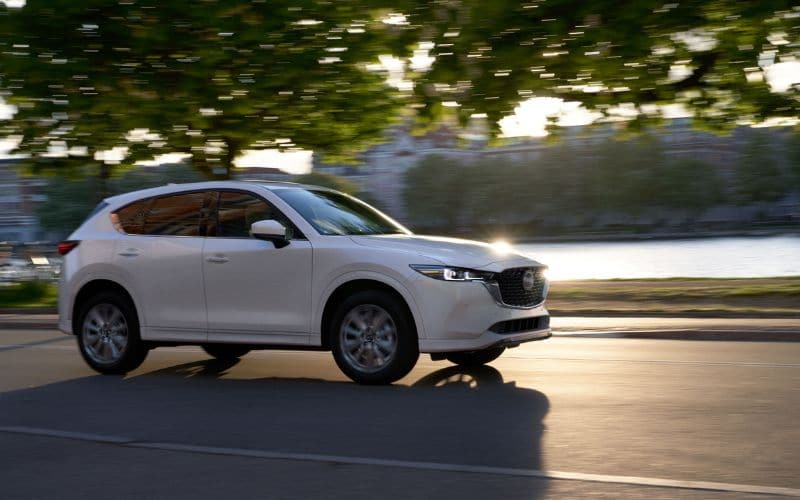 Mazda CX-5 Pros and Cons
If you're considering a Mazda CX-5 as your next car you might be wondering what its strengths and weaknesses are…
Pros
Athletic exterior bodywork
Notably more upscale than competitors, without the luxury price tag
Engaging, refined driving experience
Noteworthy turbo engine
Cons
Base engine acceleration lacks a bit of oompf
Cargo space not as good as some competitors
Can only tow 2000 lbs
Related: How Long Do Mazda CX-5 Last? (9 Important Facts)
Mazda CX-5 Reliability Compared to Similar Cars
Consumer Reports rankings detailed below is based on the model's newest three years, the Mazda CX-5 sits near the top, with a relatively high score of 80/100.
| | |
| --- | --- |
| Make & Model | Consumer ReportsReliability Score |
| Buick Envision | 90 |
| Cadillac XT5 | 89 |
| Ford Bronco Sport | 88 |
| Hyundai Tucson | 87 |
| Toyota RAV4 Prime | 82 |
| Honda CR-V | 80 |
| Mazda CX-5 | 80 |
| Subaru Forester | 80 |
| Lexus NX | 78 |
| Ford Mustang Mach-E | 71 |
| Audi Q5 | 64 |
| Mercedes-Benz GLC | 63 |
| Porsche Macan | 61 |
| Volvo XC60 | 61 |
| Chevrolet Equinox | 58 |
| GMC Terrain | 58 |
| Infiniti QX50 | 49 |
| Kia Soprtage | 48 |
| BMW X3 | 47 |
| Hyundai Ioniq 5 | 45 |
| Volkswagen Eclipse Cross | 45 |
| Toyota RAV4 | 44 |
| Acura RDX | 43 |
| Mercedes-Benz GLB | 34 |
| Genesis GV70 | 30 |
| Jeep Cherokee | 30 |
| Mitsubishi Outlander | 30 |
| Nissan Rogue | 30 |
| Jeep Compass | 26 |
| Ford Escape | 25 |
| Jaguar F-Pace | 25 |
| Land Rover Discovery Sport | 25 |
| Land Rover Range Rover Evoque | 25 |
| Land Rover Range Rover Velar | 25 |
| Volkswagen ID4 | 21 |
| Lincoln Corsair | 20 |
| Alfa Romeo Stelvio | 18 |
| Tesla Model Y | 18 |
| Volkswagen Tiguan | 17 |
Source: Consumer Reports
Mazda CX-5 Used Value
We've taken a look on Car Gurus to gauge the resale value of a Mazda CX-5, below are typical asking prices for each model year.
According to Car Edge, a Mazda CX-5 will depreciate 25% after 5 years and have a 5 year resale value of $25,150.
Note: Used model prices will vary depending on trim level.
| | | |
| --- | --- | --- |
| Model Year | Mileage (miles) | Resale Price |
| 2022 | 4,024 | $31,888 |
| 2021 | 3,145 | $29,707 |
| 2020 | 48,549 | $24,942 |
| 2019 | 43,620 | $24,295 |
| 2018 | 40,636 | $21,981 |
| 2017 | 33,329 | $23,233 |
| 2016 | 71,763 | $17,798 |
| 2015 | 115,949 | $14,924 |
| 2014 | 150,402 | $12,490 |
| 2013 | 81,544 | $13,000 |
Source: Car Gurus
Related: Where are Mazda CX-5 Made? (Solved & Explained)
What Do Owners Like and Dislike About the Mazda CX-5?
Based on owner feedback from the Kelley Blue Book site here are what real-life owners love and hate about the Mazda CX-5.
Likes
Fun to drive
Many cool features
Appearance
Quick
Leather seating
Intuitive tech
USB in the rear
Sporty
Dislikes
Thirsty turbo
Small center console storage
Noise
Body roll
Fuel economy
Underpowered
Owners Reviews
"Owned 2 CX 5 and 1 CX 7, Buying the Signature CX 5 Turbo was the best decision I ever made. For an SUV it is fun, easy to handle, great delivery on speed when you need. Elegant interior and stylish exterior. I added extra chrome to give it a personalized look."
Source: Kelley Blue Book
"Mazda CX5 sport is a very comfortable car. I enjoy driving this car. It gets very good gas mileage. I leased for 3 years and I am going to purchase it at lease end."
Source: Kelley Blue Book
"…I decided on the CX5 premium plus and so far couldn't be happier! It's fun to drive, very comfortable leather heated and ventilated seats, a great sounding Bose sound system and on and on! Definitely check this one out."
Source: Edmunds
Related: 9 Most Common Mazda CX-50 Problems (Explained)
How Reliable Are Mazda Cars?
According to a recent report from Consumer Reports, Mazda are ranked the 2nd most reliable car manufacturer out of 28 brands, with a score of 75/100.
| | | |
| --- | --- | --- |
| Ranking | Brand | Score |
| 1 | Lexus | 76 |
| 2 | Mazda | 75 |
| 3 | Toyota | 71 |
| 4 | Infiniti | 69 |
| 5 | Buick | 66 |
| 6 | Honda | 66 |
| 7 | Subaru | 66 |
| 8 | Acura | 64 |
| 9 | Nissan | 63 |
| 10 | Mini | 60 |
| 11 | Hyundai | 56 |
| 12 | Chrysler | 54 |
| 13 | Porsche | 52 |
| 14 | Chevy | 48 |
| 15 | Audi | 47 |
| 16 | Cadillac | 47 |
| 17 | BMW | 45 |
| 18 | Ford | 44 |
| 19 | Kia | 43 |
| 20 | Volvo | 42 |
| 21 | Ram | 40 |
| 22 | GMC | 37 |
| 23 | Mercedes-Benz | 34 |
| 24 | Volkswagen | 31 |
| 25 | Genesis | 30 |
| 26 | Jeep | 26 |
| 27 | Tesla | 25 |
| 28 | Lincoln | 18 |
Source: Consumer Reports
Related: Mazda CX-5 Beeping? (9 Causes & Solutions)
Sources
https://www.consumerreports.org/cars/mazda/cx-5/
https://www.carcomplaints.com/Mazda/CX-5/
https://www.carproblemzoo.com/mazda/cx-5/
https://www.kbb.com/mazda/cx-5/
https://www.edmunds.com/mazda/cx-5/
https://caredge.com/mazda/cx-5/depreciation