The Royal Enfield is one of the few heavy bikes in the market that offers more than just good fuel economy.
Known for its road presence, powerful performance, comfortable riding, and stylish vintage design, the Royal Enfield has become one of the most sought-after models in the country since its release in 1901.
But is durability one of the many qualities of a Royal Enfield?
In this article we'll review the longevity of the Royal Enfield to see if it is a good long-term investment.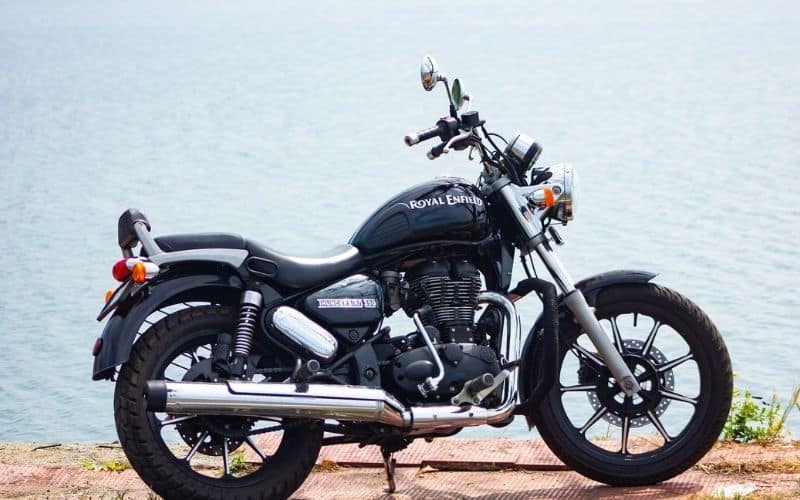 Here is the short answer to how long Royal Enfields last:
If adequately maintained, regularly serviced and ridden conservatively, a Royal Enfield can last around 70,000-90,000 miles owing to its exceptional build quality. Based on driving 3,000 miles per year, you can expect between 23 – 30 years of service before requiring expensive repairs or a rebuild.
How Many Miles Can You Expect From A Royal Enfield?
The average lifespan of a reliable heavy bike is around 60,000 miles but with proper maintenance, most owners say that a Royal Enfield can clock up to 70,000- 90,000 miles on the road before it starts having major issues.
One rider I encountered had over 100k miles on their C5 without a rebuild and still going strong, and whilst these kind of numbers are attainable they shouldn't necessarily be expected.
The life of any motorcycle depends on how you ride it and how well you look after it.
Riding conservatively with regard to speed and acceleration will make all the difference – as a general rule on a vintage bike you should treat 55-60 mph as your top cruising speed.
Some people have Royal Enfield's that have crossed 80,000 miles while there are some owners who end up at a service center for an engine overhaul with less than 10,000 miles pegged.
Royal Enfield owners recommend keeping up with the maintenance schedule meticulously if you want your bike to last up to the 90,000 miles mark.
However, without routine maintenance, your bike is likely to give up on you before it even hits the 10,000 miles mark.
How Soon Should You Expect Rust On A Royal Enfield?
According to our research, rusting is one of the biggest issues to exist for a Royal Enfield, especially in the older models.
You can expect corrosion on some parts of your bike within the first year of purchase of the Royal Enfield.
While the Royal Enfield is popular for its strong and all-metal build, it comes with the added disadvantage that it is prone to rusting very quickly.
However, how early or late rust starts settling on your Royal Enfield depends upon a number of factors such as the region in which you live.
If you live near the coast or regions where heavy rainfall is a common occurrence, your Royal Enfield is bound to rust much quicker than owned by someone who lives in a drier region.
Similarly, if you live in a cold area where the roads are salted, rust may appear faster on your Enfield as road salt can accelerate corrosion.
Some of the most common rust-prone areas on the Royal Enfield where corrosion has been reported by owners include:
Coil springs
Seat springs
Brake caliper
Stand springs
Horn support
Silencer
Bent pipe
Engine head
Fuel tank
Bike chain
Rusting has been one of the biggest enemies of the Royal Enfield since its production. However, these tips can help keep rust at bay from your Royal Enfield:
Make sure your painted metal parts are not scraped or scratched. Remember, paint offers the best protection from rust.
Spray the aforementioned rust-prone areas of your Royal Enfield with anti-rust solutions.
Lubricate your bike chain.
Wash your bike regularly, especially after exposure to salt or 'acid rain'
Keep your bike stored in a garage out of the elements
Take your bike out for a ride after a wash to dry off any stagnant water that could cause corrosion to your bike's parts.
How Long Do Royal Enfields Last Compared to Similar Models?
The Royal Enfield is a highly reliable and durable model adored by many. But how does it compete with rival models in terms of longevity? Let's find out.
Royal Enfield vs. Harley Davidson
Together, the Royal Enfield and the Harley Davidson are two of the most popular bikes of their size on the market today and while they are close in many aspects, the Harley Davidson outshines the Enfield in terms of durability.
A modern Harley Davidson can deliver up to 100,000-140,000 miles, which is quite impressive. In comparison, a Royal Enfield can last up to 90,000 miles on the high end.
Royal Enfield vs. Triumph
Both the Royal Enfield and Triumph have all the features needed to impress someone who loves modern classic bikes. However, when it comes to durability, the Triumph is one step ahead of the Enfield.
While the Enfield can last up to 90,000 miles, the Triumph can last for much longer-over 150,000 miles on the road without giving any major problems. Although, it is important to mention that this extended life comes at the cost of a higher price for the Triumph.
You may also be interested in our article: Are Triumph Motorcycles Any Good?
How Reliable Is A Royal Enfield
Older Royal Enfield's lacked the reliability of Honda motorcycles however in general most newer models have no major problems or issues and can be considered reliable bikes.
Built like a gun, the Royal Enfield boasts a remarkable complete metal construction with little to no plastic parts that makes it capable of surviving for decades to come if it's properly maintained and cared for.
However, Royal Enfields are one of the most demanding bikes in terms of maintenance.
If you're someone who only wishes to put fuel in the tank and service your bike once a year or so, then a Royal Enfield is definitely not the right option for you.
However, for owners who actively spend time thinking about and working on their motorcycle, a Royal Enfield could be one of the most reliable options to consider.
If you take care of your bike, your bike will take care of you.
The newer machines come equipped with a unit construction engine (motor and gearbox share a single casing) which is much more efficient and reliable than the previous iron-based AVL engines.
Additionally, Royal Enfields come with a warranty of 24 months which illustrates the company's confidence in their bike.
Please also read our article: how long do Kawasaki motorcycles last?
The Best And Worst Models For A Royal Enfield
Mostly, Royal Enfields have been dependable machines but unfortunately, there have been some model years known to have caused several problems.
The worst model of a Royal Enfield to purchase is the Thunderbird 350. Owners have complained that this particular model is plagued with several issues such as that of:
Insufficient fuel supply to the engine
Motor vibrations
Engine oil leakage
Bad quality spare parts
But which model should you consider if you're looking to purchase a Royal Enfield?
That would be the Royal Enfield Interceptor 650.
This model comes with a twin-cylinder engine and large capacity and has had minimal complaints from owners.
You may also be interested in our article: How Long Do Honda Motorcycles Last?
Are Royal Enfields Expensive to Maintain?
Owners say that although the maintenance cost of a Royal Enfield is not that high, it is still a relatively expensive bike to maintain because of recurring issues that need to be fixed.
On average you should expect to budget around $1000 per year for maintenance of your Royal Enfield.
Initially, during the first few years of purchase, the cost of maintaining a Royal Enfield is minimal but the cost of servicing and repairs tends to significantly increase once more damage is done to the machine.
How Long Do Brakes Last?
The consensus amongst Royal Enfield owners is that the brakes on an Enfield should deliver about 10,000-20,000 miles.
It is important to note that the lifespan of your Royal Enfield is subject to the maintenance it receives and the way you ride your bike.
How Long Do The Tires Last?
Anecdotal reports from Royal Enfield owners suggest that the tires of a Royal Enfield are designed to last up to 40,000-50,000 miles.
Remember, that your driving habits and conditions will ultimately determine how long your tires last.
There is no particular set-point at which you should get your tires changed. The tires of your Royal Enfield should be changed according to their condition.
Check for tread wear or punctures in the tires. If there are punctures in your tire or the depth of the tread reduces to 2 millimeters or less, the tires should be changed.
How Long Do The Transmissions Last?
The transmissions on the Royal Enfield can last anywhere between 50,000-90,000 miles depending upon your frequency of use and maintenance schedule.
How Long Do Spark Plugs Last?
Service manuals and owner reports suggest that the spark plug on your Royal Enfield should be inspected and checked first at 2,000 miles and should be replaced around every 6,000 miles or 2 years, whichever comes first.
For a bike that is maintained in good condition, the spark plug should not give any problems.
What About Insurance Cost?
The Royal Enfield is relatively cheap to insure – You will spend around $100-300 on insurance costs annually.
However, the exact cost depends on your age, insurance company, and coverage, which varies from one insurance plan to another.
You may also be interested in our article: how long do BMW motorcycles last?
Tips To Prolong The Life Of Your Royal Enfield
Here are a few ways to extend the lifespan of your Royal Enfield:
Don't wait to get problems with your bike fixed. If you notice any issues, have it repaired as soon as possible before the damage becomes serious.
Follow the manufacturer's maintenance schedule
Remove the air filter regularly and give it a clean.
Don't add too many modifications to your bike.
Change engine oil according to the frequency outlined in the owner's manual to keep things running smoothly.
Resources