Triumph is the largest UK-owned motorcycle manufacturer and are widely regarded as being one of the world's most legendary motorcycle brands.
The companies roots go back to 1902 when their first bike was produced in Coventry, England.
To this day, Triumph has one of the broadest lines of bikes available in terms of the range of styles, but are they any good?
We'll answer that question in this article, lets get into it…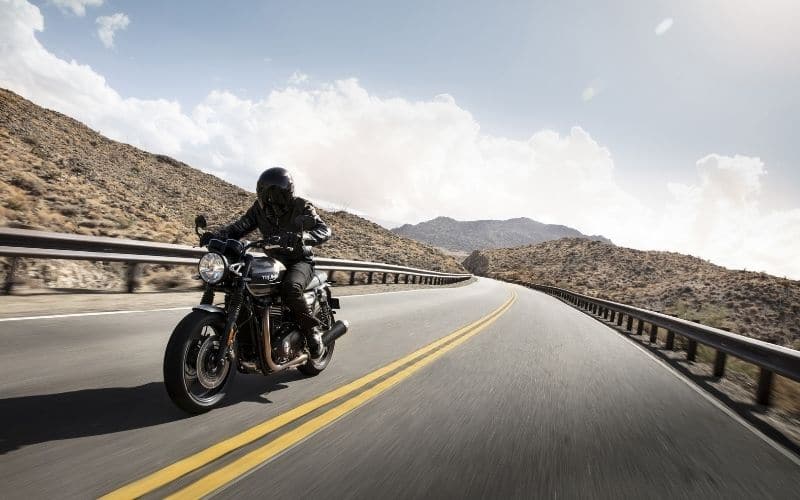 Here is the short answer to whether Triumph Motorcycles are good:
Triumph Motorcycles are good because of their unique style, secure reliability, smooth handling, rider comfort, worldwide dealership support, and an all-star engineering and design team. A Triumph bike will provide true riding satisfaction and have excellent re-sale value.
Why Are Triumphs Considered Good Bikes?
The price point. While Triumphs certainly aren't considered cheap, few brands give you the number of features per dollar that Triumph does.
Triumph motorcycles are made good by a rich heritage as well.
The variety of motorcycle styles Triumph designed without infringing on the brand's reliability is not only impressive, but it's also a testament to a crack-squad of engineers, researchers, and an uncanny knack for cross-utilizing motor parts in their design process.
The brand mastered adventure bikes and became iconic for their distinct style of cafe racers.
They've also put their Sportbike hat in the ring against the notable Japanese brands and have gone leather to leather with Harley Davidson's signature cruiser.
Triumph motorcycles are good in customization, as various aftermarket parts are available straight from the OEM (Original Equipment Manufacturer) themselves for any upgrades and custom builds.
And finally, their style—from the engine to body, from tins to chrome, these bikes have a look that screams Triumph from a mile away.
There's no better feeling than backing up your barking style with biting performance; at the end of that day, it's that crisp, clean feeling you get while riding a Triumph that makes the brand one of the best.
7 Reasons Why Triumph Motorcycles Are Good:
Style
Despite the variety in the type of motorcycle, all Triumphs look like Triumphs.
You are joining a community of diverse rider-types united by a taste for unique style as good a reason as any to ride a Triumph.
Rideability
Triumph motorcycles are not only smooth and easy to ride comparatively, but their snap-crack performance also makes them a blast to roast roads on.
Manufacturing Power
To meet the global demand created by such a mean and clean machine, Triumph has opened manufacturing plants internationally.
Triumph has plants in Brazil, Thailand, and the UK – all capable of assembling motorcycles through to the painting process.
This allows the brand to spread out the factory workload, putting a local focus on quality assurance, and to spend more time at the UK home bases working on research and development.
Reliability
Triumph motorcycles are among the most reliable on the market, thanks to an intense regiment of research and engineering and the brand's attention to mechanical and aesthetic detail.
Cross-utilization of engine components allows the brand to hone that much closer on part production, piece by piece.
Adaptation
The Triumph Motorcycle's brand adaptability is unlike anything offered by their competitors.
Their range of designs covers every type of bike I can think of.
From cafe racers to cruisers to tourers to adventure bikes to sportbikes and on, Triumph has found a way to manifest their signature engine design into different packages of power suited for whatever kind of riding their loyal following chooses to try next.
Modern Classics
The term modern classic is thrown around often to describe what we like to call cafe racers.
That said, Triumph makes true modern classics.
The brand has an iconic history of providing classic cafe racers to vintage bike heroes like Marlon Brando and Steve McQueen.
Their current line of cafe classics is true to that vintage while still packing the heat of modern technology.
Customization
Triumph provides an assortment of upgrades and customization components for every bike in their lineup.
Variety is the name of the game with this British brand, and making sure you can make your Triumph look and ride as you want it to without having to turn to the sketchy aftermarket for parts is a priority that makes a Triumph a good bike.
How do Triumph Motorcycles Compare to Other Brands?
Good is a relative term, of course, so in this section, we'll compare Triumph Motorcycles to some of their competitors to see what's really good with Triumph bikes.
Harley Davidson Vs. Triumph
There's no doubt about the distinguished Harley style giving the Triumph a run for their money as far as brand aesthetic recognition goes.
Harley is known for being king of the cruisers, but the Triumph Bonneville America bites at anything on Harley's menu as far as style and performance go. And Harley can't compete with Triumph in the realm of range.
Their technology is pretty different, and Harley's the choice if your focus is on that Harley-specific style and attitude.
Triumph focuses on performance, and their sleek style is better for riders who'll take Marlon Brando over Dennis Hopper.
You may also be interested in our article: Are Harley-Davidsons Worth the Money?
Indian Vs. Triumph
These days, Indian and Triumph are neck and neck in their prerogative of evolving motorcycle engineering.
Both brands are performance-focused while conjuring a distinct retro style into the spirits of their bikes.
Triumph had a long head start on their resurrection, though, as Indian was out of commission for much longer.
Indian has only just begun to play beyond their legendary cruisers and tourers.
Indian is American, heavily focused on Harley-style big twins, while Triumph looks and feels the old-school UK all day and has moved into versatile areas of design.
Please also check out our article: Are Indian Motorcycles Worth the Money?
Royal Enfield Vs. Triumph
Stylistically, Royal Enfield matches up more so than any other brand on our list.
These are two of the first three names that come to mind when I say the phrase "Vintage British Cafe Racers" (with Norton being the third, of course).
That said, Triumph has moved beyond cafes in every direction, only to return enlightened by sport, adventure, cruiser, and bagger technology and apply it to restaurants to spearhead the current classic category in terms of specs.
Triumph's prices reflect their peak in power, though, so if you only want a simple cafe to rip up the town on, Royal Enfield is the move.
If you want a cafe racer that combines new tech with old-style, or if you want literally any other type of motorcycle other than a modern classic, there's Triumph.
You may also be interested in our article: How Long Do Royal Enfields Last?
Ducati Vs. Triumph
While Ducati leads the class on the track, Triumph's line offers more once you swerve away from the racing prerogative.
Ducati has cornered the track bike market, but Triumph has been making MotoGP level tech for more than a few years now.
Ducati's can be expensive to maintain, and they're not exactly built to endure rugged country riding or scorching down a stumbling city street.
Triumph builds bikes to handle rough riding, and the maintenance cost is as good consideration as any when deciding which brand is better for you.
For track-heads and superbike seekers, Ducati is as fast and slick stylistically Italian as any stock bike out there.
For versatile function and reliable ride, Triumph has you covered.
Are Triumph Motorcycles Reliable?
Triumph consistently ranks in the top ten for most reliable motorcycles globally in numerous studies over the years, most of which take consumer reports into account. This is the result of skilled engineering, quality materials and an industry-leading research and development team.
In many of the studies mentioned, Triumph scored higher than legends like BMW and Ducati.
Still, nothing in life is perfect, and no motorcycle brand is flawless; Triumphs have seen their fair share of problems over the years.
In 2012 Triumph issued this recall statement:
"Triumph is recalling certain model years 2006-2009 Street Triple, Street Triple R, and Daytona 675 motorcycles. The regulator/rectifier can overheat and prevent the motorcycle from charging. Once the battery is fully discharged, the motorcycle may stall."
It's been estimated that, between 2006 and 2009, over 10,000 motorcycles left Triumph's factories with faulty Regulator/Rectifiers in them—the recall was a call to action for Triumph dealerships around the world to unite and solve the problem but swapping out the faulty party for a new and approved, fully functional R/R.
Another infamous Triumph factory hiccup was an issue with the cam chain tensioner on some of the sportbikes.
The cam chains on many Triumphs are adjusted manually, allowing the rider to tighten any slack that develops from usage.
A cam chain tensioner automatically adjusts the hydraulic tensioners on some sportbikes, adjusting the cam chain to spec in real-time while the bike is running.
If the tensioner goes out, your chain slacks, and the bike develops what we call "chain slap."
If it stays slacked for an extended amount of time unnoticed, not only will you need to replace that bad tensioner, your chain may never slack back to its spec tension, and you'll have to replace your cam chain as well.
Do Triumph Motorcycles Hold Their Value?
Triumphs hold their value better than other brands because of their emotional connection with their rider base.
Triumph technology may be at the cutting edge of moto-spectrum, but their style, feel, and agility hasn't changed much since the days of Steve McQueen's rip-roaring antics.
Triumph people are religious in their devotion and appreciation for the brand's commitment to authenticity; a well-maintained used Triumph is easy to sell.
I myself sold an old Bonneville for $2,000 after I paid $1300 for it a year earlier.
Granted, I had to clean it up quite a bit first, but the fact remains that the Triumph not only held its value, it went home with an enthusiastic fanatic faster than I could post it for more than I paid for it.
You may also be interested in our article: Are Suzuki Motorcycles Any Good?
What Is The Best Triumph Motorcycle?
Triumph is a brand known for variety.
Discerning the best Triumph motorcycle is like comparing apples to oranges, so we've chosen three bikes from different categories to showcase the best Triumph designs.
Triumph Speed Triple RS.
The RS adds a lap timer, keyless ignition, carbon fiber trim, titanium exhaust silencers, and a track riding mode to the four riding modes and liquid-cooled, 150 hp-pushing, three-cylinder, 1050cc engine, and six-speed-transmission of the Triple S to turn a streetfighter into a track-terrorizer.
Triumph Tiger 1200 XCa.
he Tigers are an industry-leading line of adventure bikes equipped for on and off-road roasting.

The XCA adds hill control, six technical ride modes, including one rider-programmable mode, heated grips, a heated, adjustable seat, and an electronically adjustable windshield to the already industry-leading specs engine and transmission of the biggest bikes in the Tiger adventure line.
Triumph Thruxton 1200 R.
You may be surprised not to see the Iconic Bonneville on the list.

The iconic has been divided into several cells, which grew into the Thruxton family of cafe racers.

The Thruxton is more Bonneville than some of the Bonecille's.
It combines that signature Triumph classic aesthetic with a modern, liquid-cooled 1200c motor that runs on six speeds to put out close to 100 hp.

The Thruxton R defines Modern Classic by adding aced-out specs from forks and suspension to brakes and tires.
What are the Pros & Cons of Triumph Motorcycle?
Pros
Distinguishable and Authentic Vintage Style
Comfortable Riding Position
Smooth CustomizablePerformance
Easy, Nimble Handling
Highly Customizeable
Rich History
Reliable
Good Resale Value
Cons
Stock suspension on some of the lower-level models lacking
Light Fuel Range on Cafe Racers
Lacquer Finish of Some Models can Corrode
Faulty Regulator/Rectifier issue on some models in the early 200's(Solved)
Cam Chain Tensioner wears Early on some models (Solved)
Are Triumph Motorcycles Good Quality?
The quality of Triumph motorcycles is made good by a constantly evolving climate of research and design that stays true to the brand's vintage values and rich history.
Triumph succeeded in its mission to update its classic designs with top-notch features enabled by modern tech.
Triumph works hard to meet contemporary standards while maintaining its signature image, providing a high-quality ride that's as fun, bright, and bold as it is smooth, enjoyable, and reliable.
You may also be interested in our article: How Long Do Honda Motorcycles Last?
How Much Do Triumph Motorcycles Cost?
New
A new Triumph will run you anywhere between $9,300 for the naked Street Twin up to $22,000 for the king of their adventure bikes, the Tiger 1200 XCA.
The Majority of Triumph Motorcycles cost between $10,000 and $16,000, making the average price of a new Triumph motorcycle $14,000
Used
The price of a used Triumph ranges from $2,000 to $18,000 depending on the Customizableyear, make, model, and condition.
A used Street Triple with modern moto-amenities and in good condition starts at about $5,000, whereas a well-maintained top-of-the-line Tiger 1200 XCA will run you closer to that $18,000 mark.
Things To Consider When Buying A Used Triumph Motorcycle:
Recall History
Service History
Previous Owner's Storage Habits
Previous Owner's Riding Habits
Title Records
Import / Export History Records
Mechanic Check
Theft Records
Cost of Maintenance
Resale Value
Auction History
Related: Triumph Motorcycle Won't Start? (Solved & Explained)
Resources