The Audi e-tron is a luxury EV crossover that was launched in 2019 to rival the likes of the Tesla Model X and Jaguar I-Pace.
It is Audi's first all-electric vehicle and features their familiar exterior and interior styling, as well as the same refinement and sophistication that has become synonymous with the brand.
2020 saw the release of the sleeker e-tron Sportback model which has a lower roofline giving it the practicality of an SUV with the looks of a sports sedan.
In this article, we'll take a closer look at the Audi e-tron's long-term reliability and average lifespan.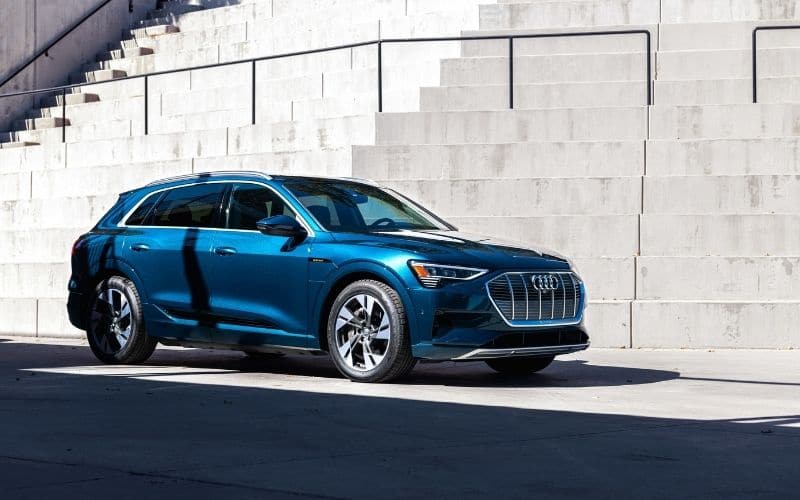 Here is the short answer to how long the Audi e-tron lasts:
The Audi e-tron is estimated to last around 300,000 to 400,000 miles given its large battery and estimated range of around 220 miles per charge. If you average 15,000 miles per year, you can expect 10 — 15 years of reliable service before needing a new battery replacement.
How Many Miles Can You Expect from an Audi e-tron?
The Audi e-tron has only been out for a handful of years so there aren't very many high mileage examples yet. But lots of enthusiastic owners have already driven over 50,000 miles and haven't reported any major issues, especially as far as the electric powertrain is concerned.
The longevity of any EV is usually determined by the usable lifespan of its battery because they're very expensive to replace.
Lithium-ion batteries naturally lose capacity over time and as the number of charge cycles increases.
A charge cycle is basically the process of fully charging and then emptying a battery.
Partial charge and discharge cycles that eventually add up to the battery's max capacity are also considered as one charge cycle.
Given the Audi e-tron's range of 220 miles, we can safely estimate that it will last 300,000 — 400,000 miles since EV batteries are usually rated for at least 1,500 charge cycles.
Since lithium-ion batteries also naturally degrade over time, we can reasonably expect the e-tron's batteries to be able to deliver roughly 10 – 15 years of reliable service.
It's also possible to exceed these estimates, but after 10 years or so and after racking up lots of miles on the clock, your range will likely be reduced by 30% to 50%.
The e-tron's battery also comes with an 8-year/100,000-mile warranty which should cover you for any premature failures or excessive degradation.
Does the Audi e-tron Rust Easily?
Audi sells lots of cars in different parts of the world and they've proven to be very good at holding up well against rust and corrosion.
The e-tron uses a lot of aluminum body panels which include the doors, hood and tailgate. Aluminum doesn't rust the same way as steel does and it's much more resilient against corrosion and perforation.
The e-tron also comes with Audi's 12-year limited warranty against corrosion perforation.
But if you're constantly driving on salt-covered roads or exposing the car to salty coastal weather you're more likely to see surface rust after 5 years or so.
The structural integrity of the body and chassis should still be very good since many of these components are made from high-quality and/or high-strength steel.
So it should still hold up well and look presentable even after being on the road for many years.
Tips to protect your Audi e-tron from rust:
Wash the car regularly, including the underside. Especially after exposure to rain and roads salt.
If you incur any paint damage, such as scratches or chips, be sure to have these addressed right away at your dealership or a body repair shop.
Waxing your e-tron is a great way to give a proective coating to the paintwork and also gives a nice shine, twice a year should do the trick.
If you own a garage, keeping your e-tron stored in there will help protect it from harsh weather elements.
What is High Mileage for an Audi e-tron?
Any Audi e-tron with close to 100,000 miles is considered a high mileage example.
At these higher mileages, its battery warranty will almost be done and way past Audi's standard 4-year/50,000-mile limited warranty.
Although the vehicle's electric powertrain is very capable of going another 100,000 miles, you'll also need to think about the longevity of other wear and tear items like the suspension dampers, brake rotors, power steering, electronics and A/C system.
Keep in mind that parts and labor costs for any Audi are always going to be more expensive than normal.
But if you're prepared to set money aside for potential repairs and make sure that it's in good overall condition, a used Audi e-tron will still be a really nice and modern vehicle that can potentially provide many years of reliable service.
When buying a used Audi e-tron, always consider the following:
Asses the battery life of the vehicle, a used EV will have depleted cells which will mean it will have a shorter range after a full charge cycle. The dealership should be able to give you a detailed report on battery life.
Ensure the vehicle has been properly maintained throughout its life and the seller can provide documentation to support this.
Double-check how long the battery warranty has left, you should be able to verify this with Audi's customer service department using the vehicle's VIN number.
Inspect the interior, this can often give a good idea how well the owner really cared for their vehicle.
How Long Does the Audi e-tron Last Compared to its Rivals?
In this section, we'll compare the Audi e-tron to some of its rivals in the luxury EV segment.
Audi e-tron vs.Tesla Model X
The Tesla Model X was launched in 2015 and started the trend of the luxury EV crossover.
It's received numerous updates since then and is still one of the leaders in its market segment as far as technology and sales are concerned.
It's still a very popular vehicle and several examples have already been tested to last well over 400,000 miles in just a few years.
With all the research and development and EV experience that Tesla has at its disposal, we expect the Model X to be able to reach 300,000 — 500,000 miles on its original battery which is only slightly higher than the e-tron's predicted lifespan.
Kelley Blue Book's consumer rating index gave the Model X a reliability rating of 4.6/5 while the e-tron got a slightly higher score of 4.9/5.
Edmunds consumer reviews gave the 2021 Model X an overall score of 2.3/5 while the 2021 e-tron got 3.3/5.
RepairPal gave the Audi brand an overall reliability rating of 3/5 which is considered average. The site does not have any ratings or data for Tesla.
Car and Driver ranked the e-tron as the 10th best luxury EV while the Model X was only ranked 14th.
The latest Model X uses a 100 kWh battery while the e-tron uses 95 kWh.
The e-tron has much less range at 220 miles versus the Model X's 300 miles.
The longevity of the electric powertrains of the e-tron and Model X are going to be about the same.
The Tesla has already gone through a lot more development and improvement and it's also been tested in the real world to last several hundred thousand miles. But Audi still has a much better reputation when it comes to overall build quality.
Both vehicles also have the same amount of fancy technology to keep any EV enthusiast satisfied.
It really comes down to preference since both should be able to provide over 100,000 miles of reliable service with ease which is more than enough for most people.
The Model X is the more futuristic and ambitious package while the Audi e-tron is more traditional both inside and out.
Related: How Long Does the Tesla Model X Last?
Audi e-tron vs. Ford Mustang Mach-E
The Mustang Mach-E is Ford's first big push into the EV market.
Though it's not really that expensive as far as current EV prices are concerned, the Mustang branding really makes it feel a bit more special and desirable.
The Mustang Mach-E delivers slightly more range than the e-tron while using a similar battery size, so we expect it to last slightly more at 300,000 — 500,000 miles.
Kelley Blue Book's consumer rating index gave the Mach-E a reliability rating of 4.4/5 while the e-tron got a much higher score of 4.9/5.
Edmunds consumer reviews gave the 2021 Mach-E an overall score of 4.4/5 while the 2021 e-tron got 3.3/5.
RepairPal gave Ford a reliability rating of 3.5/5 which is considered average while Audi got 3/5.
Car and Driver ranked the e-tron as the 10th best luxury EV while the Mach-E got 1st place in its own segment.
The Mach-E's battery maxes out at 98.8 while the e-tron uses a 95 kWh unit.
The e-tron has less range at 220 miles versus the Mach-E which can go from a little over 200 to over 300 miles with the extended range model.
The e-tron and Mach-E are in very different price brackets but the Mach-E does offer a lot of the same things you can get with the Audi.
Both are very well-made premium vehicles but will appeal to slightly different people.
If performance and stellar acceleration is your priority, the Mach-E definitely wins out.
But if you're looking for a more traditional-looking EV with lots of refinement both inside and out, the e-tron is a very good package.
The Mach-E's batteries might last a bit longer than the e-tron's because although it's just as large, Ford manages to eke out almost 50% more miles in range.
This means it will go through less charge cycles to reach the same number of miles as the e-tron.
You can check out our guide on the Ford Mustang Mach-E here.
Audi e-tron vs. Porsche Taycan
The Porsche Taycan combines performance and handling in a very refined and luxurious package although its way more expensive than the e-tron.
The Taycan is also closer to a sports sedan while the e-tron is more of a sedate-looking mid-size crossover.
But Audi also sells the e-tron GT which is basically a more expensive re-bodied version of the standard e-tron.
Since the Taycan and e-tron have similar battery capacity and range, we predict both will have pretty much the same lifespan at 300,000 — 400,000 miles.
Kelley Blue Book's consumer rating index gave the Taycan a reliability rating of 5/5 (based on only one review so far) while the e-tron got a similarly excellent score of 4.9/5 (based on 11 reviews).
Edmunds consumer reviews gave the 2021 Taycan an overall score of 4.1/5 while the 2021 e-tron got 3.3/5.
RepairPal gave Porsche a below average overall reliability rating of 2/5 while Audi got a much higher 3/5.
Car and Driver ranked the Taycan as the 2nd best luxury EV while the e-tron got 10th place. The e-tron GT also fared lower at 6th place.
Both luxury EVs have pretty much the same battery capacity and range.
Longevity of both vehicles should be roughly the same but the Taycan will likely be a bit more expensive to maintain in the long run. Though maintenance on the e-tron GT will probably cost just as much as the Porsche.
If practicality and versatility is more important to you, the e-tron definitely wins out as it has almost double the cargo space of the Taycan and more ground clearance which is good for sketchy terrain.
It really all boils down to what you want out of your luxury EV as they're both very nice vehicles.
Related: How Long Will a Porsche Taycan Last?
Comparison Chart
| | | | | |
| --- | --- | --- | --- | --- |
| | Audi e-tron | Tesla Model X | Mustang Mach-E | Porsche Taycan |
| KBB Consumer Rating | 4.9/5 | 4.6/5 | 4.4/5 | 5/5 |
| Edmunds Consumer Rating | 3.3/5 | 2.3/5 | 4.4/5 | 4.4/5 |
| RepairPal Brand Reliability | 3/5 | NA | 3.5/5 | 2/5 |
| Car and Driver Ranking (2021) | 10th | 14th | 1st (non-luxury segment) | 2nd |
| Battery Capacity (kWh) | 95 | 100 | 68 – 88 | 79 – 93 |
| Electric Range (miles) | 220 | 305 – 325 | 211 – 300 | 200 – 280 |
| Expected Lifespan (miles) | 300,000 – 400,000 | 300,000 – 500,000 | 300,000 – 500,000 | 300,000 – 400,000 |
Is the Audi e-tron Reliable?
The e-tron has sold in pretty good quantities in different markets all over the world and it's proven to be a relatively reliable EV overall.
It uses the same MLB platform that's used in the Q5, A4, and A6 so Audi already has a lot of experience with it and had plenty of time to iron out all the kinks.
They'll be able to figure out emerging issues more quickly and deliver the necessary updates to dealers and owners on time.
The e-tron will also require less maintenance than a comparable ICE-powered (Internal Combustion Engine) Audi so this should bring its reliability ratings up a bit more.
Here is some additional data that demonstrates the e-tron's current overall reliability:
Kelley Blue Book's consumer rating index gave the Audi e-tron an almost perfect score of 4.9/5.
Edmunds consumer ratings however gave the e-tron a much lower overall rating of 3.3/5. It's mostly related to the expected range and lingering electronics issues.
The Best and Worst Years for the Audi e-tron
Here we take a look at the differences between the different model years and find out which ones to avoid.
Worst Model Year
According to CarComplaints.com, the 2019 e-tron is considered the worst model year because of electrical issues.
We've also noticed many reports of build quality issues in very early models which required warranty work from the dealer.
2019 is also the e-tron's first model year so it won't have any of the hardware updates of later model years.
Best Model Year
We consider the 2021 e-tron as the best model year because it will have already benefited from 2 additional years of experience and development since launch.
Complaints so far only seem to be related to minor interior issues such as some rattling in the cabin.
The 2021 e-tron also saw the release of more trim levels so variety in terms of options and standard equipment is more abundant.
Model Year and Number of Complaints
Here is the total number of complaints on the CarComplaints database for every model year of the Audi e-tron so far:
| | |
| --- | --- |
| Model Year | No. of Complaints |
| 2021 | 2 |
| 2020 | 0 |
| 2019 | 1 |
What About Recalls for the Audi e-tron?
The Audi e-tron has had 6 recalls in total since it was released in 2019.
You can check if your Audi e-tron has been subjected to a recall campaign by entering your VIN (Vehicle Identification Number) on the Audi recall site or the NHTSA recall database.
It is important to note that recalls are manufacturing faults repaired at no charge to the consumer.
Here is the total number of recall campaigns for every model year of the e-tron:
2021: 4
2020: 1
2019: 1
Audi e-tron Model Year List
The Audi e-tron was only released in 2019 and is still in its first generation.
Newer model years of the e-tron saw minor updates and more trim levels at different price points.
First Generation:
2019 Audi e-tron
2020 Audi e-tron
2021 Audi e-tron
Is the Audi e-tron Expensive to Maintain?
Maintenance costs on an Audi e-tron should be very low especially while it's still on its 4-year/50,000-mile warranty.
Audis have a reputation for being expensive to own because dealerships tend to charge a premium on parts and labor since it is a luxury brand.
But the e-tron should cost less to keep on the road compared to a gas or diesel-powered Audi because it's electric powertrain has less moving parts.
Parts and replacements will still be expensive but consider that you're also going to save a lot of money in gas and routine maintenance such as oil, fluids and other critical engine parts.
The recommended service interval every 10,000 miles also typically only consists of inspections. The only things you really need to take it in for would be the brake fluid change and cabin filter replacement every 2 years, as well as more frequent tire rotations.
You may also be interested in our article: How Long Will a VW ID.4 Last?
How Long Do the Brakes Last?
The Audi e-tron uses regenerative braking to recharge the batteries as you're driving. With this feature, the brakes don't get used as much and the brake pads last considerably longer than on an ICE vehicle.
Reaching 100,000 miles on the e-tron's original brake pads is not going to be difficult.
Most owners won't even need a brake service for the entire time they own the vehicle — other than replacing the brake fluid every 2 years.
How Long Do the Tires Last?
The Audi e-tron's tires will normally last between 20,000 to 30,000 miles.
EVs like the e-tron are much heavier than a comparably sized crossover due to the added weight of their batteries. This causes the tires to wear out more when you're accelerating, braking and cornering.
The electric motors also produce a lot of torque almost instantaneously which isn't very kind to the tires.
All Audi e-tron's come with dual motors and all-wheel drive which at least helps wear out the tires a little more evenly — allowing you to get more miles out of a set of tires. Couple this with regular tire rotations and you should be able to eke out a little more life out of the stock tires.
Tire wear is also dependent on various factors such as driving habits, climate, and road conditions.
Here are a couple of tips that will help you preserve the life of your tires:
Rotate tires every 5,000 miles to ensure even wear.
If you have to drive on rough or flooded roads, or go off-roading, your tires will take more of a beating.
Check your tire pressure every few weeks to make sure they're at the correct tire pressure.
Check your tires every so often for uneven wear and have it addressed quickly.
Check your wheel alignment every 6 months.
How Long Do the Transmissions Last?
The e-tron doesn't have a traditional multi-geared transmission. It uses what is essentially a single-speed transmission where power and wheel rotation is directly controlled by the electric motors.
The gears in the e-tron's drive units also aren't stressed as much as in a traditional transmission because they don't constantly have to be swapped around and bang against each other just to get the vehicle moving at different speeds.
This means that any transmission related components should last the entire lifetime of the vehicle and getting 500,000 miles out of them is not that unlikely.
How Long Will the Audi e-tron's Electric Motors Last?
The Audi e-tron's dual electric motors should last at least 500,000 miles and up to 20 years as long as they're not abused and neglected.
Although the e-tron is Audi's first all-electric vehicle, it already has a lot of experience with designing and developing electric motors for its hybrid vehicles.
Their reliability should not be a concern because these are typically designed to last the usable lifespan of the vehicle. They also won't suffer from degradation unlike the batteries so the electric motors will more likely see 1 or 2 battery pack replacements before they start showing signs of mechanical issues.
How Long Do the Spark Plugs Last?
The e-tron has two electric motors that supply power to each axle and doesn't need any gas to run, so it also doesn't have any spark plugs.
How Long Do Audi e-tron Batteries Last?
The e-tron's batteries should be able to easily last 10 to 15 years.
Battery degradation shouldn't be a concern at around 100,000 to 200,000 miles, but we should also take into account that lithium-ion batteries degrade naturally over time.
After around a decade, you'll still get a noticeable decrease in range and capacity from new even in a lower mileage example.
Even if it doesn't have the best range, the batteries are very large which means it will go through fewer charge cycles to cover the same distance.
The e-tron's battery is also actively liquid-cooled which protects it from degrading due to hot climates and during fast charging.
Audi has a good track record when it comes to battery design. Their A3 e-tron hybrid has proven to be one of the top performers in terms of preserving battery health.
The e-tron's battery also performs well in cold weather so your range won't be significantly affected.
If you take care of the e-tron's battery it can easily last more than 300,000 miles
Here are some other tips to keep your Mach-E batteries in good condition:
Avoid using or storing the vehicle in extremely hot temperatures
Don't let the vehicle sit unused for long periods of time
When storing the Mach-E, slow charge it to avoid battery degradation
Avoid regularly draining the battery to 0% or charging it to 100%
Charging up to 80% is recommended
Minimize the use of DC fast chargers at public charging stations
You may also be interested in our article: How Long Do Tesla Model Y Last?
What is the Range of the Audi e-tron?
The Audi e-tron is able to deliver an EPA estimated 212 miles of range. The e-tron sportback has slightly less at 218 miles.
Early models had an estimated range of 204 miles but this was updated through a software update to match the range of newer models.
How Long Does the Audi e-tron Take to Charge?
| | | |
| --- | --- | --- |
| Charger Type | Range per Hour of Charge (miles) | 0 to 100% Charge |
| Level 1/120V | 4 | 3 – 4 days |
| Level 2/240V | 25 | 9 to 10 hours |
The Audi e-tron can quickly charge back up from 0 to 80% at a DC fast charging station in only 30 minutes.
Charging to a full 100% will take longer because it slows down after 80% to protect the battery.
What About Insurance Costs?
Insuraviz estimates that the Audi e-tron costs around $1,936 per year or roughly $160 per month.
Insurance costs can vary from person to person, so be sure to shop around to find the best possible deal for your Mustang Mach-E.
Tips to Prolong the Life of Your Audi e-tron
Practice smooth and safe driving habits.
Use regenerative braking to extend range and battery life.
Charging every couple of days is better than charging every day to keep it topped up.
Keep up to date with factory-recommended maintenance.
Use quality parts and fluids.
Keep on top of repairs to prevent them from developing into larger problems.
Regularly wash your Audi e-tron to remove dirt and grime to protect the paint and undercarriage from rust.
Keep your e-tron stored in a garage to help protect it from extreme heat.
Read the owner's manual to learn the location of important components, what your Audi needs and in what quantities, and to understand the symbols and dashboard warning lights.
Resources
https://www.audiusa.com/us/web/en/inside-audi/sustainability/e-tron-innovation/layer/battery_limited_warranty_coverage.html
https://media.audiusa.com/en-us/audi-soul/162
https://www.repairerdrivennews.com/2018/09/28/audi-unveils-steel-and-aluminum-248-5-mile-electric-suv-e-tron/
https://www.audiusa.com/us/web/en/myaudi/warranty.html
https://static.nhtsa.gov/odi/tsbs/2020/MC-10171071-0001.pdf
https://insideevs.com/news/429087/best-worst-ev-battery-degradation/
https://evcharging.enelx.com/resources/blog/780-how-long-does-it-take-to-charge-an-audi-e-tron
https://pod-point.com/guides/vehicles/audi/2019/e-tron