The Hyundai Accent is a midsize car that was produced for the 1995 – 2022 model years in the U.S.
It offers great fuel economy, numerous practical standard features, and a simple yet attractive design.
In this article, we'll take a deep dive into the best and worst model years of the Hyundai Accent.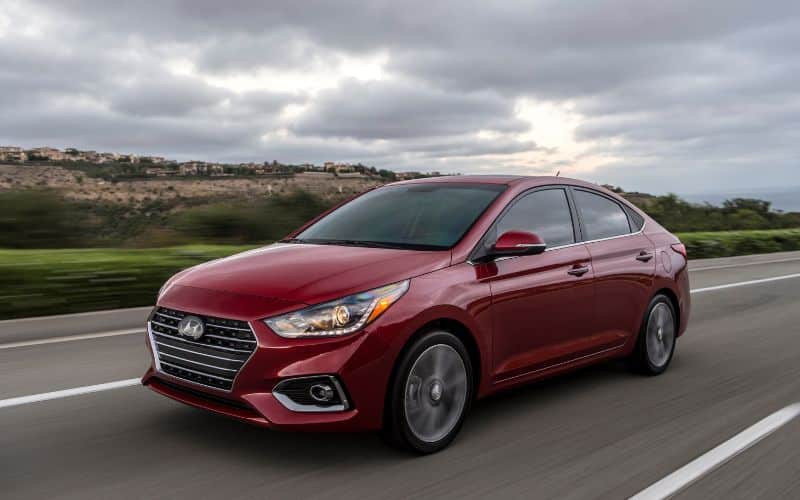 Here are the Best and Worst Years for Hyundai Accent
Detailed below we've ranked the Hyundai Accent Models.
Best Years for Hyundai Accent:
2019
2021
2020
2022
2018
2014
Worst Years for Hyundai Accent:
2012
2002
2001
1996
2013
2008
What Are The Best Years For The Hyundai Accent?
2019 Hyundai Accent
The 2019 Accent is a fifth-generation model that was considered to be one of the top models in its class when it was first introduced.
It garnered an overwhelmingly positive reception because of its reliability, problem-free driving, intuitive tech features, spacious interior, excellent handling, and great safety ratings.
J.D. Power indicated that "safety" was the best asset this vehicle had to offer. 
Owners praised this Accent's ergonomics, fuel efficiency, and low-maintenance requirements.
2021 Hyundai Accent
The 2021 Accent was one of the best model years produced thanks to its reliability, affordability, and practicality.
The combination of an intuitive infotainment system with a well-built but simple interior made the 2021 Accent a hit with owners.
It received an award for being the best subcompact car for the money from Cars.USNews.com.
The mid-level SEL trim is recommended for those looking for a vehicle that performs great on the road while offering the essential technology of the modern age such as Apple CarPlay and Android Auto. 
2020 Hyundai Accent
The 2020 Hyundai Accent is part of the widely successful fifth generation of Accent models.
This model boasts sophisticated looks, a businesslike cabin and spritely handling.
It was for this model year that the continuously variable transmission system was introduced, replacing the traditional automatic transmission system.
The continuously variable transmission (CVT) system is regarded as one of the most efficient transmission systems as it works to always maintain peak efficiency regardless of gear selection, leading to improved fuel economy.
2022 Hyundai Accent
The 2022 Hyundai Accent was the last model year produced before the abrupt removal of the model from Hyundai's 2023 lineup.
Do not let this discourage or worry you as the 2022 Accent was one of the most versatile and exciting models to drive, according to numerous owners. 
To add to the value of this model year, it comes with the freshest warranty coverage which will also help down the line in terms of resale value.
Other than removing the manual transmission option from the variants offered, there were no significant updates to this model year. 
2018 Hyundai Accent
The 2018 Accent was the model year that ushered in the ever-memorable fifth generation.
It embraced a complete redesign, performance tweaks, technology updates, and standardized safety features.
Specific revisions and updates include a new chassis (half-inch longer than the previous chassis) for more cargo and passenger space, increased use of high-strength steel to the frame and body for better driving and handling, and a revised four-cylinder engine for marginally better fuel efficiency.
It came in three trim levels: SE, SEL, and Limited.
The SE had a relatively basic infotainment system so we would suggest opting for the mid-tier SEL trim.
2014 Hyundai Accent
Even if the 2014 Accent is not a member of the highly-acclaimed fifth generation of Hyundai Accent models, this model year can stand on its own and take pride in the fact that it had its fair share of strengths and unique qualities that made it stand out from its competitors.
This model had excellent rear passenger legroom and headroom, good engine power, and a bevy of added features such as a one-touch turn signal, sliding sun visors, driver's blindspot mirror, and optional items such as a steering wheel capable of tilt and telescopic adjustments, as well as projector headlights. 
The combination of handsome styling, above-average performance, and reliable build quality is what made this model year a part of this list.
Related: 6 Most Common Hyundai Accent Problems (Explained)
What Are The Worst Years For The Hyundai Accent?
2012 Hyundai Accent
Based on data provided by CarProblemZoo.com, the 2012 Hyundai Accent garnered the most reported problems (162 problems in total), with the leading concern being engine and engine cooling issues. 
Numerous reports have indicated engine knocking, abnormal sounds such as loud ticking, and intermittent engine stalling during normal driving conditions.
Aside from engine problems, owners have reported premature clutch failure, excessive oil consumption, and brake grinding, all three of which pose significant safety risks for the driver and fellow motorists on the road.
2002 Hyundai Accent
The 2002 Hyundai Accent received several reports about its faulty transmission system and engine system.
Of the logged problems and concerns from owners, the most apparent and significant source of headaches was the automatic transmission.
Owners reported that their transmission system would randomly skip to other gears (with some even going in reverse), lose power, and bring up warning lights on the dash.
As for engine problems, engine stalling was a regular occurrence for some owners.
2001 Hyundai Accent
The airbag system of the 2001 Accent was the biggest letdown for the owners, followed by issues with its engine and transmission.
An alarmingly large number of reports specified that airbags refused to deploy in situations wherein they should have been activated (accidents, collisions, etc.).
Regardless of the speed of the vehicle or point of collision, owners were unable to rely on their airbags for safety and this triggered a lot of complaints and reports, leading to widespread safety recall campaigns. 
1996 Hyundai Accent
The 1996 Accent was the first-ever model year offered in the United States and while it did have its time in glory, it had quite a gloomy debut as several owners complained about suspension, airbag, and seat belt problems.
The chief concern among the categories of problems mentioned was suspension issues, specifically the front suspension lower control arm.
Numerous owners reported significant issues in the aforementioned component and this was only discovered typically after an accident on the road or abrupt loss of control. 
Other owners reported that they felt the component snap whilst driving, requiring roadside assistance and repair (or replacement).
2013 Hyundai Accent
Based on data provided by CarComplaints.com, the 2013 Hyundai Accent garnered the most complaints, with the leading concerns being electrical problems and engine problems. 
CarComplaints.com also specified rattling noise, refusal to start, and excessive oil consumption as the leading complaints on their website.
As far as CarProblemZoo.com is concerned, on the other hand, the most severe issue for this model year stemmed from engine-related defects.
Engine knocking, vehicle stalling, and premature wear and tear to bearings and other components were common experiences of owners.
2008 Hyundai Accent
The 2008 Accent had problems with premature clutch wear and tear and certain equipment defects, specifically its interior accessories. 
However, the biggest area of concern for several owners of this model year was the airbag system.
Much like the 2001 Accent, the airbags of the 2008 model year were very unreliable.
The airbag warning light turned on intermittently for some, and airbags refused to deploy for others who found themselves in an accident or collision.
These airbag issues were part of the infamous Takata airbag saga (wherein Takata supplied defective airbag systems to multiple car manufacturers). 
What Problems Do Hyundai Accent Have?
Airbag Problems
Airbag concerns were the most widely reported issues by owners of the Hyundai Accent, regardless of model year.
Based on online reports and statistics, airbag deployment failure problems were common from 1999 to 2017 and airbag warning light indicator issues were more rampant from 2006 to 2009 and 2015 to 2017.
The solution to this was multiple recall campaigns. 
Not all owners were given a swift repair or replacement of the problematic parts, which led to more criticism.
Transmission Issues
While not as widespread as the airbag concerns discussed above, certain model years of the Accent were severely affected by problematic transmission systems.
These issues seemed to have been at their worst for model years produced in the early 2000s, specifically the 2000, 2001, and 2004 model years.
The cost of repair (or replacement) was hefty.
Reports have indicated a total of approximately $2,000 to deal with the transmission issues.
Symptoms of transmission problems included jerking, gear shifting delay, and excessive vibration or shaking.
Engine Failure
Something that many drivers have faced, regardless of make or model, is engine failure.
This problem comes in many forms. For the Hyundai Accent, it appeared in the form of engine knocking, engine catching on fire, and engine warning light illumination. 
These issues were more prevalent for certain model years such as the 2012, 2016, and 2017 models.
Related: 7 Most Common Hyundai Sonata Problems (Explained)
What Are The Best Alternatives to the Hyundai Accent?
Nissan Versa
The Nissan Versa is a great alternative as it is considered to be one of the best cars for the money in today's market.
It is known for its well-built interior, comfortable riding experience, and good fuel economy.
While it does not stand out in the engine department, it makes up for in terms of agility and handling.
Kia Rio
The Kia Rio is worth considering if you are a fan of Korean design and ingenuity.
It possesses great driving dynamics, amazing fuel efficiency, an intuitive infotainment and navigation system, and feels lighter than a lot of its rivals.
It is limited by its fewer standard safety features and loud engine noise at high speeds, but the manufacturer is confident in this model as indicated by a lengthy warranty coverage.
Mini Cooper
The Mini Cooper is arguably the most well-known subcompact car out of all models in the market and rightfully so.
It offers a zippy engine, stable and reliable handling, an upscale design (both interior and exterior), and a unique form factor.
It is pricier than other options on the market and has slightly less storage space but other than that, the Mini Cooper is a solid alternative. 
How Long Do Hyundai Accent Last?
If a typical Hyundai Accent is cared for and subjected to the recommended maintenance schedule, it could last between 200,000 and 250,000 miles.
Of course, there are a lot of factors that must be considered, such as driving habits, weather conditions, and maintenance.
If we were to base it on the national average for driving which is 15,000 miles per year, a Hyundai Accent should last between 13 and 17 years.
To prolong the life of your Hyundai Accent, we suggest frequent oil changes, high-quality fuel, and parking in a garage.
Related: How Long Do Hyundai Accents Last?
What are the Pros and Cons of Hyundai Accent?
Pros
Dignified modern styling
Good driving demeanor
Straightforward interior design
Accessible pricing
Great fuel economy
Cons
Unremarkable engine power
Relatively small trunk
No hatchback option
Uncomfortable cloth seats
Poor acceleration (in its segment)
References
https://www.carcomplaints.com/Hyundai/Accent/