The Accent was first launched in North America in 1994 and it is still a popular subcompact model despite being discontinued in 2023 due to Hyundai expanding their SUV lineup.
It's known for its classy styling, comfortable interiors, crisp handling, and frugal four-cylinder engines.
In this article, we'll take a closer look at the average lifespan of the Accent.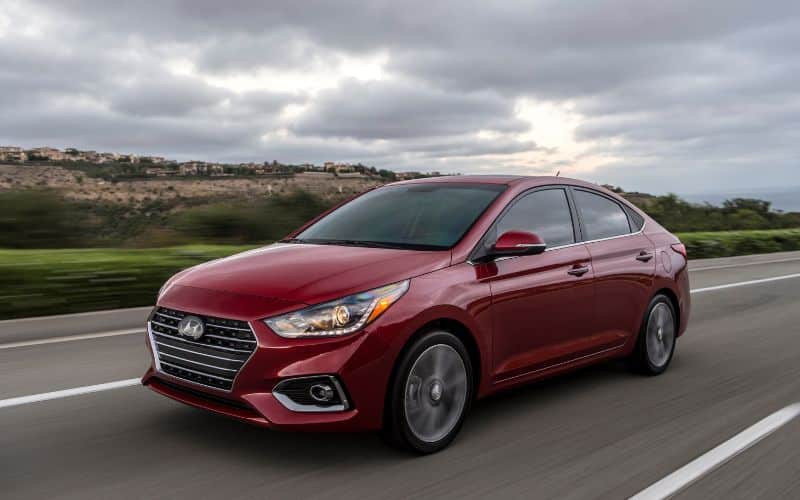 Here is the short answer to how long a Ford Fiesta will last:
The Hyundai Accent is a durable car that can last between 200,000 – 250,000 miles when regularly serviced and driven conservatively. Based on driving 15,000 miles per year, an Accent can be expected to last between 13 and 17 years before requiring expensive repairs to keep running smoothly.
How Long Do Hyundai Accent Last
The Accent has been on North American roads for close to 30 years and has proven itself as a reliable and robust vehicle.
As a brand, Hyundai has significantly improved its quality of materials and powertrains in recent years and regularly appears near the top of the table for reliability and ownership experience.
Repair Pal gave Hyundai a reliability rating of 4.0/5.0 which ranks it 4th out of 32 for all car brands.
It's not unusual for a Hyundai Accent to reach 200,000 – 250,000 miles. On used car marketplaces such as Car Gurus and Autotrader, you'll also find some very high mileage examples – some with nearly 300,000 miles.
Ultimately, how long your Accent will last boils down to how well it's maintained and looked after and the style of driving it's subjected to.
To keep your Accent running smoothly and providing you with many happy and safe miles, we advise:
Staying up to date with the manufacturer's maintenance schedule
Carrying out basic routine checks such as fluid levels and tire pressures
Controlled and smooth driving to help reduce wear and tear on components
In summary, some Accents will go on forever, although these are the minority, most will meet their demise somewhere in the 200,000 – 250,000-mile region and their lifespan is entirely dependent on maintenance, driving and ownership habits.
Common Problems of the Hyundai Accent
We've taken a closer look at CarComplaints and CarProblemZoo to find out what problems Accent owners typically have to deal with.
Engine Problems
A number of owners reported engine knocking, a dreaded sound that precedes engine failure.
This problem has been reported on 2012, 2016 and 2017 models.
This problem was widely reported on Hyundai vehicles, although the Accent was not included in any recalls.
Airbags Did Not Deploy
A common problem with the Accent is that the airbags did not deploy and the warning light appears intermittently on the dash.
This problem has been reported on a number of Accent models from 1999 to 2017 and also 2020.
There have been a number of airbag-related recalls addressing this although not all the airbag issues have been covered by recalls.
It is best to have your Accent's airbag system inspected by a dealer or trusted workshop should the airbag light come on.
Transmission Failure
The Hyundai Accent is offered with a Continuously Variable Transmission (CVT), and for the most part it is very reliable.
However, transmission failure was reported by owners of models from 2000 – 2004.
In most cases owners were required to buy a new transmission.
Signs of a failing transmission include whining and clunking noises from the transmission, and jerky movements.
Rusting Suspension Coils
Owners of Hyundai Accents reported rusting of the suspension coil springs.
This problem only affects those that live in regions that salt the roads during the winter.
According to Repair Pal this is the most commonly reported Accent problem on models from 1995 to 2010.
Regular car washes, including the underside of the vehicle, is the best way to keep rust at bay.
Related: 6 Most Common Hyundai Accent Problems (Explained)
What is High Mileage for a Hyundai Accent?
A Hyundai Accent with over 100,000 miles is considered high mileage. That's not to say it won't last a lot longer although a higher mileage Accent will be more susceptible to wear-and-tear problems and repairs will be more common – especially if it wasn't well maintained.
An Accent with high mileage won't necessarily cost you more in repairs compared to a lower mileage one.
For example, an Accent with 120,000 miles might be a better purchase choice than one with 60,000 miles that had lots of owners and led a rough life or was a rental car.
To underline Hyundai's reliability and quality, the brand offers newer Accents with a 10-year / 100,000 miles powertrain warranty.
That covers the car for half of its life and means that any mechanical issues that may arise before this warranty expires should be taken care of free of charge.
When buying a used Accent, consider the following:
Service history. Check that the vehicle was adequately serviced, and the owner has documented evidence.
Take it for a test drive. Ask the seller to leave the car cold; this way, you'll see how easily it starts ups. Listen out for strange noises.
Check for rust. Rust is a problem that will spread. Have a good look under the vehicle too.
Number of previous owners. More owners usually equate to more wear-and-tear issues. As a general rule, less is better.
Examine the interior. The condition of the interior tells the story of how well the sedan was maintained and cared for.
Hyundai Accent Longevity Compared to Other Subcompacts
In this section, we'll compare the Accent to some of its rivals in the subcompact segment.
Hyundai Accent vs. Toyota Yaris
The Toyota Yaris is one of the biggest rivals to the Accent.
It offers high levels of quality, a no-nonsense interior design, dependable engines, and is highly regarded for its smooth driving characteristics.
Sadly, the Yaris was discontinued in the US market at the end of 2020.
Not only is the Yaris one of the best-selling Toyota models of all time, but it also won accolades from experts and automotive journalists the world over.
The Yaris can certainly last 250,000 – 300,000 miles, which is slightly more than the Hyundai Accent's expected lifespan.
| | | |
| --- | --- | --- |
| | Hyundai Accent | Toyota Yaris |
| RepairPal Reliability Rating | 4.5/5 | 4.5/5 |
| Annual Repair Cost | $444 | $333 |
| Kelley Blue Book Consumer Rating | 4.0/5 | 4.6/5 |
| Edmunds | 7.2/10 | 7.4/10 |
| JD Power | 80/100 | 78/100 |
Yaris resale values are slightly better than those of the Accent on used car marketplaces, mostly down to the Toyota brand reputation.
The Yaris is more affordable to own and maintain over time and it has a slightly longer lifespan than the Accent.
While the Yaris and Accent offer similar levels of refinement, quality and reliability ratings, the Yaris offers a slightly better overall package than the Accent thanks to its lower cost of ownership and longevity.
Related: How Long Do Toyota Yaris Last?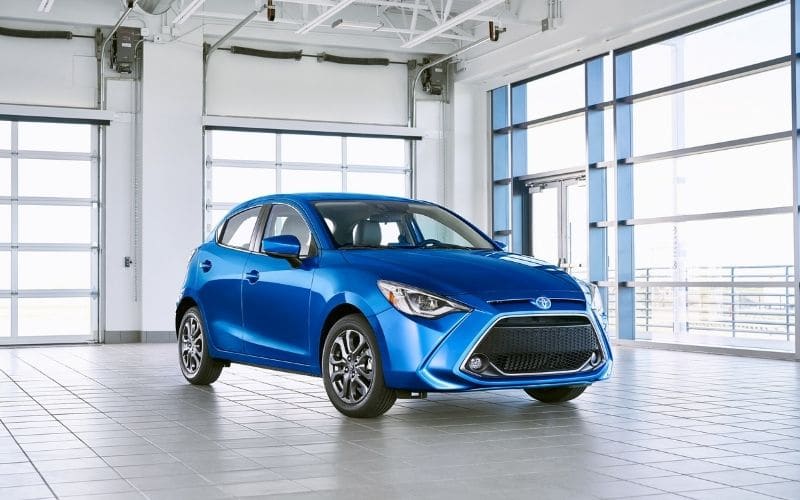 Hyundai Accent vs. Honda Fit
The Honda Fit is one of the company's international best-sellers thanks to its go-kart-like driving nature, innovative interior design, low maintenance, and dependability.
Owing to North America's affinity for SUV models, the Fit was discontinued in 2020 in the United States.
The Fit is not much bigger than the Accent, but its MPV-like interior design means it offers more interior space and luggage capacity.
This is one of the reasons for the car's popularity.
The Fit can last 250,000 – 300,000 miles, which is slightly more than the Accent's expected lifespan.
| | | |
| --- | --- | --- |
| | Hyundai Accent | Honda Fit |
| RepairPal Reliability Rating | 4.5/5 | 4.5/5 |
| Annual Repair Cost | $444 | $390 |
| Kelley Blue Book Consumer Rating | 4.0/5 | 4.4/5 |
| Edmunds | 7.2/10 | 8.2/10 |
| JD Power | 80/100 | 82/100 |
In our research, we found the Fit boasts a longer lifespan than the Accent and has a lower maintenance cost for owners.
The Fit also scored higher ratings from consumers and experts.
In this comparison, the Fit edges out the Accent as the winner.
The Honda badge brings with it a slightly better resale value too.
The styling might not be to everyone's taste, but its higher levels of practicality cannot be overlooked.
Related: How Long Do Honda Fit Last?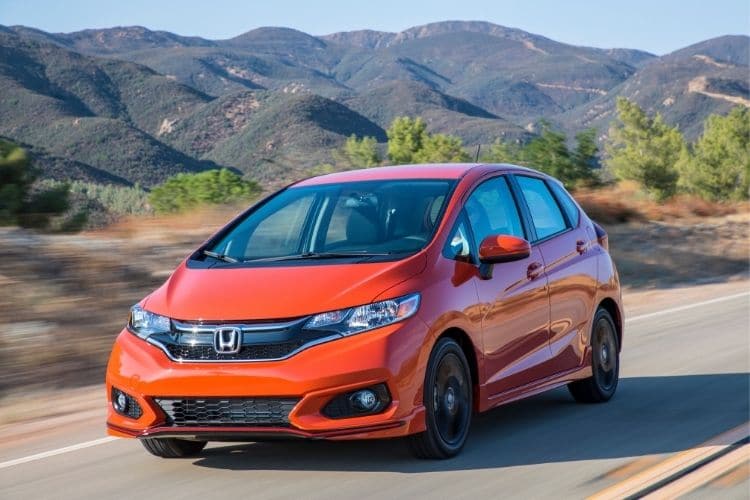 Hyundai Accent vs. Ford Fiesta
The Ford Fiesta is one of the United States' most popular subcompact models.
It is easy to understand why when it offers zippy driving dynamics, fresh styling, comfort, and high levels of quality.
Sadly, the Fiesta model was discontinued in the US at the end of 2019.
The Fiesta has netted some 16 million sales around the world and despite it not being made available in the US any longer, it remains one of the most desired subcompact models on the used car market.
The Fiesta can last for 200,000 – 250,000 miles, which is the same expected lifespan as that of the Accent.
| | | |
| --- | --- | --- |
| | Hyundai Accent | Ford Fiesta |
| RepairPal Reliability Rating | 4.5/5 | 4.0/5 |
| Annual Repair Cost | $444 | $552 |
| Kelley Blue Book Consumer Rating | 4.0/5 | 3.9/5 |
| Edmunds | 7.2/10 | 8.2/10 |
| JD Power | 80/100 | 78/100 |
The Fiesta has similar longevity to the Accent, but it has a slightly lower reliability rating and higher annual repair cost.
The Accent and Fiesta are closely rated, but the Accent offers slightly better consumer and expert ratings.
The Accent wins out in this comparison due to its higher reliability rating and lower annual maintenance cost.
Related: How Long Do Ford Fiestas Last?
Hyundai Accent Reliability
The Hyundai Accent is a very reliable vehicle that usually only requires regular maintenance to keep it running smoothly and safely for 200,000 – 250,000 miles.
The Accent is one of the most dependable cars on the road with a relatively low maintenance cost.
It is not uncommon to see older Accent models from the early 2000s still on the road today.
Bullet-proof 4-cylinder naturally-aspirated engines and high-quality interiors mean the Accent can stand up to 13 – 17 years of driving when properly maintained.
RepairPal ranked the Accent 5th out of 21 other subcompacts for reliability.
Many older Accents have over 250,000 miles on their odometers and are still running fine.
Owner reviews for newer models have generally been very positive on forums and review platforms.
In 2018, J.D Power ranked Hyundai as the most dependable vehicle brand
How Reliable is the Hyundai Accent Compared to Other Subcompact Cars?
Model
Reliability
Toyota Yaris
4.5/5.0
Toyota Prius C
4.5/5.0
Mazda2
4.5/5.0
Honda Fit
4.5/5.0
Hyundai Accent
4.5/5.0
Kia Rio
4.5/5.0
Mitsubishi Mirage
4.5/5.0
Mazda MX-5 Miata
4.0/5.0
Nissan Versa
4.0/5.0
Chevrolet Spark
4.0/5.0
Chevrolet Sonic
4.0/5.0
Chevrolet Aveo
4.0/5.0
Ford Fiesta
4.0/5.0
Fiat 500
3.5/5.0
Mini Cooper
Countryman
3.5/5.0
Mini Cooper
3.0/5.0
Avg. Subcompact Car
4.0/5.0
Source: Repair Pal
Best and Worst Years of the Hyundai Accent
Let's take a quick look at the Accent's best and worst model years. It should give you an idea of which years to avoid and which ones are good buys.
Worst Model Year
Based on our research on complaints reported on forums such as CarComplaints and CarProblemZoo, the second-generation Accent received the most complaints. In particular, the model years 2002 – 2004 should be avoided for engine problems and transmission failure.
The 2013 model had the most reported complaints, but it was the 2004 model year's engine problems that were rated as worst because of the high repair cost or incidence of more problems at lower mileage.
Considering that these cars are roughly twenty years old, it's probably best to avoid them anyway.
Best Model Year
The best model year for the Hyundai Accent are the most recent ones, and the 2019 model year is the one we would consider the best model year.
From 2017, Hyundai introduced the fifth generation of the Accent, and it saw a significant drop in complaints when compared to older models. The reported issues are usually limited to minor problems.
The 2019 model year received the lowest number of reported complaints.
As it is the latest generation of model for the US market, Hyundai had enough time to fix any design and equipment quality issues.
Related: 12 Best & Worst Hyundai Accent Years (With Facts & Stats)
Hyundai Accent Recalls
The Hyundai Accent has had a total of 48 recalls since 1994, which is a relatively low number when you consider it has been on the market for nearly 3 decades.
You can always check if your Hyundai Accent has been subjected to a recall campaign by entering your VIN (Vehicle Identification Number) on the NHTSA's website.
Recalls are manufacturing faults repaired at no charge to the consumer.
Hyundai Accent recalls according to the NHTSA's records:
2022 Hyundai Accent: 2
2021 Hyundai Accent: 4
2020 Hyundai Accent: 4
2019 Hyundai Accent: 1
2018 Hyundai Accent: 1
2017 Hyundai Accent: 0
2016 Hyundai Accent: 0
2015 Hyundai Accent: 1
2014 Hyundai Accent: 0
2013 Hyundai Accent: 0
2012 Hyundai Accent: 1
2011 Hyundai Accent: 1
2010 Hyundai Accent: 1
2009 Hyundai Accent: 2
2008 Hyundai Accent: 1
2007 Hyundai Accent: 3
2006 Hyundai Accent: 3
2005 Hyundai Accent: 1
2004 Hyundai Accent: 0
2003 Hyundai Accent: 1
2002 Hyundai Accent: 1
2001 Hyundai Accent: 2
2000 Hyundai Accent: 4
1999 Hyundai Accent: 1
1998 Hyundai Accent: 1
1997 Hyundai Accent: 3
1996 Hyundai Accent: 4
1995 Hyundai Accent: 5
1994 Hyundai Accent: 0
Hyundai Accent Generations and Model Years
The first Accent was launched in 1994 and is still currently in production in factories around the world although discontinued in 2023 in the US.
The Accent is currently in its fifth generation, which was released in 2017.
First Generation (1994 – 1999)
1994 Hyundai Accent
1995 Hyundai Accent
1996 Hyundai Accent
1997 Hyundai Accent
1998 Hyundai Accent
1999 Hyundai Accent
Second Generation (1999 – 2005)
1999 Hyundai Accent
2000 Hyundai Accent
2001 Hyundai Accent
2002 Hyundai Accent
2003 Hyundai Accent
2004 Hyundai Accent
2005 Hyundai Accent
Third Generation (2005 – 2010)
2005 Hyundai Accent
2006 Hyundai Accent
2007 Hyundai Accent
2008 Hyundai Accent
2009 Hyundai Accent
2010 Hyundai Accent
Fourth Generation (2010 – 2018)
2010 Hyundai Accent
2011 Hyundai Accent
2012 Hyundai Accent
2013 Hyundai Accent
2014 Hyundai Accent
2015 Hyundai Accent
2016 Hyundai Accent
2017 Hyundai Accent
2018 Hyundai Accent
Fifth Generation (2018 – Present)
2018 Hyundai Accent
2019 Hyundai Accent
2020 Hyundai Accent
2021 Hyundai Accent
2022 Hyundai Accent
2023 Hyundai Accent
Is the Hyundai Accent Expensive to Maintain?
The Hyundai Accent is cheaper to maintain than most other subcompact models in its segment. RepairPal estimates the Accent's average annual repair costs to be $444, while the segment average is $456 and an average vehicle in the USA costs $652.
Model
Avg. Annual
Repair Cost
Frequency of
Unscheduled Repairs
Probability of
Severe Repairs
Toyota Yaris
$333
0.4
6%
Toyota Prius C
$383
0.36
7%
Mazda2
$449
0.3
7%
Honda Fit
$390
0.4
8%
Hyundai Accent
$444
0.2
8%
Kia Rio
$434
0.2
9%
Mitsubishi Mirage
$457
0.1
9%
Mazda MX-5 Miata
$429
0.3
10%
Nissan Versa
$456
0.4
11%
Chevrolet Spark
$434
0.3
11%
Chevrolet Sonic
$536
0.4
11%
Chevrolet Aveo
$616
0.2
11%
Ford Fiesta
$552
0.4
11%
Fiat 500
$522
0.2
17%
Mini Cooper
Countryman
$652
0.59
11%
Mini Cooper
$846
0.62
13%
Avg. Subcompact Car
$456
0.3
11%
How Long Do Accent Brakes Last?
The Hyundai Accent's brake pads typically last between 30,000 – 70,000 miles, depending on driving conditions.
This variation in miles differs due to your driving style and traffic conditions.
If you commute in heavy traffic, you'll need to inspect them more often.
Some owners have even reported getting over 80,000 miles out of the factory brakes.
If you live in the rust belt, you might need to replace the rotors sooner due to excessive corrosion.
There are lots of aftermarket parts and replacements for the Accent brakes, keeping the cost of replacing worn-out brakes more affordable.
How Long Do Accent Tires Last?
The Hyundai Accent's tires should last approximately 50,000 – 60,000 miles or 3 to 5 years. They can wear out much sooner or they may last much longer. This depends on various factors, such as road conditions, driving habits, climate and maintenance.
The tire compound also matters a lot. Winter tires, for example, don't last as long as all-season tires.
Tire tips:
Rotate your tires every 5,000 miles to ensure even wear.
Check your tire pressure every few weeks to make sure they're at the correct tire pressure.
Check your wheel alignment every six months.
How Long Do Accent Transmissions Last?
The Hyundai Accent's transmissions usually last for the life of the vehicle. This equates to 13 – 17 years of reliable service.
This is provided that it is maintained as per the owner's manual.
Under normal driving circumstances, Hyundai recommends changing the transmission's fluid every 50,000 miles or every 36 months.
How Long Do Accent Spark Plugs Last?
Newer Accents need new spark plugs every 30,000 miles. Spark plugs are usually inspected every time you take you Accent in for a service at a workshop.
Signs of a fouled spark plug include:
Reduced gas mileage
Lack of acceleration
Rough idling
Hard starts
Engine misfires
How Long Do Hyundai Accent Engines Last?
The Hyundai Accent engines are all 4-cylinder models that can easily last 200,000 – 250,000 miles if they're properly maintained as per the owner's manual.
These engines can even outlive the vehicle itself, however, it is important to carry out routine maintenance.
A trusted mechanic and regular oil changes can add thousands of miles to the life of the engine.
How Long Do Accent 12V Batteries Last?
The Hyundai Accent's battery usually lasts between 3 – 5 years. A vehicle's battery life varies depending on many different factors, such as climate, driving habits, and battery type, among many others.
Keep your battery tightly fastened: The vibrations of your car can loosen the connections, potentially resulting in short circuits and internal damage.
Limit short rides: Quick car rides prevent the battery from fully charging.
Storage: Keep your Accent stored indoors away from extreme temperature changes.
Control Corrosion: Clean the terminals (toothbrush dipped in baking soda and water mixture) and keep them free from build-up.
What Are the Insurance Costs?
According to Insuraviz, the cost of full comprehensive coverage for a Hyundai Accent averages $1,544 per year or $129 per month.
The Accent ranks as #11 out of 20 for insurance affordability in its segment.
The segment median average cost is $1,569 per year.
Insurance costs can vary from person to person and on the age of the vehicle, so be sure to shop around to find the best possible deal.
How to Get the Most Life From Your Hyundai Accent
Practice smooth and safe driving habits.
Keep up to date with factory-recommended maintenance.
Use quality parts and fluids.
Keep on top of repairs to prevent them from developing into larger problems.
Regularly wash your Accent to remove dirt and grime, as well as to protect the paint and undercarriage from rust.
Keep your Accent stored in a garage to help protect it from extreme heat and cold.
Read the owner's manual to learn the location of important components, what your Accent needs and in what quantities, and to understand the symbols and dashboard warning lights.
Sources:
https://www.cargurus.com/
https://www.autotrader.com/cars-for-sale/hyundai/accent
https://www.carcomplaints.com/Hyundai/Accent/
https://www.carproblemzoo.com/hyundai/accent/
https://www.jdpower.com/cars/2022/hyundai/accent
https://insuraviz.com/vehicles/hyundai/hyundai-accent-insurance/