The Santa Fe was launched in the year 2000, named after the city of Santa Fe in New Mexico.
It's a popular midsize SUV with a competitive price tag, but like any vehicle, it's not perfect.
In this article we'll highlight some of the most common problems and issues of the Hyundai Santa Fe.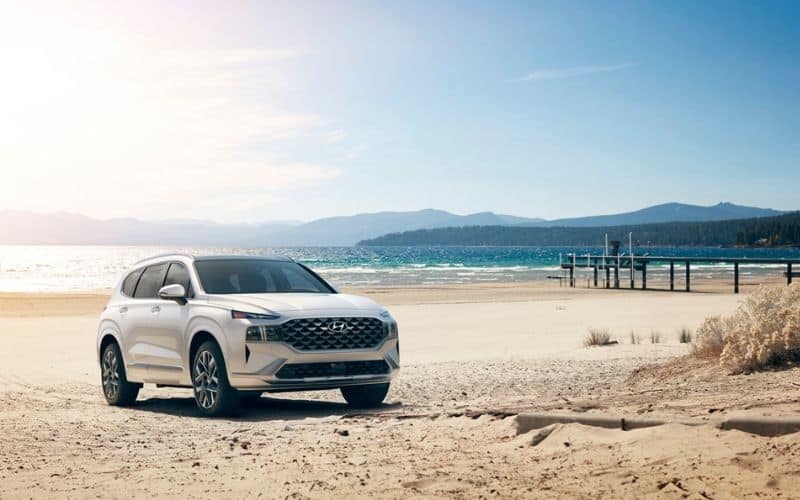 1. Engine Problems
According to Car Problem Zoo, a site dedicated to collecting owner feedback, the most commonly reported issue with the Santa Fe is engine-related.
For model years 2017, 2014, 2013 and 2012 these issues were widespread.
However, engine problems have been reported on all model years, mostly between 2018 and 2010 although not to the same extent.
Owners have described the following symptoms:
Engine stalls whilst driving
Check engine light comes on
Excessive oil consumption
Knocking noise from engine
Complete engine failure
Car accelerates on its own without any driver input.
Some of the engine-related issues were also known to be a fire risk.
These problems were linked to manufacturing faults with the crankshaft which caused excessive wear on the engine bearings.
There were also problems with the connecting rod bearings inside the engine which were known to wear out prematurely and are infamous for causing a knocking sound.
Here is one owner's account:
"I was driving on the highway and my car started losing power, I navigated off the exit ramp and the car shut off and would not turn back on. There was no warning whatsoever. No lights, no smoke, no noises, etc. Our engine has to be replaced at 77,000 miles. The dealership is putting the cost on us for replacement. I have seen reports that Hyundai engines are notorious for failure."
Solution
There have been engine-related recalls for 2017 and 2012 Santa Fe's – although you should always run a VIN check on the NHTSA website to see if you have been affected.
In many instances owners had to have a new engine fitted, outside of warranty this can be very expensive.
Some models were fitted with a Knock Sensor Detection System, this system is essentially for damage limitation and monitors for symptoms that may precede an engine failure – when the car is just about to break down it will go into limp mode, giving drivers just enough time to drive their car to the dealership.
2. Service Brakes Issues
The service brakes are the foot-operated brakes of a vehicle, for the Hyundai Santa Fe this has been a problem area for models mainly from 2015 to 2020 with 2017 being the worst year.
The most common issue with the brakes was due to a faulty Anti-Lock Brake System (ABS) module that was prone to malfunctioning – to make matters worse there was an added risk of engine fire due to electrical shorts from the module.
In some cases, the vehicles did in fact catch fire – some owners reported explosions coming from within the engine compartment.
Hyundai was forced to recall certain 2016-2018 Santa Fe, 2017-2018 Santa Fe Sport and 2019 Santa Fe XL vehicles.
In some instances owners were left waiting unreasonable amounts of time for parts to arrive and to have the issue addressed.
Here's what some frustrated drivers had to say:
"It's been 3 months since the recall notice and Hyundai still is not able to fix my auto. Concerned over the possibility of it catching fire!"
"The car was parked for about four hours and suddenly catches fire, the reports says it was abs anti brake system!"
Solution
In most instances, the ABS module had to be replaced and as this is a recall it should come at no cost to the owner.
To be on the safe side, always run a VIN check of your vehicle on the NHTSA website to see if you have been affected.
3. Faulty Fuel Gauge
For Santa Fe models from 2006 to 2009, there were a large number of complaints due to the fuel gauge not reading correctly, this was often accompanied by the check engine light coming on.
The problem was actually caused by a failed fuel level sensor.
This was the most-reported problem on customer feedback site Car Complaints.
According to Car Complaints, this problem typically occurs at a mileage of 90,000 miles and costs $550 to fix.
Solution
In most instances, you will need to replace the fuel level sensor and gaskets.
4. Overheating Wireless Phone Charger
A commonly reported issue that affects the more modern Santa Fe vehicles is an overheating wireless phone charger.
Owners have described their phones getting extremely hot and not being able to use the wireless charger for more than a few minutes.
This problem has been reported on many other Hyundai vehicles and not just the Santa Fe.
Owners have reported that their phones get so hot that the phones actually shut down to prevent damage.
This might be caused by a fault with the fan under the wireless charging pad, although this problem seems to affect some phones and not others so it may be a compatibility issue.
Solution
If the phone is in its case, try charging without the case to allow the heat to escape more easily.
According to Samsung, while charging using a wireless charger – it is normal for the device and the charger to become hot and does not affect the device's normal range of operation – if it becomes too hot the charger may stop charging.
However, if the phone becomes very, very hot it's probably best to remove your device from the wireless charger and allow some time for both the charging unit and your phone to cool down.
Related: Hyundai Santa Fe Best & Worst Years? (With Facts & Stats)
5. Rain Pooling on Windshield
This problem has been reported on newer Santa Fe models, from 2018 onwards.
The issue is that the left-hand side wiper blade does not fully cover the whole windshield on the left-hand side, causing a small section of the windshield to pool with water, therefore, reducing visibility.
This isn't too much of an issue for most drivers, although one owner had this to say:
"While driving in my new Santa Fe, when raining the rain pools on the left part of the windshield severely reducing visibility and making it very difficult to see. the windshield wipers don't reach this area. I feel this is a safety issue and should be taken seriously. This is unacceptable and makes me apprehensive to drive this in the rain."
Solution
Unfortunately, there is no solution for this design issue however it doesn't affect all models and for many people this won't be a huge issue.
6. Windshield Cracking
There have been numerous complaints from Hyundai Santa Fe owners due to windshields that crack far too easily, this has been reported on other Hyundai models too.
Our research indicates this issue is actually quite common, and there are many stories being posted online from frustrated owners.
Windshields are designed to crack under impact but not from a falling acorn and they should withstand the odd stone chip.
One owner described how repair shops are struggling to find replacement windshields for their Santa Fe due to the high demand and there are long waits for the backorder.
On Hyundai-Forums.com one owner had this to say:
"I have a new 2020 Santa Fe limited, windshield has lots of little chips and nicks after 2 months on road. Had a Honda with 200k miles of highway driving seems to hold up better."
Solution
If your windshield cracks, in many cases it will need to be replaced although this varies from state to state.
You will need to contact your insurance company and they should cover this although you may have to pay a deductible.
Related: How Long Do Hyundai Santa Fe Last?
Hyundai Santa Fe Model Years With the Most Problems
To get a better idea of which Hyundai Santa Fe has the most problems the fairest way is to compare models based on the number of vehicles sold in relation to the number of reported problems.
We're using Car Complaints PPMY index which means problems reported per thousand vehicles per Year.
For example, newer cars will have fewer complaints simply because they've been around for less time.
Based on this index, the most problematic years are:
2013 – 4.42 PPMY
2014 – 3.05 PPMY
2017 – 2.11 PPMY
And the least problematic years are:
2002 – 0.13 PPMY
2004 – 0.16 PPMY
2020 – 0.17 PPMY
| | | | | |
| --- | --- | --- | --- | --- |
| Hyundai Santa FeModel Year | Problems | Sales | VehicleAge | PPMY Index |
| 2022 | 22 | – | – | – |
| 2021 | 49 | 62,729 | 1 | 0.78 |
| 2020 | 53 | 153,958 | 2 | 0.17 |
| 2019 | 112 | 130,000 | 3 | 0.29 |
| 2018 | 146 | 24,287 | 4 | 1.50 |
| 2017 | 645 | 61,218 | 5 | 2.11 |
| 2016 | 134 | 18,825 | 6 | 1.19 |
| 2015 | 233 | 20,049 | 7 | 1.66 |
| 2014 | 565 | 23,184 | 8 | 3.05 |
| 2013 | 722 | 18,141 | 9 | 4.42 |
| 2012 | 411 | 59,414 | 10 | 0.69 |
| 2011 | 238 | 69,687 | 11 | 0.31 |
| 2010 | 286 | 55,473 | 12 | 0.43 |
| 2009 | 452 | 78,578 | 13 | 0.44 |
| 2008 | 656 | 84,870 | 14 | 0.55 |
| 2007 | 924 | 114,461 | 15 | 0.54 |
| 2006 | 131 | 33,222 | 16 | 0.25 |
| 2005 | 287 | 74,816 | 17 | 0.23 |
| 2004 | 379 | 131,891 | 18 | 0.16 |
| 2003 | 380 | 97,746 | 19 | 0.20 |
| 2002 | 212 | 81,773 | 20 | 0.13 |
| 2001 | 281 | 51,044 | 21 | 0.26 |
Source: Car Problem Zoo
Hyundai Santa Fe Pros and Cons
If you're considering a Hyundai Santa Fe as your next car you might be wondering what its strengths and weaknesses are…
Pros
Great value for money
Comfortable ride
Nicely appointed interior
Wide range of powertrains
Stylish designs
Cons
Shakey history of engine problems although far, far improved in recent years (think 2018 onwards)
Not as fuel-efficient as some of its competitors
Lacks headroom for the rear seats and may be a bit snug for taller passengers
Does not offer 3rd-row seating
Related: 8 Most Common Problems With Hyundai Tucson (Explained)
Hyundai Santa Fe Reliability Compared to Similar Cars
Consumer Reports rankings detailed below is based on the model's newest three years, the Hyundai Santa Fe sits near the bottom, with a relatively poor score of 26/100.
Note: Consumer Reports may have given the Hyundai Santa Fe a low ranking although other auto review sites have given much more favorable scores.
Make & Model
Consumer Reports
Reliability Score
Lexus GX
100
Subaru Outback
100
Toyota Venza
92
Toyota Highlander
86
Mazda CX-9
85
Kia Telluride
84
Nissan Murano
77
Lexus RX
76
Lexus RX L
76
Chevrolet Blazer
75
Toyota 4Runner
71
Hyundai Palisade
68
Acura MDX
61
BMW X5
58
Honda Passport
58
Ford Edge
56
Honda Pilot
53
Chevrolet Traverse
49
Audi Q7
45
GMC Acadia
43
Porsche Cayenne
43
Volkswagen Atlas
41
Volkswagen Atlas Cross Sport
41
Cadillac XT6
37
Jeep Grand Cherokee L
35
Lincoln Nautilus
31
Dodge Durango
30
Ford Bronco
30
Infiniti QX60
30
Nissan Pathfinder
30
Hyundai Santa Fe
26
Jeep Wrangler
25
Land Rover Defender
25
Land Rover Discovery
25
Land Rover Range Rover Sport
25
Jaguar I-Pace
24
Subaru Ascent
18
Volvo XC90
17
Ford Explorer
8
Audi Q8
5
Audi e-tron
5
Genesis GV80
5
Kia Sorento
5
Mecedes-Benz GLE
5
Tesla Model X
5
Lincoln Aviator
3
Source: Consumer Reports
Hyundai Santa Fe Used Value
We've taken a look on Car Gurus to gauge the resale value of a Hyundai Santa Fe, below are typical asking prices for each model year.
According to Car Edge, a Hyundai Santa Fe will depreciate 43% after 5 years and have a 5 year resale value of $21,641.
Note: Used model prices will vary depending on trim level.
| | | |
| --- | --- | --- |
| Model Year | Mileage (miles) | Resale Price |
| 2022 | 2,000 | $39,000 |
| 2021 | 12,817 | $34,995 |
| 2020 | 21,400 | $28,990 |
| 2019 | 48,239 | $25,950 |
| 2018 | 46,111 | $25,545 |
| 2017 | 76,627 | $17,380 |
| 2016 | 53,855 | $19,900 |
| 2015 | 106,300 | $16,298 |
| 2014 | 98,040 | $15,995 |
| 2013 | 109,501 | $13,995 |
| 2012 | 185,775 | $3,950 |
| 2011 | 102,219 | $6,999 |
| 2010 | 98,536 | $7,995 |
Source: Car Gurus
What Do Owners Like and Dislike About the Hyundai Santa Fe?
Based on owner feedback from the Kelley Blue Book site here are what real-life owners love and hate about the Hyundai Santa Fe.
Likes
Great performance
Lots of features
Great car to drive
Stylish
Great sound system
Price and Value
Great handling
Comfortable
Dislikes
Engineering issues
Thin front seats
Transition not as smooth as expected
Manual locking doors
Engine is too quiet
Small backup lights
Gas mileage issues
Slow phone charging
Owners Reviews
"… This has everything you could want on a SUV, we are retired and were looking for something with good gas mileage and a very comfortable ride. The seats are wonderfully comfortable and have excellent adjustability. We would recommend this vehicle if you are looking for a SUV."
Source: Kelley Blue Book
"I love my Santa Fe. Has features that are outstanding. Warnings to help avoid problems. Comfort features that are wonderful now that I live in Aurora Colorado."
Source: Kelley Blue Book
"I just purchased this car on 8/11/21 and absolutely love it! Originally planned to buy a 21 Kia Sorento Xline but when I saw all of the features such as memory seats, heads-up display, heated second-row seating, etc., available on the Santa Fe but not on the Xline I was sold!"
Source: Edmunds
How Reliable Are Hyundai Cars?
According to a recent report from Consumer Reports, Hyundai are ranked the 11th most reliable car manufacturer out of 28 brands, with a score of 56/100.
| | | |
| --- | --- | --- |
| Ranking | Brand | Score |
| 1 | Lexus | 76 |
| 2 | Mazda | 75 |
| 3 | Toyota | 71 |
| 4 | Infiniti | 69 |
| 5 | Buick | 66 |
| 6 | Honda | 66 |
| 7 | Subaru | 66 |
| 8 | Acura | 64 |
| 9 | Nissan | 63 |
| 10 | Mini | 60 |
| 11 | Hyundai | 56 |
| 12 | Chrysler | 54 |
| 13 | Porsche | 52 |
| 14 | Chevy | 48 |
| 15 | Audi | 47 |
| 16 | Cadillac | 47 |
| 17 | BMW | 45 |
| 18 | Ford | 44 |
| 19 | Kia | 43 |
| 20 | Volvo | 42 |
| 21 | Ram | 40 |
| 22 | GMC | 37 |
| 23 | Mercedes-Benz | 34 |
| 24 | Volkswagen | 31 |
| 25 | Genesis | 30 |
| 26 | Jeep | 26 |
| 27 | Tesla | 25 |
| 28 | Lincoln | 18 |
Source: Consumer Reports
Related: How Long Do Hyundai Santa Fe Hybrids Last? (Solved)
Sources
https://www.consumerreports.org/cars/hyundai/santa-fe/
https://www.carcomplaints.com/Hyundai/Santa_Fe/
https://www.carproblemzoo.com/hyundai/santafe/
https://www.kbb.com/hyundai/santa-fe/
https://www.edmunds.com/hyundai/santa-fe/
https://caredge.com/hyundai/santa-fe/depreciation