Launched for the 2020 model year, the Jeep Gladiator is the first-ever trail-rated pickup truck.
It has excellent customizability, handsome Jeep styling and impressive towing capacity.
In this article, we'll take a closer look at its best and worst years…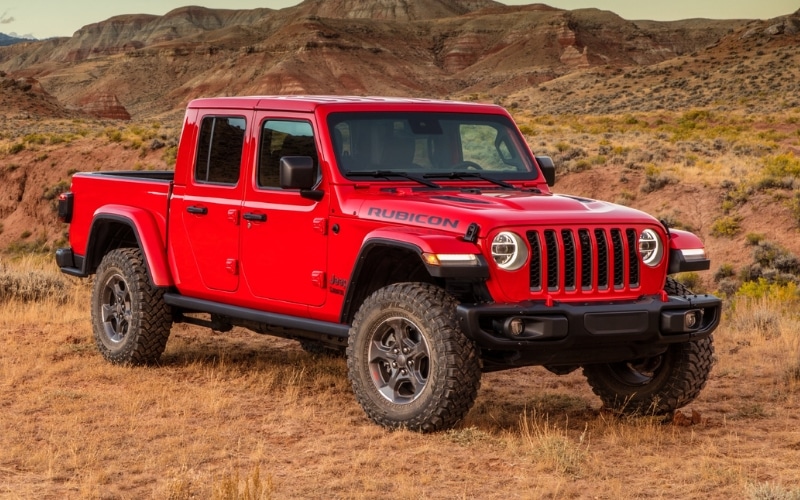 Here's The Short Answer To What The Best And Worst Years For The Jeep Gladiator Are:
The best Jeep Gladiator model years are 2024, 2023, and 2022. The worst model years of this model are 2020 and 2021. This is based on auto industry reviews, NHTSA statistics, reported problems, and consumer feedback.
What Are The Best Years For The Jeep Gladiator?
2024 and 2023 Jeep Gladiator
The 2024 and 2023 model years are two of the most recent and technologically advanced versions ever produced.
Both exhibit the robust Jeep persona, showcase off-road capabilities, and stand as the sole convertible truck option in the market.
There are a total of 10 variations:
Sport
Willys Sport
Sport S
Willys
Overland
Freedom
Texas Trail
Mojave
Rubicon
High Altitude
Boiling it down to main trim levels, there are only 4: Sport, Overland, Rubicon, and Mojave.
Base pricing ranges from around $41,000 to $56,000.
The most popular trim is the high-end Rubicon, with a starting price of $52,790.
Its popularity is due to its name recognition and unmatched off-road capabilities, which many consider to be the best in the segment.
There are 2 engine options: a 3.6-liter V6 engine (285 horsepower and 260 pound-feet of torque) and a 3-liter V6 turbodiesel (260 horsepower and 442 pound-feet of torque).
As per the EPA, every variant has the potential to deliver up to 19 MPG for combined city and highway driving. Naturally, anticipate slightly varied fuel efficiency metrics during more demanding off-road excursions.
2023 Gladiator:
Edmunds: 4.7 / 5.0
Kelley Blue Book: 4.7 / 5.0
J.D. Power: 82 / 100
2023 Gladiator, Edmunds Review:
"It's really nice and fits my needs. I like it a lot and I was able to custom build my gladiator. I didn't want the power windows or locks because I like taking my doors off and don't want to have power cord issues."
2022 Jeep Gladiator
If you're looking for a gently used Gladiator with contemporary technology and generous warranty coverage, opting for the 2022 model year is an excellent choice.
It offers customizability options, a larger back seat than its competitors, and the rugged Jeep qualities that enthusiasts have come to expect.
The latest additions for this model year include the newly standardized 8.4-inch touchscreen infotainment system, an Alpine audio system, and built-in navigation.
This 5-passenger, 4-door midsize truck comes in a crew cab configuration and is available in 4 main trims: Sport, Overland, Rubicon, and Mojave.
Irrespective of the trim level, you'll receive a 5-foot cargo bed and a four-wheel-drive system
There are 2 engine choices: a 3.6-liter V6 (285 horsepower and 260 pound-feet of torque) and a diesel-powered turbocharged 3-liter V7 (260 horsepower, 442 pound-feet of torque).
Owners appreciate this model based on the following attributes:
Wheels and tires
Doors
Reliability
Manufacturing quality
Transmission
Off-road capability
Depending on the chosen trim (and equipped with the appropriate towing gear), owners can achieve a maximum towing capacity ranging from 6,000 to 7,650 pounds. This capability is more than sufficient for towing a standard-sized camper or trailer.
Edmunds: 4.4 / 5.0
Kelley Blue Book: 4.7 / 5.0
J.D. Power: 82 / 100
2022 Gladiator, Edmunds Review:
"I highly recommend the Sport S with the Max Tow Package. Torque-y and smooth, the automatic 8-speed transmission is pretty nice with the trusty 3.6 L V6. It's a real hauler or puller when I need it, it's articulation is great for some off road adventures and is comfortable on the highway…"
Consumer Scores For Best Jeep Gladiator Years
Model Year
Edmunds
Consumer Rating
Kelley Blue Book
Consumer Rating
J.D. Power
Consumer Rating
2024 Jeep Gladiator
–
–
–
2023 Jeep Gladiator
4.7 / 5.0
4.7 / 5.0
82 / 100
2022 Jeep Gladiator
4.4 / 5.0
4.7 / 5.0
82 / 100
Related: How Long Do Jeep Gladiators Last? (Solved and Explained)
What Are The Worst Years For The Jeep Gladiator?
2020 & 2021 Jeep Gladiator
The 2020 and 2021 Gladiators are reputedly enjoyable to drive, yet they experienced a notable array of issues, a common occurrence with many newly introduced vehicles.
The most widely reported problem for these models is the "Death Wobble".
Owners describe an uncontrollable wobble in the front end, particularly after reaching speeds above 50 mph.
The shaking is severe and requires immediate reduction in speed to alleviate the issue, often causing hazardous situations on the highway.
Many affected owners have sought help from Jeep dealerships, with multiple attempts to repair the "death wobble." However, it seems that a definitive solution has not been found.
These models have a variety of other reported defects.
Electrical System Failures: Some owners have experienced a complete electrical system failure, rendering the engine non-startable, warning flashers inoperative, and the vehicle unable to go into neutral. Despite multiple dealership visits, the root cause remains elusive, with attempts to address the issue involving costly repairs.
Defroster issues: Numerous complaints highlight a malfunction where the defroster only blows air onto the center of the windshield, leaving the driver and passenger sides uncleared. This problem poses a significant safety risk, especially during adverse weather conditions when clear visibility is crucial for safe driving.
Recurrent Battery Drainage: Numerous owners have faced persistent battery drainage issues, with the vehicle requiring several visits to the dealership. Dealerships have replaced batteries, cables, wires, connectors, and the alternator, yet in many cases the problem persists.
Power Steering Loss and Warning Lights: Owners have recounted incidents of sudden power steering loss, accompanied by multiple warning lights. This recurring problem, initially attributed to a defective wiring harness, poses a significant safety concern due to the potential locking up of the steering wheel.
Electronic Stability Control and Throttle Control Issues: Drivers have experienced alerts related to electronic stability control and throttle control, leading to loss of acceleration and smoke billowing from under the hood. Dealerships attributed the issue to moisture in the oil, a problem reportedly common in this model year.
The 2020 Gladiator had a total of 31 complaints on CarComplaints.com and 255 problems based on NHTSA.gov data.
The 2021 Gladiator had a total of 13 complaints on CarComplaints.com and 162 problems based on NHTSA.com data.
2021 Jeep Gladiator
Related: Jeep Gladiator In Snow & Winter Driving? (Solved & Explained)
What Years Have The Most Complaints?
Model Year
Complaints
(CarComplaints.com)
Problems
(NHTSA.gov)
Recalls
(NHTSA.gov)
2024 Jeep Gladiator
–
–
–
2023 Jeep Gladiator
0
6
3
2022 Jeep Gladiator
1
33
6
2021 Jeep Gladiator
13
162
5
2020 Jeep Gladiator
31
255
6
What Problems Do Jeep Gladiator Have?
Electrical malfunctions
Steering wanders
Check engine light on
Cylinder misfire
Front end wobble
Seal leakage on axle
Battery drainage
Coolant leakage
Related: 8 Common Jeep Gladiator Problems (Explained)
What Are The Best Alternatives To The Jeep Gladiator?
| | | | |
| --- | --- | --- | --- |
| Make & Model | Score | MSRP | Fuel Economy (MPG) |
| GMC Canyon | 8.4 | $36,900 – $55,500 | City: NA /Highway: NA |
| Honda Ridgeline | 8.4 | $38,800 – $46,230 | City: 18 /Highway: 24 |
| Chevrolet Colorado | 8.2 | $29,200 – $46,800 | City: 17 – 20 /Highway: 19 – 25 |
| Ford Maverick | 8.2 | $23,400 – $34,855 | City: 22 – 40 /Highway: 28 – 33 |
| Jeep Gladiator | 8.1 | $38,775 – $50,995 | City: 16 – 22 /Highway: 22 – 28 |
| Hyundai Stana Cruz | 7.9 | $26,650 – $41,070 | City: 19 – 22 /Highway: 25 – 27 |
| Nissan Frontier | 7.8 | $29,190 – $39,120 | City: 17 – 18 /Highway: 22 – 24 |
| Ford Ranger | 7.3 | $27,400 – $40,945 | City: 19 – 21 /Highway: 19 – 26 |
| Toyota Tacoma | 7.2 | $27,750 – $49,890 | City: 17 – 20 /Highway: 20 – 24 |
Source: cars.usnews.com, edmunds.com
Related: Where Are Jeep Gladiators Made? (Solved & Explained)
References
https://www.caranddriver.com/jeep/gladiator-2023
https://cars.usnews.com/cars-trucks/jeep/gladiator
https://www.edmunds.com/jeep/gladiator/
https://www.kbb.com/jeep/gladiator/
https://www.jdpower.com/cars/2022/jeep/gladiator
https://www.carcomplaints.com/Jeep/Gladiator/
https://www.carproblemzoo.com/recalls/jeep-gladiator.php
https://www.cars.com/articles/2020-jeep-gladiator-recall-alert-409660/