In 2019, Jeep re-entered the pickup market after almost 30 years with the Gladiator, which uses the same platform as its extremely popular Wrangler.
The Jeep Gladiator isn't just a Wrangler with a truck bed either.
Its towing capacity is also significantly higher — making it more versatile and practical in the eyes of many.
We'll take a closer look at how well it handles snowy conditions and icy roads in this article.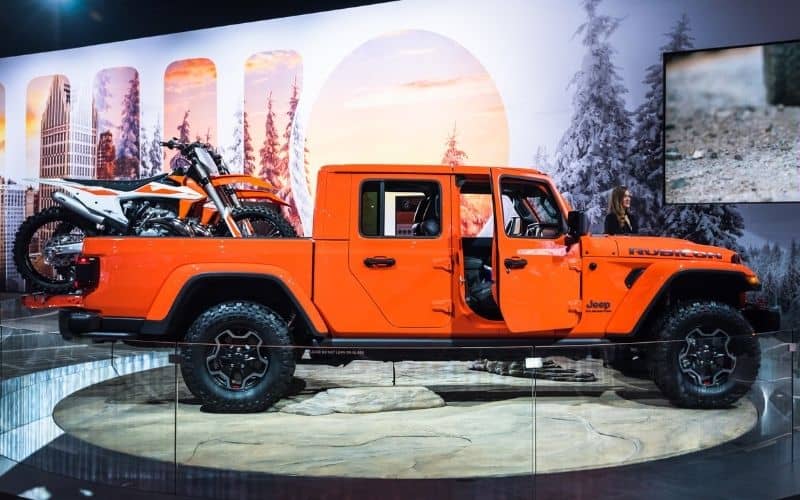 Here is the short answer to whether the Jeep Gladiator is good for snow and winter driving:
The Jeep Gladiator is superb in snow and can handle it with ease due to its powerful V-6 engine and impressive 11 inch ground clearance. It has a number of winter friendly driving assists and a robust four-wheel drive system that will give you all the traction you'll need in the wintertime.
Is the Jeep Gladiator Good in the Snow?
The Jeep Gladiator is one of the best pickups you can buy for winter driving, especially if you're looking to tackle really snowy terrain.
It has the highest ground clearance among all other mid-size pickups at 10 to 11 inches and comes standard with a 285-hp V-6 engine, which combined offer more than enough elevation and power to traverse the deepest of snow.
It also uses the same four-wheel drive system as the Wrangler which many consider to be the best choice for real off-roading.
Similarly, the Gladiator can also be fitted with lots of off-road features and accessories that make it extremely capable at
Rock crawling
River crossings
Hill climbs
Extreme winter weather
Many Gladiators also come with all-terrain tires, or optional mud terrain tires, which are also rated for severe snow service.
Compared to the Jeep Wrangler, the Gladiator is longer by about 2 feet.
This longer wheelbase makes it more stable at higher speeds, and less prone to sliding out of control.
It's also a little heavier than the other pickup trucks in its class.
This adds weight to the tires which gives them more grip for winter driving when the roads become extra slippery.
What Features Will Improve Winter Driving?
Aside from the Gladiator's obvious off-road chops, it's also got an array of modern driver aids, electronics, and creature comforts that make it much easier to drive in the winter.
Let's take a closer look at the extra features Jeep has outfitted the Gladiator with to make driving on snow and ice more bearable.
Four-Wheel Drive (4WD)
The Jeep Gladiator's strongest asset is its Four-Wheel Drive (4WD) system which makes it extremely capable in harsh winters, as well as in really deep snow and off road conditions.
Most Gladiators come standard with the Command-Trac 4WD system which allows you to manually engage either 4Hi or 4Low when you need more traction. As long as 4WD is engaged, power will always be sent to the front and rear wheels.
Higher trim levels of the Gladiator (2020 models and up) can also be equipped with the Selec-Trac 4WD system which functions more like an AWD system.
When you shift it to 4Auto, it will automatically send power to the front wheels when the rear tires start slipping.
Trac-Lok Anti-Spin Rear Differential
Many Gladiators come with a torque-sensing mechanical rear differential as standard, or as an additional option.
This is more commonly known as a Limited Slip Differential (LSD).
LSD limits the amount of wheelspin when the driven wheels lose traction when power is applied
Engine power is then sent to the wheels with the most grip
The Gladiator also has a Brake Lock Differential which is found in other Jeeps.
This system automatically applies the brakes to the spinning wheels so that power can be transferred over to the wheels on the opposite side.
Tru-Lok Front & Rear Axles
The Gladiator Rubicon comes standard with locking front and rear differentials.
Locking rear differentials are also standard on the Mojave.
When the front and rear differential locks are engaged, power is constantly sent to all four wheels.
With all four wheels turning, you can more easily power your way out of really sticky situations.
This is very useful when you're stuck in deep snow or on a very slippery patch of ice and you can't get yourself out.
Selec-Speed Control
The Gladiator also comes with hill descent/ascent control which Jeep calls Selec-Speed Control.
This system moves the vehicle up and down tricky off-road hills by controlling the throttle and brakes automatically.
All you have to do is turn the steering wheel and the Gladiator will maintain a constant speed for you.
This is especially useful on really slippery and steep inclines where applying too much gas or brakes can easily make the vehicle skid out of control.
Electronic Stability Control
The Gladiator's Electronic Stability Control (ESC) system automatically slows down the vehicle when it detects that you're about to exceed its handling limits and slide out of control.
It does this by selectively applying the brakes to the wheels that need it most and reducing engine power to try and straighten out the vehicle.
Even with grippy snow tires and four-wheel drive engaged, there's always a chance of driving over an extremely icy patch of road that can send the car spinning.
In these situations, the ESC will take over and compensate for the slide before you can even react properly.
Electronic Roll Mitigation
In addition to ESC, the Gladiator also comes with Electronic Roll Mitigation (ERM).
Since the Gladiator is a rather tall vehicle with a high center of gravity, making sudden steering corrections when moving at speed can make it tip over.
The ERM works in conjunction with the ESC and applies the brakes and cuts engine power when it senses that one of the wheels is about to lift off.
Traction Control
Traction Control is extremely important in the winter because it keeps the wheels from spinning too much and maximizes the available grip of the tires.
When you're driving on snow and ice-covered roads, you can easily make the tires lose traction by stepping on the gas too much.
With Traction Control on, if you give too much gas causing the wheels to spin the system will cut the power to the wheels.
By slowing down the wheels, the tires have a better chance of gripping the road surface and moving the car forward. This will help you drive on really icy patches of road and up steep inclines more efficiently.
Traction Control is also an important safety feature since too much wheelspin can cause the vehicle to skid out of control.
Anti-Lock Brakes
Since the Gladiator is a fairly heavy vehicle, it's equipped with heavy-duty disc brakes on all four wheels.
It also comes with an Anti-Lock Braking system (ABS) that prevents the wheels from locking up when you step on the brakes too hard.
On slippery winter roads, it's easy to lock up the wheels even with just a bit of brake pressure.
The ABS prevents this by quickly modulating the brake pressure on and off so that the tires don't lose their grip as you're trying to slow down and steer the vehicle.
Electronic Brake Force Distribution
The Gladiator also uses Electronic Brake Force Distribution to send just the right amount of brake pressure to the front and rear wheels to help the vehicle come to a stop faster.
Normally, the rear wheels don't need too much braking pressure applied to them since the back of the pickup truck is fairly light and the rear tires don't have much grip.
But when the EBD system's load sensors detect that there's more weight in the back, it will send more stopping power to the rear wheels because the back tires now have more grip which can help bring the car to a stop faster.
Cold Weather Group
All Gladiators can be fitted with the Cold Weather Group by the dealer.
This packages includes the following amenities:
Heated Front Seats
Heated Steering Wheel
Remote Start
The heated front seats and steering wheel gives you extra relief when you first get into the car when the weather is really cold outside.
It also makes driving for extended periods more comfortable.
The remote start feature is also a great creature comfort because it allows you to turn on the heater and let the cabin warm up fully before you climb in.
Heated Mirrors
Heated mirrors are standard on higher trims of the Gladiator. It helps clear up any frost that forms while you're driving which significantly helps with visibility and safety.
Does the Jeep Gladiator Have a Snow Mode?
The Gladiator does not have a dedicated Snow Mode unlike some modern SUVs and crossovers, which is primarily designed to reduced throttle sensitivity.
Snow Mode typically just makes the transmission start off in second gear and shift up the next gear earlier in the rev range.
This minimizes the chances of wheelspin in addition to what the traction control does.
The Gladiator does have a dedicated button to turn off Traction Control. When you hold it down for 5 seconds, you will also turn off Stability Control.
Turning off Traction Control is sometimes necessary when you find yourself stuck in snow or ice and you need some wheelspin to power your way out.
In addition, the Gladiator lets you freely select different 2WD and 4WD modes so you can get the best traction for any given situation.
Can You Install Additional Snow Gear on the Jeep Gladiator?
You can install all sorts of extra snow and off-road gear on the Gladiator.
If the factory all-terrain or mud tires aren't good enough for your needs, you can easily swap them out for dedicated winter tires.
For really extreme winter driving, you can even put on more extreme snow gear like:
Tire chains
Snow socks
Studded tires
Winch
Suspension lift kit
Only the Gladiator Rubicon comes with a bumper that's capable of fitting a winch without modification.
For the other trim levels, you'll have to swap out the front bumper to fit a winch.
You can find all the other snow gear and winter accessories you can fit on your Gladiator by checking out the Jeep's Mopar catalog.
Since the Gladiator and Wrangler share pretty much the same underpinnings, you can fit a huge selection of aftermarket parts that are meant for the Wrangler to your Gladiator.
The Gladiator can also be fitted with a more powerful 240 amp alternator which will allow you to install all sorts of additional electronics such as dual batteries, lights, radios, and inverters.
How Much Snow Can a Jeep Gladiator Handle?
In stock form, the Gladiator already sits pretty high with its 10 to 11 inches of ground clearance. This should let you tackle even the worst snowstorms and lots of off-road winter driving with ease.
Putting on a lift kit and larger tires, which are popular modifications, will give you even more ground clearance if the stock ride height isn't enough for your tastes.
In addition, the Gladiator's 4WD system and extra off-road features will let you drive through any winter obstacle without much trouble. 
Please also read our article: where are Jeep Wranglers made?
How Does the Gladiator Handle Low Winter Temperatures?
The Jeep Gladiator uses modern V6 engines (gas and diesel) that have been proven in all sorts of extreme climates from deserts to freezing winters. So it shouldn't give you much trouble in the winter.
If you live in an area with really long winters or where temperatures drop to below freezing, you may want to prepare the vehicle for the conditions to keep it in top condition:
Some of the more important vehicle preparations include:
Switching to snow tires
Changing the oil for cold weather rated engine oil
Installing a block heater
Using a battery warmer or a battery tender
Keeping emergency gear like tire chains, jump packs and tow cables in the back
Can a Jeep Gladiator Drive on Ice?
With all the safety features and driver aids the Gladiator comes with, it can be safely driven on ice-covered roads.
Since the Gladiator is a heavier vehicle, your main concern would be bringing it to a stop when the roads are extra slippery.
But this has already been addressed quite well with the Gladiator's heavy duty brakes and ABS.
It can even be fitted with an Advanced Brake Assist system that will add more brake pressure when it senses an emergency braking situation.
This just adds another layer of safety when driving in more dangerous winter conditions.
Does the Gladiator Have 4WD?
All Gladiators come with the Command-Trac 4WD system as standard, it's a part-time 4WD system that lets you manually choose when to engage the 4WD.
The Selec-Trac 4WD system is also available as an option.
This has an additional 4Auto setting that automatically sends power to the front wheels when the rears start slipping.
It's similar to AWD systems found in other vehicles and is the best mode for most types of on-road winter driving.
The Gladiator Rubicon is the only model that uses the Rock-Trac 4WD system.
This has even lower 4WD gearing than the standard Command-Trac, and is more useful for extreme rock-crawling where low speeds and lots of low-down torque is necessary.
What About Older Jeep Gladiator Models and Winter Driving?
The original Jeep Gladiator was sold from 1962 to 1971. Unlike the current model, it was a short cab pickup with a longer bed.
Given its age, it didn't have much in the way of safety features, let alone advanced driving aids. It was available in RWD and 4WD versions.
It's safe to assume that these older Gladiators are more challenging to drive compared to its modern counterpart.
Given the lack of weight in the rear, it's recommended to add some extra weight in the truck bed if you're going to be driving these types of old RWD trucks in the winter.
The added weight will give the tires in the back more grip.
Does the Gladiator Need Snow Tires?
For most winter driving, the stock all-terrain and mud tires of the Gladiator should be enough. They're also snow rated, so it should do fairly well in moderate to heavy snow.
But if you live in an area where winters are harsh and temperatures stay below 40 most of the time, we recommend you swap out the stock tires for snow tires.
Snow tires won't harden up as much as regular tires even in really cold temperatures, which make them more reliable for all kinds of road conditions.
In addition, since the Gladiator is a fairly heavy vehicle, you'll need the extra grip that snow tires can provide to be able to come to a stop and slow down for corners more effectively.
Please also read our articles: How long do Jeep Gladiator last and where are Jeep Gladiator made?
Can You Mount A Snow Plow on A Gladiator?
The Gladiator uses a body-on-frame design which makes it easy to mount a snow plow on them.
Its weight and longer wheelbase also give it some extra stability which will help you control the vehicle while pushing through heavy mounds of snow.
And on top of its high ground clearance, it also has a proper 4WD system with low gearing that gives it the extra traction and torque needed to drive through deep snow.
The Gladiator also uses beefy solid axles which make the drivetrain more durable for the type of forces that plowing can put on it.
The Pentastar V6 engine has a decent amount of torque and should be good enough for light plowing.
But for tougher jobs, the diesel Gladiator, which has almost twice the torque, is more suitable.
Resources