If you are looking for a good off-road and on-road vehicle in the mid-size SUV category, the Jeep Grand Cherokee may have what you need.
This vehicle sports a range of powerful engines, multiple trim variants, and stellar off-road capability that the brand prides itself on.
We have researched and compiled a list of important statistics and information such as historical sales figures, safety ratings, maximum towing capacity, and so much more.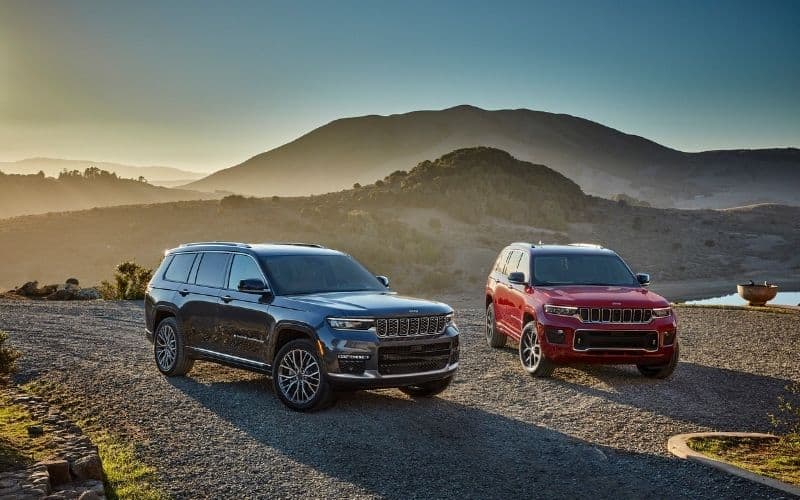 How Many Jeep Grand Cherokee Units Have Been Sold in the US Per Year?
The Jeep Grand Cherokee is one of the highest selling vehicles in America and remains the best-selling Jeep, over the past 5 years it has sold well over 200,000 units per year and for 2020 was ranked 15th Best-Selling Vehicle in the U.S.
Sales for the first year (technically half-year) were good, with roughly 130,000 units sold.
From 1993 – 2005, the Grand Cherokee had a huge chunk of the market share, posting sales figures upwards of 200,000 units sold annually, except for 1992 and 2004, where sales were sub-200,000 units sold.
From 2008 – 2010, Grand Cherokee sales were at an all-time low.
Experts have attributed this to the financial crisis of 2008, where everyone was reeling from the effects of deregulation and market crashes.
By 2011, the Grand Cherokee was back in action, posting sales figures that were similar to what it had accomplished before 2008.
Up to the year 2020, steady growth can be seen in sales figures, with slight dips in 2018 and 2020.
Below is a table of information specifying the annual sales figures of the Jeep Grand Cherokee in the US, dating back to its inception in 1992. Data was obtained from carsalesbase.com.
Jeep Grand Cherokee Lifetime Sales Figures (Annual)
1992
128,960
1993
217,430
1994
238,512
1995
252,168
1996
279,195
1997
260.875
1998
229,135
1999
300,031
2000
271,723
2001
223,612
2002
224,233
2003
207,479
2004
182,313
2005
213,584
2006
139,148
2007
120,937
2008
73,678
2009
50,328
2010
84,635
2011
127,744
2012
154,734
2013
174,275
2014
183,786
2015
195,958
2016
212,704
2017
240,696
2018
224,908
2019
242,969
2020
209,786
You may also be interested in our article: where are Jeep Grand Cherokee made?
What Year Did Jeep Start the Grand Cherokee Model?
The origins of the Jeep Grand Cherokee can be traced back to the 1992 Detroit Auto Show where it was first unveiled to the public and went on sale for the '93 model year. Serving as a successor to the smaller Cherokee XJ, the Grand Cherokee is currently in its fourth generation.
The proposal to create a larger version of the Cherokee XJ was proposed in 1983 when AMC still owned the brand.
When Chrysler acquired the brand and its properties, the date for the release of the Grand Cherokee was pushed back by a decade until '93.
Over the years Jeep has continually improved the Grand Cherokee formula.
Jeep Grand Cherokee ZJ (1993 – 1998)
The first generation Cherokee was the ZJ, it featured a boxy exterior and was powered by a 190-hp 4.0-liter I-6 engine sending power to either the rear or all four wheels.
Jeep Grand Cherokee WJ (1999 – 2004)
After having been a mainstay in the market for roughly seven years, the second generation Grand Cherokee was introduced, known as the Jeep Grand Cherokee (WJ).
The Grand Cherokee (WJ) was barely like its predecessor, only retaining 127 parts of the original design and featured a more rounded, sophisticated styling.
Significant additions included better steering, a more efficient 4.0-liter engine, and an upgraded transmission technology known as Quadra-drive.
A facelifted version of the Grand Cherokee (WJ) was introduced in 2003 but it only lived a short life of two years before the next major variant was offered to the market.
Jeep Grand Cherokee WK (2005 – 2010)
In 2005, the Jeep Grand Cherokee (WK) entered the arena, offering bigger size through a longer wheelbase and frame, appealing to the audience it caters to.
The Grand Cherokee (WK) was more boxy in design and featured an updated suspension system and engine specifications.
Standard engines ranged from a 3.7-liter V-6 to a 5.7-liter V-8
In 2006, a sportier version of the Grand Cherokee was introduced, known as the Jeep Grand Cherokee SRT-8 (Street Racing Technology V8).
It had a significantly larger engine and had roughly twice the horsepower of its older brothers.
The SRT-8 concept carried on in different forms throughout the lifetime of the Grand Cherokee, along with the Grand Cherokee Trackhawk (later on in 2018), the most powerful SUV offered to the public, boasting a horsepower rating of 707.
Jeep Grand Cherokee WK2 (2011 – 2020)
The fourth-generation Grand Cherokee featured a new modern style, improved technology, and several new engine options.
Updated features included:
Available ventilated seats
HID headlights
Adaptive cruise control
Blind-spot monitoring
Four-wheel independent suspension
Air suspension. 
Related: 24 Best & Worst Jeep Grand Cherokee Years (With Facts & Stats)
Jeep Grand Cherokee L (2021 – Presesent)
In 2021, Jeep introduced a new member of the family, known as the Jeep Grand Cherokee L, a three-row family hauler. This was Jeep's fifth and latest entry into the mid-size SUV segment.
The lineup offers a mix of V-6 and V-8 engine choices and also a plug-in hybrid model.
Despite using the same engines the fourth-generation models had, Jeep still plans to improve on the current generation with the addition of autonomous driving, increasing levels of luxury throughout the trims and hybrid capability with the addition of the 4xe.
The Jeep 4xe was a direct response to the market demand for eco-friendly vehicles that still packed a powerful punch.
Jeep Grand Cherokee Generations
2021 – Present Jeep Grand Cherokee (L 5th Generation)
2011 – 2020 Jeep Grand Cherokee (WK2 4th Generation)
2005 – 2010 Jeep Grand Cherokee (WK 3rd Generation)
1999 – 2004 Jeep Grand Cherokee (WJ 2nd Generation)
1993 – 1998 Jeep Grand Cherokee (ZJ 1st Generation)

How Is the Fuel Economy on the Jeep Grand Cherokee?
Fuel economy is clearly not the strong point of the Jeep Grand Cherokee, but what it lacks in fuel economy, it makes up for in other important aspects of vehicle ownership.
The 2020 Jeep Grand Cherokee has numerous engine options to choose from. The engine systems used are:
3.6-liter V6 engine at 293 horsepower
5.7-liter V8 engine at 475 horsepower
Trackhawk Trim (supercharged 6.2-liter V8 engine) at 707 horsepower
If you want to be on the more practical side, then the smaller engine would yield a more efficient (but slightly less powerful) driving experience.
If you want to prioritize speed and power over fuel economy, then the top trim variants are there for you to take.
For the 3.6-liter V6 engine, gas mileage is at 19 miles per gallon for city driving and 26 miles per gallon on highways.
For the models with larger-sized engines, expect fuel economy ranges from 11 – 19 miles per gallon.
Refer to the table below for a more detailed look at how the Jeep Grand Cherokee fares in city, highway, and mixed driving conditions.
Information was collected from fueleconomy.gov.
Jeep Grand Cherokee Fuel Economy (Miles per Gallon)
Engine Variant
City
Highway
Mixed
3.6-liter, 8-speed AT
19 MPG
26 MPG
21 MPG
5.7-liter, 8-speed AT
14 MPG
22 MPG
17 MPG
Trackhawk (6.2-liter)
11 MPG
17 MPG
13 MPG
How Quickly Does a Jeep Grand Cherokee Depreciate?
The Jeep Grand Cherokee beats its principal rival (Ford Explorer) in terms of resale value, and has an OK resale value and depreciation rate.
According to estimates, the Jeep Grand Cherokee will depreciate around 56% after 5 years of normal use, this means after 5 years it will have 44% of its original value.
However, this does not take away from the quality you can get out of a Grand Cherokee, used or brand new.
The vehicle was built to be durable and long-lasting with its quality interior, spacious cabin, user-friendly interface and infotainment system, and off-road capability.
To ensure that you can get the best deal out of selling a used Jeep Grand Cherokee, the vehicle has to have a clean bill of health, documented history of repair (if any), no third-party modifications or restorations, and acceptable mileage.
If you plan to buy a second-hand Jeep Grand Cherokee, we recommend not going further than 4 years from the current model.
Did Jeep Recall Any of the Grand Cherokee Models?
Another important aspect to consider when it comes to purchasing a vehicle is the history of recall campaigns of a specific model line or series.
Based on lifetime data up to 2020, there have been 106 recall campaigns over the past 28 model years, with year models 2002, 2004, and 2014 having the most recall requests by the company.
A recall is issued when a manufacturer or the NHTSA (National Highway Traffic Safety Administration) deems that a vehicle or one or more of its components creates an unreasonable safety risk or does not meet minimum safety requirements – All safety recall repairs are FREE at authorized Hyundai dealers.
Statistically, these figures present that the Jeep Grand Cherokee is within relatively acceptable thresholds concerning the number of recalls over its lifetime, but this is still something to consider, especially if you plan on getting the older models.
Recall number for model years based on NHTSA data:
2020 – 1
2019 – 9
2018 – 6
2017 – 3
2016 – 5
2015 – 6
2014 – 15
2013 – 10
2012 – 11
2011 – 6
2010 – 5
2009 – 3
2008- 5
2007 – 7
2006 – 6
2005 – 5
2004 – 14
2003 – 10
2002 – 16
2001 – 10
2000 – 12
1999 – 10
1998 – 10
1997 – 11
1996 – 12
1995 – 11
1994 – 8
1993 – 12
How Much Do the Jeep Grand Cherokee Models Pollute?
Unfortunately, despite big movements by Jeep toward eco-friendliness, large, powerful engines still remain a nuisance in relation to pollution and the state of the environment.
The infamous award for the "most eco-detrimental vehicle" was given to the Jeep Grand Cherokee Trackhawk, which packs a supercharged V8 engine and provides 707 horsepower.
The Grand Cherokee Trackhawk is powerful enough to move the heaviest of objects, but when it comes to environmental sustainability, there is nothing it can do to help.
The other variants, however, are not out of the woods yet. Due to the size and nature of Jeep Grand Cherokee Models, the carbon footprint generated is pretty significant.
Please also read our article: 11 Jeep Cherokee facts & statistics
How Much Can the Grand Cherokee Models Tow?
For a vehicle that belongs to the mid-size SUV category, the Jeep Grand Cherokee can definitely pull its weight and more.
The Grand Cherokee's towing capacity varies depending on engine size so be sure to check your owners manual, however across all trim levels the Cherokee has towing capacity ranging from 3,500 to 7,200 lbs.
According to Jeep, the Grand Cherokee has a maximum towing capacity of 7,200 pounds when properly equipped with towing mechanisms, allowing it to easily tow small fishing boats (1,800 lbs) and small ski-boats (3,500 lbs).
How Reliable is the Jeep Grand Cherokee?
With its historical performance over the past couple of decades, one thing can be said about the Jeep Grand Cherokee: It is a reliable SUV.
In a Driver Power customer satisfaction survey conducted in 2016, Jeep landed in 11th place out of 32 car-makers.
In the same survey, the Grand Cherokee secured the 9th spot out of 150 vehicles, largely due to the following factors:
Performance and Power
Practicality and Value
Comfort and Spaciousness
Jeep is also confident with its Grand Cherokee when it comes to vehicle reliability and parts availability, offering a five-year/75,000-mile warranty period (whichever comes first), as well as free emergency roadside assistance for the entire warranty period.
How Safe is the Jeep Grand Cherokee?
The Jeep Grand Cherokee is a very safe vehicle which scores well in safety tests and has an abundance of safety features available across its trims.
NHTSA and IIHS Scores
The National Highway Traffic Safety Administration (NHTSA) and the Insurance Institute for Highway Safety (IHS) provided solid reviews all in all for the Jeep Grand Cherokee.
The NHTSA awarded the Jeep Grand Cherokee a five-star rating based on a frontal barrier collision, side crash test, and rollover test.
The IIHS administered a total of six assessment tests, and while the Grand Cherokee underperformed in two of the tests, it performed well in the other four.
In vehicle accident simulations, the Grand Cherokee underperformed in the small overlap front driver-side test and small overlap front passenger-side tests, which imitated a vehicular crash when the front corner of the vehicle collides with another object.
Based on the tests administered by IIHS, Jeep would need to work on fortifying the frontal portion of the Grand Cherokee to increase its safety rating and to better protect the driver and front passenger in future models.
ProTech Safety Smart System
On the latest generation of Grand Cherokees ProTech I comes as standard, this includes:
Blind Spot Monitoring with Rear Cross Path Detection – to help detect the presence of other vehicles in your blind spot zones or when crossing your path as you move in reverse.
Rear Park Assist and Rear Back Up Camera – with dynamic grid lines allow you to back into parking spots with confidence.
ProTech II which is available on Laredo and Laredo X features:
Forward Collision Warning with Active Braking, to warn you of a potential front impact
Advanced Brake Assist – for increased stopping power during emergency braking
Lane Departure Warning with Lane Keep Assist – alerts you of unintentional lane drifts
Automatic High-Beam Headlamps – to help with visibility.
ProTech II which is available on Limited, Trailhawk and Overland and standard on High Altitude, Summit, SRT and Trackhawk includes:
Full-Speed Forward Collision Warning with Active Braking
Advanced Brake Assist
Lane Departure Warning with Lane Keep Assist
Adaptive Cruise Control with Stop and Go
Parallel and Perpendicular Park Assist
Rain-Sensing Windshield Wipers.
What Are the Typical Buyer Demographics for the Jeep Grand Cherokee?
The Jeep Grand Cherokee attracts potential buyers who are adventurous and have a passion for outdoor gatherings and activities. On top of those, prospective owners would also want high ratings for safety, security, reliability, looks, and sophistication.
The Grand Cherokee definitely caters to the more premium client base, with more individuals choosing the higher-end models over the base variants.
Specifically, the Grand Cherokee sales are divided into roughly 60% male and 40% female, with a median of 45 years old. Of this population, approximately 70% are college graduates, 80% are married, and 35% have kids. Household income for Grand Cherokee owners ranges from $125,000 to $175,000, excluding outliers.
To Grand Cherokee loyalists, what they find in the vehicle is a premium, prestigious feel to both the interior and exterior, as well as an association with the affluent nature of the brand itself.
Comfort, spaciousness, and maneuverability are also key factors for the target demographic.
If you plan to secure a Jeep Grand Cherokee for yourself, expect to be integrated into a community of well-off individuals, successful in their careers or businesses, around the ages of 40 – 50.
Related: Jeep Grand Cherokee Tune-Up & Maintenance Costs
Jeep Grand Cherokee Theft Numbers
Global numbers for the theft of Grand Cherokee are difficult to consolidate, but in the US, several states have reported that the Jeep Grand Cherokee has been one of the highly ranked vehicles stolen in recent years.
In 2019, the Jeep Grand Cherokee consistently landed in the top 10 rankings for most stolen vehicles in almost every state in the US. A total of 1,110 Jeep Grand Cherokee units were stolen in that year alone.
As a future car owner, you should always err on the side of caution when it comes to things of value.
To avoid any incidents of theft, vandalism, or other forms of damage to your vehicle, ensure that you keep it in a safe location, ideally protected from the elements as well as individuals with bad intentions.
A closed-off garage would be the most ideal spot for your Jeep Grand Cherokee.
Also, try to look for tools such as steering wheel locks or anti-theft tire clamps to give your treasured vehicle an extra dose of safety.
Related: Jeep Grand Cherokee Beeping? (12 Common Causes)
Resources
https://carsalesbase.com/us-jeep-grand-cherokee/
https://www.jeep.com/grand-cherokee/capability.html#:~:text=7%2C200%2DPOUND%20TOWING%20CAPACITY,up%20to%207%2C200%20pounds%203.
https://caredge.com/jeep/grand-cherokee/depreciation#:~:text=A%20Jeep%20Grand%20Cherokee%20will,meaured%20by%20its%20resale%20values.
https://www.autoevolution.com/jeep/grand-cherokee/
https://www.steelechryslerlockhart.com/blog/2020-jeep-grand-cherokee-engine-options-and-gas-mileage/
https://www.forbes.com/sites/jimgorzelany/2019/02/06/these-are-the-environmentally-meanest-vehicles-for-2019/?sh=3de40dfd6b7d
https://www.motorbiscuit.com/how-safe-is-the-jeep-grand-cherokee/
https://media.stellantisnorthamerica.com/newsrelease.do?id=13701&fIId=13704&mid=#:~:text=Jeep%20Grand%20Cherokee%20buyers%20are,and%2035%20percent%20have%20children.
https://www.autoexpress.co.uk/jeep/grand-cherokee/reliability#:~:text=The%20Grand%20Cherokee%20itself%20came,of%20the%20table%20for%20reliability.
https://www.carinsurance.com/Articles/most-stolen-cars-in-every-state.aspx
https://www.fueleconomy.gov/feg/bymodel/2021_Jeep_Grand_Cherokee.shtml
https://www.iihs.org/ratings/vehicle/jeep/grand-cherokee-4-door-suv/2021#small-overlap-front-passenger-side