The KTM 350 SX-F is notoriously the perfect size dirt bike.
With the 250s being just shy of the extra power needed to bust through a dune without downshifting and the 450s coming with the excess weight and higher seat position, the 350 SX-F was designed to split the difference and be the go-to for all-around dirt banging.
But what about its reliability?
Every bike has its quirks; read on to find out exactly what the KTM 350 SX-F S's common problems are!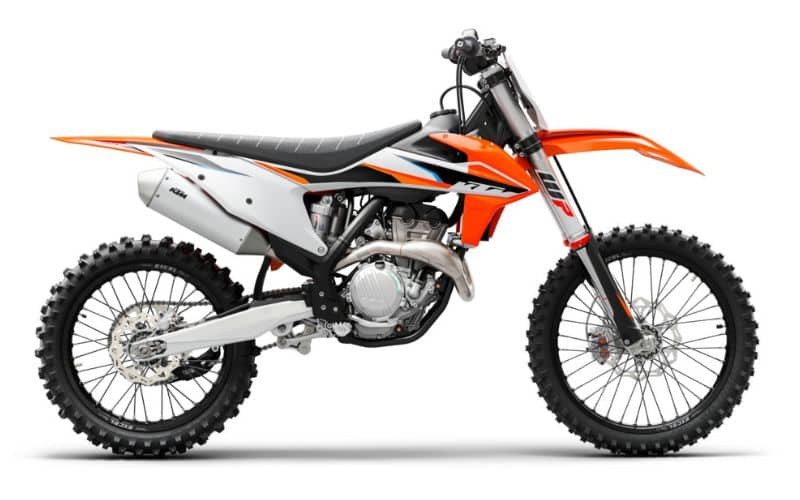 1. Seized Forks; Jammed Suspension
Back in 2014, KTM recalled all of their models that were equipped with WP Suspension 4CS forks – the stock option for the 350 SX-F.
The recall was specifically in the 2015 year models due to claims that the front fork suspension was locked up and jammed in place.
The 2015 year models were upgraded with a new front suspension package from suspension kingpins WP, typically an upsell.
The following testimony from a 350 SX-F enthusiast tells more:
"There are multiple stories across Europe and in the US where a KTM isn't "ready to race" because of a fork failure. The suspect is a faulty quad ring that leaks air from one chamber to the next – which ultimately causes the forks to stick in the down position. The rider then has no choice but to have the forks serviced. In some cases, WP air forks have been sent to a WP authorized dealer upwards of three times to fix and re-fix the problem before being able to ride."
The theory goes that the issue has nothing to do with the suspension. Unfortunately, the appropriate adjustments were never made during the production process, resulting in inadequate piston rod and screw cap tension.
If the piston rod were to detach from the screw cap, the forks are susceptible to damage.
In some cases, the forks would seize completely, jamming into themselves, which puts the SX-F rider at risk of a collision.
To rectify the situation, KTM will inspect the piston rod connection of any 2015 model with WP Suspension, correcting any error free of charge.
2. Bad Nuts; Fuel Leakage
According to AutoEvolution, KTM's routine in-house testing led to the discovery of fuel pump nuts manufactured incorrectly by their third-party supplier.
The nut's sealing was inadequate to be functional as a fuel pump nut, as it allowed fuel to leak erratically.
Unfortunately, more than a few 2016 year model KTM off-roaders left the factory with these faulty fuel pump nuts, including the 2016 KTM 350 SX-F.
3. Fuel Hose Leaks
In a similar scenario to the one described in the section above, 2015 KTMs had fuel leakage problems too.
The model had an issue with its fuel hoses leaking from the arches and tips of the hose.
AutoEvolution had this to say:
"The model year 2015 250, 350, 450 SX-F MY2016 and 250 and 450 SX-F Factory Edition bikes may have been assembled with molded fuel hoses that can cause problems including fuel leakage at bends or at the ends."
Source: https://www.autoevolution.com/news/ktm-recalls-off-road-bike-for-potential-fuel-leak-101362.html
KTM informed the owners of affected models in writing, encouraging them to bring their vehicle in for a free upgraded hose installation.
4. Fuel Leaks from Tank
The 2012-2016 Freeride edition of the KTM 350 was recalled due to fuel escaping from the tank breather in what KTM themselves described as an "extreme" leak under certain conditions.
"The riders operating some of the Freeride models might experience fuel escaping from the tank in certain conditions KTM describes as "extreme," though without making any further comments… KTM says that only a limited number of cases were reported, with no dire consequences mentioned. No reports on property damage, crashes, or injuries have been filed to the date of the press release, official Mattighofen sources say."
Source: https://www.autoevolution.com/news/ktm-recalls-off-road-bike-for-potential-fuel-leak-101362.html
If you're unsure whether or not your KTM 350 is at risk of a fuel leak, KTM's website has a VIN directory that lets you run your 350's number and find out which recall upgrades you qualify for.
Or, you can stop by your local KTM dealership, and they'll run it for you. Dealership technicians have been instructed to replace any and every leaking fuel part that's resulted in a recall on the house.
5. Front Brake Issues
In 2017, 12 different KTM and Husqvarna models, including the KTM 350 SX-F, were recalled in response to incidents of front brake failures. The issue appears to be with the cylinder.
Per the ACCC's Nationwide notice, "Certain batches have hand brake cylinders with defective machining. This can lead to early wear of the sealing cup in the hand brake cylinder, thus leading to impaired braking performance."
The issue could have affected all-year Model 2017 KTM 350 SX-Fs sold between June 1, 2016, and September 16, 2016.
KTM issued notifications to any purchaser of the affected bikes that were manufactured between those dates.
That said, for those of our readers who bought their KTMs used, both the local dealerships and the KTM website keep a detailed record of the VINs that may have been equipped with the faulty brake cylinder.
In short, if you've been having problems with your front brake cylinder, swing your bike to the dealership to find out if you qualify for a free upgrade.
6. Spokes Break while Riding
The 2016 year model KTM SX-Fs were notorious for having spokes that broke while riding, to the point where a few countries' governments stepped in, demanding recalls.
The issue was discovered to be with the integrity of the spokes themselves.
The Australian government issued the following statement after looking into the issue further:
"Product description
Models:
125, 150, 250 SX Model Year 2016
250, 350, 450 SX-F Model Year 2016
What are the defects?
Due to variations in the spoke manufacturing process, some spokes on the front wheel may exhibit quality deviations. Depending on where they are fitted in the wheel, care, and spoke tension, it is possible that individual spokes may break while riding. This can overload the remaining intact spokes and consequently break them.
If the spokes break, this may affect the handling of the vehicle, potentially resulting in a crash."
In the wake of the Australian government's investigation, KTM authorized all dealerships to help owners run their 350SX-F's VIN in order to schedule a service inspection for their spokes. Any bike found to stock spokes from the questionable batch will be treated to a free spoke upgrade.
7. Dies while Riding
One of the most frustrating complaints you hear about the KTM 350 SX-F is that the bike dies while riding.
Here's an example of one such situation, straight from the mouth of a KTM rider:
"Ran perfect for the first two rides, approx 1 hr or less. On the third ride of over an hour, I was riding when it started acting like it was running out of gas, bogging, backfiring, and had no power, then it shut off. Checked gas, and it was 1/2 tank at least. Tried to start but just cranked. Pulled off the fuel line disconnect and shook out the gas to see if anything was in there? Didn't see anything that looked clean. tried to start again, and it started up but then did the same thing as before and died. "
Detailed below are some of the common causes a KTM 350SX-F dies while riding:
Loose Starter Wire
The most common reason a KTM 350SX-F dies while riding is because of interference with the starter wire. Oftentimes, the starter wire snags on a fastener and tightens to the point that handlebar movement restrains and unhooks the starter wire.
Master Relay Switch Failure
If your master relay switch burns out or fails, your 350 SX-F can die while riding.
This is an easy item to troubleshoot, as your bike has a spare 10-amp fuse in the plastic case attached to the relay. You'll know the fuse is broken if there's a split in the metal strip.
Condenser Failure
The 2016 KTM 350 SX-F had a condenser problem, as in the '16 year model was upgraded with a smaller condenser that ended up being problematic and inconsistent.
In 2017 they upgraded yet again to a more stable condenser; the 2017-2018 successors fit into the 2016 year model and will prevent it from stalling out while riding.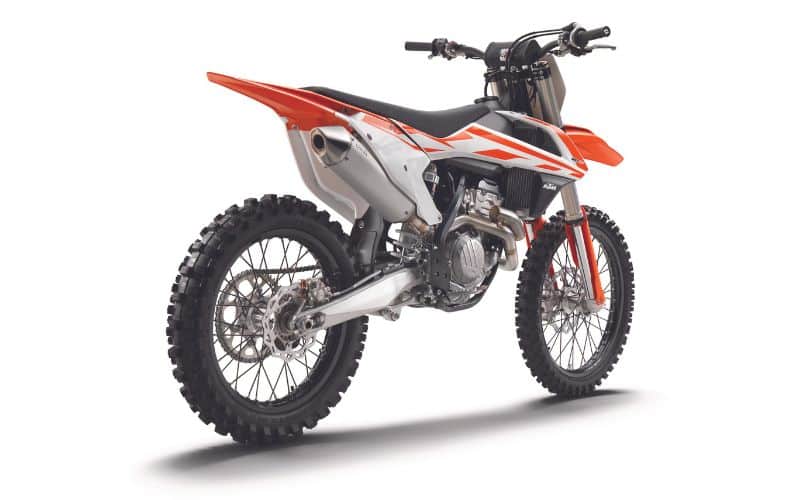 Pros and Cons
Pros
Fun to RIde
Its liquid-cooled, single-cylinder 350 motor delivers more power and torque than the standard 250 motors in dirt bikes of the same size.
Lightweight than the 450cc dirt bikes in the class above it.
Power-packed performance in the low-end gear/rpm spectrum
The industry-leading suspension(on the newer models)
Solid handling, traction, cornering, and tight rider control.
Snappy throttle response and rear-wheel-power delivery.
Cons
Not as much high-end power as a 450cc, despite the fact that it weighs less.
Power lags in the high end.
Uncomfortable Seat
Suspension can be too low for riders over 175 pounds.
Closer to being a turbo 250 than to being a lightweight 450.
Related: 8 Common KTM 690 Enduro and Enduro R Problems (Explained)
What Do the Reviews Say?
"The 350cc powerplant is what makes this bike irresistible to the many riders who have often asked for power like a 450 with the light feel of a 250F. This engine has truly found that middle ground."
"KTM starts with a 250F engine to make the 350, but don't be mistaken; it's not just a bored-out 250F. The crankshaft, cylinder, piston, and complete cylinder head assembly (including different valves, camshafts, and all the other parts that go in the head) have all been replaced to make this 350. That displacement comes from a bore of 88mm and a 57.5mm stroke; the compression ratio is 14.2:1. The powertrain remains the same five-speed gearbox, and Diaphragm Steel (DS) clutch as the 250 SX-F. Final drive gearing is 14/51."
"The AER components on the 2021–2022 KTM models are easily the best production air forks to date. While they may not offer some of the plush feel and comfort as some coil-spring forks, they offer more holdup control and resistance to bottoming, plus infinitely fine adjustability. The Xact shock is more traditional with low- and high-speed compression and rebound tunability. It also features a nice, easy-to-adjust spring preload ring."
"The chassis on the 350 SX-F is one of the best in the business. Its balance of stability versus cornering is just about perfect. It doesn't feel quite as planted as a Yamaha, and it doesn't turn inside lines like a Honda but falls somewhere right in the middle. It does feel a bit like it has a longer wheelbase, though, in reality, it's right in line with the Japanese bikes. It likes loamy corners, where a rider can lay it over and turn with the rear wheel and throttle."
"The DOHC four-valve engine uses a finger-follower design with 36mm intake valves and 29mm exhaust valves to achieve a notable maximum engine speed of 13,400 rpm. Dirt Rider's in-house Dynojet 250i rear-wheel dynamometer recorded peak figures of 50.4 hp at 12,300 rpm and 25.9 pound-feet of torque at 8,900 pm. While the 350 displacement falls perfectly in the middle of the 250 and 450 engines, the powerband does not. This engine runs much more like a remarkably fast 250 and, naturally, loves to be revved. This is fortunate, given its high peak horsepower and rather conservative torque."
Sources: https://www.dirtrider.com/story/tests/2022-ktm-350-sx-f-review/
What's the Resale Value of a KTM 350 SX-F?
| | | |
| --- | --- | --- |
| Year | Mileage | Price |
| 2023 | 5 | $10,699 |
| 2021 | 5 | $10,589 |
| 2019 | 3,300 | $6,498 |
| 2014 | 4,566 | $4,999 |
| 2018 | 59 | $8,950 |
What are Some Alternatives to the KTM 350 SX-F?
| | |
| --- | --- |
| Make/Model | MSRP |
| KTM 350 SX-F | $10,499 |
| Husqvarna FC 350 | $10,599 |
| GasGas MC 350F | $9,699 |
| TM MX 300 Fi | $11,595 |
Sources:
KTM Recalls Off-Road Bike for Potential Fuel Leak – autoevolution
Product safety recall: KTM dirt bikes – bikesales.com.au