Mercedes-Benz first used the E-Class nameplate in 1993 for its iconic line of midsize luxury cars.
Now in its fifth generation, the E-Class continues to be the benchmark for executive sedans with its sophisticated styling, luxurious cabin and cutting edge tech.
In this article, we'll check out the common problems of different model years of the E-Class...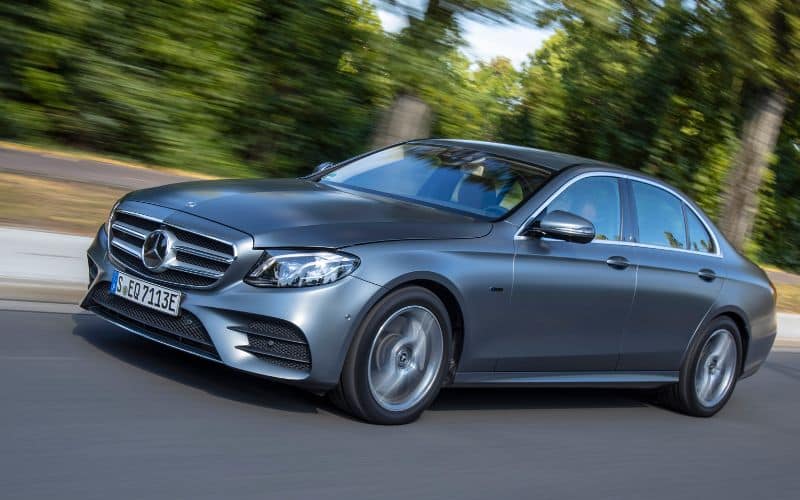 1. Airmatic Suspension Failures
Many examples of the E-Class came with the Airmatic suspension option which is more complicated than a conventional coil spring and shock absorber setup.
Mercedes-Benz started offering the Airmatic option in the third gen W211 E-Class in 2002, and continues to do so with the current fifth-generation E-Class.
The Airmatic system uses a compressor and air shocks to electronically adjust the car's ride height and handling characteristics — allowing you to choose between comfort or sport settings on the fly.
Although this system typically works pretty flawlessly, its components will eventually wear out over time and are quite expensive to replace.
Some of the more commonly reported Airmatic problems include:
Broken pump or compressor
Broken air shocks
Leaking air lines
Faulty sensors and electronics
'Car too Low' error messages
Extremely harsh ride
Strange noises and thumps from the suspension
Here is how one owner described their Airmatic issues:
"My 2006 E55 with 97k has had all 4 corners replaced. Rear bags were replaced at around 82k by prior owner at Benz dealership. My front passenger blew while it was sitting in my garage, so I replaced both fronts with new Bilstein OEM units."
Solution
Some issues can be very hard to diagnose, so some people end up spending a lot of money throwing new parts at the car without a solution in sight.
Depending on the model year of the vehicle, a new pair of air shocks can cost roughly $600 for aftermarket replacements, and around $1,000 to $2,000 a piece if you go for the OEM part. A new Airmatic compressor usually costs a couple of hundred dollars which isn't too expensive in the grand scheme of things.
To avoid future problems and minimize upkeep costs, some owners simply replace the Airmatic system with a traditional coil spring setup.
2. Balance Shaft Issues
Looking at the data on Car Complaints, a site that collects owner complaints, the most reported problem for the Mercedes-Benz E-Class is the balance shaft issue associated with some third gen engines.
The third gen E-Class's M272 V6 engines made from 2005 to 2007 had lots of reports of premature balance shaft wear.
The M273 V8 engines also had similar issues with their idler gear sprocket.
The balance shaft makes the engine smoother and more refined by counteracting a lot of the mechanical vibrations and rotational forces.
Balance shaft failures tend to occur before the car reaches 100,000 miles however in some cases, it can start failing at around 20,000 miles.
Symptoms of a worn-out balance shaft include:
Rough idle
Misfiring
Engine stalling
Hard starting
Loud rattling
Persistent check engine light
Here is how two third gen E-Class owners described their experience:
"Bought the car on Dec 23 2017 and a week later found the Check Engine Light was on. Took it to independent shop who checked the codes and found the balance shaft was out of spec."
"Brought car in for inspection and oil change no problem. 2 weeks later, check engine light came on. Return to dealer, and was told terrible news $6,500 to fix balance shaft."
Solution
Mercedes-Benz updated the failure-prone components to fix the balance shaft problem completely sometime in 2007.
There was never a recall for the balance shaft issues, but Mercedes-Benz agreed to extend the warranty of affected vehicles to 10 years or 125,000 miles.
Replacing the balance shaft in the V6 or the idler gear sprocket in the V8 models can cost several thousand dollars because it requires taking out the engine and completely tearing it down.
Nowadays, it's usually much cheaper to just put in a used engine that was built from 2007 onwards which has the updated balance shaft.
3. SBC (Sensotronic Brake Control) Failures
Lots of older third generation E-Class models were equipped with the Sensotronic Brake Control system or SBC which had a habit of breaking after several years.
Mercedes Benz introduced SBC in many of its upscale models in the early 2000s.
SBC uses electronics to precisely control the car's braking system which not only improves the car's braking, but also its handling and stability.
Although SBC was quite revolutionary for its time, there were lots of reports of issues and failures early on.
One notable issue is that the SBC pump would suddenly stop working once its internal counter reaches a pre-programmed number of actuations.
When the SBC pump fails, you'll have to press the brake pedal extra hard to bring the car to a stop.
Here is how one E-Class owner describes their experience:
"So recently my SBC has been playing up. Firstly I lost all brakes with the red reduced braking sign. I was booked in and was told it came to the end of its brake count and needed wiping and the newest software. So I happily drove off the forecourt. 1 hour later, no brakes again!"
Most examples of the pre-facelift third generation E-Class from 2003 to 2005 came with SBC.
Due to the number of reported failures, Mercedes Benz eventually replaced the SBC system with conventional brakes when the third gen E-Class received a facelift for the 2007 model year.
Solution
Mercedes Benz announced several recalls to deal with the numerous SBC problems during the third gen's production run.
In the US, vehicles equipped with the SBC system had their warranty extended to 25 years, so some late model vehicles can still get their SBC issues fixed at the dealer for free until 2031.
If you aren't able to take advantage of the extended warranty, a replacement SBC pump costs around $1,000.
Some E-Class owners have successfully reset the SBC pump's counter to avoid replacing it, but this could eventually result in a sudden failure after some time. To avoid any future braking issues, it's best to fix it the right way and replace the SBC pump with a new unit.
4. Faded Wood Trim
Lots of fourth-generation E-Class owners have complained that their car's interior wood trim started fading after only a few years — making the cabin look older and more used up than it should be.
The car's wood trim is supposed to have a dark walnut finish, but as the years go by, it will eventually become lighter due to sun exposure.
Apparently, Mercedes-Benz neglected to apply a UV coating to the trim pieces which caused the finish to fade quickly.
Faded wood trim can occur in all model years of the fourth gen E-Class from 2010 to 2016. Mercedes-Benz supposedly improved the wood trim's finish by 2014, but there are still many reports of faded trim up until the last model year.
The fading is usually worse in areas that are always exposed such as:
Dashboard
Center console
Front door panels
The fact that some trim pieces look more faded than others makes the issue more noticeable. There are also lots of instances where one piece has different shades of brown and looks uneven.
Here is how one E-Class owner described their experience:
"I bought a 2010 E350 CPO. It had lots of faded wood trim pieces. I brought it in during my warranty period, and they replaced only the one worst-faded piece. All the other faded pieces were left untouched."
Solution
Getting a new set of wood trim from a Mercedes-Benz dealership typically costs around $2,000 for all 17 pieces.
Many owners were able to get their faded wood trim replaced while the car was still under warranty. Owners of used vehicles have had varying levels of success getting the wood trim replaced using their CPO or extended warranty.
Tinting the windows and keeping the car indoors can help reduce the fading, but it will still eventually fade over time as the car gets driven.
Some people have resorted to simply using vinyl wrap to cover up the wood trim which is definitely the most cost-effective option.
5. Rust Issues
The second generation E-Class, also known as the W210 model, has been known to develop rust issues after spending a lot of time driving on salted roads.
Aside from cosmetic issues, rust can eat into the car's spring perch which is the part that holds on to the top of the coil spring and is one of the main contact points for the suspension and chassis.
Other common problem areas for the W210 include:
Underneath the door weather stripping
Wheel arches and fenders
Around the trunk key hole
Subframe
Many owners of newer generations of the E-Class, such as the W211 and W212, have also reported that they've had to replace their subframes due to excessive corrosion.
Here is how one E-Class owner described their problem:
"I took my car to get inspected the other day at a local shop. They couldn't pass it due to the condition of the spring perches on the front suspension. Both are very rusted and are pulling away from the body of the car."
Solution
Replacement spring perches can be welded on quite easily by most auto body shops or collision repair specialists.
Dealerships typically charge around $1,000 to do the repair, but you can get it done much cheaper if you shop around.
Rusted out subframes can also be replaced with a used unit for not much money. As long as the attachment points are still in good shape, the replacement subframe can be bolted on quite easily by any competent mechanic.
6. Worn Engine and Transmission Mounts
The fourth generation E-Class, also known as the W212 model, tends to require new engine and transmission mounts at around 50,000 to 80,000 miles.
Engine and transmission mounts are considered a wear item, but they usually only need to be replaced after 100,000 miles in most modern vehicles.
The E-Class uses oil-filled engine mounts which do a great job at minimizing noise, vibration and harshness (NVH), but they wear out much faster than rubber ones.
If you start feeling vibrations in the steering wheel or throughout the car when revving the engine, you probably need to replace the mounts soon. You can keep driving with broken mounts, but the added noise and vibration takes away much of the car's refinement.
Here is one E-Class owner's experience:
'I was getting a hard vibration when shifting from 4th to 5th for a brief second. Not a shutter, but a vibration. The trans mount was going."
Solution
New OEM engine and transmission mounts can be bought at the dealer or online for around $100 a piece at most. The W212 has two engine mounts and one transmission mount, so you're looking at only a few hundred dollars in parts.
The main issue is the cost of labor, since getting to the mounts requires taking out lots of parts. Replacing the mounts is also more difficult in 4MATIC vehicles because there are a lot more things that can get in the way.
Dealerships might charge $1,000 to $2,000 for the whole job, but an independent Mercedes-Benz specialist should be able to get it done for a couple of hundred dollars.
7. Infotainment System Complaints
Although not a problem per, E-Class owners often complain the infotainment system can be fussy with some hard-to-find features.
Some of the controls have also been described as unintuitive.
Solution
It will simply take time and practice to get used to using the infotainment system.
There are lots of helpful YouTube tutorials for this too.
Mercedes-Benz E-Class Pros & Cons
Pros
Filled with modern tech and driver aids
Premium interiors and roomy cabin
Sophisticated and elegant design
Excellent ride quality and refinement
Great reliability
Cons
Higher maintenance costs
Small trunk for its class
Not as engaging to drive as some rivals
Related: 10 Best & Worst Mercedes-Benz E350 Years (With Facts & Stats)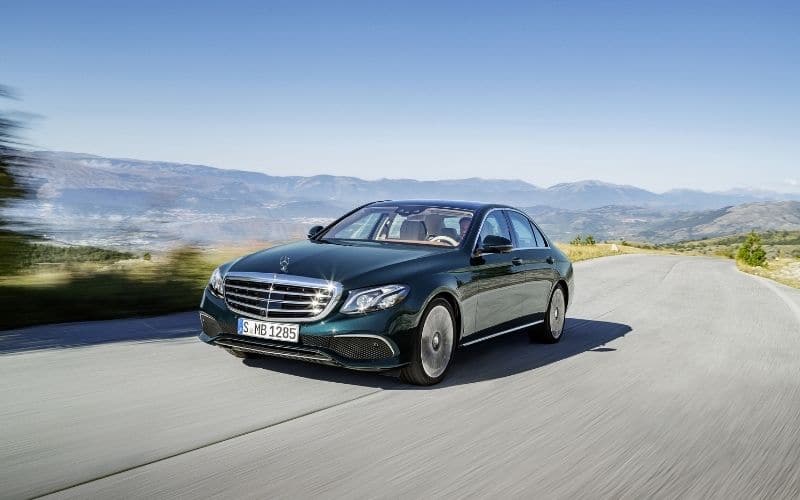 Mercedes-Benz E-Class Model Years With the Most Problems
Detailed below are the number of reported NHTSA problems for each E-Class model.
Mercedes-Benz E-Class
Model Year
Problems
2020
3
2017
11
2016
38
2015
22
2014
208
2013
137
2012
181
2011
199
2010
170
2009
72
2008
181
2007
385
2006
465
2005
17
2004
12
2003
10
Source: Car Problem Zoo
Mercedes-Benz E-Class Reliability Compared to Similar Cars
Consumer Reports ranks the Mercedes-Benz E-Class in 4th place with a score of 70/100.
| | |
| --- | --- |
| Make & Model | Consumer ReportsReliability Score |
| Lexus ES | 95 |
| Buick LaCrosse | 82 |
| Audi A6 | 80 |
| Mercedes-Benz E-Class | 70 |
| Lincoln MKZ | 61 |
| BMW 5 Series | 52 |
| Genesis G80 | 46 |
| Lincoln Continental | 42 |
Source: Consumer Reports
Mercedes-Benz E-Class Used Value
We've taken a look on Car Gurus to gauge the resale value of a Mercedes-Benz E-Class, below are typical asking prices for each model year.
According to Car Edge, a Mercedes-Benz E-Class will depreciate 45% after 5 years and have a 5 year resale value of $45,701.
Note: Used model prices will vary depending on trim level.
| | | |
| --- | --- | --- |
| Model Year | Mileage (miles) | Resale Price |
| 2022 | 4,594 | $66,997 |
| 2021 | 12,907 | $53,998 |
| 2020 | 24,856 | $42,100 |
| 2019 | 61,454 | $35,582 |
| 2018 | 33,345 | $53,991 |
| 2017 | 80,915 | $27,070 |
| 2016 | 87,912 | $22,691 |
| 2015 | 68,108 | $22,999 |
Source: Car Gurus
Related: Are Mercedes Benz Worth the Money? (Solved & Explained)
What Do Owners Like and Dislike About the Mercedes-Benz E-Class?
Based on owner feedback from the Kelley Blue Book site here are what real-life owners love and hate about the Mercedes-Benz E-Class.
Likes
Fun to drive
Eye-catching
Great ride
Typical Mercedes-Benz feel
Fast
Comfortable
Roomy in front
Dislikes
No spare tire
Costly to maintain
Back seats need more leg room
Seat quality
Owners Reviews
"Our 4th E-class (04, 10,14). Held out for the V-6 and it's worth the extra cost: smooth, great sound, awesome power, unbelievably responsive for a turbo yet fairly economical. Returned nearly 30 mpg on a recent trip and the engine is still learning to work with itself – breaking-in and loosening-up. The car reeks class and comfort. Like all E's, it feels like it's been carved out of a single block of metal. Infotainment takes a little getting used to, but the logic makes sense once you learn it."
Source: Edmunds
"The transporter on Star Trek could not be more comfortable, classy and safe. My E350 handles curves, hills and obstacles like it was a part of me. Driving is effortless and fun to drive."
Source: Edmunds
"It is hard to beat this car. It is total luxury, plus it is a lot of fun to drive. I was not considering a Mercedes, but on a fluke, I stopped and drove one. Within a week I purchased one. The interior is amazing – technology combined with pure beauty. The engine is a beast! It is the best of both worlds, beauty and beast!"
Source: Edmunds
How Reliable Are Mercedes-Benz Cars?
According to a recent report from Consumer Reports, Mercedes-Benz are ranked the 23rd most reliable car manufacturer out of 28 brands, with a score of 34/100.
| | | |
| --- | --- | --- |
| Rank | Brand | Score |
| 1 | Lexus | 76 |
| 2 | Mazda | 75 |
| 3 | Toyota | 71 |
| 4 | Infiniti | 69 |
| 5 | Buick | 66 |
| 6 | Honda | 66 |
| 7 | Subaru | 66 |
| 8 | Acura | 64 |
| 9 | Nissan | 63 |
| 10 | Mini | 60 |
| 11 | Hyundai | 56 |
| 12 | Chrysler | 54 |
| 13 | Porsche | 52 |
| 14 | Chevy | 48 |
| 15 | Audi | 47 |
| 16 | Cadillac | 47 |
| 17 | BMW | 45 |
| 18 | Ford | 44 |
| 19 | Kia | 43 |
| 20 | Volvo | 42 |
| 21 | Ram | 40 |
| 22 | GMC | 37 |
| 23 | Mercedes-Benz | 34 |
| 24 | Volkswagen | 31 |
| 25 | Genesis | 30 |
| 26 | Jeep | 26 |
| 27 | Tesla | 25 |
| 28 | Lincoln | 18 |
Source: Consumer Reports
Related: How Long Do Mercedes-Benz E350 Last? (Solved & Explained)
Sources
https://www.consumerreports.org/cars/mercedes-benz/e-class/2022/reliability/
https://www.carcomplaints.com/Mercedes-Benz/E350/
https://www.carproblemzoo.com/mercedesbenz/eclass/
https://www.kbb.com/mercedes-benz/e-class/
https://www.edmunds.com/mercedes-benz/e-class/
https://caredge.com/mercedes-benz/e-class/depreciation
https://www.cargurus.com/Cars/l-Used-Mercedes-Benz-E-Class-d76