Mercedes Benz is the oldest car brand in the world with its origins dating back to the 1880s.
It's consistently ranked as the most popular luxury car brand, in terms of sales, for several decades now. It will sometimes trade places with rivals like BMW and Lexus in the top 3, but it usually handily takes back the top spot after a short while.
People all over the world and from all walks of life recognize and respect the Mercedes Benz brand. Driving around in an MB that proudly features the iconic three-pointed star emblem is still considered as a sign of success and high status to this very day.
Mercedes Benz vehicles are worth the money because they offer a level of luxury, refinement and prestige that's hard to match. Mercedes Benz is also a leader in automotive innovations and they always aim to deliver the best tech, performance and driving experience possible across their entire model range.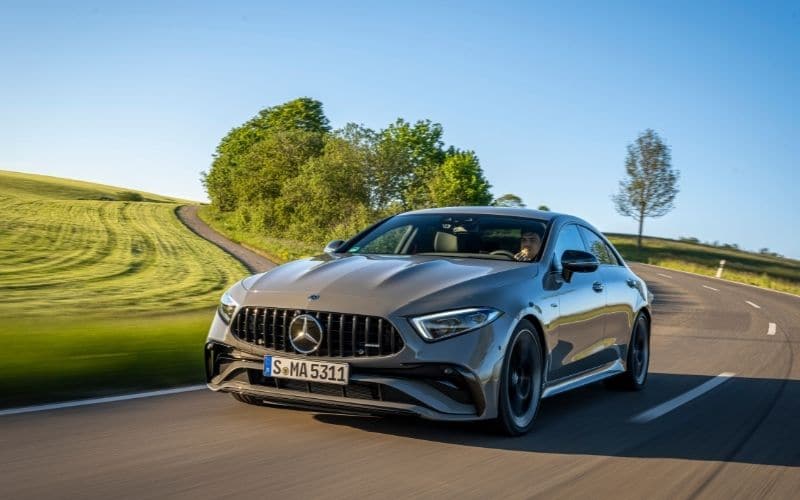 Why Mercedes Benz Cars are Worth the Money
Mercedes Benz cars are well worth the money because they always offer a first-class experience in every vehicle they offer. They not only look classy and sophisticated on the outside, but they also offer drivers and passengers a very refined and luxurious ride.
Although MB built its reputation with expensive luxury vehicles, they've also expanded their model range significantly in the last few decades to meet the needs and wants of the car-buying public.
They offer a huge lineup of vehicles that range from small hatchbacks, crossover SUVs, luxury sedans to supercars.
They also offer lots of trim levels so people can spec their vehicles to be a practical and comfortable commuter, a luxurious limo, or a high-performance sports car.
Performance
Despite its reputation as a luxury brand, Mercedes Benz is no stranger to creating high-performance vehicles.
They've produced some legendary sports cars and supercars such as the 300 SL Gullwing and the current AMG GT.
Even though the spotlight is often focused on their top-of-the-line AMG models, their standard vehicles come with:
More than enough power
Confident handling
Great ride quality
Advanced safety features
The high-end AMG models typically have more power than their rivals and rely on brute force to get the job done.
They're designed to be high-speed luxury cruisers rather than all-out track machines. They tend to weigh more yet are still very fun to drive and have amazing performance numbers.
Mercedes Benz also has a rich history in motorsports — most notably, their current dominance in Formula 1 which has lasted for more than a decade.
They were also very successful in the early years of Formula 1 when they campaigned their 'Silver Arrows' racing cars.
All this helps showcase Mercedes Benz's engineering prowess when it comes to pushing the performance envelope.
Build Quality
Older Mercedes Benzes have a reputation for being over-engineered and extremely reliable.
A great example of this is the Mercedes Benz W123, which was sold from the 1970s to the 1980s, and is the company's most successful vehicle to date.
Lots of W123s would be sold to developing countries in Europe and Africa after they reached the end of their service life, and they would continue on running despite being driven on rough roads and daily exposure to harsh environments.
Modern Mercedes Benzes are more advanced and complicated, but they are still built to very high standards. They use high-quality parts and materials all throughout the vehicle, and their attention to detail is second to none.
They also still hold up well to the test of time. It's not unusual to see a 20 or 30-year-old Mercedes Benz on the road today still racking up the miles as daily drivers.
Electronics
Mercedes Benz is always at the forefront of vehicle electronics.
They were the first to introduce safety features like ABS and stability control which are standard features in most vehicles sold today.
As cars get packed with more computers, electronics and sensors, Mercedes Benz continues to feature the latest driver and safety aids in all of their vehicles. They also have a really slick and powerful infotainment system called MBUX that comes with voice recognition and voice control.
Newer iterations of MBUX have impressively massive screens that take up the entire center console or the length of the dashboard.
Features and Options
Mercedes Benz offers loads of options in every one of their vehicles, but a lot of these come at a price.
If you want to experience what Mercedes Benz is all about, you need to look at more expensive trim levels and models that are higher up in the food chain.
For example, the cheaper A-class won't have the same build quality or options as standard compared to the E-class and S-class models.
Base models will come with many essential driver aids and creature comforts, but similarly priced models from mainstream car brands will usually offer more bang for your buck in terms of features and options.
Dealership Experience
Mercedes Benz dealerships tend to be very upscale and do their best to deliver a five-star experience.
Most have great customer service and are very professional when it comes to dealing with the car, as well as their customers.
You'll usually have no trouble arranging for a loaner if you need to leave your vehicle at the dealership for a couple of days, and they're very efficient when it comes to dealing with issues.
What Makes a Mercedes Benz Different from Other Cars?
Mercedes Benzes are different from most other cars because they have a nice balance of performance, refinement, luxury and prestige.
Mercedes Benz is the oldest and one of the most valuable car brands in the world. And they work hard to keep their position at the top by always striving to be at the forefront of innovation and investing a lot into R&D.
This means you can expect the following in every Mercedes Benz product:
Powerful and reliable drivetrains
The latest safety tech and driver aids
Luxurious cabins and interiors
A very refined ride
Premium build quality
Their styling is also consistently classy and sophisticated. They look expensive on the outside and are even more impressive inside.
You can also customize and configure a Mercedes Benz to your heart's content.
Each model has lots of different options and packages you can add on so you can make your driving and ownership experience much more enjoyable.
What really makes Mercedes Benz vehicles special are the high-end AMG models. These top-of-the-line models pack a lot of performance, technology and luxury, alongside lots of subtle exterior upgrades and premium features.
AMG vehicles feature the best of what Mercedes Benz has to offer and they are truly very special vehicles once you get to experience one for yourself.
Pros and Cons of Mercedes Benz Cars?
Pros
Very prestigious brand
Upscale styling both inside and out
Amazing ride quality
Lots of creature comforts
Packed with the latest tech and driver aids
High-quality materials all throughout the vehicle
Lots of refinement and great build quality
Plenty of available options and upgrade packages
AMG models have a lot of grunt yet are still very comfortable and luxurious
Great dealership network and service
One of the best All-Wheel-Drive systems on the market – 4MATIC
Cons
Higher upkeep compared to non-luxury brands
Below average resale values especially for high mileage vehicles
MBUX infotainment takes a lot of getting used to
Entry-level models are not as premium feeling as more expensive ones
Adding options can significantly add to the price
Electronics can be problematic after many years of use
How Long Do Mercedes Benz Cars Last?
A typical Mercedes Benz should be able to easily last 200,000 – 250,000 miles as long as it's properly maintained. Based on an annual mileage of 15,000 miles, you can expect 13 – 17 years of service before repair and upkeep costs become unreasonably expensive.
A Mercedes Benz can go past 250,000 miles as long as you have the budget to keep it in good condition.
To keep a Mercedes Benz running in great condition, you need to:
Closely follow the recommended maintenance schedule
Use original parts and high-quality fluids.
Quickly address small problems before they get worse.
Keep in mind modern Mercedes Benzs have lots of electronics and computer systems that can be difficult to troubleshoot without the help of a dealer or a specialist, and these parts can be very expensive to replace especially outside of warranty.
But Mercedes Benz still has a great reputation for reliability overall, especially when compared to its German rivals.
A higher-end Mercedes Benz, especially an AMG variant, is going to be more expensive to maintain than a standard trim vehicle.
Are Mercedes Benz Cars Good Quality?
Mercedes Benz is one of the most prestigious car brands in history and they've worked long and hard to stay at the top. They don't cut corners on parts and materials — especially when it comes to their flagship vehicles like the S-Class and G-Wagen.
Mercedes Benzes look expensive inside and out not just because they're styled really well. The high quality paint, leather and plastics they use also give their vehicles that premium look and feel.
Mercedes Benz also spends a lot of time refining new automotive technologies before releasing them to market because their clientele won't accept anything less — and designing low quality vehicles hurts their reputation.
Are Mercedes Benz Cars Reliable?
People are willing to pay extra for a Mercedes Benz because they know they'll get a high-quality vehicle that will last. Having said that Mercedes doesn't always get the best reliability reviews; some models are more reliable than others.
Repair Pal gave the Mercedes brand an above-average reliability score of 3.0 out of 5.0 and ranks the 27th out of 32 car brands. Consumer Reports ranks Mercedes 23rd out of 28 car brands.
Mercedes Benz vehicles today still hold up very well over time and their drivetrains are capable of lasting several thousand miles as long as they're properly maintained.
They're also a popular choice in taxi fleets in different parts of the world, especially in Europe, where they are subjected to harsh conditions and above-average usage.
The GLA, which is one of the cheapest vehicles Mercedes offers, was recently given a Dependability Award by J.D. Power due to its higher Quality & Reliability scores compared to its rivals in the compact premium SUV segment.
German luxury brands have a poor reputation for reliability partly because they are more expensive to maintain. This causes people to skip service appointments and neglect repairs which ultimately leads to reliability issues.
They're also packed with complicated electronics and computer systems, which makes out-of-warranty repairs more difficult and expensive.
As long as you treat your Mercedes Benz reasonably well, it should be able to easily last several years with minimal problems.
Related: Are BMWs Worth the Money?
How Reliable Is Mercedes Compared to Other Car Brands?
| | | |
| --- | --- | --- |
| Ranking | Brand | Score |
| 1 | Lexus | 76 |
| 2 | Mazda | 75 |
| 3 | Toyota | 71 |
| 4 | Infiniti | 69 |
| 5 | Buick | 66 |
| 6 | Honda | 66 |
| 7 | Subaru | 66 |
| 8 | Acura | 64 |
| 9 | Nissan | 63 |
| 10 | Mini | 60 |
| 11 | Hyundai | 56 |
| 12 | Chrysler | 54 |
| 13 | Porsche | 52 |
| 14 | Chevy | 48 |
| 15 | Audi | 47 |
| 16 | Cadillac | 47 |
| 17 | BMW | 45 |
| 18 | Ford | 44 |
| 19 | Kia | 43 |
| 20 | Volvo | 42 |
| 21 | Ram | 40 |
| 22 | GMC | 37 |
| 23 | Mercedes-Benz | 34 |
| 24 | Volkswagen | 31 |
| 25 | Genesis | 30 |
| 26 | Jeep | 26 |
| 27 | Tesla | 25 |
| 28 | Lincoln | 18 |
Source: Consumer Reports
Do Mercedes Benz Cars Hold Their Value?
Depreciation on a Mercedes Benz is below average to average at best. They don't depreciate any more than other German luxury vehicles, but pale in comparison to Lexus and Acura which have a better reputation for reliability.
Depreciation rates are much higher for most German luxury vehicles because people are afraid of the expensive repair costs.
Older and higher mileage Mercedes Benzs have even worse depreciation because there's no telling how much it will cost to keep on the road.
According to CarEdge, a brand new Mercedes Benz can depreciate by as much as 50% after 5 years.
Some highly sought-after models like the G-Class Wagon will hold up much better against depreciation compared to the more pedestrian ones.
Are Mercedes Benzes Expensive to Maintain?
Getting your car serviced at a Mercedes Benz dealership is more expensive because they charge a premium for parts and labor just like any luxury car brand would.
RepairPal estimates the annual repair cost for a Mercedes Benz is roughly $908, which is actually slightly lower than the average for BMW and Audi.
You can save a lot on a Mercedes Benz's upkeep if you:
Find a trustworthy independent Mercedes specialist for big repairs.
Shop around for authentic replacement parts.
DIY a lot of the regular maintenance items.
It's much cheaper to maintain the standard models because they have fewer electronics and other expensive parts that can break.
An AMG model, for example, will have more expensive brake repairs because it uses specialty parts.
What is the Typical Cost of a Mercedes Benz?
Prices for a brand new Mercedes Benz range from $35,000 to over $200,000 for some of their top-of-the-line models.
Mercedes Benz's cheapest models are the A-Class sedan which starts at $35,000 while the GLA crossover starts at $37,000.
Prices can vary dramatically depending on model, trim level and added features.
C-Class
The compact C-Class sedan has been available since 1994 and is one of Mercedes Benz's most successful models.
Its closest rivals are the BMW 3-series and the Audi A4, but it also competes in the same market as the Lexus IS and the Genesis G70.
The C-Class saw a major redesign when the fifth-generation model was released in 2022. It's also available as a coupe or a convertible.
The most affordable C-Class starts at $44,600 and comes with 255 hp.
The top-of-the-line Mercedes-AMG C63 is expected to start at $70,000 when the next gen model is released in 2023 and comes with around 500 hp.
The C-class has a good combination of luxury features, performance and fuel economy.
The older C300 model is an extremely popular vehicle because it simply has what lots of people are looking for — a luxurious daily driver that can also be fun to drive.
For those looking for a little more excitement, there's also the legendary C63 AMG which has the grunt of a muscle car but has the refinement and build quality of a Mercedes.
Related: How Long Do Mercedes-Benz C300 Last? (Solved and Explained)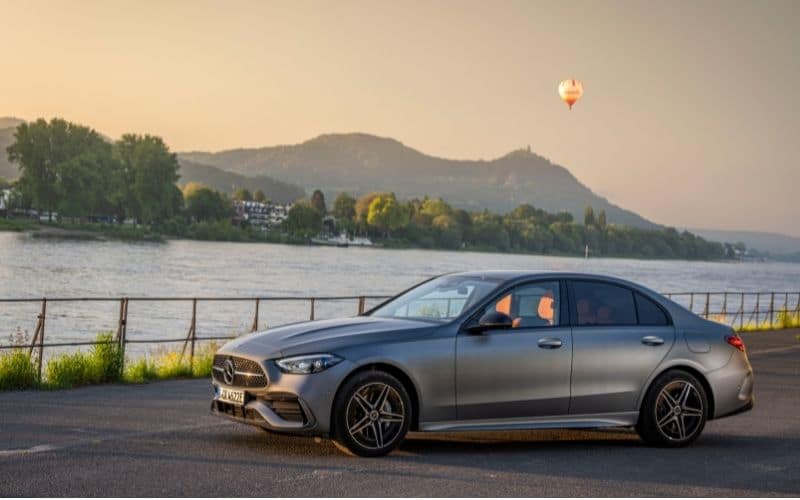 S-Class
The S-Class is Mercedes Benz's flagship vehicle and has been sold since 1972.
This large luxury sedan features the best that Mercedes Benz has to offer. It's often used as a benchmark for what a luxury vehicle should really feel like.
They're known for their luxurious and quiet cabins, smooth ride quality, and amazing performance.
The S500 starts at $112,000 and comes with 429 hp.
The S580 is slightly more expensive at $118,750 but it boasts a twin turbo V8 that produces 496 hp.
The Mercedes S-Class hasn't lost any of its luster as a status symbol.
It's the transportation of choice for world leaders and VIPs — and anyone else who wants to experience what the pinnacle of automotive engineering feels like.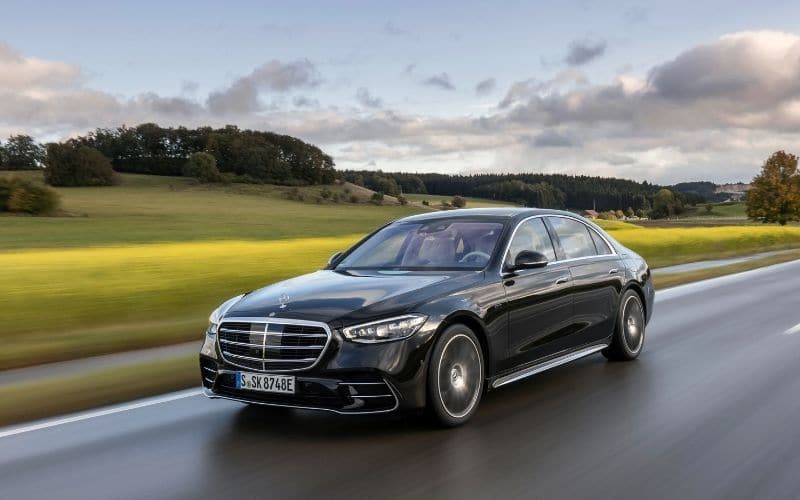 Mercedes Benz GLE
The GLE is currently the best-selling vehicle in the Mercedes Benz lineup.
It was originally known as the ML-Class but was renamed in 2015 as the GLE.
It's very popular because it's got a good combination of luxury, comfort, practicality, and pretty decent off-road capabilities. It can even be optioned with a third-row seat which allows you to carry more passengers.
The base GLE350 starts at $57,000 and comes with 255 hp.
The GLE580 starts at $81,000 and features a twin-turbo V8 that produces 504 hp.
The GLE is a very strong contender in the very crowded midsize SUV market.
People who simply need a really nice and comfortable daily driver, the GLE350 and GLE450 have more than enough power and standard features.
If you need more overtaking power and want something that's more fun to drive, the GLE580 or the AMG GLE are worth looking at.
Related: How Long Do Mercedes Benz GLE Last? & Mercedes Benz GLE In Snow & Winter Driving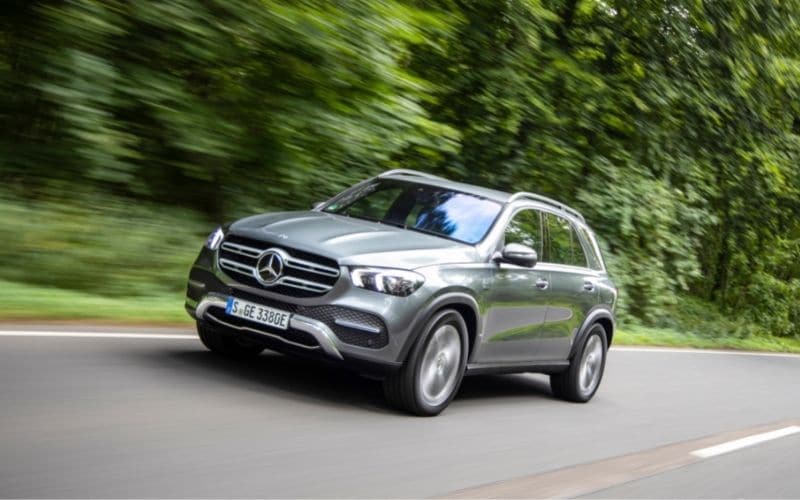 Mercedes Benz GLC
The Mercedes Benz GLC is a compact luxury SUV that was first sold in 2016.
It replaced the GLK and it has since become one of Mercedes Benz's best-selling models.
It's smaller than the GLE so it's easier to drive around the city. It's also significantly more affordable — which partly explains its popularity.
The base GLC300 starts at $45,000 and comes with 255 hp.
The top-of-the-line AMG GLC 63 starts at $75,000 and comes with 469 hp.
The GLC is essentially the SUV equivalent of the C-Class and it's eaten up a lot of the latter's sales as SUVs have become the vehicle of choice for most Americans.
The base model GLC's starting price is pretty close to the average selling price of a new car nowadays so it's actually quite affordable.
You can still expect great build quality out of a base GLC, and it still delivers the same smooth and quiet ride that Mercedes Benz owners have come to expect.
If you want lots of power and luxury in a small SUV, there's always the AMG GLC 43 and GLC 63.
Related: How Long Do Mercedes GLC Last?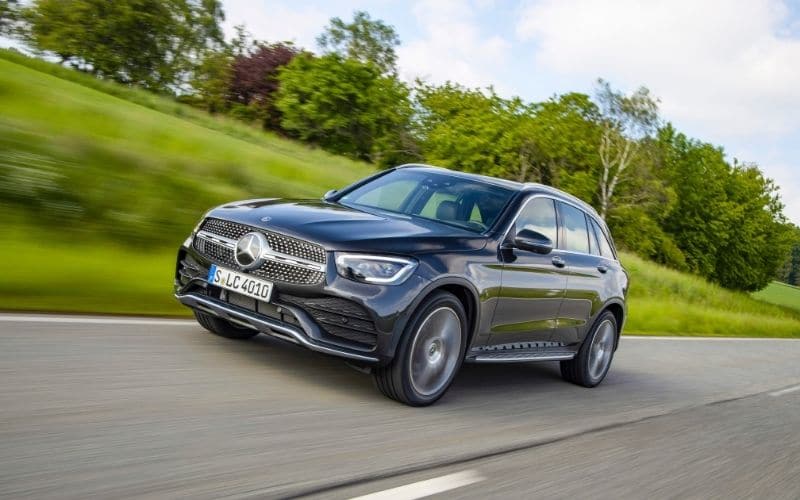 AMG GT
The AMG GT is Mercedes Benz's flagship sports car and is available in both coupe and convertible models.
It's a luxurious and comfortable GT car but can stand toe-to-toe with pure sports cars like the Porsche 911 when it comes to performance and handling.
The AMG GT Coupe starts at around $120,000 and comes with 523 hp.
The track-focused GT Black Series goes for about $325,000.
The AMG GT has a lot of road presence and is definitely a head-turner.
It also has an amazing sounding V8 that can quickly turn the quiet and comfortable cruiser into an aggressive sports car.
G-Class
The Mercedes Benz G-Class or G-Wagen is another legendary vehicle that's known for its military roots and off-road capabilities.
It was first made in 1979 and the design largely remains the same. Although it's been transformed into a luxury SUV as more features and options were added over the years.
The G550 starts at $134,000 and has 415 hp on tap.
The AMG G63 starts at $160,000 and comes with an impressive 577 hp.
The G-Wagon is not very aerodynamic and it doesn't have the best handling. But it's still a very fancy and desirable car because it's very luxurious inside and it's got lots of power under the hood.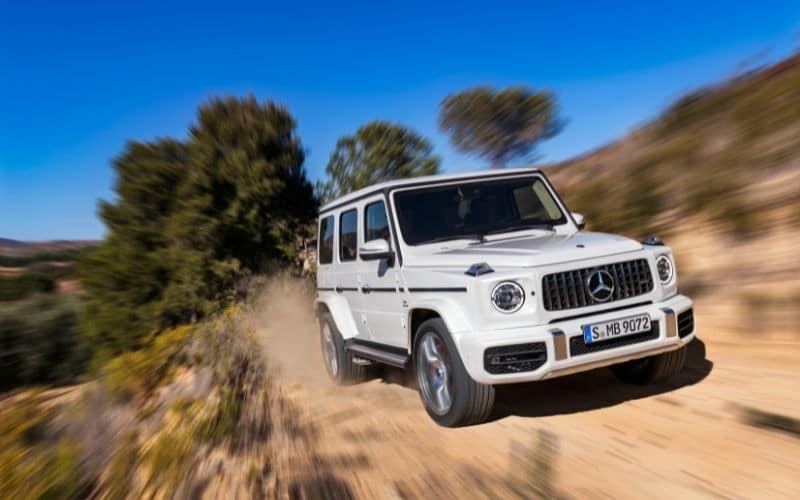 What's Your Bottom Line?
Mercedes Benz has a large range of vehicles and it tries to cater to every possible need.
If you just need a practical daily driver that has a bit of luxury, the C-Class and GLC, the more compact GLA, are good choices.
These entry-level models don't have the same refinement and build quality as the higher-end models, but it will give you a taste of what Mercedes Benz is capable of.
Moving up to the E-Class and GLE price range gets you a more luxurious interior, better ride comfort, and more features overall.
For those who want the best tech and luxury features, it's pretty hard to ignore the S-Class.
The AMG GT and Mercedes G-Wagon cater to luxury buyers with very special needs.
They're both head-turners, but they're also less practical and comfortable than Mercedes Benz's standard passenger cars and SUVs.
Consider Buying a Pre-Owned Mercedes Benz Instead of a New Model
A used Mercedes Benz can be a great bargain if you do your research and shop wisely.
Lots of people lease their Mercedes Benz and give them back to the dealer after 2 to 3 years. These are then resold as CPO (Certified Pre-Owned) vehicles that come with a warranty.
CPO vehicles are great because you're sure the dealership took care of all the maintenance during the lease.
A 3 to 5 year old off-lease vehicle isn't that old yet, so you'll still get a lot of modern tech and electronics. You'll also avoid a lot of the depreciation that occurs during the first few years of the car's life.
It's best to avoid older and higher mileage Mercedes Benzes if you don't really know much about cars and maintenance.
You can buy a 10-year old S-Class for around a quarter of its original MSRP, but parts for a car that used to retail for around $100,000 aren't going to be cheap.
If you can do your own maintenance or know a Mercedes specialist that's fair and honest, you can consider an older Mercedes if it's at the right price.
Just be prepared for the possible repair costs and know when to cut your losses. Otherwise, it might end up being a money pit.
Things to Consider When Buying a Used Mercedes Benz:
Research the model's reputation. Reliability with some Mercedes Benz models can be hit or miss. Some have engines that are prone to developing problems after a couple of years which might end up becoming your problem.
Maintenance history. Check that the car was properly serviced and the owner can provide proof of this.
Get a second opinion. Take it to an independent Mercedes Benz or Euro specialist, or at least let a mechanic you trust take a look at it.
Check the CarFax. This doesn't guarantee anything but it will help provide a clearer picture of wear-and-tear. Ensure it has minimal damage if any. Review the information to make sure if something happened, it wasn't transmission related or mechanical.
Number of previous owners. As a general rule, less is better. More owners usually means more wear-and-tear. If one family owned it and drove the full mileage and serviced the car, then you can almost guarantee they took good care of it throughout their ownership.
Examine the interior. The condition of the interior tells the story of how well the car was maintained and cared for. Does the steering wheel, pedals, or shifter look suspiciously new? If so there's a good chance that the car was very heavily used, and those parts were just replaced before sale.
Inspect engine for obvious leaks and obvious damage. If the engine looks immaculately clean it means it was washed. The question is why? Most likely to hide oil leaks and similar nasty problems.
Check the car's VIN and get a full history report. Was it a taxi or rental car? Recalls? How many owners? Real mileage? Stolen? Any accidents? If you're buying a used Mercedes, always check the VIN – you never know what the car has been through.
Check for rust. Rust is a problem that will spread. Some dishonest salesmen cover up the rust with a bit of paint or some stickers. It's always a good idea to look under the car.
Related: Are Acura's Worth the Money?
Sources
https://www.goodcarbadcar.net/mercedes-benz-us-figures/
https://www.jdpower.com/cars/ratings/dependability/2021/small-premium-suv
https://caredge.com/mercedes-benz/depreciation
https://repairpal.com/reliability/mercedes-benz
https://www.caranddriver.com/mercedes-benz/s-class