The Mitsubishi Outlander has been sold since 2003 and just recently released its fourth generation.
What makes it stand out in the crowded compact SUV segment is its third-row seat which allows it to carry 7 people in a pinch.
In this article, we'll highlight the most common problems and issues of the Mitsubishi Outlander.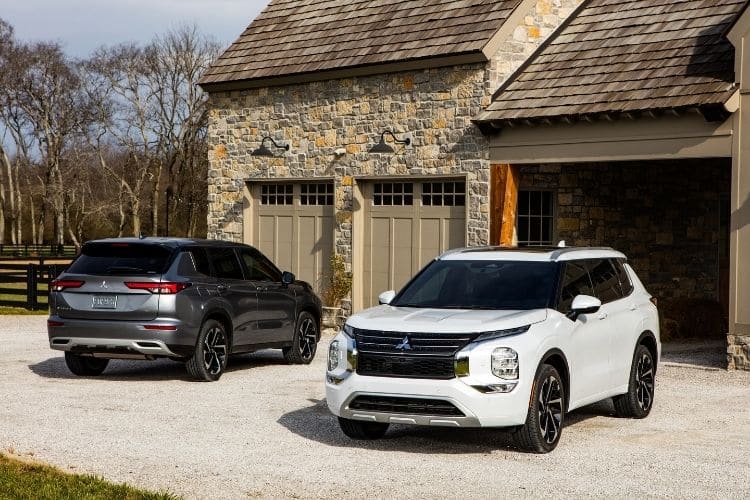 1. Transmission Issues
According to Car Problem Zoo, a site focused on consumer feedback, transmission failures are the most common problem associated with the Outlander.
Third generation 2014, 2015 and 2016 Mitsubishi Outlanders had more reports of premature CVT (Continuously Variable Transmission) issues compared to other model years.
Owners would often report the following symptoms:
Hesitation during acceleration
Shaking and shuddering
Excessive engine RPMs
Stalling issues
Slipping gears
Flashing transmission light on the dash
Transmission issues can affect Outlanders with less than 100,000 miles.
Here's what one Outlander owner had to say:
"When driving my 2016 Mitsubishi Outlander SE down the highway last week my car began to make a shudder-like feeling when I stepped on the gas. When attempting to accelerate my car my rpms jumped and then dropped significantly making the car shake and not accelerate and instead the speed declined."
Solution
Changing the CVT fluid and filter every 30,000 miles or at least every 2 years helps prolong the life of the Outlander's transmission.
Once a CVT fails, it can't be repaired and has to be completely replaced which is very expensive.
The Outlander uses Nissan CVTs which generally have a poor reputation for reliability, but these were only used in the 4-cylinder models.
The V6 models used a more durable 'traditional' 6-speed automatic.
Towing heavy loads also causes the CVT to overheat which degrades the CVT fluid and causes premature wear on the components, so this should be avoided as much as possible.
Change the CVT fluid more frequently if you absolutely need to use your Outlander as a tow vehicle.
Mitsubishi also recalled some model years of the Outlander to update the CVT control unit's software, so make sure your vehicle already has these updates.
2. Suspension Failure Due to Corrosion
Older Mitsubishi Outlanders had front subframes that were prone to excessive corrosion causing holes and cracks that would cause the suspension control arms to break off while driving.
The subframe is a major structural component that is attached to the underside of the vehicle's body and is used to hold all the suspension components together.
Excessive corrosion usually affects vehicles that are exposed to lots of road salt or salty coastal environments.
Mitsubishi issued a recall to address the problem for the following model years:
2003 to 2006 Mitsubishi Outlander (First generation)
2007 to 2013 Mitsubishi Outlander (Second generation)
2011 to 2016 Mitsubishi Outlander Sport
The 2007 Mitsubishi Outlander had the most number of reported suspension failures caused by fractures in the subframe.
Once the front suspension breaks off, you won't be able to steer or move the vehicle at all without the help of a tow truck.
Here is what one Mitsubishi Outlander owner had to say:
"Our 2007 Mitsubishi Outlander has several rotted out holes the size of half-dollar coins in our crossmember which is connected to the control arms and it is making a loud banging sound when we hit any bumps."
Even minor cases of subframe rust can cause you to fail vehicle inspections because it is considered a safety hazard.
Solution
Check the underside of the vehicle for signs of rust.
If it's just minor surface rust, you can sand it off then spray it with rust protection to prevent it from spreading.
Regular rust treatments like Krown or Fluid Film protect the entire underside of the vehicle and all the suspension components from excessive corrosion.
If there are already holes or cracks in the subframe, you'll need to replace it completely.
If your vehicle is covered by the Mitsubishi recall, you can take it to the dealer to see if it qualifies for a replacement.
3. Hood Vibrations at High Speed
Early builds of the fourth generation Mitsubishi Outlanders had issues with the hood noticeably wobbling or vibrating when going over 40 mph.
This issue affects all fourth-gen Outlanders made before November 2021, but some have worse vibrations than others.
Here is how one owner describes the problem:
"My problem is the flapping of the hood of my vehicle. This happens on the highway and in the city. This starts at speeds of 60mph or on roads in poor condition, with strong winds this gets worse it looks like it is going to fly away."
Outlander owners are quite concerned because they're afraid that the hood will suddenly open while driving on the freeway which is extremely dangerous. Fortunately, there haven't been any reports of this occurring as of yet.
It's also unlikely for the hood to open on its own because the vibrations are not caused by a faulty latch, but rather by the design of the hood itself.
Solution
The only real fix for the hood wobbling issue is to replace the entire hood.
Mitsubishi eventually redesigned the hood on newer Outlanders due to the number of customer complaints they received.
The newer hood design has more reinforcement underneath which should keep the hood skin from wobbling at all.
If you have severe hood vibration issues, you should take it to the dealer and have them replace it while it's still under warranty.
Before the hood was redesigned, some stop-gap fixes that reportedly reduced the wobbling included:
Replacing the hood weather stripping
Adjusting the rubber stoppers that the hood rests on when it's closed
4. ABS and 4WD Errors
Another common issue on recent Mitsubishi Outlanders is when the dashboard lights up with error messages for the ABS, 4WD and ASC (Active Stability Control) all at the same time.
In most cases, the car can still be driven even with all the error messages lighting up the dash like a Christmas tree, but it won't have ABS or All-Wheel Drive (AWD) available. It might also get stuck in limp mode.
These error messages are usually caused by a defective ABS wheel speed sensor which is responsible for detecting traction loss.
It's a fairly common fault on pretty much every modern vehicle equipped with ABS and stability/traction control.
Solution
To fix the problem and get rid of these error messages, you'll have to replace the defective sensor which should only cost a few hundred dollars.
You can also try cleaning the sensor to see if that clears up the issue.
Hooking the car up to a scanner should tell you which sensor is defective.
Sometimes, you'll need to replace the entire wheel hub because taking off the sensor can also damage the brackets that it's bolted on to.
5. Premature Brake Wear
Some owners of newer Mitsubishi Outlanders have complained that they needed new brake pads every 10,000 to 20,000 miles.
For people who use their vehicles a lot, this means they'll have to replace the brake pads at least every year.
According to the CarComplaints website, this issue seems to be common with the 2018 Outlander.
Here's what one owner had to say:
"When the vehicle was about 6 month of use the rear brake start to sound. When I take my vehicle to the Mitsubishi Service Department and the rear brake pads was worn out with only 12,000 miles."
Solution
If you're experiencing premature brake wear in your Mitsubishi Outlander, try changing your driving habits.
Driving aggressively and towing heavy loads wears out the brakes much faster.
You can also use aftermarket brake pads that are designed to be longer lasting the next time you need to service your brakes.
6. Paint Chipping
Another common complaint is the thin paint used on pretty much every model year of the Mitsubishi Outlander.
It easily gets chipped by rocks and other road debris which makes the vehicle look more used and beat up even if it's been properly taken care of.
Once the metal underneath the paint gets exposed to the environment, you'll start seeing rust spots on different parts of the car.
Solution
To keep your vehicle looking brand new and protect its body from rust, use Paint Protection Film (PPF) or ceramic coating to give the paint an extra layer of protection.
You can also use touch-up paint to cover the paint chips or even respray the affected body panels, but this is significantly more expensive and may not be worth the investment if you're not planning to keep the car for a very long time.
Mitsubishi does offer a 7-year/100,000-mile Anti-Corrosion/Perforation warranty in case the body panels start showing excessive rust. But it can be difficult to prove to the dealer that the rust was caused by a paint or manufacturing defect.
Mitsubishi Outlander Model Years With the Most Problems
To get a better idea of which Mitsubishi Outlander has the most problems the fairest way is to compare models based on the number of vehicles sold in relation to the number of reported problems.
We're using Car Complaints PPMY index which means problems reported per thousand vehicles per Year.
For example, newer cars will have fewer complaints simply because they've been around for less time.
Based on this index, the most problematic years are:
2015 – 2.12 PPMY
2013 – 1.29 PPMY
2011 – 0.72 PPMY
And the least problematic years are:
2005 – 0.09 PPMY
2005 – 0.10 PPMY
2003 – 0.16 PPMY
Mitsubishi Outlander
Model Year
Problems
Sales
Vehicle Age
PPMY Index
2022
78
–
–
–
2021
1
–
1
–
2020
24
34,904
2
0.34
2019
33
37,153
3
0.30
2018
60
40,338
4
0.37
2017
87
34,231
5
0.51
2016
169
39,023
6
0.72
2015
196
13,191
7
2.12
2014
84
18,411
8
0.57
2013
61
5,273
9
1.29
2012
30
9,328
10
0.32
2011
87
10,910
11
0.72
2010
71
15,931
12
0.37
2009
54
11,918
13
0.35
2008
72
14,322
14
0.36
2007
154
31,674
15
0.32
2006
25
15,168
16
0.10
2005
24
15,074
17
0.09
2004
68
22,458
18
0.17
2003
146
48,366
19
0.16
Source: Car Problem Zoo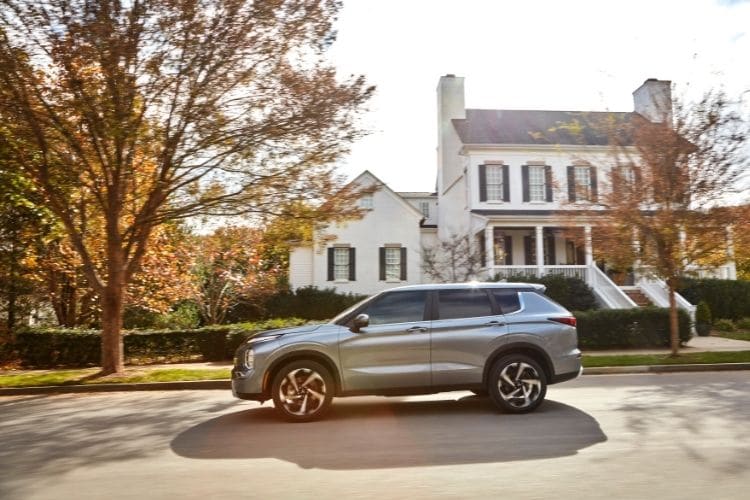 Mitsubishi Outlander Pros and Cons
If you're considering a Mitsubishi Outlander as your next car you might be wondering what its strengths and weaknesses are…
Pros
More seating capacity than rivals
Decent reliability
Comfortable ride quality
Slightly bigger and roomier than other compact SUVs
Long warranty
Cons
Tight third-row seating
Lacks performance
Transmissions have history of failure
Poor resale value
Related: How Long Do Mitsubishi Outlanders Last? (Solved & Explained)
Mitsubishi Outlander Reliability Compared to Similar Cars
Consumer Reports rankings detailed below is based on the model's newest three years, the Mitsubishi Outlander sits near the bottom, with a relatively poor score of 30/100.
| | |
| --- | --- |
| Make & Model | Consumer ReportsReliability Score |
| Buick Envision | 90 |
| Cadillac XT5 | 89 |
| Ford Bronco Sport | 88 |
| Hyundai Tucson | 87 |
| Toyota RAV4 Prime | 82 |
| Honda CR-V | 80 |
| Mazda CX-5 | 80 |
| Subaru Forester | 80 |
| Lexus NX | 78 |
| Ford Mustang Mach-E | 71 |
| Audi Q5 | 64 |
| Mercedes-Benz GLC | 63 |
| Porsche Macan | 61 |
| Volvo XC60 | 61 |
| Chevrolet Equinox | 58 |
| GMC Terrain | 58 |
| Infiniti QX50 | 49 |
| Kia Soprtage | 48 |
| BMW X3 | 47 |
| Hyundai Ioniq 5 | 45 |
| Mitsubishi Eclipse Cross | 45 |
| Toyota RAV4 | 44 |
| Acura RDX | 43 |
| Mercedes-Benz GLB | 34 |
| Genesis GV70 | 30 |
| Jeep Cherokee | 30 |
| Mitsubishi Outlander | 30 |
| Nissan Rogue | 30 |
| Jeep Compass | 26 |
| Ford Escape | 25 |
| Jaguar F-Pace | 25 |
| Land Rover Discovery Sport | 25 |
| Land Rover Range Rover Evoque | 25 |
| Land Rover Range Rover Velar | 25 |
| Volkswagen ID4 | 21 |
| Lincoln Corsair | 20 |
| Alfa Romeo Stelvio | 18 |
| Tesla Model Y | 18 |
| Volkswagen Tiguan | 17 |
Source: Consumer Reports
Mitsubishi Outlander Used Value
We've taken a look on Car Gurus to gauge the resale value of a Mitsubishi Outlander, below are typical asking prices for each model year.
According to Car Edge, a Mitsubishi Outlander will depreciate 31% after 5 years and have a 5 year resale value of $24,379.
Note: Used model prices will vary depending on trim level.
| | | |
| --- | --- | --- |
| Model Year | Mileage (miles) | Resale Price |
| 2022 | 8,006 | $30,550 |
| 2021 | – | – |
| 2020 | 50,573 | $23,400 |
| 2019 | 69,729 | $18,500 |
| 2018 | 57,389 | $20,165 |
| 2017 | 90,710 | $14,900 |
| 2016 | 93,135 | $14,991 |
| 2015 | 101,200 | $11,819 |
| 2014 | 126,607 | $8,900 |
| 2013 | 129,002 | $7,799 |
| 2012 | 127,947 | $7,689 |
| 2011 | 113,773 | $10,785 |
| 2010 | 198,000 | $5,349 |
Source: Car Gurus
Related: Mitsubishi Outlander Tune-up & Maintenance Costs
What Do Owners Like and Dislike About the Mitsubishi Outlander?
Based on owner feedback from the Kelley Blue Book site here are what real-life owners love and hate about the Mitsubishi Outlander.
Likes
Fuel economy
Modern styling
Rides nice
Fun to drive
Spacious trunk
Comfortable
Tech features
Dislikes
Horrendous build quality
Lackluster AWD
Underpowered for towing
Inferior stereo quality
Noisy interior
Owners Reviews
"Love it. SEL model with Touring package. Wow. Such a comfortable ride and loaded with equipment. Drives like a dream."
Source: Kelley Blue Book
"I bought the 2022 Outlander SEL Touring. Everything about it was great – interior design, comfort, smooth ride, nice pickup for a small SUV. But then a wheel baring cracked. I started hearing a "clicking" noise every time I turned the steering wheel. Now it is sitting in my local service department waiting on a part that won't come in until end of January 2022 (the writing of this review is November 2021). Very disappointed that a brand new car would already have problems."
Source: Edmunds
"I have an SEL and love it. I'm taller than most and am comfortable in front and second row. It looks great, good mpg, and the interior is better than anything else in class. Mine is AWD and acceleration is fine. My hood jiggles a bit too but I'm confident Mitsubishi will soon issue a bulletin."
Source: Edmunds
How Reliable Are Mitsubishi Cars?
According to Repair Pal, Mitsubishi are ranked 6th out of 32 car brands in terms of reliability
| | | |
| --- | --- | --- |
| Ranking | Brand | Score |
| 1 | Honda | 4.0/5.0 |
| 2 | Acura | 4.0/5.0 |
| 3 | Kia | 4.0/5.0 |
| 4 | Hyundai | 4.0/5.0 |
| 5 | Mazda | 4.0/5.0 |
| 6 | Mitsubishi | 4.0/5.0 |
| 7 | Lexus | 4.0/5.0 |
| 8 | Toyota | 4.0/5.0 |
| 9 | Nissan | 4.0/5.0 |
| 10 | Smart | 4.0/5.0 |
| 11 | Chrysler | 3.5/5.0 |
| 12 | Volkswagen | 3.5/5.0 |
| 13 | Buick | 3.5/5.0 |
| 14 | Subaru | 3.5/5.0 |
| 15 | Jeep | 3.5/5.0 |
| 16 | Infiniti | 3.5/5.0 |
| 17 | Volvo | 3.5/5.0 |
| 18 | Fiat | 3.5/5.0 |
| 19 | Dodge | 3.5/5.0 |
| 20 | Chevrolet | 3.5/5.0 |
| 21 | Ford | 3.5/5.0 |
| 22 | GMC | 3.5/5.0 |
| 23 | Ram | 3.0/5.0 |
| 24 | Lincoln | 3.0/5.0 |
| 25 | Mini | 3.0/5.0 |
| 26 | Cadillac | 3.0/5.0 |
| 27 | Mercedes-Benz | 3.0/5.0 |
| 28 | Audi | 3.0/5.0 |
| 29 | Jaguar | 2.5/5.0 |
| 30 | BMW | 2.5/5.0 |
| 31 | Land Rover | 2.5/5.0 |
| 32 | Porsche | 2.0/5.0 |
Source: Repair Pal
Related: 14 Best & Worst Mitsubishi Outlander Years (With Facts & Stats)
Sources
https://www.consumerreports.org/cars/mitsubishi/outlander/
https://www.carcomplaints.com/Mitsubishi/Outlander/
https://www.carproblemzoo.com/mitsubishi/outlander/
https://www.kbb.com/mitsubishi/outlander/
https://www.edmunds.com/mitsubishi/outlander/
https://caredge.com/mitsubishi/outlander/depreciation
https://www.cargurus.com/Cars/l-Used-Mitsubishi-Outlander-d429
https://www.consumerreports.org/car-recalls-defects/mitsubishi-recalls-cars-and-suvs-for-suspension-problems/