The Altima is Nissan's best-selling sedan in the U.S. and has been around since the 1990s.
With the Toyota Camry and Honda Accord as its main rivals, the Altima offers a roomy cabin, great fuel economy, lots of standard features, and excellent value for money, especially in the used market.
In this article, we'll examine the most common issues and problems of the Nissan Altima across its different generations.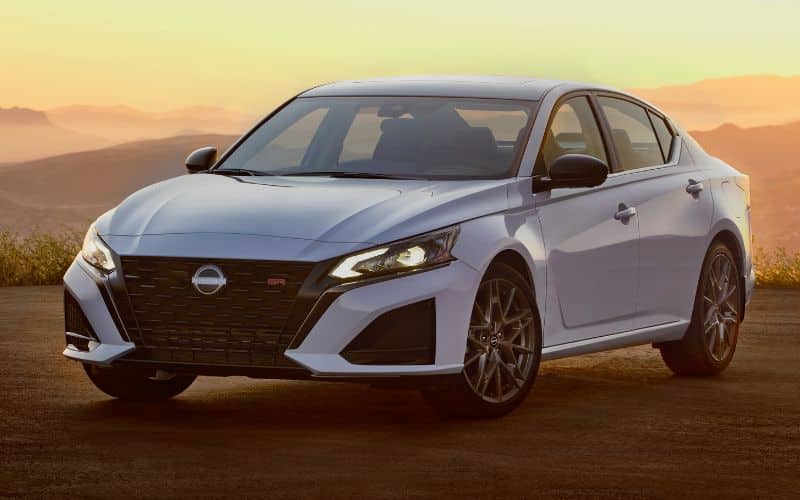 1. CVT Failures
The Nissan Altima's biggest issue is its potential to have transmission failures that usually costs thousands of dollars to fix.
Starting with the fourth generation Altima, which debuted as a 2007 model, Nissan began using a CVT or Continuously Variable Transmission instead of a traditional automatic.
Lots of Nissan's early CVTs were prone to premature failures even before they reached 100,000 miles.
However, there are also lots of Altima owners who have 100,000 to 200,000 miles on their original CVT.
On CarComplaints.com, a website that collects owner complaints, reports of CVT issues and failures are very common on the 2007 to 2016 model years of the Nissan Altima.
Common symptoms of CVT problems in an Altima include:
Shuddering or jerking
Whining noises
Slipping or hesitates to accelerate
Car has trouble going up hills
Won't move in Drive or Reverse
Check engine light
P1F70 or PF171 trouble code
Here's how a few owners described their CVT problems on AltimaForums.net:
"I have a 2016 Nissan Altima with 103k miles on it. If I'm in drive and I switch to drive sport when I accelerate, and take my foot off the pedal it jerks back and forth pretty hard. Also I've noticed after I'm driving for a while (like 20 to 30 mins) when I'm coming from a complete stop and press steadily on the gas pedal it takes quite some time for the vehicle to actually start moving and when it does it's a surge of power, like I'm flooring it."
"I'm hearing a whining noise at higher RPMs (3,000-redline) after driving my 08′ Altima 2.5s a while. Also, when cruising, the RPMs will get stuck around 1300-1500 and don't move when I press the pedal down. I've got 102,000 miles on the car and it's on its original CVT as far as I know."
"I have a 2015 Altima with 104,00 miles. While driving on the freeway it just stopped accelerating. The car showed absolutely in signs of anything being wrong. In the 2 and half years I've had it I've had no problems. I'm being told it's the transmission and it will cost me $5000 on it."
Nissan's CVTs often fail prematurely due to old or worn out CVT fluid. The manual recommends replacing the fluid every 60,000 miles, but it's better to do it every 30,000 miles if you want to prolong the life of your transmission.
It's also important to use Nissan's specially formulated CVT fluid, which is bluish green in color, and not just any automatic transmission fluid.
Getting a new or rebuilt CVT installed usually costs around $4,000 to $6,000. You can get a used transmission for much cheaper, but there's no telling how long it will last if it wasn't maintained by the previous owner.
Some CVT issues can be fixed by draining and filling the CVT fluid a couple of times to get all of the old fluid out, or replacing the valve body.
Nissan has also released several TSBs to address the CVT issues and also offered warranty extensions for different model years.
The latest CVT warranty extension is for the 2017 to 2018 model year of the Altima which lasts for 7 years or 84,000 miles.
2. Excessive Oil Consumption
The third generation Nissan Altima has a tendency to suffer from excessive oil consumption issues caused by catalytic converter failures.
The pre-catalytic converter or pre-cats that's part of the third gen Altima's 2.5-liter engine's exhaust manifold often failed prematurely.
Eventually, broken pieces of the pre-cat would get sucked back into the engine due to back pressure and damage the cylinder walls and piston rings, which causes oil to get burned up during the combustion process.
Pre-cat failures and oil consumption problems can affect all model years of the third generation Nissan Altima from 2003 to 2006.
Common symptoms include:
White smoke
Rattling from the exhaust system
Poor gas mileage
Reduced performance
Check engine light
P0420 trouble code
Low compression in the cylinders
Here's how one owner on AltimaForums.net described their experience:
"Bought a used 05 Altima 2.5L with 86K miles. Runs out of oil when I drive hwy. I have to fill up 2 quarts every gas tank."
Another user on NissanClub.com had this to say:
"I have a 2006 nissan altima 2.5l with extremely high oil consumption. About 2 qts a week."
This third gen Altima owner on NICOClub.com also had similar problems:
"I have Altima 2002, 2.5 L and there is 99,000 mileage on it. My biggest problem is the engine oil consumption, I have to add oil every two days which is annoying."
If you're already burning up a lot of oil in between oil changes, it's probably already too late and you'll need a new engine or get your current one rebuilt. Both options will cost several thousand dollars.
However, some oil consumption problems can also be caused by a faulty valve cover or PCV valve which are cheaper to repair.
You'll only really know if you need to fix the engine itself by doing a compression test on the cylinders.
To prevent future engine damage, you can preemptively replace the exhaust manifold, which includes the pre-cats, with a new one.
Many third gen Altima owners also simply replace the manifold with a set of aftermarket headers that don't have a pre-cat. However, this will cause you to fail vehicle inspection if your state is strict with emissions or smog tests.
3. Engine Stalling
The third generation Nissan Altima had lots of reports of intermittent stalling while driving due to faulty camshaft and/or crankshaft position sensors.
These sensors monitor the rotation of the camshaft and crankshaft to keep the timing of the combustion process in sync.
When the ECU loses the signal from either sensor, it won't know when to add spark or fuel, which leads to an engine shut down.
This problem is more common in early third generation Altimas from 2002 to 2003 equipped with the 2.5-liter engine, but it can also affect newer model years.
Common symptoms of a faulty camshaft or crankshaft position sensor include:
Random intermittent engine stalls
Hard starting
Rough running
No check engine light or error codes
P0355 error code
Here's how owners on AltimaForums.net described their experience:
"2004, 2.5, auto, 87,000mi. Engine runs smooth. Lots of power. No overheating. Engine sometimes stalls when stopped, or coming to a stop. Starts right up. No codes."
"I have the same issue also. It would stall after a warm start. I have an 04 with like 144k miles. First time was 2 years ago when I had about 105k I near an autozone when it wouldn't start. I got the crankshaft sensor part and fixed it. The original one was plastic and the aftermarket was metal."
Another user on NissanForums.com had this to say:
"I have a 2003 2.5 Altima. On Several occasions, I have had the car stall out while driving it down the road. This has happened about a half dozen times now, and it generally starts right back up. The last time it happened has been the only exception , when after starting the car back up and heading home, the engine would not get about 2500 RPM."
Nissan announced a recall for the 2002, 2005 and 2006 model years of the Altima in order to replace the sensors with updated metal versions and reprogram the ECU.
However, other model years can still suffer from stalling issues and cars that have been recalled can still have similar problems crop up after several years of use.
New OEM sensors cost around $100 a piece and aren't hard to replace. Original Nissan sensors are more reliable than cheaper aftermarket ones and it's best to replace both the camshaft and crankshaft sensors at the same time.
If new sensors don't fix the issue, other possible causes of engine stalling include:
Faulty MAF (Mass Air Flow) sensor
Dirty injectors
Bad fuel pump
ECM (Engine Control Module) or TCM (Transmission Control Module) issues
Electrical issues
4. Headlight Reflector Issues
The fifth generation Altima's headlights eventually become too dim and almost unusable at night after a relatively short amount of time.
After a few years, the headlight assembly's reflective coating deteriorates and peels off due to heat from the halogen bulbs and significantly affects the headlight's performance.
When this happens, upgrading to brighter bulbs only slightly improves night time visibility.
This problem affects all model years of the fifth gen Altima from 2013 to 2018.
The Altima 3.5 SL, which came with HID xenon headlights, shouldn't suffer from this problem.
Here's how a few owners on AltimaForums.net described their issue:
"I have a 2013 Altima and I cannot drive my car at night because the headlights, even though there was a recall, go figure my vin # was not included. I had the dealership order new ones for me, but I have to pay out of pocket."
"I have a 2016 Altima and the dim lights are pathetic."
"I have a 2013 Altima SL 2.5 and can barely see at night."
Nissan eventually recalled the fifth gen Altima's headlights in 2022 after settling a class action lawsuit. However, people who have tried to get their headlights replaced typically wait for months because the parts are not readily available.
Nissan also hasn't updated the part so it will eventually have the same issues again after a few years.
New OEM headlights for the Nissan Altima cost around $400 a piece, but aftermarket ones cost around $100 per headlight.
If you don't want to get new headlights, you can also try taking out the bulb and cleaning out the insides of the headlight assembly.
Related: Best & Worst Years For The Nissan Altima? (With Facts & Stats)
5. Faulty Door Lock Actuators
The sixth generation Nissan Altima has been quite mechanically reliable so far, but its door locks do tend to fail prematurely.
When the door lock actuators fail, you won't be able to lock or unlock one or more doors using either the key fob or the door buttons.
It's also not uncommon for multiple door locks to fail within a short amount of time.
This problem can affect all model years of the sixth gen Altima from 2019 onwards.
Here's how a few owners on AltimaForums.net described their experience:
"Our 2019 SR had 3 door locks stop working within 2 weeks of each other around 30K miles."
"2019 Altima. My son locked his doors with the key FOB, the passenger side rear door would NOT lock."
"I had all 4 replaced on my 2020 SL via a service bulletin last week."
On newer cars that are still under warranty, dealers will simply replace the faulty door lock actuators.
If your warranty is already expired, new OEM door lock actuators cost around $200 a piece. It can get expensive if they keep going out or if you have multiple door locks go out at the same time.
You'll also need to make sure you get the right part number because Nissan used different parts for different model years. Using the wrong part will cause the keyless entry system to beep every time you close the door.
Other possible causes of faulty door locks include:
Weak key fob battery
Wiring problems
BCM (Body Control Module) problems
6. Volume Knob Issues
Another common problem of the sixth generation Nissan Altima is the infotainment system's volume knob.
It starts acting up after a while and the volume level jumps all over the place no matter how hard or gentle you turn the knob, but the volume buttons on the steering wheel still work normally.
This problem affects all model years of the sixth gen Nissan Altima from 2019 onwards. Other Nissan models like the Sentra, Maxima and Kicks can also suffer from the same issue.
Here's how a few owners on AltimaForums.net described their problems:
"I recently bought a 2019 Altima S and my volume knob is malfunctioning. When I turn the volume knob the volume level rapidly skips around. The way I have to actually adjust the volume is by using the volume buttons on the steering wheel."
"I actually had the same issue, I replaced my entire radio at the dealership early 2019. Now almost 2 years later my radio is doing the exact same thing."
"I have a 2020 SR and purchased new and currently @ 37K miles. About 6k miles ago my volume knob started acting wild."
Initially, Nissan dealers would simply replace the entire head unit under warranty to fix the volume knob issues.
A new head unit costs around $4,000, so it's not the best option if your warranty is already expired.
Nissan has also released several software updates for the infotainment system to fix the volume knob issues which has fixed the problem for many people.
The software updates also fixed other infotainment problems like:
Black screen issues
Random restarts
Android phone connectivity problems
Many owners were also able to fix their volume knob issues by simply taking off the knob and spraying a bit of WD-40 inside the hole to get out all the dirt and debris that's built up inside.
7. Steering Lock Problems
Early model years of the fourth generation have a tendency to have starting problems due to a faulty Electronic Steering Column Lock (ESCL).
When the steering lock fails, it's usually stuck in the unlocked position and you'll be able to turn the wheel freely.
However, you won't be able to start the car and you'll see the 'key' light flash on the dash when you push the start/stop button.
This is a common issue on the 2009 model year, but can also affect the 2007 and 2008 Altimas. It also affects other Nissan models like the Maxima, G37 and 370Z.
Later model years of the fourth generation Altima eliminated the steering column lock altogether.
Here's how a few owners described their experience on AltimaForums.net:
"My 2009 Altima won't start. The Nissan vehicle immobilizer system warning (red light with key through it) as well as amber light with "KEY" is also on. The red light is flashing every couple of seconds. When I press the ignition button nothing happens."
"I have a 2009 Altima, and I went to move it out of my driveway and parked it, when I went back to the car to move it back, it wont start now. The light with a yellow square with a key inside it keeps coming on."
Nissan dealers usually charge around $1,000 to fix the steering column lock and will essentially just install a new part that completely removes the lock.
Many owners also had lots of success getting their car to start by removing the plastic cover under the dash and tapping the ESCL box several times while repeatedly pushing the start/stop button at the same time.
Once the engine is running, you can remove the steering lock fuse from the fuse box in the engine bay to prevent it from locking up.
To permanently fix the steering lock problem without going through the dealer, you can get a ESCL emulator/steering lock delete kit online for around $50 to replace the old steering lock.
8. Broken Engine Mounts
Third generation Nissan Altimas can require multiple engine mount replacements over the course of its life.
Although these are often considered wear-and-tear items, they seem to fail much earlier in the third gen Altima.
Common symptoms of a broken motor mount include:
Popping or clunking noises
Vibrations and shaking
Engine mount leaks fluid
Broken engine mounts are common in all third gen Altimas from 2002 to 2006.
The Altima has four engine mounts and these can start going out at around 100,000 miles. The passenger side motor mount also tends to fail more often than the others.
Here's how a few owners described their issues on CarComplaints.com:
"This is the second engine mount replacement on this car (first one was at 92,000 miles). While the mileage is quite high (150,000), I have never before had to replace an engine mount and I had two Acuras that went up to 240,000 miles."
"I must have the record for motor mount problems as I needed 2 fixed at 47,500 miles and a third is going to be replaced this week at 50,000 miles."
"In january 2010 had dealer replace right motor mount, now took my care to somewhere else to get it checked and was told right motor mount cracked same place as before."
Replacing engine mounts can cost a few hundred dollars and can be done by any experienced mechanic.
9. Melting and Cracking Dashboard
The fourth generation Altima's dashboard can eventually develop cracks and get sticky after several years.
The dashboard starts to deteriorate after a few years even if it doesn't have too many miles on it and is always parked inside a covered garage.
Aside from making the car look older and more beat up than it actually is, owners also complain that the damage causes more glare from the sun, which affects visibility.
All model years of the fourth gen Altima from 2007 to 2012 can suffer from dashboard issues.
Here's how a few owners described their issue:
"My 2011 Nissan Altima has a melted dashboard and the clear coat is coming off. Most importantly, there is a terrible glare from the damaged dashboard and it is a major safety hazard."
"My 2007 Nissan Altima dashboard suddenly started having cracks. The cracks run all along the seams but there are others that just cracked out of nowhere."
"The soft material covering the top and front of my dash is cracking and the cracks are sticky. The car is garage kept, and only has about 85,000 miles."
A new dashboard costs a little over $1,000 at the dealer and labor will cost a few hundred dollars more.
You can also get a used dashboard for around half the price and have your local mechanic do the job for less.
An even cheaper option is to just put a cover on the dash, which costs less than $100. This will fix the glare issue, but it won't look as nice as a replacement dashboard.
10. Hood Latch Issues
The fifth generation Altima's hood latch has a potential defect that can cause the hood to fly open while driving.
This issue can affect the 2013 to 2018 model years of the Nissan Altima.
The hood can open on its own when the secondary hood latch becomes corroded and gets stuck in the unlatched position.
If the primary latch is unintentionally released or if the hood isn't properly closed, the stuck secondary latch won't be able to prevent the hood from fully opening up.
It's also exacerbated by the fact that the hood release and gas door lever are right next to each other.
Although reports of hoods flying open are quite rare, here are two owners on the NissanClub.com forum who shared their experience:
"My 2013 Altima had its hood pop open and nearly smash the windshield at 50mph."
"My dealership has caused damage to my Altima because the hood flew up on them while test driving it."
Since this issue affects the safety of the occupants, Nissan issued a recall for all model years of the fifth gen Altima.
Dealers will usually proactively perform the recall repair if it hasn't been performed yet.
11. Automatic Emergency Braking Warning Light
Some sixth generation Nissan Altimas have issues where the Automatic Emergency Blinking (AEB) warning light keeps blinking on the dash.
This usually means that the AEB is disabled due to an obstruction on one of the sensors or a faulty sensor.
If the sensor is faulty, it could also cause the car to brake on its own even when there are no other cars or obstacles on the road.
To get rid of the error, you can simply press the "Ok" button on the wheel, but it's not uncommon for it to come up again when you start the car.
This problem is common on the 2019 and newer model years of the Nissan Altima. It also occurs on lots of other Nissan vehicles equipped with automatic braking.
Here's how a few owners described their experience:
"The collision lights keep coming on. I have taken this car to Nissan now about 4/5 times and have to take it again as the problem is never resolved."
"Front impact radar malfunction. The light on the console would come on intermittently. I took the car to the dealer and they said the front radar was defective and they replaced the front radar. Not even two months have passed and the light is back on."
"On two separate occasions, during intermittent weather changes, my vehicle has giving me notice of forward warning collision being disabled or has flashed on my dashboard. Same goes with my rear collision warnings. My car has also force-brake while driving under 30 mph."
The AEB warning can be triggered by bad weather or even the smallest bit of dirt. A fogged up windshield can also confuse the lane camera that's mounted near the rear view mirror.
Nissan released a TSB (Technical Service Bulletin) for this issue, but it only recommends cleaning the sensors. If the error still pops up, dealers will replace the faulty sensors under warranty.
Related: Nissan Altima in Snow & Winter Driving? (Explained)
Nissan Altima Pros & Cons
Pros
Roomy cabin
Comfortable seats
Easy to drive
Great fuel economy
Good value for money
Available all-wheel drive (sixth gen only)
Lots of standard tech and features
Cons
CVT problems
Poor resale value
Not very exciting to drive
What Do The Reviews Say?
"The latest-generation Nissan Altima has been around since 2019. Available with front- or all-wheel drive and your choice of two engines, the Altima is easy to drive, comes with plenty of advanced driver aids, and is fairly fuel-efficient."
"The Altima won't win you over with stellar acceleration or braking. Our test all-wheel-drive Altima had the 2.5-liter engine, and it accelerated from 0 to 60 mph in an unremarkable 8.4 seconds. The CVT automatic is well tuned, however, and helps make the Altima an almost invisible partner during day-to-day driving."
"The Altima is a calm place to sit out daily traffic. The front seats are generally comfortable, but some drivers might wish for more thigh support. Engine noises are commendably well isolated even under hard acceleration."
"The interior lacks style, but it more than makes up for it with straightforward usability. In particular, the climate controls and touchscreen functions are clearly labeled and easy to reach."
"The Altima we tested had the big 12.3-inch touchscreen. It comes with wireless connectivity for both Android Auto and Apple CarPlay and an onboard navigation system. Though the screen's size and responsiveness make it seem modern, it's let down by software that looks and feels outdated."
"We tested the all-wheel-drive Altima, which the EPA estimates gets 30 mpg combined. It posted an impressive 34 mpg on our mixed-driving real-world evaluation route. Odds are you can expect to get pretty good fuel economy from the Altima."
"Roomy and comfortable with the option of all-wheel drive, the Altima proves it has some distinctive value in the midsize sedan class."
What's the Resale Value of a Nissan Altima?
Here's a quick look at the Nissan Altima SV's used pricing on Edmunds at the time of writing.
| | | |
| --- | --- | --- |
| Year | Mileage | Price |
| 2022 | 12,009 | $22,999 |
| 2021 | 21,229 | $21,980 |
| 2020 | 29,341 | $20,698 |
| 2019 | 37,002 | $20,186 |
| 2018 | 40,469 | $18,000 |
| 2017 | 53,360 | $17,580 |
| 2016 | 58,402 | $16,497 |
| 2015 | 73,104 | $13,575 |
| 2014 | 87,450 | $12,000 |
| 2013 | 91,912 | $10,850 |
Related: How Long Do Nissan Altima Last? (Solved and Explained!)