Women generally aren't interested in sacrificing too much comfort and daily drivability just so they can eke out a little more performance out of their cars and win the next stoplight race.
In most cases, what's more important to ladies who are looking for a sports car is the fun factor, style, safety and creature comforts.
In this article, we'll take a look at a couple of sports cars that are popular choices for girls.
1. Mini Cooper
Although the Mini Cooper isn't a sports car in the traditional sense, it's very popular among driving enthusiasts because of its amazing handling.
The Mini Cooper has lots of retro charm and quirky styling cues that appeals to lots of girls. Mini also offers loads of personalization options which is rare in the small car segment.
Its small lightweight body makes it a zippy little car that's perfect for city driving and it has great visibility all around so it's easy to park and maneuver in tight spaces.
Since it's made by BMW, the Mini Cooper is quite luxurious and refined compared to other similarly sized hot hatchbacks. Modern Mini Coopers have loads of tech and safety features, and even come with a version of BMW's iDrive software.
In addition to the 2-door hatchback, you can also get it as a convertible, 4-door hatch or as a small crossover. There is also an EV version of the 2-door hardtop. If you want more performance, you can upgrade to the Cooper S or JCW (John Cooper Works) versions.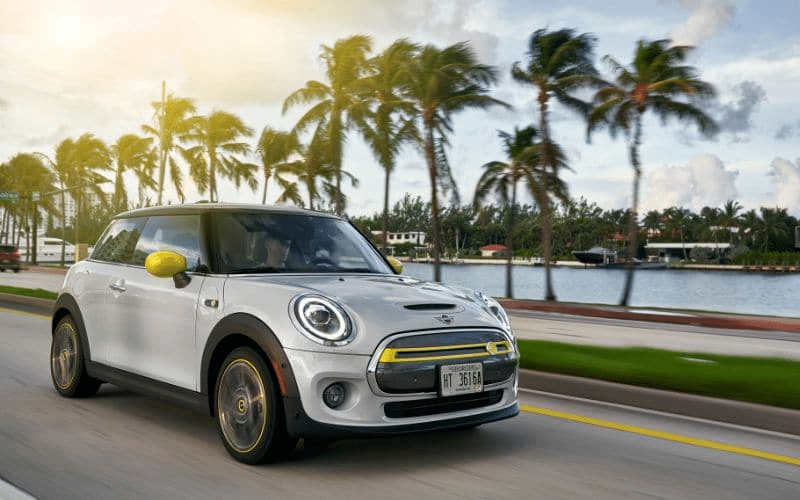 2. Mazda Miata RF
There's a lot of positive things to say about the Miata's amazing handling, but Mazda really knocked it out of the park when it came to designing the fourth generation model, especially with the Miata RF.
It looks like a sleek coupe with the top up, but transforms into an exquisite looking targa that belies its budget-friendly price when you put the top down.
Inside, the Miata is relatively simple but quite elegant and purposeful. Ladies will also appreciate the added refinement and security of the RF's retractable hardtop.
It may not be the fastest thing on the road, but when you put the top down and take it for a spin, you can easily put your worries behind you and just enjoy the open road.
It's also hard to match the Miata when it comes to the amount of driving pleasure you get for the money. It's not surprising that it has the world record for being the most successful 2-door convertible sports car in history with over 1 million units sold over the past 30 years.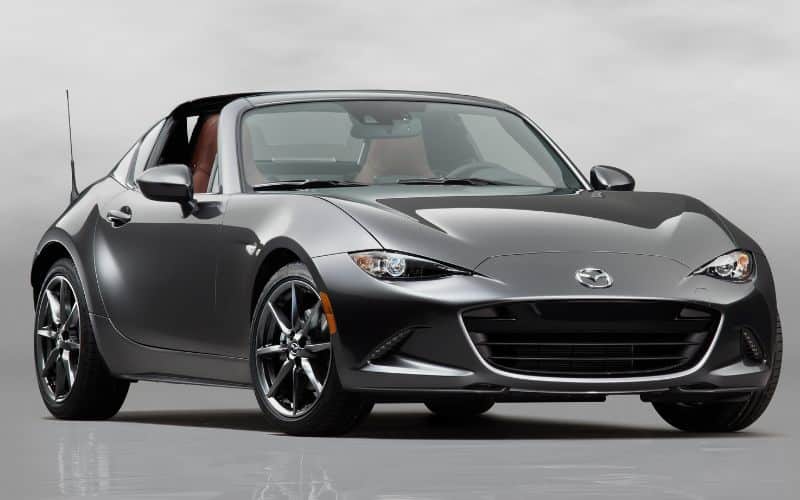 3. Ford Mustang Convertible
Given the Mustang's status as a muscle car icon, it's hard to imagine that it was originally designed and marketed to appeal to women.
The formula for a fun and practical sports car still works today though as the Mustang attracts more women buyers than the Chevy Camaro and Dodge Challenger.
V6 and EcoBoost convertible Mustangs have been especially popular among women for quite some time. Especially nowadays with the sixth generation S550 Mustang's soft flowing lines and retro-inspired looks.
This isn't too surprising since, in addition to being more affordable and widely available than many other sports cars, the base model engines offer better fuel economy while delivering around 300 horsepower, which is more than enough to provide some excitement.
There's also nothing quite like putting the top down and going for a drive so you can feel the wind in your hair when the weather's nice. And what better way to do it in than in an iconic American muscle car?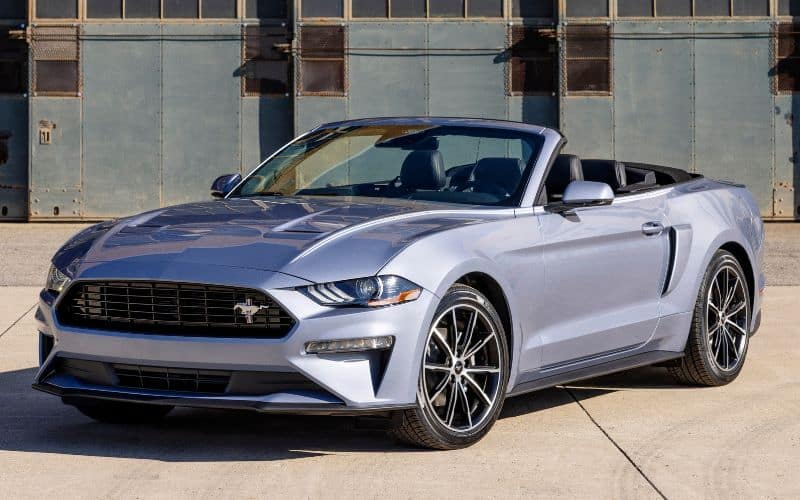 Related: 9 Top Sports Cars With Air Suspension (With Pictures)
4. Audi TT
When the Audi TT first debuted in the late 1990s it bore a striking resemblance to the Volkswagen Beetle, which was beloved for its fun and carefree image. In fact, it actually shared platforms and engines with the modern Beetle and the VW Golf.
But unlike its more practical VW cousins, the Audi TT is a true sports car that's more aerodynamic and fun to drive. It also now comes standard with Audi's Quattro all-wheel drive which improves acceleration and handling.
Later redesigns of the Audi TT turned it into a smaller and cuter version of the R8. Aside from being more practical than the flagship R8 with its rear seats and better fuel economy, it's more fun to zip around in at lower speeds.
The TT also comes in a convertible which makes it an even more special and pleasurable driving sports car.    
5. BMW Z4
The BMW Z4 is a small 2-seat convertible that's been sold for the past 2 decades, and was previously known as the Z3.
As you would expect from any BMW, the Z4 not just oozes with style but is also very comfortable and luxurious compared to other sports cars.
The current generation Z4 loses the retractable hardtop of the older model, but has more power thanks to its 3.0-liter turbocharged engine which produces 382 hp.
Although it can rocket from 0 to 60 mph in under 4 seconds, it does so in a very calm and collected manner which lots of ladies will appreciate.
It's a little softer than its 2-door coupe version, which has been adopted by Toyota to make the new Supra. But this is an advantage for those who want a fast and exhilarating sports car that isn't too hard edged.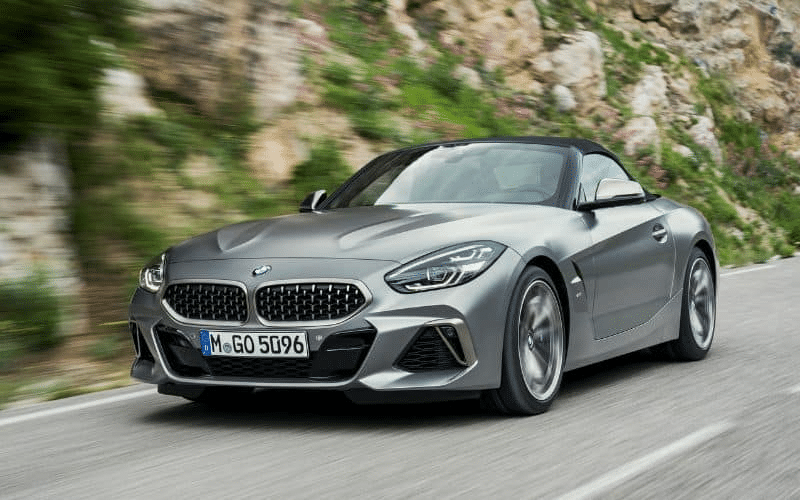 6. Porsche Boxster
The Boxster may be Porsche's entry-level sports car model, but its mid-engined rear-wheel drive layout is constantly praised for its balanced handling.
The Boxster's styling is also easy to love. While its sleek and low-slung body clearly identifies it as a sports car, its sculpted curves and flowing body lines make it look more approachable and less aggressive than many of its rivals.
Ladies will also appreciate the seemingly endless range of color and customization options that you can get with the Boxster, which is typical of many Porsches.
When you get on the throttle, you'll hear the sonorous engine right behind you, which adds more excitement every time you take it out for a drive. It sounds even better when you put the top down.
If convertibles aren't your thing, there's also the Porsche Cayman which is the coupe version of the Boxster. The fixed roof makes the body stiffer which gives it better handling.  
7. Mercedes-Benz SLC
The Mercedes-Benz SLC is a classy and elegant two-seat roadster that bucks the trend set by some of its boy racer rivals.
It's the successor to the SLK which was the first sports car to popularize the use of the power-retractable hardtop. The hardtop in the SLC and SLK also does a great job at insulating you from outside noise.
If you want a mature looking roadster that has a lot of presence and won't goad other sports car drivers into trying to race you at every stoplight, the SLC is an excellent choice.
It still offers sporty handling that's worthy of any luxury roadster, but veers more towards the pleasant and comfortable side of the spectrum.
For more outright speed, the AMG SLC43, which has a twin-turbo V6 that can make 385 hp, is also worth taking a look at.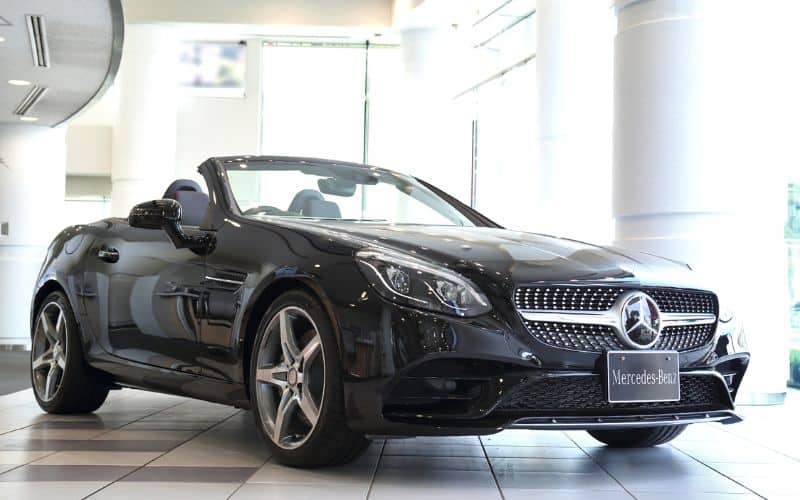 Related: 12 Top Sports Cars For Beginner Drivers (With Pictures)
8. Jaguar F-Type
The Jaguar F-Type takes a lot of cues from the iconic Jaguar E-Type, which Enzo Ferrari famously called 'the most beautiful car in the world.'
Thankfully, the F-Type does live up to its name and is arguably the best looking car in its class. It combines aggressiveness with flowing and graceful body lines that makes it a head turner no matter where you go.
The F-Type also has muscle car aspirations under the hood, with its supercharged V8 making between 444 to 575 hp depending on which model you pick.
It comes in either rear or all-wheel drive, which makes the power more manageable. Older models also had a supercharged v6 or a turbo 4-cylinder.
Inside, you get lots of luxury trimmings and it's very smooth and easy to drive around town.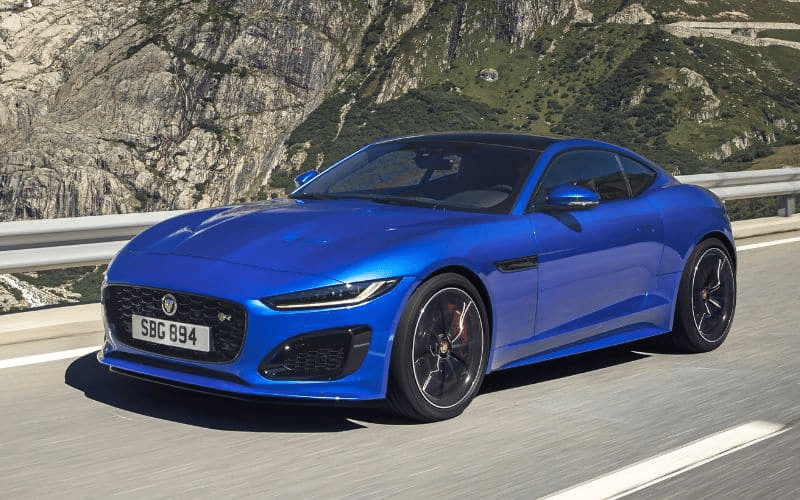 9. Lexus LC500
The Lexus LC500's avant garde styling makes it one of the most unique looking cars on the road.
But unlike other exotic looking sports cars and supercars, the LC500 is extremely functional and user-friendly.
In addition, it has lots of interesting aesthetic touches on the inside that makes it feel even more special.
Being a Lexus, it beats many of its rivals when it comes to comfort and refinement. Ladies will also appreciate the LC500's excellent reliability since it has the same V8 engine used in other Lexus sedans.
You can also get it as a convertible or with a V6-powered hybrid which still makes 354 hp if you want better fuel economy.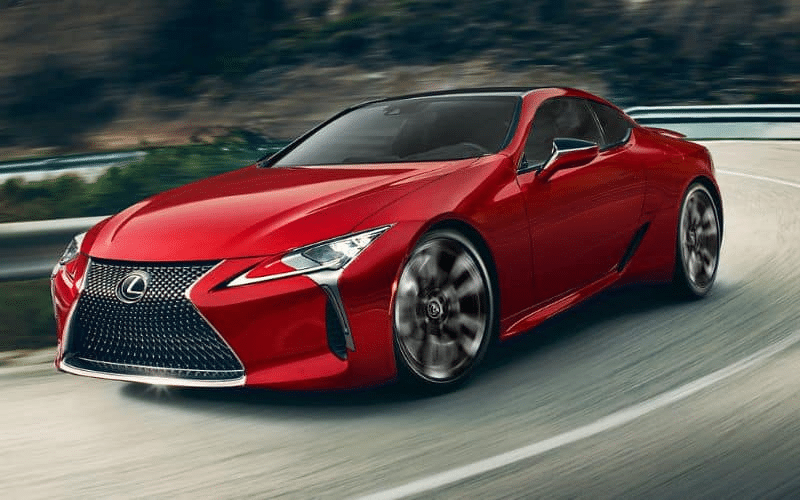 10. Nissan 400Z
The Nissan 400Z is the successor to the 350Z and 370Z which had a reputation for being very sold and competent sports cars.
Styling wise, the 400Z is a modern-day revival of the original 240Z and leaves behind the polarizing looks of its more recent predecessors.
Women will also appreciate the much needed updates to the interior, which is a huge step forward from the 370Z or even the Infiniti Q50's dated looking cabin. It also comes standard with lots of modern tech and driving aids.
As its name implies, it makes 400 hp from its twin-turbo V6 which is the same one used in the Q50 Red Sport and has proven to be virtually bulletproof. You'll be hard pressed to find faster cars on the road most of the time with its impressive 0 to 60 time of just over 4 seconds.
More importantly, it also comes with either a 9-speed automatic or a 6-speed manual. The latter being an essential requirement for most driving enthusiasts.
11. Maserati GranTurismo
If you're into high fashion and designer products, the Maserati GranTurismo will suit your tastes perfectly.
Its gorgeous body was penned by Pininfarina which is the most renowned Italian automobile design house. Aside from its stunning looks, the first generation GranTurismo also has a V8 that was co-developed with Ferrari.
Compared to most Ferraris, which are typically more barebones and hard edged, the GranTurismo was designed to be a comfortable grand touring sports car, making it more user friendly for women.
The current generation GranTurismo comes with a twin turbo V6 that makes between 483 to 542 hp. It's also available with an all-electric powertrain.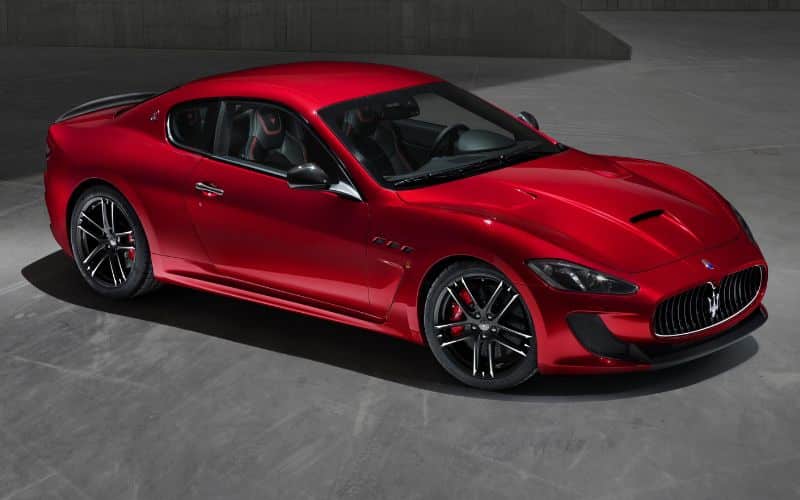 12. Chevrolet Corvette
The Chevrolet Corvette is the most iconic American sports car and has fans all over the world.
The current generation C8 Corvette is more exotic than ever before with its mid-engined layout. But this doesn't take away from older Corvettes which had great styling and amazing performance for its price.
It's also always been very comfortable compared to other sports cars in its class, which makes it an excellent choice for ladies who want to drive a seductive looking and extremely fun car.
All Corvettes are also powered by an amazing sounding V8 which not only make great power and torque, but are also extremely reliable.