Sports cars often have stiffer suspension and sit low to the ground to reduce body roll and improve handling. However, this affects the overall comfort and daily drivability of the vehicle.
Air suspension systems fix these issues by providing different levels of adjustment to the suspension's stiffness and ride height. These are not the same as adaptive dampers which only change the firmness of the suspension.
Although air suspension is becoming more and more common in luxury SUVs and trucks, very few sports cars have them as standard or even as an option because they add weight and rarely perform as well as springs and struts when it comes to handling.
In this article, we'll take a look at several sports cars and high performance vehicles that come with air suspension from the factory.
1. Mercedes-Benz AMG GT 63
Mercedes-Benz has been developing air suspension systems for several decades and continues to introduce cutting edge innovations in many of their vehicles.
The top of the line Mercedes-AMG GT 63's Ride Control Plus uses air strut-springs that automatically adjust the damping levels at each wheel several times a second to keep the car composed even in the most demanding conditions.
The Air Body Control system keeps the car level and reduces body roll when the car shifts its weight from side to side or front to back. It also lowers the ride height at higher speeds to improve stability.
The GT 63 is powered by a twin turbo V8 that's capable of producing 575 hp. The more powerful GT 63 S cranks it up to 630 hp and can go from 0 to 60 mph in under 3 seconds. The 2-door coupe version of the AMG GT is famously known as the official safety car of the Formula 1 World Championship.
The more affordable AMG GT 43 and GT 53 models come with adaptive dampers as standard, which can be switched from Comfort, Sport or Sport Plus on the fly, but don't have the advanced air suspension technology of the GT 63.
2. Mercedes-Benz S-Class Coupe
The Mercedes-Benz S-Class Coupe, which was sold from 2015 to 2022, is the sportier 2-door version of the legendary S-Class. Prior to 2015, it was known as the Mercedes CL-Class.
Like the flagship Mercedes S-Class sedan, the S-Class coupe offers power, opulence and class-leading refinement in a very stylish and sophisticated looking package.
One of the S-Class's hallmarks is its supremely comfortable ride, and the S-Class coupe is no different.
All S-Class coupes come standard with self-leveling Airmatic suspension which effortlessly absorbs bumps and road imperfections. It also automatically lowers the ride height to improve aerodynamics and can be lifted up to avoid scraping the bottom of the car.
The V12 powered AMG S 65 Coupe takes it a step further with its Magic Body Control hydraulic suspension. This system uses windshield-mounted cameras to detect bumps and dips in the road and adjusts the suspension beforehand. It also tilts the car automatically when going through curves to keep you rocking from side to side.
3. Mercedes-Benz AMG E53 Coupe
The AMG E53 isn't as opulent as the S-Class but it's still a powerful, athletic, tech-laden and luxurious grand touring sports car.
Under the hood lies a turbocharged inline-six paired with an electric supercharger that produces a combined output of 429 hp. This allows the E 53 Coupe to go from 0 to 60 mph in an impressive 4 seconds.
It comes standard with AMG's adaptive auto-leveling air suspension which provides lots of comfort even in the most aggressive Sport Plus mode. You can also lift the front end with the push of a button whenever you encounter speed bumps, inclines or other similar obstacles.
The regular E-Class coupe only comes with adaptive dampers, but the air suspension is available as an option.
4. Audi RS7
Audi's top of the line RS7 sports sedan is powered by a turbocharged V8 that makes a whopping 591 hp.
Coupled with Audi's Quattro all-wheel drive system, it can rocket from 0 to 60 mph in a scant 3.3 seconds.
The Audi RS7 comes standard with an adaptive air suspension system that automatically adjusts the ride height and stiffness based on the selected drive mode. It also has a lift mode that you can manually engage when you're driving through less than ideal conditions.
The RS7 also has a more track focused DRC (Dynamic Ride Control) option which replaces the air suspension with a more traditional setup that performs better in the corners but is also considerably stiffer.
The more affordable and less extreme Audi S7 is also equipped with adaptive air suspension. Instead of a V8, it comes with a turbocharged V6 that produces 444 hp, which is still pretty impressive even by today's standards.
Related: 12 Top Sports Cars For Beginner Drivers (With Pictures)
5. Porsche Panamera
The Porsche Panamera is more spacious and practical than a 911 but it can easily out accelerate and out handle lots of dedicated sports cars.
It also doesn't disappoint in the comfort and luxury department, especially when compared to rivals like the BMW 5-Series, Mercedes-Benz E-Class and Audi A7.
Air suspension used to only come standard in the first generation Panamera Turbo, but it could also be added as an option in the lower trim levels.
Nowadays, air suspension is standard on the Platinum Edition, Panamera 4S, E-Hybrid, GTS and Turbo models.
The Porsche Panamera's adaptive air suspension dynamically adjusts to the road conditions to deliver better comfort and handling characteristics. It also has a self-leveling feature and will lower the car slightly when in Sport Plus mode.
You can also manually set the ride height and lift the entire car up to avoid scraping the bottom when going up inclines or driving over speed bumps.
6. Porsche Taycan
The Porsche Taycan is an all-electric sports sedan that is not only very quick but also handles like a traditional sports car.
The Taycan 4S is already pretty impressive with its 0 to 60 time of around 3.6 seconds, but the top of the line Turbo S model can do it in just over 2 seconds.
All trim levels of the Porsche Taycan, except for the base model, come with adaptive air suspension as standard.
The Taycan's air suspension has a self-leveling function and automatically adjusts the damping as you drive. You can also manually change the ride height depending on your needs.
It also has a Smart Lift function that will automatically raise the car up whenever you reach a pre-programmed location.
7. Audi e-Tron GT
The Audi e-Tron shares many similarities with the Porsche Taycan, with the main differences lying in the styling and features offered by each vehicle.
It's more comfortable than the Taycan and has more physical buttons on the inside.
Performance between the two models is also very similar. The standard e-Tron GT can go from 0 to 60 mph in 3.8 seconds while the more powerful RS version does it in 3 seconds flat.
Like the Taycan, the e-Tron GT comes standard with adaptive air suspension which changes the ride height and firmness depending on the selected drive mode.
It also has a lift mode that will raise the body by 0.8 inches so you can drive safely over speed bumps and up ramps.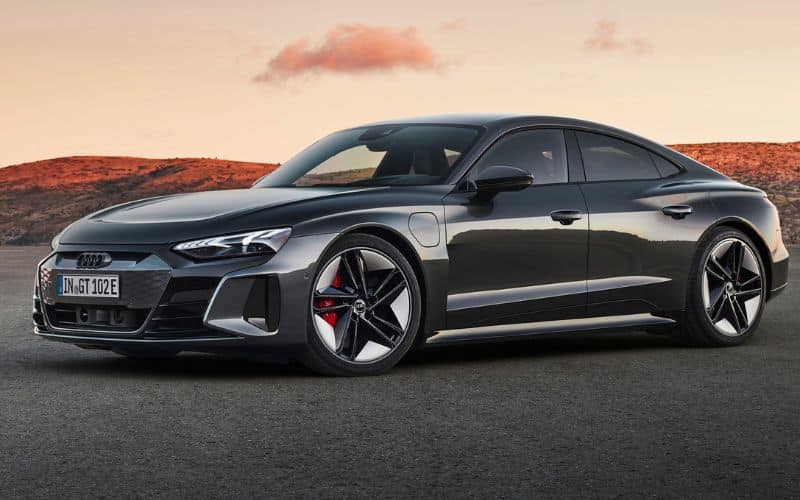 Related: 12 Popular Sports Cars For Girls (With Pictures)
8. Tesla Model S
The Tesla Model S got people very excited about the future of EVs when it debuted because it not only had usable range, but was also as quick as a sports car.
It was also filled with cutting edge tech and software that was never seen before — and many manufacturers are still trying to catch up with it today.
Tesla has been continually improving the Model S as well. The latest Model S Plaid is blazingly quick with its 0 to 60 time of 2 seconds. Range has also increased to around 350 miles on a single charge.
Air suspension first became an option on the Model S during the 2014 model year. It eventually became standard in 2017.
The adaptive air suspension in the Model S can raise or lower the car and also adjusts the firmness if you want a more comfortable or sporty ride.
You can also manually change the ride height and save certain locations so that the car will automatically raise the suspension as you approach.
9. Bentley Continental
The Bentley Continental is an ultra luxurious and exclusive 2-door grand tourer.
What really sets it apart from other luxury vehicles is its interior which can be customized to your heart's content.
Under the hood is a 542 hp V8 engine that can propel the big Bentley from 0 to 60 mph in under 4 seconds. There's also a GT Speed model that sports a 650 hp W12 engine.
All Bentley Continentals come with adaptive air suspension as standard, which is absolutely necessary to deliver the level of comfort that befits the car's status.
The air suspension also does a great job of managing the Continental's size and weight, giving it sporty handling that matches its awesome power. 
Related: 8 Sports Cars With The Quietest Cabins (With Pictures)