Are you looking for a sports car? Those are traditionally performance-oriented two-seaters with loud and powerful engines.
However, the sports car market has changed. Automakers are producing sports cars that are more refined, comfortable, and luxurious – for everyday driving duty.
We have researched the sports cars available in North America to investigate and list the sports cars with the quietest cabins.
From the eye-wateringly expensive to the latest generation of powerplants, and premium materials, you'll be hard-pressed to find yourself inside cars with better noise, vibration, and harshness (NVH) levels than these sports cars with the quietest cabins.
#1: Bentley Continental GT
The exquisite Bentley Continental GT is a sports car with an extra shot of luxury. Refined, luxurious, and with incredible attention to detail, the Bentley Continental GT tops our list of sports cars with the quietest cabins.
These British-built sports cars are renowned for their lavish cabins, opulent luxury features, and genuinely whisper-quiet driving.
What's more, you can customize every aspect of your Bentley Continental GT to make it as unique as you are – and to create a second-to-none driving experience.
With a powerful V8 or W12 engine under the hood, with 542 horsepower and 626 horsepower, respectively, these are no slouches: the V8 model will sprint from 0-60 mph in 3.3 seconds, and the W12 version will do that in just 3.1 seconds.
From swathes of sumptuous leather, bespoke materials, and even knurled control knobs, you can bet that noise, vibration, and harshness (NVH) levels are muted in this beautiful sports car's cabin. No expense has been spared in the quest for ultimate luxury and comfort for occupants.
The engine bay sports multi-layered sound-deadening materials, the windows are specially glazed to keep out intrusive road and wind noises, and the roof lining is crafted to insulate and wrap the occupants in a relaxing, soothing, and calming environment.
The Bentley Continental GT has a starting price of $240,000, so this level of sophistication and quietness are hard to beat.
#2: Lexus LC
The Lexus LC is powered by a muscled V8 engine with 471 horsepower, sexy sheet metal, and a luxurious cabin. However, its hushed interior design makes it the second-best on our list of sports cars with the quietest cabins.
This Lexus sports car is not an all-out sports car with race-track aspirations – but it could make for a super fun experience – it leans more towards grand touring.
It is butter-smooth to drive, thanks to its 10-speed automatic transmission, and well-sorted-out suspension that soaks up every road imperfection with composure. Automotive journalists praise Lexus's craftsmanship, and the LC model's luxury and low NVH levels are consistently considered exceedingly good.
As svelte as its exterior is, those same design principles are carried through to the interior. Premium materials for the dashboard, seats, consoles, storage pockets – all touch-points have been carefully considered and chosen to enhance the luxury appeal of the Lexus LC.
With a starting price of $95,600, the Lexus LC is not an affordable sports car per se. Still, when considering its finishes, specifications, luxury, and low NVH levels, you can see why it is a popular 2-door sports car on North American roads.
Related: 12 Top Sports Cars with Great Visibility (With Pictures)
#3: Mercedes-AMG GT Coupe
Mercedes-Benz is – for many – the epitome of luxury. The Mercedes-AMG GT Coupe combines that luxury with the brute power of a twin-turbo V8 under the hood.
Inside the cabin, you'd think you were nestled in the Mercedes-Benz's grand S-Class model, so refined and premium is the Mercedes-AMG GT Coupe's interior finishing and comfort.
As with the incredible Bentley Continental GT, which sits at the top of this list of sports cars with the quietest cabins, the AMG GT Coupe isn't too far behind the Bentley and Lexus LC in terms of NVH levels.
Befitting a sports car with a price tag starting at $150,000, you'll be cossetted in the lap of luxury with a calm, relaxing, and SMOOTH drive, no matter if it is in a city or a mountain pass.
The driver can dial the exhaust noise level up or down to make for a sedate cruise along the coastline all that more relaxing – in true Mercedes-Benz fashion.
However, a turn of the selector on the console and it becomes a throaty sports car that can easily tame a race track.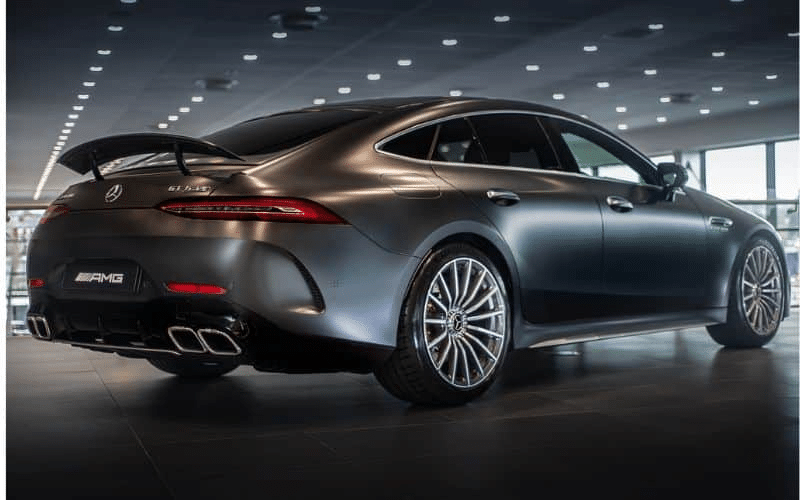 #4: Porsche 911
The Porsche 911 is an icon. It must rank as one of the most recognizable vehicles on our roads – and the 911 is widely considered the perfect sports car for daily driving.
That is down to its quiet cabin as much as its breadth of performance capabilities and ease of use.
It is a sports car for just about everyone – from the base model to the race-track-inspired 911 GT3 RS.
The secret sauce of Porsche 911 success over the past 60 years is that these sports are easy to live with. Yes, it is quick, has powerful engines, and has a 2+2 seat configuration, but it feels and drives like a premium, luxury, executive sedan.
Whether you're carving canyons, a cross-country adventure, or stuck in a traffic jam on the highway, the sophistication and comfort of the 911's interior make it a quiet, welcoming, and refreshing cabin to be sat inside.
Every generation of the Porsche 911 is improved, from its driving dynamics, performance, and NVH levels. You can bet that the latest generation 911 is the best this German automaker could produce.
The Porsche 911's retail pricing starts at $107,550.
#5: Acura NSX
The Acura NSX is a hybrid-powered sports car that delivers thrilling driving experiences with the luxury finishes of the brand's flagship model.
Its twin-turbo v6 and three electric motors develop 600 horsepower to launch the NSX from 0 to 60 mph in a blistering 2.9 seconds. But, the star of this article's show is Acura's engineering and design to create a cabin that takes the fifth spot on our list of sports cars with the quietest cabin.
The Japanese automaker has crafted a soothing and relaxing environment inside the Acura NSX. Despite its performance credentials, the premium materials and clever interior design all but mute intrusive noise, vibrations, and harshness from the exterior.
The NSX's cabin is a testament to luxury and its everyday usability, much like the Porsche 911 one place higher up on this list, making it a sports car that is incredibly easy to live with as a daily driver. Of course, much of that has to do with its impressively whisper-quiet cabin experience.
The Acura NSX has a retail pricing starting at $171,495.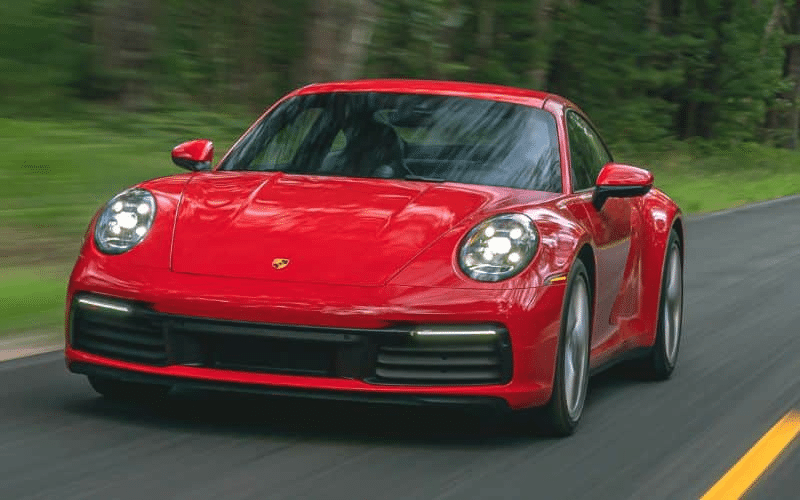 #6: BMW M8
The BMW M8 has 617 horsepower from its twin-turbo V8. It can accelerate from 0-60 mph in a mere 2.5 seconds. And it can cover a quarter-mile in just 10.7 seconds and cross the line at 120 mph.
For a $136,095 German sports car, those performance figures are astounding. However, this is not a list of North America's most powerful sports cars.
Instead, we've ranked the BMW M8 as having the sixth quietest cabin in the sports car category available in North America.
Besides its exhilarating performance, it boasts the trademark German luxury and premium materials to make for a fantastically comfortable sports car for daily driving or highway escapades.
BMW's blokes in white coats at the factory in Germany have done an excellent job of designing a sports car that is quiet to drive, is soothing, and doesn't drone on the highways with a shouty exhaust system.
Of course, a turn of a dial will unleash a throaty V8 burble at low RPM and then a screech when it nears its rev-limiter.
However, for 95% of the car's driving life, it is sedate, calm, luxurious and quiet inside. It is precisely the type of sports car that will make for an ideal cross-country cruiser.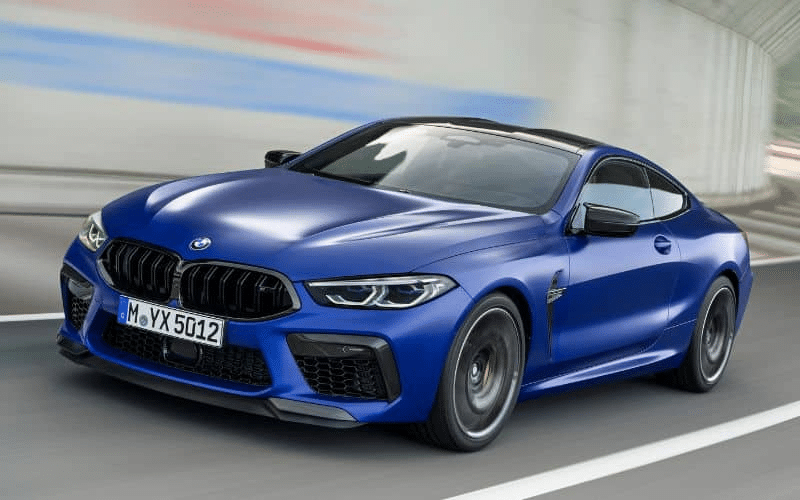 Related: 10 Sports Cars With High Ground Clearance (With Pictures)
#7: Mercedes-AMG SL-Class
This is the second Mercedes on this list: the Mercedes-AMG SL-Class is a more relaxed, comfortable, and luxurious sports car than the Mercedes-AMG GT Coupe.
That said, the Mercedes-AMG SL-Class snags the seventh spot on our list of sports cars with the quietest cabins.
As a roadster – with a folding fabric roof (earlier generations sported metal folding versions) – it offers coupe-like low noise, vibration, and harshness levels when the roof is up. At the press of a button, it converts into an open-top sunseeker.
Mercedes-Benz positions the AMG SL-Class as more of a grand tourer. What that actually means is that this is a sports car with premium luxury in its DNA.
This includes features such as the Airscarf that blows warm air on the occupants' necks during drives to keep them comfortable. When the roof is down, motoring scribes consistently remarked on the SL's quiet drive despite no roof.
The engine and exhaust notes are muted – with a selector to open up the pipes should the driver wish to unleash the rorty sounds.
As we've mentioned, the cabin is impressively quiet when the fabric roof is up. The motoring media raved about this aspect of the Mercedes-AMG SL-Class morphing from an open-top cruiser into a coupe to rival the likes of the Porsche 911 in terms of refinement and NVH levels. That's German engineering!
The Mercedes-AMG SL-Class has a retail price starting at $110,950.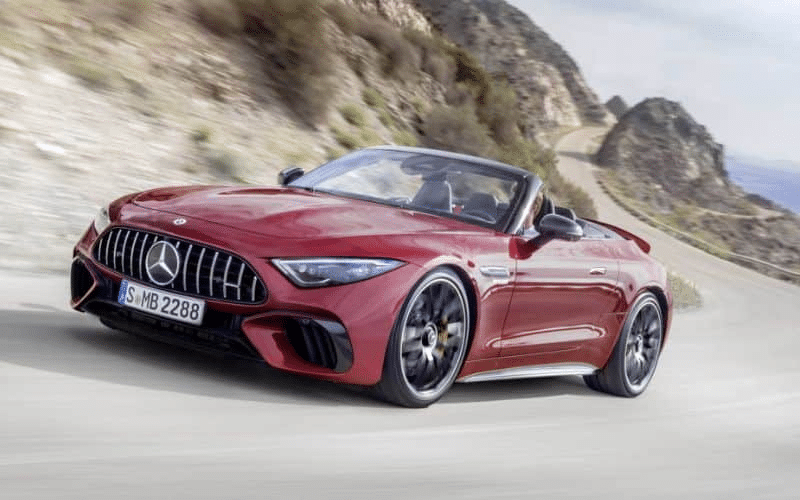 #8: Nissan GT-R
Is the Nissan GT-R worthy of all its accolades and hype? Most definitely. One that's not recognized as often as its performance is its refinement levels.
While sitting in the sumptuous cabin, you'd be forgiven for thinking you were in a premium SUV or stately sedan.
The Nissan GT-R manages to pull off the tricky task of delighting hardcore sports car fans and those who appreciate the breadth of talents for grand touring in a two-seater such as the famous GT-R.
It might not be the newest kid on the block, as it was first introduced more than a decade ago, but each model year release of the GT-R is another exercise in engineering excellence. The Japanese designers address every area of this model.
As a result, the cabin is one of the quietest sports cars. It offers luxury finishes, premium materials, tech-galore, and engineering that enables the Nissan GT-R to be both a rip-snorting track day weapon as well as a boulevard cruiser.
The Nissan GT-R has a starting price of $117,935.