An unfortunate tradeoff for sports cars, is ground clearance, as most sports cars are designed for perfectly built roads and long and wide highways.
Using your sports car on uneven or steep roads could easily damage its underbody, leading to countless structural problems.
In this article, let us take a look at some sports cars that offer just a little bit better ground clearance than their competitors.
1. Ford Mustang
The Mustang is arguably the most popular sports car in the United States, and this is backed by its stellar sales numbers over the past couple of decades.
It provides a perfect blend of agility, power, and comfort, and while certain features might not be present in this model, it definitely makes up for it in terms of overall style and performance.
It offers a decent ground clearance between 3.6 inches to 5.7 inches, depending on trim level.
For reference, a standard midsize sedan would offer a ground clearance of approximately 5.1 inches.
The latest model year, the 2023 Mustang, offers a total of seven optional appearance packages, including the Mach 1 Appearance package, which gives the model a Fighter Jet Grey exterior and black and orange interior accents, and the Stealth package, which equips the Mustang with a set of 19-inch blacked-out alloy wheels and a performance rear wing.
In terms of how fast it can go, it would ultimately depend on the trim level purchased and the engine equipped. The base EcoBoost powertrain provides a top speed of 121 miles per hour while the top-trim Mach 1 can go up to as much as 168 miles per hour.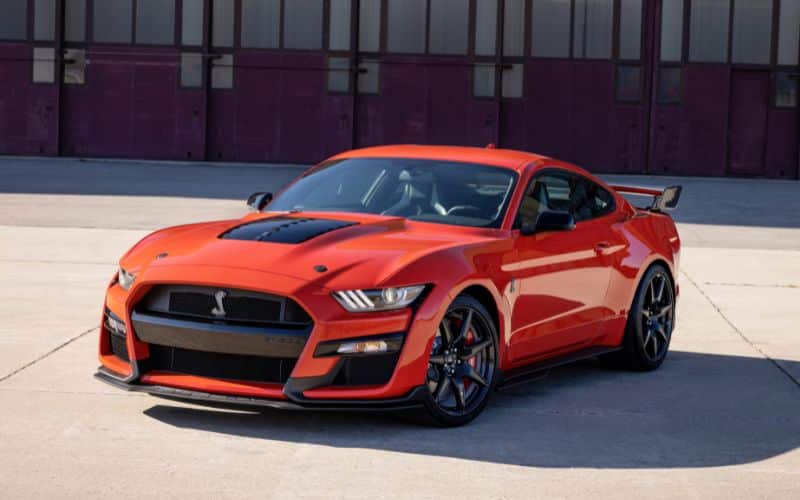 2. Subaru BRZ
The BRZ has amassed quite a decent following, and for several good reasons.
It has extremely agile handling, enthusiastic acceleration, comfortable seating, and a host of intuitive safety and infotainment features.
The ground clearance of the BRZ is 4.9 inches minimum and 5.1 inches at best, depending on model year and optional packages included.
Ground clearance for the BRZ is close to average for typical sports cars but its 5.1-inch measurement is just as good as an average midsize car.
The BRZ is a rear-wheel-drive vehicle with a 2.4-liter flat four-cylinder engine that gives 228 horsepower.
This is accompanied by pretty good fuel efficiency ratings, with as much as 21 miles per gallon for city driving and up to 30 miles per gallon for highway driving.
Its starting price is also commendable, with the base-level trim of the 2023 model year costing approximately $28,600 only.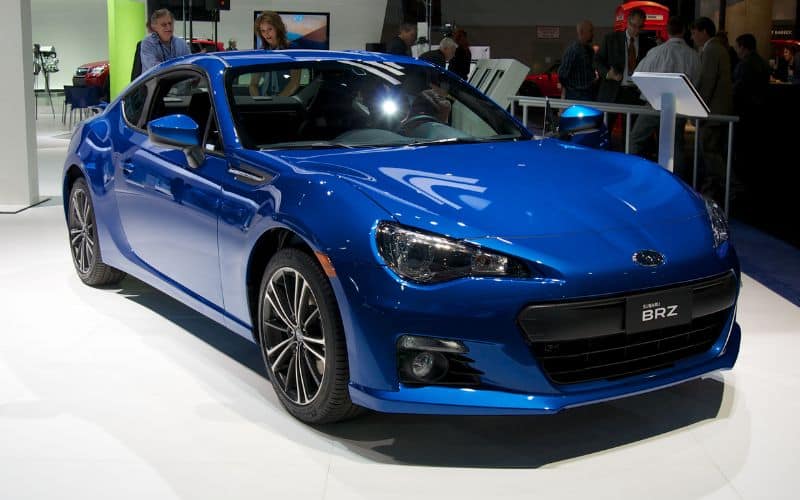 Related: 6 Best & Worst Subaru BRZ Years (With Pictures)
3. Mazda MX-5 Miata
The MX-5 Miata, alternatively known as the MX-5, Miata, or Roadster, is one of the best, affordable convertibles currently offered on the market.
It provides owners with precision handling, ultra-quick acceleration, relatively decent fuel economy, and an upscale interior design.
Of course, the biggest drawback of models such as this one is space, so do not expect this two-seater to be a family hauler.
The MX-5 Miata has a ground clearance that ranges from 4 inches to 5.3 inches, depending on the variant or trim level.
While the minimum ground clearance measurement of the Miata is quite poor, the maximum possible ground clearance is definitely better than what other sports cars in its segment are capable of offering.
One feature that is exclusive to this model and this model only is Mazda's patented Kinematic Posture Control (KPC) which delivers a significant reduction in body roll without significantly affecting ride quality and vehicle weight.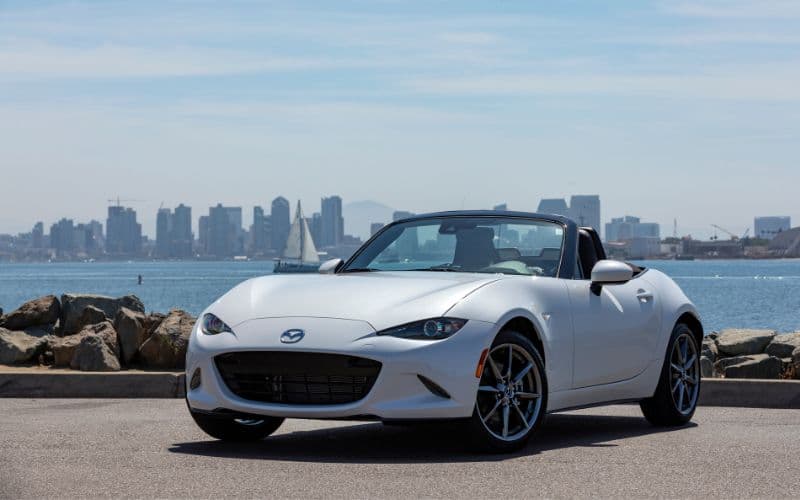 Related: 11 Best & Worst Mazda MX-5 Miata Years (Explained)
4. Toyota GR86
Sure, there are more fuel-efficient, better-performing, and more practical options in the market these days, but nothing brings joy, nostalgia, and pure fun like Toyota's GR86.
This model has a sharp exterior design, user-friendly controls, and comfortable and supportive seating.
The ground clearance of the more recent iterations of the GR86 is 5.1 inches.
For reference, the Toyota Corolla provides identical ground clearance.
The 2023 model year marks its 10th anniversary and as such, a special edition trim known as the 10th Anniversary Special Edition is offered in limited quantities.
5. Nissan Z
The Z has improved leaps and bounds thanks to learnings and criticisms of its earlier versions, and has proven itself to be one of the most capable and competitive sports cars in today's market.
Its powertrain is well-balanced and the riding and handling mechanics are top-notch for a two-seater.
The ground clearance of the Nissan Z is around 4.9 inches, which is not as great as others on this list but is still good nevertheless.
The horsepower of this model is marked at a whopping 400 horsepower, so expect this sports car's performance to blow you away.
6. Chevrolet Camaro
Everyone and their mother knows what the Chevy Camaro brings to the table.
Heck, all you have to do is to refer to Bumblebee from the famous Transformers franchise to know that this is an awesome sports car.
Sadly, the ground clearance of the Camaro is nothing to be proud of, with latest measurements indicating a measly 4-inch distance from the ground.
Despite the relatively low ground clearance measurement, certain modifications can help boost the Camaro's height, such as changing its stock wheels to a bigger set.
If you want to be a very recognizable diamond in the rough without skimping on performance, build quality, and reliability, then this is your best sports car candidate.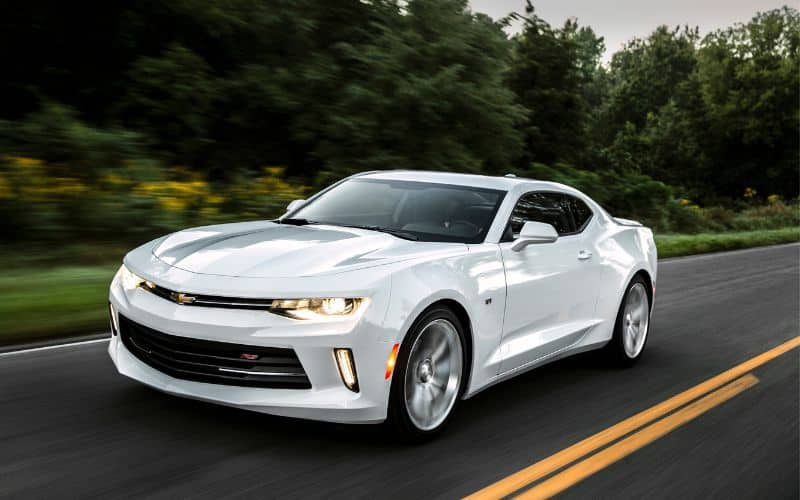 Related: 14 Top Sports Cars with 5 Seats (With Pictures)
7. Dodge Challenger
The Challenger is one of the most intimidating muscle cars to have ever graced American soil, and its success is proven by its track record in sales, user feedback, and critical reviews and recognitions.
As expected from any variant or version of the Challenger, it has extremely powerful engines, expert-level handling and steering mechanics, and a user-friendly infotainment system.
The Challenger can offer a ground clearance anywhere from 4.5 inches to 5.7 inches, depending on trim level, packages included, and model year purchased.
These ground clearance measurements are astounding for a sports car, and can even edge out a few midsize and compact sedans in the market.
As a cherry on top, the top-spec 2022 Challenger has an advertised horsepower rating of 650, which is undoubtedly more than enough on any public road or highway.
8. Chevrolet Corvette
The Corvette is reserved for car enthusiasts who are looking to obtain highly exotic, luxurious vehicles to add to their collection.
It performs great whether it is used once a month or once a day owing to its engineering, materials, and design.
While no manual transmission variant is offered, it comes with an automatic transmission that is just as fluid and responsive.
Depending on trim level and optional packages availed of, the Corvette has a ground clearance of 3.7 inches to 5.3 inches.
The minimum ground clearance of this model is poor, but the relief lies in the fact that certain versions can go up to as high as 5.3 inches, which is as good as any other standard sedan in the market.
Fun driving, head-turning, and lightweight performance awaits those who drive this luxury sports car.
9. Porsche 718 Cayman
The 718 Cayman knocks it right out of the park offering beautiful interior and exterior designs, and surprisingly adequate fuel economy.
We have found online that the ground clearance of the 718 Cayman is as low as 3.1 inches but can be bumped up to as high as 5.1 inches, depending on the trim level and model year purchased.
All things considered, the maximum ground clearance of the 718 Cayman can compete with both high-riding sports cars and standard commercial sedans.
The latest major overhaul for this model was done for the 2017 model year, which equipped the vehicle with more powerful turbocharged engines, re-tooled steering mechanics, and the availability of software packages such as Apple CarPlay for better connectivity with other devices.
10. BMW M8
The M8 is absolutely incredible, no questions asked. It delivers monstrous speed, jaw-dropping acceleration, and the signature BMW design that is always well-received, regardless of generation.
The 617-horsepower twin turbo V8 engine of the M8 is powerful enough to get the car from 0 to 60 miles per hour in about 2.5 seconds, a figure that is rivaled only by a select few high-performance vehicles.
Ground clearance for the M8 is 5 inches to 5.1 inches, depending on the variant and add-on package included.
This is on par with most of the vehicles on this list and is considerably better than the average sports car with a 4-inch ground clearance (or worse).
Related: 10 Sports Cars With the Most Interior Room (With Pictures)