Sleek and low-slung sports cars look cool but can be difficult to live with day to day.
Most sports cars have tiny windows that make it very difficult to see past your sides and back which can make driving, maneuvering and parking a challenge.
In this article, we'll look at sports cars that don't compromise on visibility. 
1. Volkswagen Golf GTI
If visibility and practicality is your top priority in a fun performance car, the Golf GTI and Golf R are right up your alley.
The king of the hot hatches has kept its basic shape for over 40 years, so you'll be surrounded by glass all around without any large pillars blocking your view.
Its compact dimensions also make it easy to see everything that's around you, so city driving and navigating tight spaces is a breeze.
Despite looking like an innocent hatchback, the GTI has 241 hp under the hood while the Golf R has over 300 hp.
A 6-speed manual also comes standard in both the GTI and the R, which is quite rare these days but is still a must-have feature for lots of enthusiasts.
Other sports car features include an upgraded suspension, bigger brakes, limited slip differential, and a dual-clutch gearbox.
Aside from exceptional handling and responsiveness, the Golf R also features all-wheel drive which helps acceleration and stability. It can go from 0 to 60 mph in around 4 seconds.
Modern driving aids are also available such as blind-spot monitoring, adaptive cruise control, lane-keeping assist, and rear traffic alert are available in both models.
2. BMW M2
As modern M cars get bigger and heavier, the smaller BMW M2 is considered more akin to BMW's beloved older performance cars.
It's basically a small and nimble rear-wheel drive 2-door with a 6-speed manual transmission option.
Power from the inline-six is over 450 hp in the latest models so you have more than enough performance on tap.
Visibility in the BMW M2 is also outstanding and the seats are a bit high which helps you see more of what's around you.
It also has much better rear visibility than the larger and faster BMW M4.
Driver assists like blind spot detection, lane keep assist and backup camera are standard in the M2. You can also get a head-up display, active cruise control and parking assistant as options.
There's also the more affordable BMW M240i which is not as track focused, but still packs a healthy 380 hp under the hood.
3. Ford Mustang
Modern Mustangs offer a lot of performance under the hood for your money, but they also shine when it comes to handling.
The EcoBoost Mustang already has over 300 hp on tap which is more than enough to make it an exciting drive.
It's also available with either a 10-speed auto or a 6-speed manual which means double the fun.
Visibility is much better in the Mustang than in the Chevy Camaro and Dodge Challenger, and pretty good in general for a dedicated sports car.
The Mustang doesn't have the high beltline and small windows of the Camaro. The Challenger has large windows, but the body lines slope upward in the rear, so it has less rear visibility than the Mustang.
Other standard features that help with visibility in the Mustang include lane keep assist, parking sensors, blind spot monitor and rear cross traffic alert.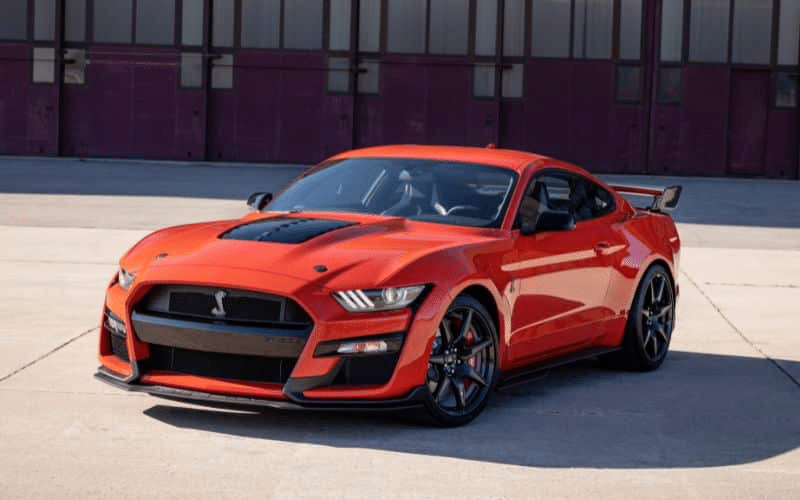 4. Toyota GR86
The Toyota GR86, and its sibling the Subaru BRZ, is a lightweight rear-wheel drive sports car with good power and playful handling.
Lots of people daily drive the GR86 with minimal issue. Although it looks like a true sports car, it's actually decently practical with its rear seats and usable trunk.
Its windshield and back glass are also quite large but they're taller than what you'd find in other sports cars, which makes outward visibility really good.
The C-pillars in the back also aren't as wide as in other sports cars, so you can easily see what's coming up behind.
The same goes for its predecessor, the Toyota GT86, which has a similar shape and design philosophy.
Related: 14 Top Sports Cars with 5 Seats (With Pictures)
5. Honda Civic Type R
The Honda Civic Type R is designed to keep up with supercars on the track, but it's also a very usable daily driver.
It's basically a Civic hatchback but with a 300-plus hp turbo 2.0-liter under the hood. It completes the package with upgraded suspension, brakes, limited slip differential, and a 6-speed manual.
The Type R uses the same standard-sized windows as a regular Civic so visibility is exceptional. The large rear spoiler is also well designed and it doesn't block your view.
If you don't want a rear wing, there's also the Acura Integra Type S which is a more upscale version of the Type R with the same chassis, power and handling.
The latest FL5 model of the Civic Type R also comes with modern driver assists like a backup camera, blind spot monitor, lane assist, and adaptive cruise control.
6. Nissan GT-R
The legendary Nissan GT-R, or 'Godzilla' as many like to call it, is still an impressive machine today even though it was launched roughly 15 years ago.
It can still keep up with a lot of newer sports cars and supercars in a drag race or on the track.
The GT-R's boxy design and large windows give you great visibility all around. The spoiler is also relatively small and generally unobtrusive.
Comparatively, the 370Z and the new Nissan 400Z's rear quarter glass slopes upward and the bottom of the rear glass is much higher. This, along with the long sloping rear roofline and large C-pillars, results in a much shorter and narrower rear window opening.
The GT-R is not as dark and feels more spacious inside compared to the 370Z and 400Z.
However, despite many upgrades to the engine, suspension, transmission and interior over the years, the newer model years of the GT-R still don't have modern driver assists aside from a backup camera and Apple CarPlay compatibility.
7. Porsche 911
Modern Porsche 911s combine luxury, refinement, and performance in a very familiar looking package.
The 911 has great visibility for a supercar since its rear glass sits pretty low and large rear quarter windows.
The smaller Porsche Cayman, on the other hand, has slightly larger C-pillars in the back and the smaller windows let less light inside the cabin.
The 911 also has cabriolet and Targa versions which gives you even better visibility. But the same can be said for any convertible that has its top down.
Driver assists like blind spot monitor, adaptive cruise control, and lane assist are also available as options.
The 911 also has a Night Vision Assist option which uses thermal imaging to let you see better at night.
Related: 10 Sports Cars With High Ground Clearance (With Pictures)
8. Acura NSX
The original Acura NSX is considered one of the best handling vehicles ever made.
The second generation NSX follows in its predecessor's mid-engine layout and was one of the first supercars to use hybrid technology to deliver blistering acceleration.
Both the first and second generation Acura NSX have great outward visibility. The second generation NSX, in particular, was carefully designed to provide lots of visibility compared to other supercars.
The NSX's windshield is large and sits low so you can easily see past the hood. Its rear window opening is also big and fairly tall despite the powerplant being in the middle.
The inherently good visibility also makes up for the second gen NSX's lack of advanced driver aids like blind spot monitoring or lane assist throughout its production from 2017 to 2022.
9. Lexus LC500
The Lexus LC500 is a good example of form intersecting successfully with function.
One would think that the LC500's outlandish exterior means many compromises to usability like other supercars and concept cars.
Fortunately, the LC500 was designed to be a comfortable and powerful sports tourer, and Lexus gave it really large and capacious windows for better visibility.
The LC500's C-pillar isn't too thick and the rear quarter glass is a decent size, so you don't have a huge blind spot in the back.
Keep in mind though, the LC500 convertible has a smaller rear glass so it might feel more cramped than the coupe with the top up. Putting the top down provides endless visibility all around — much like all convertibles.
The Lexus LC500 also doesn't skimp on driver assists with standard features like a blind spot monitor, rear cross traffic alert, lane assist, adaptive cruise control, and even a 360-degree camera.
The standard sonar-powered parking assist also lets you easily avoid obstacles you might not see in front of the LC500's long hood.
10. Cadillac CT5-V Blackwing
The Cadillac CT5-V is a midsize luxury sedan that packs the same 600 plus hp supercharged LT4 V8 engine found in the C7 Corvette Z06 and Camaro ZL1 under its hood.
It also comes with either a 10-speed automatic or a traditional 6-speed manual, which you can't find in other midsize sports sedans like the BMW M5 or AMG E63.
The CT5-V Blackwing's visibility is about as good as you would expect from any midsize sedan that's designed for commuting with large windows all round.
The CT5-V Blackwing's rear glass is quite small though compared to what you'll find in the M5 or E63.
However, the Cadillac makes up for the limited rear visibility using a digital rear view mirror that gives you a more complete image of what's behind.
If the supercharged V8 is a little too much, there's also the regular CT5-V with its 360 hp turbo V6 and MagneRide suspension.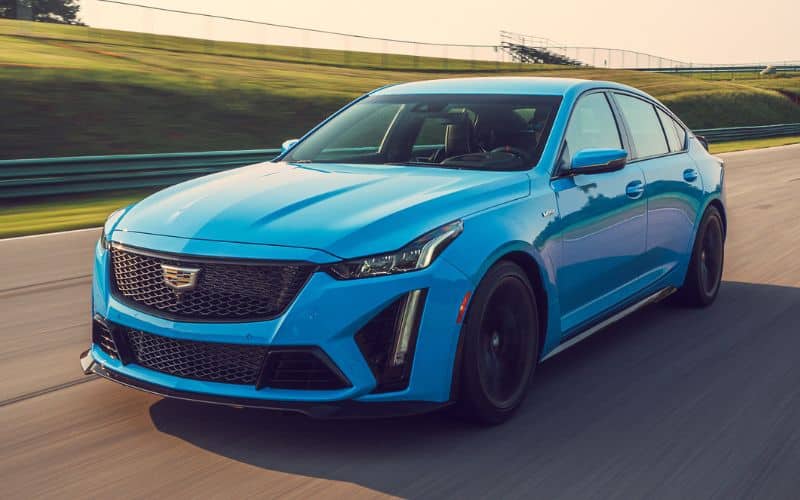 11. Audi RS3
The Audi RS3 is the high performance version of the Audi A3 subcompact sedan.
With up to 400 hp from its impressive sounding turbocharged 5-cylinder engine, Quattro all-wheel drive and a 7-speed dual-clutch transmission, the RS3 can go from 0 to 60 mph in less than 4 seconds.
There's also the tamer and more affordable Audi S3 which gets roughly 300 hp from its turbo 4-cylinder.
Visibility in the Audi S3 and RS3 is excellent and the same as what you would expect from any typical subcompact car that's designed to be a refined daily driver.
The RS3 also gets lots of standard driver assists like blind spot monitor, lane keep assist and adaptive cruise control. These features are limited to the higher trim levels in the Audi S3.
12. Mini Cooper JCW
The Mini Cooper packs a lot of driving fun in a relatively tiny package.
With the higher performance Cooper S and JCW (John Cooper Works) models, you get around 200 hp which is more than enough to rocket you through corners and winding roads.
The Mini Cooper's classic look also gives it excellent visibility all around that puts many modern SUVs to shame.
Inside the Mini, you get the feeling that you're driving around in a fishbowl with all the glass that surrounds you and the relatively thin pillars.
Its small dimensions also make it easy to see what's directly in front or behind so you don't need any fancy electronics like a backup or 360-degree camera in tight spaces.
Related: 17 Sports Cars with Ventilated Seats (With Pictures)