The Subaru BRZ is a sports car that was introduced in the U.S. as a 2013 model year.
It is a two-door sports car known for its sleek design, agile handling, and relatively affordable pricing.
This article will take a closer look at its best and worst years.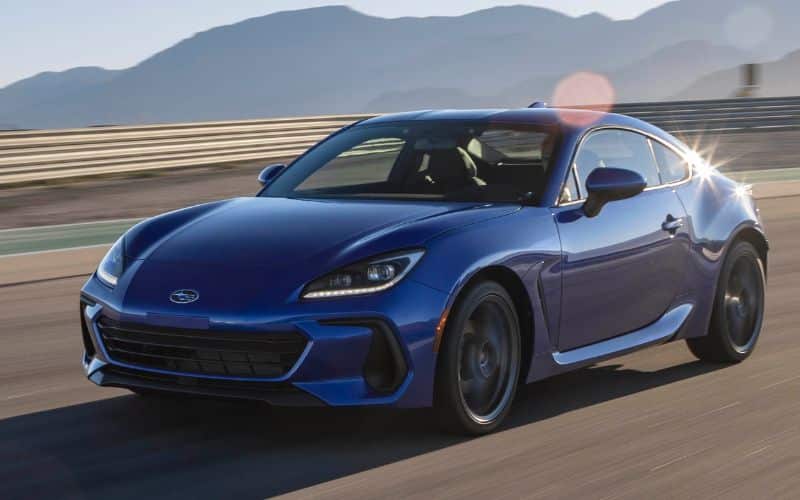 Here's The Short Answer To What The Best And Worst Years For The Subaru BRZ Are:
The best Subaru BRZ model years are 2023, 2020, 2017, and 2016. The worst model years of the BRZ are 2013 and 2022. This is based on auto industry reviews, NHTSA statistics, reported problems, and consumer feedback.
What Are The Best Years For The Subaru BRZ?
2023 Subaru BRZ
The 2022 BRZ kicked off the second generation for Subarus exciting sports car line, and the 2023 model carried over unchanged – albeit without many of the teething issues.
Arguably the latest is the greatest, and for the second gen the BRZ sits 1/2 inch lower, spans 1 inch longer and boasts revamped bodywork.
Its interior comes with more driver-focused tech than before as well as a newly designed gauge cluster.
The engine has been replaced with a more powerful 2.4-liter, 4-cylinder engine that generates 15% more torque and 228 horsepower.
It comes in 2 trims: Premium and Limited with prices ranging from roughly $29,600 to $32,100.
Buyers can chose between a 6-speed manual transmission or a 6-speed automatic transmission.
EPA estimates are 20 MPG for city driving, 27 MPG for highway driving, and 22 MPG for combined driving.
2023 Subaru BRZ:
Edmunds: 4.3 / 5.0
Kelley Blue Book: 2.6 / 5.0
JD Power: 80 / 100
2023 BRZ, Edmunds review:
"I have had it for a few months and it is every thing I thought it was going to be. With winter tires I have been doing fine in my snowy climate. For a sports car it has a nice storage space in the trunk & rear seat. If you want more get an SUV. It's old school fun, tech is not overdone, display panels show just what I need with the reliability of a car made in Japan."
2020 Subaru BRZ
The 2020 BRZ is the final installment of the first generation, its a great choice for those who want a fun-to-drive, reliable and practical coupe.
It offers balanced and forgiving handling, comfortable seating, and a roomier interior than many of its rivals.
It is comes in 2 trim levels: Limited and tS.
Both versions are fitted with a 2-liter flat-four engine that provide 205 horsepower with the 6-speed manual transmission and 200 horsepower with the 6-speed automatic transmission.
Noteworthy safety features are its Side Curtain Airbags, Vehicle Stability Control, and Brake Assist.
EPA estimates are 27 MPG for combined driving, 24 MPG for city driving, and 33 MPG for highway driving.
While owners are limited to only 1 interior color, there are up to 5 exterior body paint options to pick from.
Edmunds: 4.3 / 5.0
Kelley Blue Book: 4.6 / 5.0
JD Power: NA
2020 BRZ, Edmunds review:
"The car feels very mechanical and analog. The handling is out of this world and if you keep the RPM right it's fast enough. I am 6 foot 3 and Have enough room in it."
2017 Subaru BRZ
For those looking to strike a balance between modern features and affordability, then the 2017 BRZ is a great pick. Owners and critics alike have praised this model for being an incredible sports car for the money.
This model received the most significant updates since it was released including:
A slight increase in power
Upgraded manual transmission gearing
Suspension tuning
Revamped styling
Automatic LED headlights
Standard hill-start assist system
Optional Performance package
New steering wheel with built-in audio/phone/cruise-control buttons
The 2017 BRZ has a light and well-balanced chassis, excellent steering response, and comfortable seating although the backseat and trunk are quite small.
It is available in three trim levels: Premium, Limited and Series.Yellow. All of which come with a 2-liter 4-cylinder engine paired to either a 6-speed manual or 6-speed automatic transmission.
Edmunds: 4.4 / 5.0
Kelley Blue Book: 4.6 / 5.0
JD Power: 84 / 100
2017 BRZ, Edmunds review:
"Keeping in mind that you can get the BRZ for less than $30,000 it is, in my opinion, the best sports car of the modern era. The driving position, steering feel, and ability for an amateur driver to push the BRZ to the limit is the reason that it makes every driver smile. The point of the BRZ (or the FR-S, or GT 86 since they are all essentially the same car) is to make a grown-up feel like a child again. The car makes me giggle, and flatters my abilities to the point where I never feel unsafe…"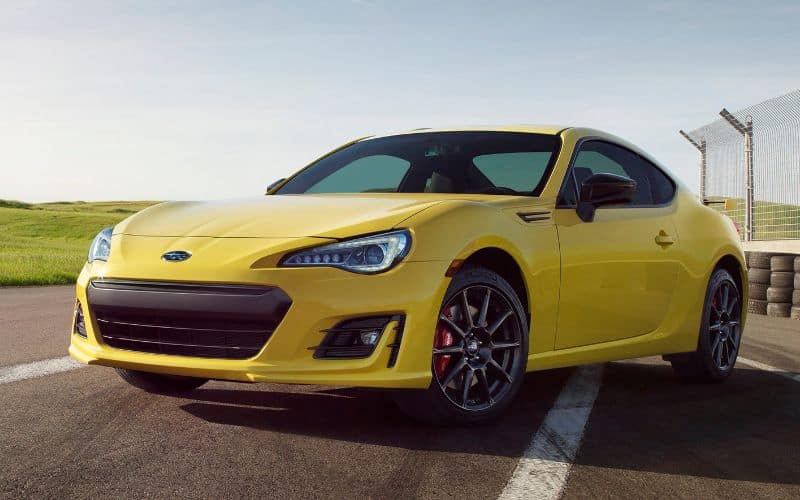 2016 Subaru BRZ
For those on a tight budget, we would highly recommend the 2016 BRZ for a raw driving experience at a great price. Thanks to its low center of gravity, light and well-balanced chassis, the 2016 BRZ makes for an exciting ride.
Auto critics have praised this model's steering feel and response as well as it's comfortable and supportive front seats.
New for this model year is an updated touchscreen infotainment system and a standard rear view camera.
A limited edition HyperBlue variant was also introduced, which sports distinctive exterior and interior styling.
In terms of fuel economy, EPA estimates are 25 MPG for combined driving, 22 MPG for city driving, and 30 MPG for highway driving.
Standard safety equipment includes anti-lock brakes, traction control, stability control, front side airbags, and side curtain airbags.
Edmunds: 4.5 / 5.0
Kelley Blue Book: 4.6 / 5.0
JD Power: 81 / 100
2016 BRZ, Edmunds review:
"The big thing to know about this car is that Subaru/Toyota wanted a cheap performance car that would make drivers smile. They succeeded, but the cheapness can come back to bite long-term owners. I have daily-driven the car for a year and 14,000 miles, so I have had the proper seat time to write a review. The two companies decided to put the whole budget into the drivetrain. My car in this respect has been solid. I replaced the transmission, differential, and engine oils myself, and the engineers really put a lot of thought into how to do that easily…"
Related: 11 Best & Worst Mazda MX-5 Miata Years (Explained)
Consumer Scores For Best Subaru BRZ Years
Model Year
Edmunds
Consumer Rating
Kelley Blue Book
Consumer Rating
JD Power
Consumer Rating
2023 Subaru BRZ
4.5 / 5.0
2.6 / 5.0
80 / 100
2022 Subaru BRZ
4.3 / 5.0
2.6 / 5.0
80 / 100
2020 Subaru BRZ
4.3 / 5.0
4.6 / 5.0
NA
2017 Subaru BRZ
4.4 / 5.0
4.6 / 5.0
84 / 100
2016 Subaru BRZ
4.5 / 5.0
4.6 / 5.0
81 / 100
Related: 10 Sports Cars With High Ground Clearance (With Pictures)
What Are The Worst Years For The Subaru BRZ?
2013 Subaru BRZ
The 2013 BRZ, according to statistics obtained from the NHTSA, is the most problematic model year ever produced. This shouldn't come as too much of a surprise as it was the debut model year in the US.
The majority of the model's problems revolved around its engine.
Complaints ranged from cracked cylinder heads, to engine lights being on, to broken connecting rods.
There was also a widespread recall for the 2013 BRZ's valve spring that was prone to failure causing the engine to stall.
Owners complained that the audio controls were frustrating to use and acceleration was fairly modest.
Common problems:
Noisy transmission
Engine failure due to broken valve springs
Clutch failure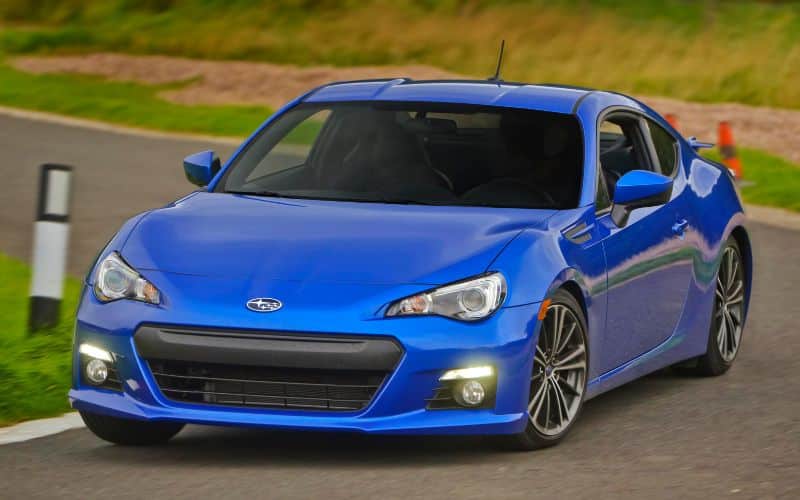 2022 Subaru BRZ
The 2022 BRZ marked the start of the second generation BRZ, however it got off to a bumpy start. According to NHTSA stats its already the second most complained about BRZ model.
The most common complaint about this model is related to its stock blinkers, owners report that they flash rapidly and sometimes not at all.
Here is what owners had to say on the NHTSA website:
"When the sun is facing the rear of the car, the rear turn signals do not activate, and the turn signals flash rapidly. It is exactly what happens in this youtube video: https://youtu.be/dHwMCdlJfYQ This is a danger, because my car will not properly signal when I change lanes or take a turn."
"Stock blinkers rapidly flash faster than normal, blinkers cannot be seen in the rear at the time when signaling left or right during this time"
Another owner complained that the wheel bolts came loose which caused catastrophic damage to the wheel.
There is also a report from an owner who needed to replace the entire engine after 5,500 miles which they were told buy the retailer was due to "a lack of oil" despite no oil warning light coming on.
Common problems:
Blinkers flashing rapidly
Elevated noise levels on the highway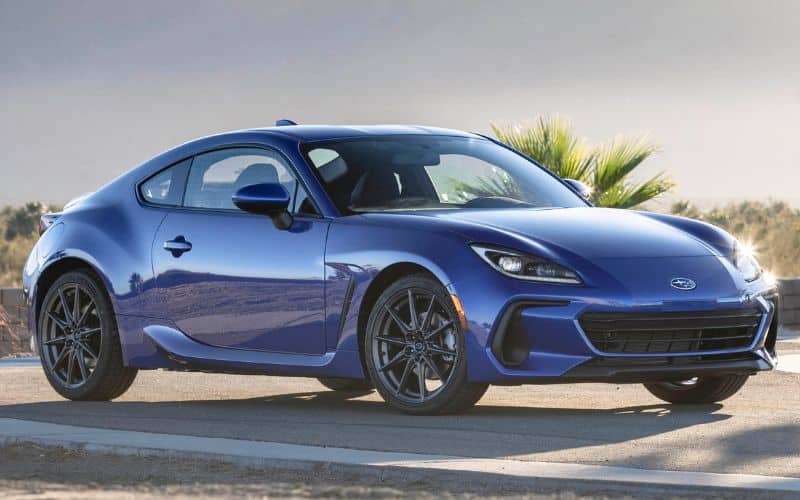 Related: Toyota 86 In Snow & Winter Driving? (Solved & Explained)
What Years Have The Most Complaints?
Model Year
Complaints
(CarComplaints.com)
NHTSA
Complaints
Recalls
TSBs
2023 Subaru BRZ
1
0
0
1
2022 Subaru BRZ
1
10
0
11
2020 Subaru BRZ
0
1
0
44
2019 Subaru BRZ
0
1
1
55
2018 Subaru BRZ
1
0
2
57
2017 Subaru BRZ
1
5
0
31
2016 Subaru BRZ
1
2
0
33
2015 Subaru BRZ
1
1
0
46
2014 Subaru BRZ
3
5
0
52
2013 Subaru BRZ
9
61
0
112
What Problems Do Subaru BRZs Have?
Noisy transmission
Engine failure due to broken valve springs
Engine oil starvation
Clutch failure
Engine and traction control lights on
Sun visors broken
Door unhinged
What Are The Best Alternatives To The Subaru BRZ?
| | | | |
| --- | --- | --- | --- |
| Make & Model | Score | MSRP | Fuel Economy (MPG) |
| Ford Mustang | 9.2 | $27,770 – $55,570 | City: 14 – 21 /Highway: 22 – 32 |
| Subaru BRZ | 8.7 | $28,595 – $32,795 | City: 20 – 21 /Highway: 27 – 30 |
| Toyota GR86 | 8.3 | $27,900 – $32,000 | City: 20 – 21 /Highway: 27 – 31 |
| Mazda MX-5 Miata | 8.2 | $28,050 – $38,950 | City: 26 /Highway: 34 – 35 |
| Nissan Z | 8.2 | $39,990 – $52,990 | City: NA /Highway: NA |
| Chevrolet Camaro | 8.1 | $26,400 – $73,300 | City: 13 – 22 /Highway: 20 – 30 |
| Dodge Challenger | 8.0 | $30,545 – $66,045 | City: 13 – 19 /Highway: 21 – 30 |
Source: cars.usnews.com, edmunds.com
Related: Subaru BRZ Alarm Going Off? (7 Causes & Solutions)
References
https://www.caranddriver.com/subaru/brz
https://cars.usnews.com/cars-trucks/subaru/brz
https://www.edmunds.com/subaru/brz/
https://www.kbb.com/subaru/brz/
https://www.jdpower.com/cars/2022/subaru/brz
https://www.carcomplaints.com/Subaru/BRZ/