Launched in 1997, the Subaru Forester is known for being tough, rugged and virtually indestructible.
Like any other vehicle, it uses beeps and chimes to alert the driver for various reasons.
If your Forester keeps beeping and you're unsure why, this article is here to help.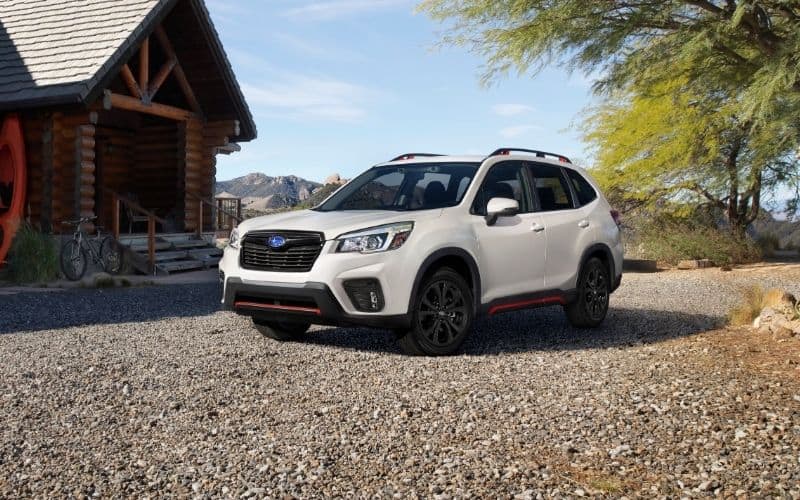 Subaru Forester Beeping
The most common cause of beeping on a Subaru Forester is related to the navigation system, however other causes include the Eyesight driver-assist features, a key fob left in the vehicle or a 12V battery that is about to die.
If your Forester keeps beeping at you there could be a number of possible causes, we've outlined the most common ones below.
Navigation Alerts
A common cause of mysterious beeps on any vehicle is navigation alerts. On a Forester, you can solve this problem by turning off the alerts in the Nav settings.
These navigation beeps can be triggered by speed zones, pedestrian zones, traffic lights, curves in the road etc.
Here's what one Forester owner had to say:
My new Forester did the same. Cured it by going to the map display settings. The beeps are "driver alerts" triggered by approach to road hazards such as merging traffic lanes.
These also appear as small temporary icons at the bottom right of the map. They occur whether or not navigation is selected.
The settings menu allows you to select "visual and sound" or just "Visual" for driver alerts. Select visual and the beeps should cease.
Rear Seat Reminder
This function prompts the driver to confirm the presence of passengers and cargo in the rear.
This function will be activated when the rear doors are opened and closed.
It alerts the driver by warning messages on the combination meter display (color LCD) and beeps when the ignition switch is in the "OFF" position
Key Fob Still in Vehicle
This Lockout Warning will consist of short beeps (2 seconds).
If you attempt to lock all the doors using the power door locking switch or access key fob while the access key fob is left inside the vehicle, you will hear a beeping noise.
Remove the access key fob from the vehicle, and lock the doors.
The doors cannot be locked while the access key fob is inside the vehicle.
Related: 11 Most Common Problems With the Subaru Forester (Explained)
12V Battery
If the battery is starting to die you may hear a warning beep, most 12V car batteries last 3-4 years on average.
You can always check the battery life with a voltmeter, by measuring the voltage across the battery's terminals or have it checked by a trained professional.
If it's under 11V then this is causing the beeps and you'll need to replace it.
Door Ajar
This will consist of 5 beeps.
One of the doors, including the rear gate has been left open.
Make sure all doors are closed securely and lock them.
Reset the Hatch Electrics
If the hatch will not open or close when either the dash button or fob button is pressed, and when you drive the car there is a constant beeping – you can try resetting the hatch electrics.
Here's what one owner had to say:
I reset the hatch electrics by manually raising it, waiting a few minutes, then lowered the hatch to the point where it first begins to catch.
The electric motor did not activate so I pushed the hatch button on the key fob and voila…everything works again.
The motor finished locking down the hatch and it now raises and lowers as it should. And NO beeping!!!.
Pre-Collision Braking System
When the system determines that there is a risk of collision, an alert sounds repeated short beeps and the indicators on the combination meter display illuminate to warn the driver.
Weight on Passenger Seat
If you have a bag, your pet dog or even a bottle of water on the passenger seat, your Subaru may think that you have a passenger in the seat that needs to buckle up and will trigger the seat belt alarm.
If this is the case, you can always connect the seat belt to stop the beeping.
XM Radio
If you have XM radio active, there may be a beep if you have a favorite team selected on one of the sports stations.
Here's what one owner had to say:
"When I first got mine, somehow I selected to get a notice if my team scored, the game started, etc…Drove me crazy for a while until I figured it out."
Oil & Fluid
It's a good idea to check fluid levels are all correct, such as:
Engine oil
Coolant
Power steering fluid
Brake fluid
Windshield washer
Related: Subaru Forester Alarm Going Off? (6 Most Common Causes)
Eyesight
EyeSight is Subaru's very own Driver Assist Technology.
There are many features within Eyesight that use beeps, for example:
Pre-Collision Throttle Management
Lane Departure Warning
Lane Sway Warning
Lane Departure Prevention
Lead Vehicle Start Alert
Rear Cross-Traffic Alert (RCTA)
REVERSE AUTOMATIC BRAKING (RAB)
DROWSY/INATTENTIVE WARNINGS
Some drivers have reported that their Forester will beep at them whilst changing lanes if they don't use their turn signal.
Faulty latches or Sticking Door Mechanisms
If you've got a door latch that's sticking this will make the car think you've got a door open or ajar when you haven't.
This is a common cause of beeping on many car models.
Try giving a good clean to all door mechanisms and lubricating with WD-40, make sure they all open and close properly.
Reminder Information
This beep will often be accompanied by an interruption screen with useful messages, e.g.
Weather information
Traffic information
Time to change oil
Subaru Forester Beeping While Parked
Some Subaru owners have found that mysterious beeps from a parked Forester actually came from a garage door opener battery that was going bad.
Other similar causes are smoke detectors and CO detectors.
Related: How Long Do Subaru Foresters Last?
Subaru Forester 3 Beeps
3 beeps from a Subaru Forester could be caused by the rear gate not closing or the remote engine start feature not working.
Rear Gate
In the Forester owners manual it states –
If you cannot open/close the rear gate, a short electronic chirp will sound three times (beep, beep, beep).
This usually means a condition has not been met.
Remote Start
The remote engine start system will prevent starting (or stop the engine if running) and sound the horn twice if any of the following conditions is detected:
In addition, the fob will flash and beep 3 times.
The total run-time has exceeded 20 minutes.
The brake pedal is depressed.
A key is in the ignition switch.
The engine hood is open.
The engine idle speed exceeds 3,500 rpm.
The security alarm is triggered.
The select lever is not in the "P" position.
Alternative Suggestions
Disconnect the Battery
Some innocuous beeps can disappear with a simple reset.
Disconnect the battery for 20 seconds.
Check the Gauge Cluster
When the beeping occurs can you see any lights come on at the same time on the gauge cluster?
This can give a clue as to whats causing the beeping.
On some vehicles, a warning beep indicates a bulb in the gauge cluster is blown.
Take it to a Subaru Dealership
If needed, take your Forester to the dealership.
Tell them you are NOT paying for a check on what the problem might be.
Ask them if they will check it for free.
Most dealerships and other places do quick/initial diagnosis for no money as they plan to make money for the repair of your vehicle.
Check for Recalls or TSBs:
By entering your car's VIN number on Subarus recall page you can determine whether or not there is a recall for your vehicle and if there is you'll want to get it fixed.
Similarly, a quick google search will help you determine whether there is a Technical Service Bulletin for your car, these are less serious but may give a reason why your car is beeping.
A recall is issued by a vehicle manufacturer for issues that are safety-related, while a TSB covers components that may be malfunctioning but don't compromise the safety of the vehicle.
Diagnosing Beeps With a Scanner
Another possible option if you're hearing a beeping sound is to use an OBD2 diagnostic scanner tool.
These are fairly easy to use, you simply plug them into your car – there's usually an OBD2 port under the steering wheel.
Once you have the scan codes you can research these online specifically for the Forester.
There are also OBD apps available so you can connect your car straight to your smartphone (either with a cable or Bluetooth) without even needing a scanner.
Resources
https://cdn.subarunet.com/stis/doc/ownerManual/MSA5M2102A_STIS_opt.pdf
https://cdn.subarunet.com/stis/doc/ownerManual/4491805-2021_FORESTER_GSG_2nd.pdf