The Suzuki GSX-S1000 is a streetfighter, or naked sportbike, built around the famous GSX-R1000 K5-K8 engine, known for its race-level performance and dependability.
However, like any other motorcycle, the GSX-S1000 can develop issues.
This article dives into the most common Suzuki GSX-S1000 problems, including details on how to solve and prevent them.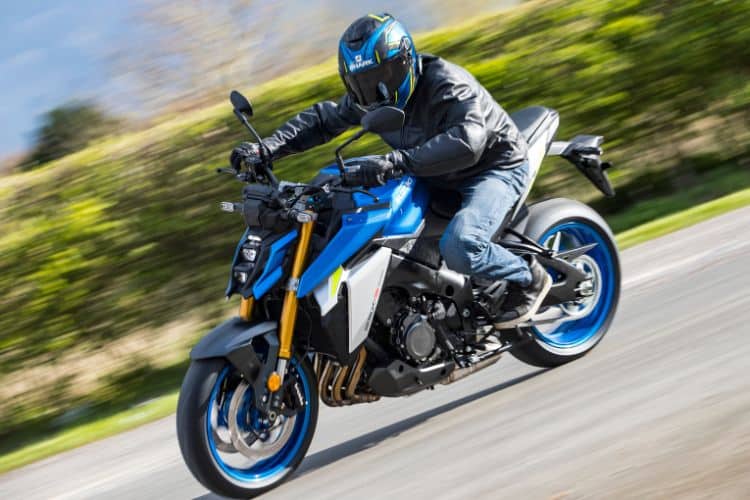 1. Sensitive Throttle Response
Some riders have complained that their Suzuki GSX-S1000's throttle response is too abrupt and jerky when riding at low speeds. Others report intense bursts of acceleration when opening the throttle from the closed position in first gear.
GSX-S1000 owners on netrider.com had this to say:
"The infamous throttle snatch is evident, as is the slight surging at light throttle openings while below 3k rpm. However, Suzuki is replacing ECUs for free on the early models (like mine) that are for the surging, not the throttle snatch. Power-wise… it goes mental past the 8k mark and really has to hold on due to the upright riding position."
"The GSX-S forum is full of information about different means of fixing the issue. Obviously, a full remap is a sure way of getting rid of it (expensive). however, there are some success stories about fixing it with things like resetting the throttle position sensor (TPS), the use of throttle tamers, O2 eliminators, 'booster plugs,' etc…. a bit of a minefield though…"
A sensitive or aggressive throttle response can make the bike hard to control and uncomfortable to ride in traffic or tight corners, especially for new riders.
In fact, more aggressive riders celebrate the bike's snappy throttle response as a favorable attribute.
Solution:
Suzuki updated the engine and electronics for 2017 to improve power delivery by making it smoother. That said, some older models may still have this problem; here are a few solutions:
Conducting the TPS checks outlined in the service manual is meticulous but is designed to detect any anomalies leading to strange throttle behavior.
For those inclined to take matters into their own hands, online platforms offer instructional videos detailing how to replace the throttle tube for the Suzuki GSX-S1000.
Finally, consider taking your GXS-S1000 to an authorized Suzuki dealership. Their techs diagnose the issue using tools like the Suzuki Diagnostic System (SDS).
The Suzuki dealership may recommend an ECU reflash for an optimized throttle response. This option might cost more, but some prefer a professional remedy.
2. Poor Paint Quality
Some owners have noticed that the paint on the fuel tank or other parts of their GSX-s1000 can wear off or chip easily, especially if they rub against the rider's knees, belt, or boots.
As one owner/reviewer on MCN puts it:
"Paint [on my Suzuki GSX-S1000 is a bit thin, but you can't expect three layers of clear coat at that price."
Solution:
A fly custom paint job. Damaged paint can affect the appearance and resale value of the bike. While this isn't a deal breaker, we suggest inspecting the paint condition before buying a used GSX-S1000, keeping depreciation in mind when negotiating.
3. Hard Suspension
The GSX-S1000 has a fully adjustable front fork and a rear shock that is adjustable for rebound and preload. However, some riders have found that the suspension is too stiff or harsh for their preference, especially on bumpy roads or long rides.
GS-S1000 owners had this to say in their reviews on MCN:
"Very reliable, but the rear shock is very poor, and also there's a lot of vibrations through the right peg, so much so that I ended up selling the bike. For what they cost new £9999, it was great value."
"The GSX-S1000 needs a rear shock upgrade for hard riding. It's a perfect all-round sport bike for everything but long trips."
"This is no soggy, soft sports tourer; the GSX-SF flicks through bends like a well-dialed-in race bike. It's precise, planted in corners, and uncannily stable at speed. There's fully adjustable Kayaba suspension up front, running slightly more fork oil and a different shim stack to that of the naked version to compensate for the fairing and also give the GSX-SF a sportier ride."
Solution:
The GSX-S1000's adjustable suspension settings can be tweaked to suit different riding styles and conditions, but some riders may prefer to upgrade to a more sophisticated or softer suspension system.
4. Mediocre Stock Brake Pads:
The GSX-S1000 has powerful Brembo brakes that are derived from the GSX-R1000, but some riders have reported that the stock pads lack bite or feel, especially for track riding.
"The brakes are strong and have enough feel for road riding… they could do with being stronger for the track, but as they are Brembo Units, perhaps a more aggressive pad would sort this."
You can change your brake pads and fluid to improve the braking performance, but some riders may opt to upgrade to an Anti-lock Brake System.
Solutions:
We suggest you conduct regular brake pad and fluid inspections to keep your GSX-S1000's brake response snappy. The GSX-S1000 stocks an adjuster on the front brake control, allowing riders to tweak the distance between the lever and grip, catering to different hand sizes.
Upgrading to race-focused brake pads can make a noticeable performance boost to your brakes, particularly for aggressive track riding.
5. Faulty Throttle Position Sensor
Suzuki GSX-S1000 riders report a frequent problem with their Throttle position sensor failing to spring back into position after a twist. A faulty TPS can cause stalling, faltering acceleration, and power loss.
The Throttle Position Sensor (TPS) is a critical component of your GSX-S1000's engine management system.
The TPS monitors the position of the throttle, which is controlled by the gas pedal. The sensor sends this information to the engine control unit (ECU) to help regulate fuel injection, ignition timing, and other functions.
Here are a few riders explaining what happens when a TPS gets stuck on a GSX-S100 forum:
"While riding or sitting still in any gear, if I come from a high rev or slow down too quickly with and without a clutch pulled my bike stutters and dies. I can immediately start the bike up, but on acceleration, it's a bit twitchy the first second. I removed the TPS yesterday and drove around the block, and all the problems were fixed, it seemed. Would I need a new TPS, or is there another way around this?"
"I was having a stalling issue after a fast rev. [My GSX-s1000] would rev down and stall… Sometimes, coming to light in gear, if pulling the clutch in, it would stall!!!"

"I have had the TPS sensor out before, put a little grease inside it, put it back on, used the dealer mode, and got the line in the middle of the c00 display or whatever it says…. it made such a difference it was nuts!! The bike started to wheelie. I lowered the bike to stop that … once I did this fix, I knew it was making way more power."
Solutions:
Here is a step-by-step guide to addressing your GSX-S1000's Throttle Position Sensor (TPS) problems:
Inspect the Main TPS Sensor: It should spring back after being turned. If not, it might be your culprit.
Soak the TPS in WD-40: Let it sit for about a day to alleviate any rigidity.
Examine the Secondary TPS: Ensure its proper spring-back action.
Reinstall the Main TPS: After its WD-40 bath, slot it back.
Calibrate the TPS: Switch your bike to dealer mode and center the TPS. This optimizes revving and prevents stalling.
Adjust the Secondary TPS: With a voltmeter set on ohm, disconnect the sensor. Connect yellow to the meter's positive and black to its negative. Aim for a reading of .5 k ohms.
Road Test: Ride around to verify the problem's gone.
Please note that this is a general guide based on user experience and may not apply to all situations or year models. Always consult with a professional mechanic or your year-model GSX-S1000's service manual for specific instructions.
6. Vibration and Discomfort at High RPMs
While the GSX-S1000 boasts impressive engine performance, some riders have noticed uncomfortable vibrations, especially at higher RPMs. These vibrations are typically felt in the foot pegs and handlebars, which may reduce the overall comfort, especially during extended rides or high-speed runs.
"If you take the stock bar ends off and put lighter / smaller ones on, you will gain vibration. Those heavy stock bar ends are heavy for a reason. The vibration I get now is right about 2K and below without the clutch pulled in as you are slowing; mine gets"bouncy" or "chuggy," that's the best way to describe it."
"Anyone find any way of cutting down on the vibration over 4000? I usually shift low, but when I'm topped out in gears, anything over 4000 RPMs has a wicked vibration. I'm sure we all know how that can be."
"I ride with gloves on, no mods to anything other than the exhaust. Vibration is mostly thighs down, especially in my feet, and I definitely hope it wasn't track riding, but it could be my luck."
Solutions:
Handlebar Weights can be added to the ends of the handlebars. They're designed to dampen vibrations and can significantly improve riding comfort.
You can also consider switching to aftermarket footpegs designed to reduce vibrations.
Finally, ensure the engine mounts and other fastening components are tightened correctly during regular maintenance. Loose parts can amplify vibrations.
7. Uncomfortable Upright Riding Position
The GSX-S1000 is celebrated for its distinct sports bike design, offering class-leading performance through its renowned combination of a sports engine and a naked bike frame. That said, some riders note discomfort stemming from its upright stance.
Most of these comfort concerns tend to surface during prolonged rides. But to be fair, the GSX-S1000 is somewhere between a track bike and a commuter and is not intended for long tours.
That said, taller riders claim the upright position can be intimidating when clocking at high speeds on the racetrack as well.
Solutions:
An angle adjustment to the GSX-1000's handlebars might bring relief. The 2022 iteration introduced a handlebar that's broader by 23mm and positioned 20mm closer to the motorist for a different posture. Such modifications can alleviate wrist strain while enhancing your steering leverage.
The seat's recent redesign is celebrated for its plush padding and concave design that snugly fits the rider. However, if you still feel uncomfortable, try a personalized seat or an additional seat pad.
Finally, try adjusting your footpegs. Lower foot pegs often provide a more relaxed leg position, reducing strain on the knees and hips.
What Are the Pros and Cons of the Suzuki GSX-S1000?
Pros:
Powerful, Class Leading Engine
Sporty Performance
Comfortable Ergonomics
Bembo Breaks
Adjustable Suspension
Fun To Ride
Fast
Reliable
Affordable Maintenance
Cons:
Sensitive Throttle
Vibration at High RPMS
Some Dislike Upright Seating Position
Faulty Throttle Position Sensor
Hard Suspension
Thin Paint Coat
What Do the Reviews Say?
"Suzuki's fully faired sportbike, the GSX-R1000, is primarily track devoted, but the 2020 Suzuki GSX-S1000 is part of the lineup for riders looking for a powerful daily rider with more upright ergonomics paired with a long-stroke 999cc engine that's based on the legendary K5 GSX-R1000 powerplant. Further, the GSX-S is a standard literbike that touts smooth throttle response and adrenaline-pumping low to midrange power. Electronics include four-mode traction control, ABS, an LCD gauge, and LED lighting for the taillight and turn signals (halogen bulb for the headlight)."
"Long story longer: 2022 arrives, and the updated version of this model has been refined, brought (mostly) into modern times, and as it turns out, it rips. Exercising a 17-year-old engine concept back into shape may seem like a New Year's resolution challenge, but there was nothing wrong with that architecture in the first place. This engine, combined with modern electronics and chassis, is a freaking hoot."
"This latest version of the GSX-S has a whole pile of upgrades that not only modernize it but give the K5's younger cousin a new lease on life. Key to just about every modern motorcycle are the electronics; without ride-by-wire and modern digital management, traction control and ride modes would be rudimentary at best. This GSX-S has made that step, which goes a long way to putting it on a more level playing field with class leaders like KTM's 1290 Super Duke and Aprilia's Tuono RSV4."
What are Some Alternative Models to the Suzuki GSX-S1000?
| | | |
| --- | --- | --- |
| Make/Model | MSRP | MPG |
| Suzuki GSX-S1000 | $11,499 | 40 |
| Yamaha MT-10 | $14,199 | 34 |
| Kawasaki Z1000 | $10,100 | 40 |
| Honda CB1000R | $12,999 | 36 |
| BMW S1000R | $20,399 | 45 |
| Ducati Monster 1200 | $14,995 | 47 |
| KTM 1290 Super Duke R | $20,399 | 33 |
What's the Resale Value?
| | | |
| --- | --- | --- |
| Year | Mileage | Used Listing Price |
| 2016 | 4,876 | $8,500 |
| 2017 | 5,000 | $7,250 |
| 2018 | 1,369 | $8,491 |
| 2019 | 4,500 | $10,200 |
| 2020 | 2,389 | $10,291 |
| 2021 | 2,424 | $10,190 |
| 2022 | 2,500 | $11,299 |
| 2023 | 2,651 | $10,895 |
Sources:
SUZUKI GSX-S1000F (2015-2021) Review | Specs & Prices | MCN (motorcyclenews.com)
2022 Suzuki GSX-S1000 First Ride Review | Cycle World
2020 Suzuki GSX-S1000 Buyer's Guide: Specs, Photos, Price | Cycle World