The Toyota Yaris is a hugely popular small car that was produced from 1999 – 2020.
Nimble, efficient and incredibly reliable, the Yaris is perfect for city slickers and first-time drivers alike.
In this article we'll take a closer look at its most common problems.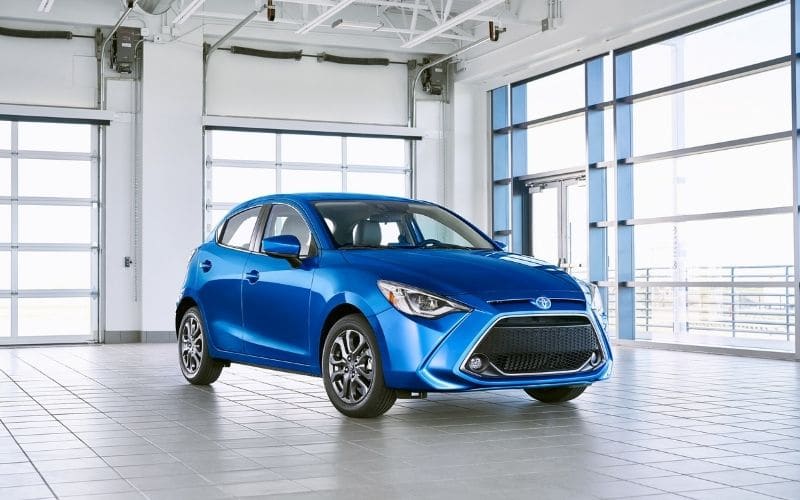 1. Air Bag Problems and Recalls
According to data from CarProblemZoo.com a site dedicated to collecting car owner feedback, the most commonly reported issues with the Yaris are airbag related.
The airbag complaints were mostly reported on 2007, 2008 and 2009 models – most of the reports are from owners affected by the notorious Takata airbag recall.
The Takata recall affected tens of millions of vehicles including certain Yaris models from 2007 – 2012; the airbag inflator had the potential to explode causing metal fragments to be fired at the vehicle occupants resulting in serious injury and even death.
A large number of the complaints are in fact from drivers unhappy with Toyota for the amount of time taken to address and fix the problem.
There was also another high-profile airbag recall that affected certain model 2006 – 2010 Yaris'.
Essentially the electrical cables in the steering column could become damaged when the steering wheel is turned resulting in the deactivation of the airbag module, thus in the event of a crash the airbags would fail to deploy.
Here's one owner's unfortunate account:
"I was going 15-20 mph on the on-ramp to the freeway and accidentally veered right hitting the guard rail on the right front side of the car. None of the airbags deployed and my seatbelt did not lock, resulting in my face hitting the steering wheel, breaking my nose and cutting my lip."
Solution
The first thing you should do is run a VIN check on your Yaris and see if it has been affected by any recalls, and then find out whether these have been addressed.
Recalls are serious safety faults that must be fixed by the manufacturer free of charge.
You can run a VIN check on the NHTSA website and also Toyota's website.
Takata racall: Toyota will need to replace the frontal airbag inflator or airbag assembly.
Electrical connection recall: Toyota will need to replace the housing of the electrical cables
You should never interfere with your car's airbag system (this will also void the warranty) and should leave this to the professionals.
2. Vibrations Due to Damaged Engine Mounts
According to Repair Pal, a car site that specializes in maintenance costs, the most commonly reported problem for the Yaris is due to vibration issues.
These issues have been reported on 2007, 2008, 2009, 2010, 2012 and 2014 models.
The vibration issues were also accompanied by the sound of the engine vibrating and this was specific to models with a manual transmission (stick shift).
The issues were most notable when accelerating from a stop or when shifting gears.
Here's what owners typically say about the issue:
"I have bad shaking when I start the car and then once I go it seems to be ok… but at stops, it starts to shake again, but not as bad as when i start it"
"Vibration on engine start, also noticeable when decelerating to stop at light, or acceleration from stop. Engine vibration noticeable"
Solution
In most cases the engine mounts (the part of the car that holds the engine in place) were damaged and required replacing. In some instances the transmission mounts (holds the transmission in place) were also bad and required replacing also.
3. Paint Problems
According to Car Complaints, the worst problem faced by Yaris owners is the clear coat and paint peeling. This problem was widespread on the 2007 and 2008 models and usually occurred around the 65,000-mile mark.
Clear coat is a transparent layer of paint that covers the colored coat. It is usually the last coat of paint that is applied to a car panel. The thickness can vary depending on car and manufacturer.
Here's what the owners had to say:
"Paint is peeling on my 2008 Yaris. Told Toyota, they would do nothing. I am not the only complaint. There needs to be a recall on this. This started in 2010. Car was only 2 years old at that time!"
"Paint on rear bumper started fading, chipping, cracking and pilling off. I have seen many similar problems with the Yaris, especially the blue color. It must be a manufacturing issue with this particular color of body paint. Toyota should address this."
Solution
In most instances owners will need to have their Yaris repainted, this can cost around $1500 – $2000 depending on where you have it done.
This is caused by a factory defect so its hard to prevent it from happening although regular washes and waxing can help limit the damage caused.
Keeping your Yaris parked in a garage protected from the elements and bird droppings can also help preserve the paint job.
Related: 14 Best & Worst Toyota Yaris Years (With Facts & Stats)
4. Service Brakes Problems
Another commonly reported complaint from Yaris owners is related to the cars service brakes, these problems are most common on the 2006 – 2008 models and there have been various issues.
Here are the most commonly reported issues:
Brakes are slow to respond after the pedal has been depressed
Brakes and power steering suddenly malfunctioned
ABS did not work
Foot would slip off the brake pedal
ABS light comes on in cold weather and turns off in cold weather
These problems are not isolated complaints and several owners have experienced one or more of the above.
Solution
We could not find any brake-related recalls for the 2006-2008 models, however it sounds as though there was some kind of factory defect.
Some owners were able to fix their brakes problem by replacing the ABS sensor, these are designed to monitor the acceleration and deceleration of each wheel through an electromagnetic field.
If you're experiencing problems with your brakes take it to a mechanic and have it checked out asap.
5. Uncomfortable Front Seats
Although not a problem per se, and more of a design flaw – there have been a number of complaints from owners saying that the 2012 Yaris has very uncomfortable seats.
Here's what the owners had to say:
"I am 5.11 and the seats are extremely uncomfortable for me. Also they creak when I move so I have to grease them up. The problem is the whole car will smell like WD-40 if I do that."
"Bought the new 2012 Toyota Yaris (newly redesigned; only out a few months). The car has extremely uncomfortable front seats (causes back ache after 1/2 hr of driving). I assume that the Yaris prior to the 2012 redesign does not suffer from the same problems as I haven't seen any complaints. The 2012 Yaris seats have poor ergonomic design (no lumbar support); hard, thin foam; cloth tented over the foam; and the headrest is angled too far forward."
Solution
If the seats are causing you a lot of pain or discomfort then the only option really is to have the seats replaced.
Fortunately, swapping out old car seats with new ones is a relatively straightforward task – and much simpler than a lot of DIY car jobs, although if you aren't mechanically inclined it's best to leave it to the experts.
6. Car Accelerates On Its Own
There have been a number of complaints lodged against the Yaris for a very strange, yet dangerous problem whereby the car accelerates on its own, often when the brakes are depressed.
This problem has been reported on a number of model years ranging from 2007 – 2015.
Here are a few owners accounts:
"While driving 40 mph, the brake pedal was depressed; however, the vehicle accelerated. The check engine and traction control warning indicators illuminated."
"While I was parking my car in my driveway, I tried to stop with the brakes – I didn't stop even though I was breaking hard. The speed accelerated and I had trouble controlling the steering wheel."
"I was slowly pulling into a parking space when the car suddenly accelerated and jumped a curb and crashed in front of a restaurant."
"While reversing, the vehicle accelerated independently and crashed into a tree"
Solution
Unknown, sudden acceleration is often caused by some kind of electronic malfunction or a failing throttle body.
Due to the serious nature of this issue it's best to have it checked out by a mechanic.
7. A/C Smells of Mould
A number of 2006, 2007 and 2008 Yaris owners have complained of a funky smell emanating from their car's air conditioning system.
Here's what the owners had to say:
"Turning on the A/C causes a bad smell to fill the car. After a while it clears out. Shutting off the A/C and just running air causes a bad smell to fill the car but seems to clear or maybe I'm getting used to it…."
"When I have the air conditioner on low, during the start up, it smells gross. I took it to the dealer and they put some sort of expensive treatment in to make it smell nice, but it came back again shortly after. They said that all I could do is keep bringing it back in during my warranty and they would keep treating it for free, but I later found out that even though I spent 14 grand on the car, they never included a cabin filter."
Solution
Some owners have been able to remedy this foul-smelling problem by replacing the cabin filter whilst other owners have had to take the whole system apart to steam clean it at a cost of $1500. Another solution is unclogging the condensation drip tube and letting all the water drain out.
8. Rear Axle Beam Cracked
A commonly reported issue with the Toyota Yaris is the rear axle beam cracking, this has been reported on models from 2007 – 2010.
The rear axle beam connects the rear wheels laterally by a single shaft – it looks a bit like a bar that spans the width of the car.
When the rear axle becomes damaged or fractured the vehicle can become inoperable or in less serious cases the you may notice the vehicle is not tracking properly and may gradually veer off to one side.
In most cases owners describe how the axle broke at the weld and they describe hearing a strange rubbing sound.
Solution
If the rear axle beam is cracked then the only option really is to have it replaced. Why the rear axle brakes so easily on the Yaris is a bit of a mystery although we might speculate it is due to sub-par materials being used.
In some instances, it seems that excessive rust has weakened the axle beam and made it susceptible to breaking, in which case it is worth noting the following tips to keep your Yaris rust free:
Regularly wash and dry your car: This includes its underside (especially during the winter) to remove the salt, dirt and grime that causes rust. We recommend having a detail shop wash everything underneath at the end of each winter.
Garage: Store your Yaris in a garage to protect it from harsh weather
Rustproofing: If you're planning on keeping your Yaris a long time, you might want to consider a rustproofing treatment, popular choices are Krown and Rust Check.
9. Beeping Problems
A number of Yaris owners on forums such as YarisWorld.com and ToyotaOwnersClub.com have reported mysterious beeping sounds coming from their car.
Although not particularly serious, unknown beeping noises are incredibly frustrating and very distracting.
Solution
The most common causes of beeping on a Toyota Yaris include items on the passenger seat, the dash camera, anti-theft alarm issues, lane departure warning, low keyfob battery, navigation alerts, low tire pressure, defective door latches or one of the driver assistance features.
For more information on this issue check out our article here.
Toyota Yaris Model Years With the Most Problems
To get a better idea of which Toyota Yaris has the most problems the fairest way is to compare models based on the number of vehicles sold in relation to the number of reported problems.
We're using Car Complaints PPMY index which means problems reported per thousand vehicles per Year.
For example, newer cars will have fewer complaints simply because they've been around for less time.
Based on this index, the most problematic years are:
2018 – 0.48 PPMY
2017 – 0.35 PPMY
2006 – 0.22 PPMY
And the least problematic years are:
2014 – 0.01 PPMY
2013 – 0.06 PPMY
2012 – 0.08 PPMY
Toyota Yaris
Model Year
Problems
Sales
Vehicle Age
PPMY Index
2020
10
–
2
–
2019
32
–
3
–
2018
7
3,683
4
0.48
2017
20
11,395
5
0.35
2016
8
8,940
6
0.15
2015
19
26,905
7
0.10
2014
2
24,398
8
0.01
2013
12
20,951
9
0.06
2012
43
54,889
10
0.08
2011
29
24,850
11
0.11
2010
117
63,313
12
0.15
2009
142
72,830
13
0.15
2008
314
120,841
14
0.19
2007
361
159,292
15
0.15
2006
9
2,572
16
0.22
Source: Car Problem Zoo
Toyota Yaris Pros and Cons
If you're considering a Toyota Yaris as your next car you might be wondering what its strengths and weaknesses are…
Pros
Easy to park into tight spaces
Fuel efficient
Great handling
Good amounts of standard tech features
Highly reliable
Affordable to buy and run
Easy to drive
Cons
Lack of cabin space
Interior cabin lacks the wow factor and is quite basic
Engine is not overly powerful
Not as quick as some rivals
Related: How Long Do Toyota Yaris Last? (12 Important Facts)
Toyota Yaris Reliability Compared to Similar Cars
According to data from Repair Pal, the Yaris is the most reliable subcompact car.
Model
Reliability
Toyota Yaris
4.5/5.0
Toyota Prius C
4.5/5.0
Mazda2
4.5/5.0
Honda Fit
4.5/5.0
Hyundai Accent
4.5/5.0
Kia Rio
4.5/5.0
Mitsubishi Mirage
4.5/5.0
Mazda MX-5 Miata
4.0/5.0
Nissan Versa
4.0/5.0
Chevrolet Spark
4.0/5.0
Chevrolet Sonic
4.0/5.0
Chevrolet Aveo
4.0/5.0
Ford Fiesta
4.0/5.0
Fiat 500
3.5/5.0
Mini Cooper
Countryman
3.5/5.0
Mini Cooper
3.0/5.0
Avg. Subcompact Car
4.0/5.0
Source: Consumer Reports
Toyota Yaris Used Value
We've taken a look on Car Gurus to gauge the resale value of a Toyota Yaris, below are typical asking prices for each model year.
According to Car Edge, a Toyota Yaris will depreciate 24% after 5 years and have a 5 year resale value of $14,623.
Note: Used model prices will vary depending on trim level.
| | | |
| --- | --- | --- |
| Model Year | Mileage (miles) | Resale Price |
| 2020 | 17,477 | $19,988 |
| 2019 | 26,421 | $18,987 |
| 2018 | 31,404 | $16,980 |
| 2017 | 102,330 | $12,495 |
| 2016 | 149,500 | $8,900 |
| 2015 | 80,236 | $11,500 |
| 2014 | 76,405 | $12,999 |
| 2013 | 116,498 | $8,964 |
| 2012 | 106,935 | $7,999 |
| 2011 | 166,061 | $4,999 |
| 2010 | 122,000 | $7,399 |
Source: Car Gurus
Related: Toyota Yaris: 12 Common Problems (Solution Guide)
What Do Owners Like and Dislike About the Toyota Yaris?
Based on owner feedback from the Kelley Blue Book site here are what real-life owners love and hate about the Toyota Yaris.
Likes
Sporty
Great handling
Sound system
Fuel economy
Reliable
Dislikes
Slow to accelerate
Noisy
Weak power
Noisy
Owners Reviews
"Great car!! Gas saver!! A little uncomfortable and noisy but very nice looking!!"
Source: Kelley Blue Book
"For the price, this car has almost everything anyone could need. It is well featured, looks nice, has aluminum wheels, good sound system, and has a good motor…"
Source: Kelley Blue Book
"Fantastic gas mileage, stylish looks, fun to drive. Loads of standard features. I drive mostly in town and under 40 mph. It is a perfect car for metro driving. You get what you pay for…"
Source: Edmunds
How Reliable Are Toyota Cars?
According to a recent report from Consumer Reports, Toyota are ranked the 3rd most reliable car manufacturer out of 28 brands, with a score of 71/100.
| | | |
| --- | --- | --- |
| Ranking | Brand | Score |
| 1 | Lexus | 76 |
| 2 | Mazda | 75 |
| 3 | Toyota | 71 |
| 4 | Infiniti | 69 |
| 5 | Buick | 66 |
| 6 | Honda | 66 |
| 7 | Subaru | 66 |
| 8 | Acura | 64 |
| 9 | Nissan | 63 |
| 10 | Mini | 60 |
| 11 | Hyundai | 56 |
| 12 | Chrysler | 54 |
| 13 | Porsche | 52 |
| 14 | Chevy | 48 |
| 15 | Audi | 47 |
| 16 | Cadillac | 47 |
| 17 | BMW | 45 |
| 18 | Ford | 44 |
| 19 | Kia | 43 |
| 20 | Volvo | 42 |
| 21 | Ram | 40 |
| 22 | GMC | 37 |
| 23 | Mercedes-Benz | 34 |
| 24 | Volkswagen | 31 |
| 25 | Genesis | 30 |
| 26 | Jeep | 26 |
| 27 | Tesla | 25 |
| 28 | Lincoln | 18 |
Source: Consumer Reports
Sources
https://www.consumerreports.org/cars/toyota/yaris/
https://repairpal.com/vibration-due-to-damaged-engine-mount-081#
https://www.carcomplaints.com/Toyota/Yaris/
https://www.carproblemzoo.com/toyota/yaris/
https://www.kbb.com/toyota/yaris/
https://www.edmunds.com/toyota/yaris/2019/review/
https://caredge.com/toyota/yaris/depreciation