The Toyota Yaris was once king of the subcompacts.
It's a fantastic small car for city slickers and first-time drivers although it was sadly discontinued in 2020.
The Yaris is budget-friendly, offers great maneuverability and class-leading fuel economy, our only criticism is its a bit low on driver assistance features in comparison to its rivals.
In this article we'll dive into the average lifespan of the Yaris.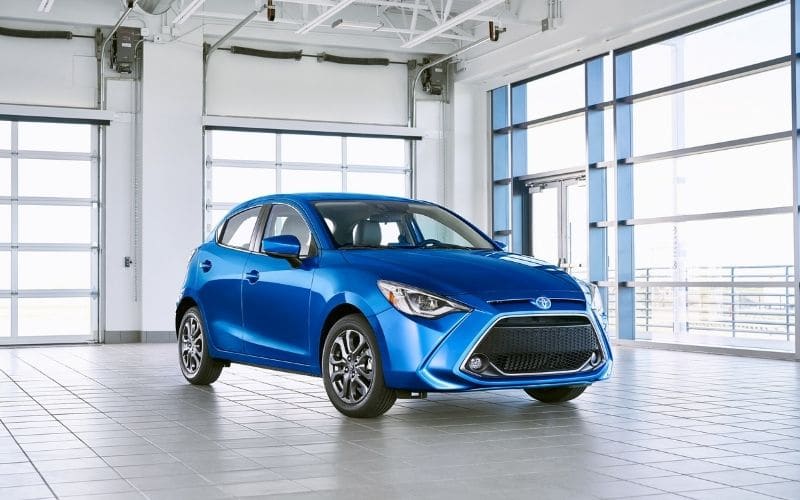 Here is the short answer to how long the Toyota Yaris lasts:
The Toyota Yaris is a highly reliable subcompact car that can last 250,000 – 300,000 miles on average, although this is dependent on regular maintenance and good driving habits. If you drive 15,000 miles per year you can expect a Yaris to last 17 – 20 years before requiring uneconomical repairs.
How Many Miles Can You Expect from a Toyota Yaris?
Toyota is a Japanese car manufacturer that has become synonymous with reliability and the Yaris further proves this.
On used car websites such as Car Gurus and Autotrader, you'll be able to find some very high mileage examples – some with over 250,000 miles, although there's no guarantee any car will last this long.
On owner forums such as Yaris World, you can find further proof of this car's robustness, one owner proudly posted:
"So I finally hit 500,000 miles on my Yaris on Sunday 26th May. The car still runs perfectly. Absolutely no issues with it whatsoever except with my clutch."
This goes to show just how far these cars really can go, but realistically once you've acquired mileages in the region of 250,000 – 300,000 miles the car may have rusted, not be in great shape or be in need of expensive repairs.
Ultimately how long your Yaris will last boils down to how well it's maintained, looked after and the style of driving it's subjected to.
If you take your Yaris street racing or off-roading you can expect it to last a fraction of what we project.
Alternatively, if you adopt a conservative and smooth style of driving you can safely expect to reach big numbers on the odometer.
The Yaris is backed by 3 year / 36,000-mile basic warranty and a 5 year / 60,000-mile powertrain warranty, this is a guarantee that your car will run as expected for your first few years of ownership.
In summary, some Yaris will go on forever although these are the minority, most will meet their demise somewhere in the 250,000 – 300,000-mile region and its longevity is entirely dependent on maintenance, driving and ownership habits.
Does the Toyota Yaris Rust Easily?
The Toyota Yaris is a low-priced car and although it has good levels of rust protection applied during production, in order to keep costs down it's not going to be as resilient to rust as some more expensive luxury options. Rust can be kept at bay with good ownership habits.
The Yaris has had its share of rust complaints over the years, BUT this is normal for any vehicle. There's no escaping rust completely unfortunately unless you live in the desert.
We scoured the Yaris owners forums and can conclude that some surface rust may set in after the first 5 years of ownership.
Depending on where you live this number can change – for example those that live by the ocean will be affected by salty sea air and those that live in states whose roads are heavily salted during the winter will also be more at risk.
Salt can wreak havoc on metal components, hence why regular washes are so important.
Common rust spots on the Toyota Yaris include:
The bottom of the doors
The bottom of the rear hatch / trunk / tailgate
Undercarriage
Rocker panels
Wheel wells
4 Tips to protect your Toyota Yaris from rust:
Keep it clean: Wash your car regualrly, especially after exposre to mud, dirt and snow as these can all accelerate rust.
Watch out for scratches: If you aquire any nicks, dings or scratches on your paintwork get it looked at asap before rust sets in.
Storage: Keeping your Yaris in a garage will help protect it from harsh weather conditions and keep it nice and dry.
Rustproof: Some owners in cold weather states highly advise rustproofing, this adds an extra layer of protection and can help keep rust at bay.
Related: 9 Most Common Toyota Yaris Problems (Solved & Explained)
What is High Mileage for a Toyota Yaris?
A Toyota Yaris with over 125,000 miles is considered high mileage. Although these cars can last well over 200,000 miles, it will have incurred some degree of rust, wear and tear and will typically be more prone to repairs as it clocks up more mileage.
Mileage can give some indication of the value of a car although it's not the only factor to take into consideration.
A well-kept Yaris with over 125,000 miles could be way more reliable than a low mileage one that's been driven by a boy racer and poorly maintained.
If you're looking at buying a used Yaris, aside from the odometer reading, you should consider:
Service history: Can the seller provide records and documents that they have followed the maintenance schedule outlined by the manufacturer?
How many previous owners were there: Generally speaking, fewer owners is always best. A car that's been passed around many times will most likely have had a tougher life than one that had one owner and was fully serviced.
Investment: If you're looking at the car as something you want to keep long-term, it's worth considering paying a bit extra for something more reliable.
Interior: The car's interior can tell you a lot about how the owner has looked after their car. Be careful though, if some ites look suspiciously new, the owner may have just bought replacements for the sale.
Run the VIN: If you find out the cars VIN identification number you can do a full background check on the car and find out what its history is, most importantly if its been in any serious crashes or if it was stolen.
How Long Does the Toyota Yaris Last Compared to Similar Car Models?
In this section, we'll look at some of the Toyota Yaris's closest competitors and see how they stack up in terms of durability and repair costs.
Toyota Yaris vs. Honda Fit
The Honda Fit and Toyota Yaris are arch-rivals in the subcompact car segment, both are made by two of Japan's most reliable automakers.
The Honda Fit can last 250,000 – 300,000 miles or up to 20 years, equal to what is expected of the Toyota Yaris.
Toyota Yaris
Honda Fit
RepairPal Reliability Rating
4.5/5.0
4.5/5.0
RepairPal Reliability Ranking
1st / 21
Subcompact Cars
4th / 21
Subcompact Cars
Average Annual Repair Cost
$333
$390
In terms of longevity these cars are evenly matched and with good care, you'll be able to get a lot of miles out of both of them.
The Yaris and Fit have very similar powertrains, safety ratings and sticker prices.
Both models offer a similar level of tech features too, such as optional Apple Carplay, Android Auto and USB ports although neither car is what we'd consider 'packed' with amenities.
Choosing between the two cars will likely come down to personal preference – we'd suggest taking both for a test drive.
You may also be interested in our article: How Long Do Honda Fit Last?
Toyota Yaris vs. Hyundai Accent
The Hyundai Accent is well-stocked with technology and safety features and is another great value car.
The Hyundai Accent can last 200,000 – 250,000 miles or 13 – 17 years on average, less than what is expected of the Toyota Yaris.
Toyota Yaris
Hyundai Accent
RepairPal Reliability Rating
4.5/5.0
4.5/5.0
RepairPal Reliability Ranking
1st / 21
Subcompact Cars
5th / 21
Subcompact Cars
Average Annual Repair Cost
$333
$444
The Yaris is noted to have more comfortable seating and is considered better value in comparison as the Accent lacks some key standard safety features.
The Yaris also offers smoother driving dynamics.
Related: How Long Do Hyundai Accents Last? (11 Important Facts)
Toyota Yaris vs. Ford Fiesta
The Ford Fiesta is a fun, sporty, subcompact car.
The Ford Fiesta can last 200,000 – 250,000 miles or 13 – 17 years, less than what is expected of the Toyota Yaris.
Toyota Yaris
Ford Fiesta
RepairPal Reliability Rating
4.5/5.0
4.0/5.0
RepairPal Reliability Ranking
1st / 21
Subcompact Cars
15th / 21
Subcompact Cars
Average Annual Repair Cost
$333
$552
The Yaris has more standard features and its reliability is far superior.
The Fiesta has a more powerful engine on the base model however this comes with reduced gas mileage.
Is the Toyota Yaris Reliable?
The Toyota Yaris is widely recognized as one of the most, if not the most reliable subcompact car.
Japanese cars are well known for reliability and Toyota Yaris is no different.
It has received strong scores across the board from the leading auto sites and this is further proven by owner feedback on online forums too, you'll often hear people referring to the Yaris as being indestructible.
The Toyota Yaris received the following reliability reviews:
Repair Pal gave the Yaris a score of 4.5/5.0
Kelley Blue Book's consumer rating index gave the Toyota Yaris an above-average reliability rating of 4.4/5.0.
J.D. Power gave the Toyota Yaris a quality and reliability score of 80/100.
As with longevity, the reliability of your Toyota Yaris will also depend on keeping up to date with the service schedule and adopting good driving habits.
How Reliable is the Toyota Yaris Compared to Other Cars?
According to data from Repair Pal, the Yaris is the most reliable subcompact car.
Model
Reliability
Toyota Yaris
4.5/5.0
Toyota Prius C
4.5/5.0
Mazda2
4.5/5.0
Honda Fit
4.5/5.0
Hyundai Accent
4.5/5.0
Kia Rio
4.5/5.0
Mitsubishi Mirage
4.5/5.0
Mazda MX-5 Miata
4.0/5.0
Nissan Versa
4.0/5.0
Chevrolet Spark
4.0/5.0
Chevrolet Sonic
4.0/5.0
Chevrolet Aveo
4.0/5.0
Ford Fiesta
4.0/5.0
Fiat 500
3.5/5.0
Mini Cooper
Countryman
3.5/5.0
Mini Cooper
3.0/5.0
Avg. Subcompact Car
4.0/5.0
The Best and Worst Years for the Toyota Yaris
We've done some research on owner feedback sites Car Complaints and Car Problem Zoo to find out which Yaris years are the best and worst.
Worst Model Year
The worst model years for the Toyota Yaris are 2007 and 2008.
According to Car Complaints, the 2007 and 2008 models were plagued by body paint problems.
The problems occurred around 66,050 miles and typically cost $1,550 to have the car repainted.
There were also a large number of complaints from owners regarding an airbag recall, otherwise known as the 'Takata recall'.
This recall was quite infamous, the air bags (made by Takata) were known to deploy whilst driving and in some cases the air bag inflators exploded.
Best Model Year
The best model year for the Toyota Yaris is 2020, however you can't go too far wrong with any model after the 2010 model year.
After 2010 the number of complaints dropped significantly, this is because the paint and air bag problems from previous years had been addressed.
Our first choice pick would be the 2020 model though as it has all the latest updates and features including Apple CarPlay and Android Auto smartphone integration as standard.
Related: 14 Best & Worst Toyota Yaris Years (With Facts & Stats)
Model Year and Number of Complaints
Here is the total number of complaints and problems for every Toyota Yaris model year from the CarComplaints and Car Problem Zoo databases:
Model Year
Car Complaints
No. of Complaints
Car Problem Zoo
No. of Problems
2020
2
9
2019
1
25
2018
1
7
2017
4
20
2016
0
8
2015
4
18
2014
4
2
2013
7
11
2012
9
41
2011
3
29
2010
18
117
2009
17
141
2008
48
314
2007
94
358
What About Recalls for These Models?
The Toyota Yaris has had a total of 56 recall campaigns since 2007.
You can check if your Toyota Yaris has been subjected to a recall campaign by entering your VIN (Vehicle Identification Number) on Toyota's recall site or the NHTSA recall database.
It is important to note that recalls are manufacturing faults repaired at no charge for the consumer.
Here is the total number of recall campaigns for every model year of the Toyota Yaris:
2020 Toyota Yaris: 0
2019 Toyota Yaris: 0
2018 Toyota Yaris: 1
2017 Toyota Yaris: 3
2016 Toyota Yaris: 2
2015 Toyota Yaris: 4
2014 Toyota Yaris: 1
2013 Toyota Yaris: 1
2012 Toyota Yaris: 5
2011 Toyota Yaris: 3
2010 Toyota Yaris: 9
2009 Toyota Yaris: 10
2008 Toyota Yaris: 9
2007 Toyota Yaris: 8
Toyota Yaris Model Year List
First Generation (1999-2004)
1999 Toyota Yaris
2000 Toyota Yaris
2001 Toyota Yaris
2002 Toyota Yaris
2003 Toyota Yaris
2004 Toyota Yaris
Second Generation (2005-2010)
2005 Toyota Yaris
2006 Toyota Yaris
2007 Toyota Yaris
2008 Toyota Yaris
2009 Toyota Yaris
2010 Toyota Yaris
Third Generation (2011-2019)
2011 Toyota Yaris
2012 Toyota Yaris
2013 Toyota Yaris
2014 Toyota Yaris
2015 Toyota Yaris
2016 Toyota Yaris
2017 Toyota Yaris
2018 Toyota Yaris
2019 Toyota Yaris
Fourth Generation (2020)
Are Toyota Yaris Expensive to Maintain?
The Toyota Yaris is one of the most affordable vehicles in its class in terms of maintenance. Parts are still readily available and you should have no problem taking it to an independent Toyota mechanic for servicing and repairs.
Toyota vehicles, in general, are very reliable vehicles and this helps to keep maintenance costs down.

According to RepairPal:
In General, a Toyota Yaris will cost an average of $333 per year in repairs and maintenance. This is notably lower than the average of $456 for subcompact cars. The average for all vehicles is estimated at $652.
You can find a full price breakdown of Yaris ownership costs here.
Model
Avg. Annual Repair Cost
Frequency of Unscheduled Repairs
Probability of Severe Repairs
Toyota Yaris
$333
0.4
6%
Toyota Prius C
$383
0.36
7%
Mazda2
$449
0.3
7%
Honda Fit
$390
0.4
8%
Hyundai Accent
$444
0.2
8%
Kia Rio
$434
0.2
9%
Mitsubishi Mirage
$457
0.1
9%
Mazda MX-5 Miata
$429
0.3
10%
Nissan Versa
$456
0.4
11%
Chevrolet Spark
$434
0.3
11%
Chevrolet Sonic
$536
0.4
11%
Chevrolet Aveo
$616
0.2
11%
Ford Fiesta
$552
0.4
11%
Fiat 500
$522
0.2
17%
Mini Cooper
Countryman
$652
0.59
11%
Mini Cooper
$846
0.62
13%
Avg. Subcompact Car
$456
0.3
11%
How Long Do the Brakes Last?
Toyota Yaris brake pads 30,000 and 70,000 miles. This can vary widely and depends mostly on your style of driving and the traffic conditions you normally experience.
You can expect your brakes to wear out sooner if you drive in a lot of stop-and-go rush-hour traffic
Brake pad replacement (including parts and labor) can cost anywhere between $237 and $258.
The #1 cause of premature brake pad wear are full and complete stops from a high speed.
Smoothe, controlled use of the brake pedal will help your brakes last longer.
How Long Do the Tires Last?
The Toyota Yaris's stock tires usually last around 30,000 to 50,000 miles or 2 to 4 years. Although, they can wear out much sooner. This depends on various factors, such as driving habits, climate, and road conditions.
Rotate tires every 5,000 miles to ensure even wear.
Check your tire pressure every few weeks to make sure they're at the correct tire pressure.
Have a mechanic or tire shop check your wheel alignment every 6 months.
How Long Do Toyota Yaris Engines Last?
The Toyota Yaris comes with a 1.5L 4-cylinder engine which should last well over 250,000 miles with regular oil changes and routine maintenance.
There are even examples of people reaching over 500,000 miles on the original engine – they are incredibly well built.
You may also be interested in our article: How Long Do Mini Coopers Last?
How Long Do Toyota Yaris Batteries Last?
The Toyota Yaris battery should last between 3 – 5 years. A vehicle's battery life varies depending on many factors such as climate, driving habits, and battery type, among many others.
Keep your battery tightly fastened: The vibrations of your car can loosen the connections, potentially resulting in short circuits and internal damage.
Limit short rides: Quick car rides prevent the battery from fully charging.
Storage: Keep your Toyota Yaris stored indoors to protect it from extreme temperature changes.
Control Corrosion: Clean the terminals (toothbrush dipped in baking soda and water mixture) and keep them free from build-up.
How Long Do Toyota Yaris Alternators Last?
The alternator on the Toyota Yaris should last 100,000 – 150,000 miles or 7 – 10 years.
The alternator powers most electronic components while you're driving around or idling and is also responsible for charging the battery of your car while driving.
A new alternator on a Yaris will cost between $352 and $453 including parts and labor.
How Long Do the Spark Plugs Last?
Toyota Yaris spark plugs can typically last between 30,000 and 60,000 miles.
Spark plugs are usually inspected every time you take your car in for a tune-up.
Signs of a fouled spark plug include:
Reduced gas mileage
Lack of acceleration
Rough idling
Hard starts
Engine misfires
What About Insurance Costs?
The average cost of full comprehensive coverage for a Toyota Yaris is $1,260 per year or around $105 per month.
Insurance costs can vary from person to person; be sure to shop around to find the best potential deal for your Toyota Yaris.
Related: Toyota Yaris: 12 Common Problems (Solution Guide)
Tips to Prolong the Life of Your Toyota Yaris
Use smooth driving habits.
Keep up to date with factory-recommended maintenance.
Use good quality parts and fluids.
Address repairs and problems straight away
Regularly wash your car (including the underside) to prevent rust setting in.
Check your Toyota Yaris's engine oil, coolant, brake, and transmission fluid levels and top them up when required.
Familiarize yourself with the owners manual.
Sources