The XC60 is a small luxury crossover that's been leading Volvo's sales charts for a number of years.
On top of its elegant looks and premium interior, it also comes with lots of standard driver assistance tech and class-leading safety ratings.
On paper, it definitely seems like an excellent family vehicle that's perfect for daily commutes and long road trips. But what are the pitfalls?
In this article, we'll highlight the most common problems and issues of the Volvo XC60.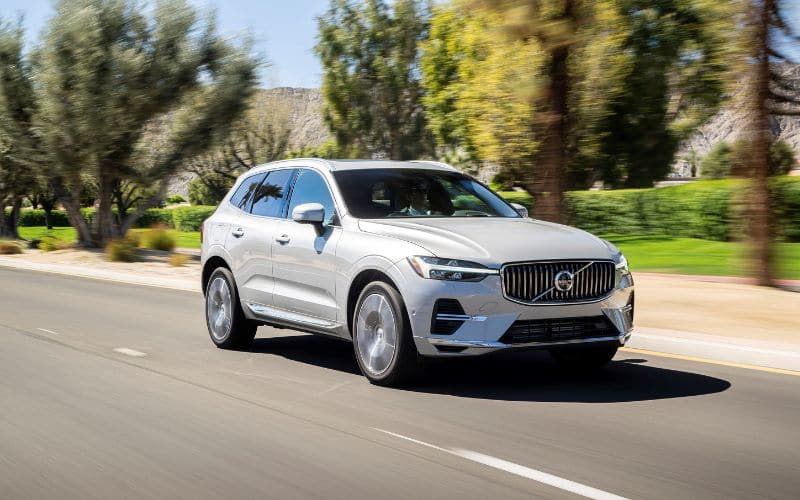 1. Infotainment and Software Problems
The most common complaint people have with the XC60 has to do with its Android Automotive OS-based infotainment system which was introduced in the 2022 models.
Volvo is the first auto manufacturer to use Google's OS and early versions of the XC60's Android Automotive seem to be riddled with issues.
Some of the problems 2022 XC60 owners have reported include:
Infotainment screen and dash keeps restarting
Lack of Apple CarPlay (fixed with software version 2.2)
Apps like Sirius XM and RADIO.COM don't work
Problems with voice commands and Google Assistant
Bluetooth disconnects and other connectivity issues
Failed OTA (Over the Air) updates and bricked cars
TCAM (Telematics and Connectivity Antenna Module) failures
Since the XC60's infotainment system also controls other essential vehicle features such as navigation, climate control and driver assists, it can be quite annoying to deal with when it keeps crashing and restarting.
Here's how one XC60 owner described their Xc60 infotainment issues:
"At times the whole infotainment system will just shut down and the screen will go black then reboot. I have to literally clear the screen (with the button on the bottom) to try and get things back and running."
Older versions of the XC60's infotainment system, branded as Volvo Sensus, were more stable and reliable — though owners also complained about slow bootup times of 5 to 10 seconds.
The XC60 Recharge hybrid models are also more susceptible to 'bricking' issues where the vehicle will just not turn on as they're more dependent on software — although not very many owners have reported encountering this issue.
Solution
Problems with the current model's infotainment system should be eventually resolved with future software updates.
Several XC60 owners have also had to get their TCAM units replaced under warranty due to hardware failures.
These issues, while annoying, shouldn't affect the vehicle's drivability and long-term reliability.
It does, however, affect people's initial impressions about their expensive brand new luxury vehicle which significantly brings down the overall ratings for the newer models.
2. Water Leaks Around Windshield
A common problem associated with the first generation Volvo XC60 are leaks coming from the windshield and sunroof.
Leaky windshields seem to be more of a problem with 2009 to 2013 XC60s because there aren't very many reported issues with the 2014 to 2017 models.
The leaks are caused by the faulty adhesives used to bond the windshield to the vehicle's frame. Over time, the adhesive gets weaker and fails to create a proper seal around the windshield.
Leaks usually only start occurring after a couple of years and when it rains really hard. Sometimes, the sunroof drains, which pass through the A-pillar, can also get clogged and contribute to the leaks.
Lots of owners have found puddles of water inside their cars due to the windshield leaks.
Aside from damaging the carpet and interior pieces, a leaking windshield can also eventually damage the car's electronics.
Here's how some XC60 owners described the issue:
"I own a 2013 XC60. Rain, melted snow, and car washes recently started resulting in water running down the inside of the windshield from a broken top seal. Took it to a dealer yesterday. The technician confirmed the leak (it was raining that day) and physically pushed the top of the windshield up and away from the frame of the car to confirm the seal was broken."
"I was on a business trip with my 2010 XC60 parked at the airport and came back to a soaked and stinky interior. The dealer says it's the sunroof drains that clog and need to be cleaned out. $500 because they have to remove the entire roof to gain access to the drains."
Solution
To completely fix the leaks, the windshield has to be completely removed and properly glued back in.
This can be done at a dealer or an independent glass shop, but since the XC60's windshield has a lot of driver assistance electronics surrounding it, some of the electronics may need to be recalibrated.
Sometimes, removing the windshield can cause the glass to shatter, so you might want to budget for a new windshield as well.
Some XC60 owners have also fixed their leaks by applying a layer of silicone around the outer edge of the windshield. It may not look original but it can definitely get rid of pesky leaks until you get a proper fix.
3. Brake Issues
A common problem that affects a lot of first generation XC60s is a leaking brake vacuum pump once it reaches slightly higher miles.
The leak doesn't really cause any problems with the car's braking performance, but it will cause you to slowly lose oil.
Many new XC60 owners have also reported different problems with their brakes such as:
Soft brake pedal feel
Squeaking or groaning brake noises
Brake rotors getting warped or needing replacement at low miles
Automatic braking system triggering by itself for no reason
Here's how a couple of owners described their brake issues:
"Vibrations in the vehicle and brake pedal when braking brought me to the dealer for service. Front rotors were measured with calipers and reported as warped at a lightly used 6k miles and dealer replaced as a 'favor'."
"On two occasions the automatic breaking/city safety engaged on my Volvo XC60 2021 vehicle. In both incidences there was no need for this to happen. First incident occurred while changing lanes. There was traffic but said traffic was a safe distance in front of me. I was startled by the immediate hard stop braking and safety belts tightening around me."
"Our Early 2022 XC60 periodically slams on the brakes when in reverse when there is no obstruction behind us. It also has done so going forward (which I didn't even know was an option). This just started a month ago and has happened 4-5 times."
Solution
To fix a leaking vacuum pump, you usually only have to put in new seals and there are many repair kits available that cost less than $100.
Replacing the vacuum pump seals also isn't too difficult and can be done in less than an hour so labor shouldn't be too expensive.
There are even lots of tutorials and videos available online that can show you how to do it on your own with just basic tools.
For the different brake issues that affect newer XC60s, it's rare for all these problems to occur in a single vehicle.
The most common causes of brake issues in these newer vehicles are usually either:
Faulty parts or manufacturing defects
Incorrect adjustment or installation from the factory or by the dealer
Calibration issues with the electronic and computer systems
In most cases, these random problems can be diagnosed and properly resolved by the dealer while the vehicle is still under warranty.
4. Oil Consumption
Many first generation XC60s have had issues with excessive oil consumption at relatively low mileages — usually around 50,000 miles.
Early oil consumption issues affect the 6-cylinder and 4-cylinder engines the most, but problems have also been reported with the 5-cylinder engine.
Here's how one owner described their experience:
"My husband owns a 2014 XC60. His grandfather was the first owner and gave it to him. It has 68k miles on it. Recently it's been giving us the oil level low sign on the dash. There is no visible oil leak, but it is losing oil somewhere. Mechanic confirmed."
Oil consumption is not unusual in vehicles that have over 100,000 miles as more leaks start to appear and the engine's internal components wear out.
If a lower mileage vehicle is constantly losing or burning up oil in between oil changes, there might be something wrong with the engine itself.
Solution
The easiest thing to do is check the engine for possible leaks since the problem could be caused by a failing seal or gasket.
If you're sure that the engine has no leaks, you can take it to a Volvo dealership for an oil consumption test.
Volvo dealers already have procedures in place to address these oil consumption issues. They'll first try to replace smaller parts like the oil trap, but if these don't work, you might need an engine rebuild which can cost several thousand dollars.
Volvo had issues with the design of the pistons and piston rings which were eventually updated. Unfortunately, getting it fixed requires tearing down the engine and replacing these internal components.
Many owners who are already out of warranty just make sure to constantly check the oil levels and add a quart of oil every 1,000 miles to make sure the engine never runs out of oil.
5. TPMS Issues
Many XC60 owners have issues with their TPMS (Tire Pressure Monitoring System) reporting that one or all of the tires have low pressure.
This issue typically affects newer Volvos made from 2015 and onwards which was around the time that the company switched to an ABS-based system.
Instead of using actual tire pressure sensors, the ABS computer monitors wheel speed to predict tire pressure issues and is more prone to false alarms caused by changes in temperature, elevation and road conditions.
Solution
To avoid frequent false alarms, you need to make sure the TPMS is calibrated properly.
Inflate all four tires to the correct pressure indicated on the sidewall and then go to the TPMS settings in the infotainment system to 'Store Pressure'.
After doing all this, you'll have to drive around for 5 to 10 minutes for the system to recalibrate itself.
If the issue persists, there might be something wrong with the tires, wheels or some of the electronics and you'll need to take it to the dealer for a proper diagnosis.
6. Vibrations When Traveling at Speed
Some XC60 owners have reported experiencing strange vibrations once they hit 40 to 60 miles per hour.
Here's how a couple of owners described the issue:
"Currently in a 2019 XC60 that has had highway vibrations since new (T6 21″). Feels like a wheel is off balance with a strong feeling of vibration at speeds above 60mph (vibration gets worse the faster I go) mainly in the steering wheel but can be felt in the floor and seat as well."
"We bought a 2021 XC60 T5 AWD . It vibrates in the steering wheel beginning at 65mph. They have replaced everything they can think of, as well as the tires. Engine mounts are next but I am fairly certain that has nothing to do with it. It has done this since brand new."
This vibration problem doesn't affect all XC60s, but it can be difficult to track down the cause once it starts happening. Similar issues have also been reported with other Volvo models.
Solution
The most common cause of the vibration issue is the foam insert inside the tire coming loose. Lots of modern Volvos have foam inserts to lessen the road noise.
Replacing the affected tire, or all four, might be able to quickly resolve the problem. A proper alignment and wheel balancing is also important.
If the tires and wheels have been checked out, there could be a mechanical problem with the car.
Other possible causes of vibration could be problems with any of the following:
CV axle
Wheel bearings
Driveshaft
Differential
Engine or transmission mounts
Volvo XC60 Problems Per Model Year
Volvo XC60
Model Year
Problems
Sales
2022
21
–
2021
17
37,676
2020
7
25,308
2019
20
30,801
2018
27
27,754
2017
16
25,721
2016
20
24,233
2015
44
28,046
2014
23
10,089
2013
61
22,096
2012
44
17,376
2011
44
13,203
2010
66
17,914
Source: Car Problem Zoo
Volvo XC60 Pros and Cons
If you're considering a Volvo XC60 as your next car you might be wondering what its strengths and weaknesses are…
Pros
Sophisticated exterior and interior design
Excellent safety ratings
Comfortable and quiet cabin
Lots of driver assistance tech as standard
Decent gas mileage
Top-of-the-line models have lots of power
Not too big for city driving
Cons
Latest infotainment system needs software updates
Electric hybrid range is limited
Higher than average maintenance costs
Some rivals have better handling
Related: 15 Best & Worst Volvo XC60 Years (With Pictures & Stats)
Volvo XC60 Reliability Compared to Similar Cars
Consumer Reports rankings detailed below is based on the model's newest three years, the Volvo XC60 sits near the top, with a relatively good score of 61/100.
| | |
| --- | --- |
| Make & Model | Consumer ReportsReliability Score |
| Buick Envision | 90 |
| Cadillac XT5 | 89 |
| Lexus NX | 78 |
| Audi Q5 | 64 |
| Mercedes-Benz GLC | 63 |
| Porsche Macan | 61 |
| Volvo XC60 | 61 |
| Infiniti QX50 | 49 |
| BMW X3 | 47 |
| Acura RDX | 43 |
| Mercedes-Benz GLB | 34 |
| Genesis GV70 | 30 |
| Jaguar F-Pace | 25 |
| Land Rover Discovery Sport | 25 |
| Land Rover Range Rover Evoque | 25 |
| Land Rover Range Rover Velar | 25 |
| Volkswagen ID4 | 21 |
| Lincoln Corsair | 20 |
| Alfa Romeo Stelvio | 18 |
| Tesla Model Y | 18 |
Source: Consumer Reports
Volvo XC60 Used Value
We've taken a look on Car Gurus to gauge the resale value of a Volvo XC60, below are typical asking prices for each model year.
According to Car Edge, a Volvo XC60 will depreciate 43% after 5 years and have a 5 year resale value of $32.732.
Note: Used model prices will vary depending on trim level.
| | | |
| --- | --- | --- |
| Model Year | Mileage (miles) | Resale Price |
| 2022 | 3,787 | $41,799 |
| 2021 | 17,041 | $41,606 |
| 2020 | 14,405 | $43,000 |
| 2019 | 30,227 | $35,490 |
| 2018 | 50,059 | $31,595 |
| 2017 | 66,843 | $25,347 |
| 2016 | 91,740 | $14,900 |
| 2015 | 60,958 | $19,948 |
| 2014 | 64,649 | $17,494 |
| 2013 | 117,365 | $9,950 |
| 2012 | 115,000 | $12,495 |
| 2011 | 128,244 | $9,591 |
| 2010 | 112,736 | $8,999 |
Source: Car Gurus
Related: How Long Do Volvo XC60 Last? (Solved & Explained)
What Do Owners Like and Dislike About the Volvo XC60?
Based on owner feedback from the Kelley Blue Book site here are what real-life owners love and hate about the Volvo XC60.
Likes
Quick
Comfortable
Safe
Design
Great infotainment system
Fun to drive
Seats
Suspension
Dislikes
Heavy due to panoramic glass roof
Could be sportier
Build quality
Complicated technology
Owners Reviews
"I traded a 18 Mercedes for 21 XC60, I like this better. If you can work your Samsung, Iphone or IPad – the Volvo touch screen works EXACTLY the same way!!! The touch screen is easy"
Source: Kelley Blue Book
"I love this car! Sometimes I sit in the car to check my email in the garage because it's so comfortable. It is understated in appearance, but it's weirdly easy to spot in a parking lot…"
Source: Kelley Blue Book
"… A 5-star car otherwise, the infotainment system still is somewhat quirky and frequently counter-intuitive. Google Navigation works very well, but the satellite radio / app functions still require much more attention than safe-driving protocols should warrant."
Source: Edmunds
How Reliable Are Volvo Cars?
According to a recent report from Consumer Reports, Volvo are ranked the 20th most reliable car manufacturer out of 28 brands, with a score of 42/100.
| | | |
| --- | --- | --- |
| Ranking | Brand | Score |
| 1 | Lexus | 76 |
| 2 | Mazda | 75 |
| 3 | Toyota | 71 |
| 4 | Infiniti | 69 |
| 5 | Buick | 66 |
| 6 | Honda | 66 |
| 7 | Subaru | 66 |
| 8 | Acura | 64 |
| 9 | Nissan | 63 |
| 10 | Mini | 60 |
| 11 | Hyundai | 56 |
| 12 | Chrysler | 54 |
| 13 | Porsche | 52 |
| 14 | Chevy | 48 |
| 15 | Audi | 47 |
| 16 | Cadillac | 47 |
| 17 | BMW | 45 |
| 18 | Ford | 44 |
| 19 | Kia | 43 |
| 20 | Volvo | 42 |
| 21 | Ram | 40 |
| 22 | GMC | 37 |
| 23 | Mercedes-Benz | 34 |
| 24 | Volkswagen | 31 |
| 25 | Genesis | 30 |
| 26 | Jeep | 26 |
| 27 | Tesla | 25 |
| 28 | Lincoln | 18 |
Source: Consumer Reports
Related: Where are Volvo XC60 Made? (Solved & Explained)
Sources
https://www.consumerreports.org/cars/volvo/xc60/
https://www.carcomplaints.com/Volvo/XC60/
https://www.carproblemzoo.com/volvo/xc60/
https://www.kbb.com/volvo/xc60/
https://www.edmunds.com/volvo/xc60/
https://caredge.com/volvo/xc60/depreciation