Launched in 2019 the Yamaha Tenere is a lightweight, no-nonsense adventure bike.
It features a 689cc liquid-cooled, inline twin-cylinder engine, twin Brembo brakes and rally bike aesthetics.
In this article, we'll take a closer look at its reliability.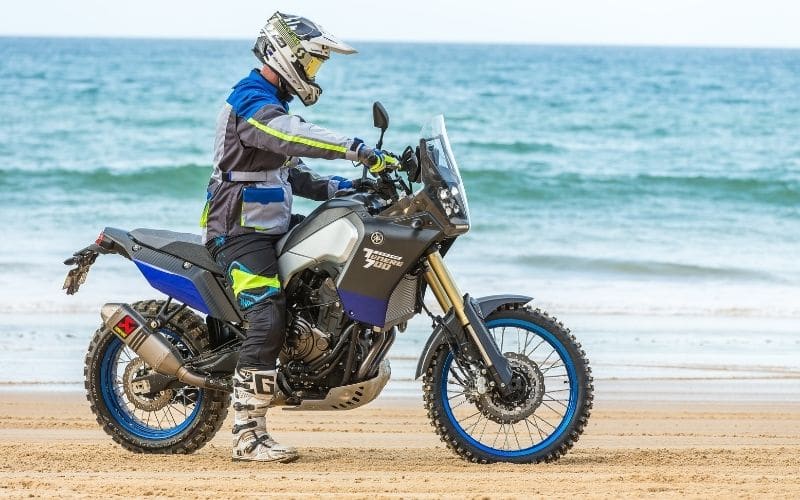 Here is the short answer to are Yamaha Tenere 700's reliable:
The Yamaha Tenere 700 has one of the most reliable engines in the adventure bike class, and the simplicity of the bike adds to its overall reliability. With attention to fluids, valves, filters and clutch disks, a Yamaha Tenere 700 will perform reliably for over 75,000 miles.
How Reliable Are Yamaha Tenere 700s?
Yamaha has a proven track record for building durable bikes and the Tenere 700 has so far proven to live up to expectations, and as one owner said:
"It's hard to find genuine problems with this bike".
Although the bike is fairly new, it uses the same liquid-cooled 689cc engine as the MT-07 which has been around since 2014, so Yamaha has had plenty of time to work out any issues with it.
In fact, I've seen reports from many MT-07 who say they've ridden hard for over 100,000 miles and their motorcycle has yet to fail.
Skim through the online Yamaha forums, and you'll find no shortage of riders who rip their T7 through dirt and street regularly without complaint and their bike never fails to start up and perform dependably.
The T7 is a very simple bike, which will disappoint those who love electronics as all you get is ABS. However, the minimal design means there less chance of something breaking or problems arising.
Here's a review taken from Motorcycle News:
"From an engine point of view, it's proven and reliable technology as it shares the same motor as the MT-07. It has high-quality suspension and Brembo brakes and as a package has been a long time coming, so expect benchmark Japanese build quality and reliability.
With all the praise out the way, there are a few minor issues to address…
Some riders have shared that they've had a few problems with wheel spokes corroding and poor paint finishing.
The heated grips have also been noted as an area of weakness; in some instances, the throttle grip has lost contact with the tube inside and required gluing back on – although this isn't Yamaha's fault per se as these are aftermarket parts that Yamaha use.
Taller riders may find the footpeg / seat / bars setup a bit cramped although there is a rally seat that resolves this.
There are occasional complaints from aggressive riders about the suspension, and some suspension tuners are saying owners really need to come in and get their bikes setup correctly, however much riders will be just fine as it is.
Many owners just ramp up the preload on the rear shock and find that's all they need to do.
The most frequently reported failures to take the Tenere 700 into the repair shop are valve failures and broken clutch discs.
Inspecting valves and gearbox components is part of routine service maintenance – doing so ensures you catch the problems before they manifest.
We suggest getting your bike valves inspected every 15,000 miles by a mechanic with Yamaha engine experience to maintain its dependable performance and keep it on the road.
Yamaha dealership mechanics are regarded as the most qualified candidate for routine services, including valve and clutch inspections.
Do your research as some owners report better experiences at some dealerships than at others.
Reliability is heavily dependent on owner practices like storage, upkeep, and the style and frequency of which they ride their bike.
How Many Miles Can a Yamaha Tenere 700 Last?
As a simple and efficient dual-sport motorcycle, a well-kept Tenere 700 can last over 75,000 miles if its owner maintains, rides and stores it per Yamaha's recommendations. A clean air filter, consistent oil changes, and frequent servicing will keep the Tenere 700 lasting for years.
The Tenere 700 was only launched in 2019 and so there aren't many riders with big numbers on their odometer… yet.
However, what we do know is the lifespan of any bike is largely dependent on the engine – and the 689 cc parallel-twin engine that powers the T7 has been proven to go the distance, as it is the same engine used on the Yamaha MT-07.
You can find MT-07 owners with 50,000 miles plus, and this isn't surprising as you don't often hear of any issues with the engine.
The downside to a straightforward, efficient machine like the Tenere is that it lends itself naturally to easy customization or off-road stunt riding which can have an adverse effect on longevity.
Swapping your stock air intake for a throttle-response boosting urban-intended air intake might liven things up in town, but next time you hit the dirt, it will be letting dirt, dust, and debris into your engine.
We also suggest tracking down a local Yamaha-schooled technician you trust to perform regular inspections on vital parts like valves.
Adjusting the Valves can be an complex task for a home mechanic as you have to dismount the entire 689cc engine.
You may also be interested in our article: How Long Do Yamaha MT-07 Last?
What is Considered High Mileage for a Yamaha Tenere 700?
A Yamaha Tenere 700 is considered high mileage after 35,000 miles, based on the assumption that all dual-sport motorcycles are for entry-level riders who push hard and ride rough, but that's not always the case. The odometer reading has little relevance to the actual longevity of the Tenere.
It's not just the T7 that's deemed high mileage after 35,000 miles; it's all mid-sized dual-sport bikes.
A well-kept Tenere 700 with 35k miles on the clock is a better investment than one with half the mileage that's been poorly maintained, led a rough life and had multiple owners.
If you're buying a used T7 consider the following:
Service records: Some owners will have receipts and documented history of everything concerning their bike and this is a good sign the owner took good care of it.
Check the VIN: Yamahas have a high theft rate so you want to make sure you're not looking over a stolen bike – you'll need to physically check the numbers and make sure they haven't been re-stamped.
Assess the bikes overall condition: If you can see signs of neglect or repairs that have been left for a long time it can give you an idea of the type of owner your dealing with. On the other hand, if the owner has all related receipts and you can detect attention to detail with the smaller points on the bike such as waxed paint, matching tires etc you know you're headed in the right direction.
Take it for a test ride: You'll likely have to leave the money for the bike with the owner and maybe your drivers license – a test ride can highlight any major issues, ask them the seller to leave the bike cold.
Bring a checklist: Take a checklist with you of things to go over to make sure you dont' forget anything. Familiarize yourself with the model beforehand and don't be afraid to take your time or walk away from the sale.
What Are the Best Model Years to Buy and Avoid?
Best Years: 2021
The best mode year for the Tenere 700 is the 2021 model.
There's not a huge amount of choice between models but the latest edition benefits from fewer teething issues that Yamaha will have ironed out from the debut model.
Worst Years: 2019
The worst model year is for the Tenere 700 is the 2019 model. There were reports of early Tenere 700 models being snatchy at low revs, although remapping the ECU solved this.
There isn't a bad choice of year-model to go with; the Tenere is a reliable machine although the first model is always going to be the most troublesome.
Tenere 700 Crticisms
The most significant criticism about the 2019 Tenere 700 owners is the absence of equipment compared to other ADV bikes.
Here are some features available on other Adventure bikes but missing on the Yamaha Ténéré 700:
Quick Shifter
LCD Display
Cruise Control
Heated grips
Traction Control
None of the year-model Tenere's are affluent in bells and whistlesu2—Yamaha built the Tenere 700 is reserved for riders who want a straightforward dual-sport venture with a fair number its price tag.
What Usually Breaks First on a Yamaha Tenere 700?
The clutch disc is the first thing to break on the Yamaha Tenere 700. Assorted Tenere 700 riders have encountered breakage in their inner clutch plates. Once failed, an invasive rattling sound can develop.
5 symptoms that indicate Yamaha Tenere has a broken Clutch Plate:
Skipped Gears
Clutch sticking
Clutch slipping
Clutch dragging
Clanging rackets generated from the transmission.
If the clutch plate is the problem, the only solution is to substitute the impaired disc with a fresh disc.
In some reports, riders claim their clutch discs break again. This is generally interpreted as a sign that the bike's clutch basket needs to be replaced.
Yamaha Tenere 700 Maintenance Costs
The Maintenance costs of a Yamaha Tenere 700 are about average. The more of an effort you put into motorcycle maintenance, the cheaper the ownership expenses are long-term.
Here are some samples of Tenere 700 ownership costs:
$350 for a set of tires
$150 for a stator replacement
$80 for a new battery
$150 for fork seals, bushings, snap rings, washers, dust seals, and fluid
$100 for the wheel bearings front and rear
$60 an oil change
There are other general costs, such as:
Padded Off-Roading Jacket = $200
Off0-Roading Gloves = $100
Winter riding gear = $200-$500
Rain gear = $75-$300
Helmets = $100-$500
Fuel = $15 a tank
Storage =$?
Insurance =average cost of adventure bike motorcycle insurance is $721 a year.
Related: 8 Common KTM 690 Enduro and Enduro R Problems (Explained)
4 Tips to Make Sure Your Yamaha Tenere 700 Lasts Long
Wash it Regularly
Preserving the cleanliness of your T7, especially after rips through dusty environments, not only keeps it looking fresh, it's also an effective way to extend its longevity as dirt and grime can cause components to break down faster and cause rust.
Ride Sensibly; Ride Often
A Tenere 700 that sits untouched for a long duration tends to sit with rotting fluids.
Defunct moto-fluids can induce deterioration to the lines of the bike.
Overly aggressive riding can increase wear and tear on components.
Follow Yamaha's Spec Service Schedule
Get your Tenere 700 serviced per the maintenance schedule included in the owner's manual.
A genuine Yamaha service includes inspections and lubrication, not just fluid top-offs.
Extend your Tenere's lifetime by following every suggested maintenance task at the outlined interval, even if you do the service yourself.
Store your Tenere away from Destructive Weather
Whether your keep your Yamaha Tenere 700 under a hefty tarp or safe in your garage, storing it away from dirt, rain, UV rays, and moisture when not in use will keep it performing reliably for years to come.
Alternative Bike Options
Below is a selection of similar bikes you may wish to consider including some key decision-making factors.
Bike
Base Model
MSRP
Weight
Avg. Fuel Economy
Yamaha Tenere 700
$9,999
452 lbs
50.5 mpg,
Honda Africa Twin
$14,399
501.1 – 552.9 lbs
46.2 mpg
Suzuki V Strom 650
$8,799
470 lbs
54.4 mpg
BMW F850 GS
$12,595
505 lbs
60.5 mpg
Triumph Tiger 900
$11,995
505 lbs
52.3 mpg
Sources
https://www.motorcyclenews.com/bike-reviews/yamaha/tenere-700/2019/: