The Acura TSX is a premium compact car that was produced from 2004 to 2014.
It was discontinued alongside the TL to make way for the performance-based TLX model.
The TSX offers a good balance between sportiness, reliability and comfort for an affordable price.
In this article, we'll take a closer look at its most common issues.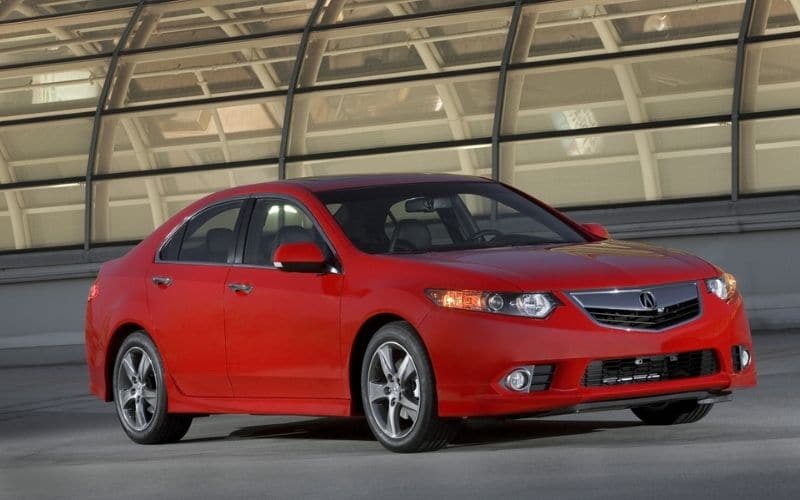 1. Electric Power Steering Control Module Failure
According to Car Problem Zoo, a site dedicated to car owner feedback, the most commonly reported TSX problem is steering-related.
The majority of the steering problems were caused by the failure of the Electric Power Steering (EPS) Control Module and this was prevalent on 2011 – 2013 models.
Here's what the owners had to say:
"While pulling into a parking lot, the power steering quit completely. Took vehicle to dealer and they replaced the EPS control unit at a cost of about $1800."
"Steering wheel completely locked up while driving, luckily in a parking lot. This happened at midnight after attending an event. As a single woman, it was dangerous for me to wait for roadside assistance in an unlit parking lot for an hour."
In most instances owners report the following symptoms:
Check Power Steering System warning lights comes on, on the dashboard
Steering wheel locks while driving
Loud noises
Solution
In most cases the only fix for this problem is to replace the EPS Control Module, this can cost roughly around $2000.
The EPS Control Module is designed to calculate the assisting power required based on the torque being applied to the steering wheel by the driver, the steering wheel position and the speed of the car. The EPS motor rotates a gear with an applied force that reduces the amount of torque needed from the driver.
2. Transmission Failure
According to Car Complaints, one of the worst problems faced by TSX owners, is premature transmission failure.
This has been reported on models from 2004 – 2005 and occurred at an average mileage of 100,000 miles with a repair cost of $2500.
Typically a transmission should last at least 200,000 miles on a properly maintained car.
Here's what one owner had to say:
"The trans started whining and one day went into reverse roughly. I knew something was up and immediately changed the fluid with factory OEM Honda approved fluid. Less than a month later the whine got worse and it won't shift into gears until you let off the gas, it will just rev in neutral then click into a gear. Reverse is out as well. Going to be $2050 for a used trans with 70,000 miles"
Solution
The only fix for a failed transmission is to replace it with a new one, and this can be costly usually upwards of $2000.
You will need to weigh up the value of the car against the cost of a new transmission and decide if you're money would be better invested in a new vehicle.
3. Power Steering Leaking Fluid
Another steering-related problem that's been plaguing the 2006 – 2008 TSX models is the leaking of power steering fluid.
Power steering fluid creates a hydraulic link between the steering wheel and the front wheels and translates the movements from the steering wheel to the car's wheels. Power steering fluid also lubricates the moving parts within the steering system.
Owners typically become aware of the problem as the steering wheel becomes difficult to maneuver whilst others have lost power steering completely.
This is a serious safety concern, especially when the car is already in motion.
If the power steering goes, then you can still turn the steering wheel it just becomes extremely difficult.
Many owners who experienced this issue report that upon checking the power steering fluid, they realized there wasn't any and the rack and pinion has a leak.
Other reported symptoms include:
Solution
In many instances, the cause of the issue is a cracked power steering hose, which will need to be replaced. However, some owners have also had to replace the water pump hose, and serpentine bolt as they have malfunctioned due to the leaking of the steering hose.
Other owners have reported they've had to replace the rack and pinion assembly which can be quite costly in terms of labor and parts.
4. Rattles at Startup
A commonly reported problem on Acura TSX models is the dreaded rattle on start up. This has been reported on 2004 – 2014 models and happens mostly during the winter months.
Across owner forums such as tsxclub.com and acurazine.com this is a hot topic and a known issue for the TSX.
According to Repair Pal, this is the most commonly reported TSX problem.
Here's what owners have had to say:
"Every winter when the engine is cold and you start the car an extremely loud grinding noise happens just after the engine has turned over. It happens every year during the December to January time period and has never been fixed, all though we mention it every time the car has been in for service."
"The VTC Actuator makes the notorious rattle for about 2 seconds on the initial start of each day."
Solution
If you're experiencing a rattle upon startup then your first port of call should be your nearest Acura dealership. You will most likely need the VTC actuator replaced and in some cases your crank seal and timing chains replaced too.
Unfortunately for Acuras and their relatives at Honda (Accords, CRVs, Civics and anything with a K series engine) faulty VTCs is a common complaint.
VTC (Variable Timing Control) is a hydraulically operated system that controls the timing of the chain-driven intake camshaft, advancing or retarding it during the intake cycle.
Related: 11 Best & Worst Acura TSX Years (Pictures & Stats)
5. Stiff Brake Pedal
There are a number of complaints from Acura owners of 2011, 2012, 2013 and 2014 models who have complained about a stiff brake pedal on their TSX.
The reports all carry a similar a theme – in cold weather, the brake pedal becomes incredibly stiff and hard and in some instances does not go down at all.
Here's what the owners had to say:
"Frozen brakes when starting the car, the first pump on the brake works as expected. Then the next 3-5 pumps, the pedal does not go down and thus the car does not stop. It's usually on cold mornings (teens and below) but I'm seeing it now in 30-degree weather."
"In freezing temperatures, my car has an extremely hard brake pedal (it seems like there is no power assist) and will not stop the car. As soon as the car warms up the brake pedal feel comes back and braking returns to normal. I have had this happen 3 times during the dead freezing cold temperatures and went to apply my brakes and I had nothing to stop my car."
Some dealers have reportedly been dismissive of this problem when owners have reported it, other dealers have told owners it is a known problem.
Solution
If you're experiencing a stiff brake pedal then due to the seriousness of this issue you should take it to your nearest Acura dealer, if they are dismissive of the problem then take it to an independent mechanic.
Some owners have been able to fix this issue by flushing the brake fluid.
A brake fluid flush essentially takes all the old, dirty brake fluid out of your system and replaces it with fresh, clean fluid.
A brake fluid flush is an integral part of routine maintenance and should be done around every 30,000 miles or every two years, whichever comes first.
6. Infotainment Screen Illumination Problems
A commonly reported problem on TSX models from 2004 – 2011 is that the infotainment / navigation screen light does not work or comes on and off intermittently.
This problem is also accompanied by the failure of switches.
Here's what some owners on Repair Pal had to say:
"Navigation/entertainment seen without picture or illumination"
"Illumination of entertainment/navigation screen and switches has failed."
Solution
According to Repair Pal, this issue is caused by a failed circuit board. Acura has extended the warranty on the audio display unit to 7 years or 105,000 miles for the 2004 model year only.
There are guides online on how to fix it yourself but this is really for the technically inclined people out there, we've left a link in the sources section.
Acura TSX Model Years With the Most Problems
To get a better idea of which Acura TSX has the most problems the fairest way is to compare models based on the number of vehicles sold in relation to the number of reported problems.
We're using Car Complaints PPMY index which means problems reported per thousand vehicles per Year.
For example, newer cars will have fewer complaints simply because they've been around for less time.
Based on this index, the most problematic years are:
2012 – 0.37 PPMY
2013 – 0.23 PPMY
2004, 2009, 2011 – 0.20 PPMY
And the least problematic years are:
2007 – 0.07 PPMY
2005 – 0.08 PPMY
2006 – 0.09 PPMY
Acura TSX
Model Year
Problems
Sales
Vehicle Age
PPMY Index
2014
7
6,889
8
0.13
2013
33
15,605
9
0.23
2012
139
37,154
10
0.37
2011
49
22,112
11
0.20
2010
73
47,679
12
0.13
2009
99
37,279
13
0.20
2008
36
21,995
14
0.13
2007
25
22,665
15
0.07
2006
58
40,432
16
0.09
2005
50
35,768
17
0.08
2004
165
46,393
18
0.20
Source: Car Problem Zoo
Acura TSX Pros and Cons
If you're considering an Acura TSX as your next car you might be wondering what its strengths and weaknesses are…
Pros
Strong reliability ratings
Premium sedan without the premium price
Dynamic driving manners
Optional V6 packs plenty of muscle
Those that need more space can opt for the TSX Sport Wagon
Cons
Front-wheel drive only
Lacks badge appeal of rivals such as BMW and Mercedes
Not as luxurious as some of its competitors
Related: How Long Do Acura TSX Last? (12 Important Facts)
Acura TSX Reliability Compared to Similar Cars
The TSX finishes in an impressive second place in Repair Pals luxury midsize car rankings, second only to its successor the TLX.
| | | |
| --- | --- | --- |
| Rank | Model | Reliability |
| 1 | Acura TLX | 4.5 / 5.0 |
| 2 | Acura TSX | 4.5 / 5.0 |
| 3 | Lexus ES300h | 4.5 / 5.0 |
| 4 | Lexus ES350 | 4.0 / 5.0 |
| 5 | Infiniti G25 | 4.0 / 5.0 |
| 6 | Acura TL | 4.0 / 5.0 |
| 7 | Lexus IS250 | 4.0 / 5.0 |
| 8 | Infiniti G37 | 4.0 / 5.0 |
| 9 | Lexus IS350 | 4.0 / 5.0 |
| 10 | Infiniti Q50 | 4.0 / 5.0 |
| 11 | Volvo S60 | 3.5 / 5.0 |
| 12 | Mercedes-Benz C350 | 3.5 / 5.0 |
| 13 | Mercedes-Benz C300 | 3.5 / 5.0 |
| 14 | Audi A4 | 3.5 / 5.0 |
| 15 | Mercedes-Benz C250 | 3.5 / 5.0 |
| 16 | Hyundai Genesis Coupe | 3.5 / 5.0 |
| 17 | Cadillac CTS | 3.5 / 5.0 |
| 18 | Cadillac STS | 3.0 / 5.0 |
| 19 | BMW 328i | 3.0 / 5.0 |
| 20 | Lincoln MKZ | 3.0 / 5.0 |
| 21 | Audi A4 Quattro | 3.0 / 5.0 |
| 22 | Jaguar XF | 3.0 / 5.0 |
| 23 | Audi A5 Quattro | 3.0 / 5.0 |
| 24 | BMW 328i xDrive | 2.5 / 5.0 |
| 25 | Porsche 911 | 2.0 / 5.0 |
| 26 | BMW 335i xDrive | 2.0 / 5.0 |
| 27 | Audi S4 | 2.0 / 5.0 |
| 28 | BMW 335i | 2.0 / 5.0 |
| 29 | BMW M3 | 2.0 / 5.0 |
| 30 | Audi S5 | 2.0 / 5.0 |
| 31 | BMW 335d | 1.5 / 5.0 |
| | Avg. Lux. Midsize Car | 3.5 |
Source: Repair Pal
Acura TSX Used Value
We've taken a look on Car Gurus to gauge the resale value of a Acura TSX, below are typical asking prices for each model year.
According to Auto Padre, an Acura TSX will depreciate 24% after 5 years and have a 5 year resale value of $11,052.
Note: Used model prices will vary depending on trim level.
| | | |
| --- | --- | --- |
| Model Year | Mileage (miles) | Resale Price |
| 2014 | 40,202 | $19,996 |
| 2013 | 102,582 | $13,990 |
| 2012 | 84,457 | $13,117 |
| 2011 | 160,637 | $8,144 |
| 2010 | 144,695 | $5,990 |
Source: Car Gurus
Related: Are Acura's Worth the Money? (12 Important Facts)
What Do Owners Like and Dislike About the Acura TSX?
Based on owner feedback from the Kelley Blue Book site here are what real-life owners love and hate about the Acura TSX.
Likes
Fun to drive
Head-turner
Reliable
Smooth to drive
Powerful
Dislikes
Limited gears
Problematic engine mounts
Sound system
Too small
Requires premium gas
Owners Reviews
"Got myself a steal on a 2010 Acura TSX V6 with only 38,000km from an older gentleman for only $10,000. I love everything about it the power is plenty, the speakers are excellent, handling is good, shifts are fairly quick with paddles, interior quality is on similar level to a touring model of the Honda, only complaint is I wish it had more than 5 gears."
Source: Kelley Blue Book
"I have owned lots of vehicles before, including ones from GM, VW, Subaru, and Honda. This Acura has been hands-down better than any of the others…"
Source: Kelley Blue Book
"Am very satisfied and happy with this tsx. only two questions to Acura is. What's was the deal with dull white Paint and the little bumps in the suspension…"
Source: Edmunds
How Reliable Are Acura Cars?
According to a recent report from Consumer Reports, Acura are ranked the 8th most reliable car manufacturer out of 28 brands, with a score of 64/100.
| | | |
| --- | --- | --- |
| Ranking | Brand | Score |
| 1 | Lexus | 76 |
| 2 | Mazda | 75 |
| 3 | Toyota | 71 |
| 4 | Infiniti | 69 |
| 5 | Buick | 66 |
| 6 | Honda | 66 |
| 7 | Subaru | 66 |
| 8 | Acura | 64 |
| 9 | Nissan | 63 |
| 10 | Mini | 60 |
| 11 | Hyundai | 56 |
| 12 | Chrysler | 54 |
| 13 | Porsche | 52 |
| 14 | Chevy | 48 |
| 15 | Audi | 47 |
| 16 | Cadillac | 47 |
| 17 | BMW | 45 |
| 18 | Ford | 44 |
| 19 | Kia | 43 |
| 20 | Volvo | 42 |
| 21 | Ram | 40 |
| 22 | GMC | 37 |
| 23 | Mercedes-Benz | 34 |
| 24 | Volkswagen | 31 |
| 25 | Genesis | 30 |
| 26 | Jeep | 26 |
| 27 | Tesla | 25 |
| 28 | Lincoln | 18 |
Source: Consumer Reports
Sources
https://www.consumerreports.org/cars/acura/tsx/
https://www.carcomplaints.com/Acura/TSX/
https://www.carproblemzoo.com/acura/tsx/
https://www.kbb.com/acura/tsx/
https://www.edmunds.com/acura/tsx/2014/review/
https://www.autopadre.com/depreciation-curves/acura-tsx
https://www.cargurus.com/Cars/l-Used-Acura-TSX-d20
https://www.tsxclub.com/threads/smaedas-guide-to-fix-center-console-light-problem.62741/