Acura is Honda's luxury and performance sub-brand.
It was launched in 1986 in North America, which has remained as its primary market to this day.
The early years of Acura were very successful and saw a couple of special vehicles like the Legend, NSX and Integra.
In the past few decades, Acura has been more focused on rebadging and slightly redesigning Honda vehicles to make them more upscale and luxurious.
However, they've switched up their strategy and are now designing vehicles from the ground up and developing their own design flavors.
Are they worth the extra money over a non-luxury vehicle?
Acuras are worth the money because they're refined and luxurious, but very reliable and cheap to own. They're also quick and fun to drive which makes them perfect for commuting and long road trips.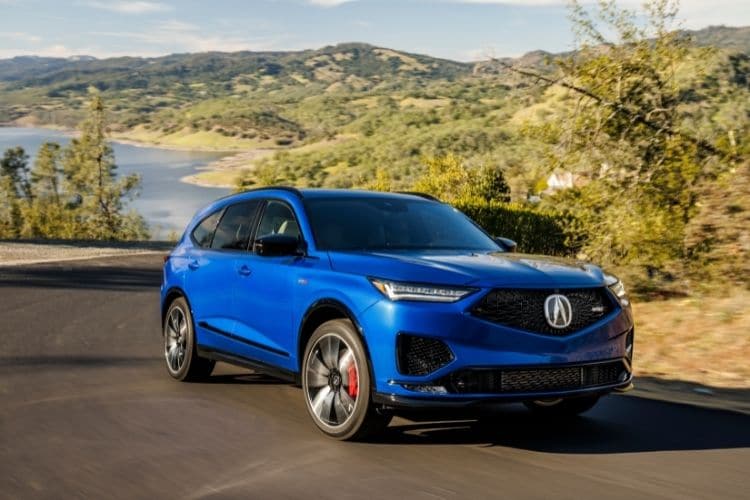 Why Acura Cars are Worth the Money
Acuras are worth the money because they have a more premium look and feel compared to a non-luxury vehicle. They are also extremely reliable, so you get a lot of value for your money.
Most of the Acura models currently sold are no longer based on Honda platforms. They're now more stylish and the cabins are more upscale.
They still use Honda components and drivetrains, so the reliability is the same. You'll also get a lot of standard tech and features for the price you're paying.
Performance
Acura is known for making premium vehicles that are:
Quick
Sporty
Comfortable
Reliable
They've developed popular and highly praised sports cars like the Integra, RSX and NSX, so they know how to tune the handling and make their vehicles fun to drive.
Acuras can also be equipped with its exclusive SH-AWD (Super Handling AWD) tech which significantly improves traction and cornering stability.
Acura cars and SUVs are reasonably quick and have great driving dynamics, but they're not out to set record-breaking numbers.
The brand is very popular with car and driving enthusiasts because it offers a nice combination of speed, handling, comfort and practicality — making them great daily drivers.
Build Quality
Reliability and durability is where Acura really shines.
Acuras have really long lifespans and can easily last over 20 years. You also don't have to worry about maintenance because they all use Honda engines and transmissions which rarely ever break down.
Their interiors are also made with premium materials which makes their cabins much nicer places to be in and significantly more durable.
There are a lot of fancier brands and options out there, but few can match the dependability of an Acura.
Electronics
Acuras come with all the essential tech and electronics that you would expect from a modern luxury vehicle.
They have decent screens and infotainment systems, but they're not as flashy or modern-looking as some of the competition.
Higher trim levels get you better sound systems, as well as more driver aids and tech like adaptive suspension, parking sensors and blind spot monitoring.
Features and Options
Acura doesn't have tons of customization options like other luxury brands, but they do offer a couple of different trim levels per model.
Base models are the most affordable but they don't come with modern driver aids like blind spot monitoring.
The Advance trim level usually gets you the top of the line model with all the bells and whistles.
There is also the performance-oriented Type S trim that can be found in some models, like the Acura TLX.
You can't mix and match different options all the time, so make sure to pick the right trim level if you have a must-have feature in mind.
Dealership Experience
Acura charges slightly more than a Honda dealership, but they're far cheaper than other luxury car dealerships.
Acura-specific parts are usually not much more expensive than a Honda part, and some are even interchangeable.
Lots of Acura owners actually take their vehicles to Honda dealerships for service. In some cases, Acura dealers have even given lower quotes than their local Honda dealers.
What Makes an Acura Different from Other Cars?
Acura is one of the few brands that is able to combine agility, comfort, reliability and value in every one of their models.
Older Acuras are often dismissed as dressed-up Hondas, but they're all still decently comfortable which makes them very enjoyable and practical daily drivers.
One of Honda's primary goals is to produce powerful yet reliable engines, so they also just keep on running for years and years.
If you plan on keeping a vehicle for a very long time, an Acura is always a good choice.
Now that they're designing their own vehicles, their current models are more stylish and luxurious than ever before, but they still give you a lot of value for your money.
Compared to its closest rivals, Acuras are not as boring to drive as a Lexus and they're more reliable than an Infiniti.
Related: Are BMW Cars Worth the Money?
Pros and Cons of Acura Cars?
Pros
Outstanding reliability
Fun to drive
Decent performance
Comfortable
Practical
Not too expensive
Great resale value
Low maintenance and ownership costs
Cons
Infotainment isn't touch screen
Not as luxurious as rivals
Doesn't always have the latest tech and creature comforts
Limited customizability
How Long Do Acura Cars Last?
Acuras have really long lifespans and can easily last 250,000 – 300,000 miles with only basic maintenance. If you average 15,000 miles a year, you can easily get 17 – 20 years out of any Acura as long as you take care of it.
Maintenance on an Acura is pretty easy and they rarely ever break down. They usually only require basic maintenance and aren't as temperamental as its German rivals.
If you need any major repairs done, parts and labor should be very cheap compared to other luxury cars.
To keep an Acura running in great condition, you need to:
Closely follow the recommended maintenance schedule
Use original parts and high-quality fluids.
Quickly address small problems before they get worse.
Are Acura Cars Good Quality?
Acura may not be the most prestigious or luxurious brand in the world, but many would argue that they make the highest quality cars simply because their vehicles rarely ever break down.
Compared to a Honda, or any other non-luxury vehicle, Acura uses much better quality materials such as upholstery, plastics and glass. This makes them more quiet and comfortable inside, and they hold up really well over time.
You may not get the fanciest options or the latest tech in an Acura, but everything that you do get usually just works flawlessly.
Are Acura Cars Reliable?
Acura is one of the most reliable car brands and the most reliable luxury car brand.
RepairPal gave Acura a reliability rating of 4 out of 5
Acura is ranked in 2nd place out of 32 other brands in terms of reliability
The only other car brand that scores higher than Acura is Honda.
Acuras typically have more electronics and features that can break down compared to a similar Honda. But these usually don't affect the drivability of the vehicle and are more often than not considered as minor annoyances.
It's not unusual to see 20-plus-year-old Acuras still being used as daily drivers because they have bulletproof drivetrains and very good build quality overall.
Do Acura Cars Hold Their Value?
Acuras have very good depreciation rates and resale values compared to other luxury brands.
They don't hold their value quite as well as Hondas and Toyotas, but they're not far behind.
Acuras are quite popular in the used market because people know that they're very reliable vehicles that give a lot of value for money.
Are Acuras Expensive to Maintain?
Acura cars and SUVs typically require very little maintenance even after several years of use.
They come with Honda's legendary reliability so major issues and breakdowns are few and far between.
They are also very easy to work on so you DIY a lot of the repairs and maintenance if you're mechanically inclined.
Acura parts are very affordable because, in most cases, there's an equivalent part from Honda that you can use. You can even have your Acura serviced at a Honda dealership with no problems.
According to RepairPal, the average repair cost for an Acura is only $501 per year. This is significantly cheaper than even some non-luxury brands.
You can save even more on an Acura's upkeep if you:
Find a trustworthy mechanic for big repairs.
Shop around for authentic replacement parts.
DIY a lot of the regular maintenance items.
What is the Typical Cost of an Acura?
Most brand new Acuras start at around $30,000 to $40,000.
Their cheapest model is the Acura ILX which starts at around $28,000. Their best-selling vehicle, the Acura MDX, starts at $50,000.
Keep in mind that prices can vary dramatically depending on model, trim level and added features.
Acura TLX
The Acura TLX is a luxury sport sedan that was first sold in 2015 when it also replaced the popular Acura TL and Acura TSX models.
Starting with its second generation model, the Acura TLX is now built on an entirely new platform that isn't shared with any other Honda vehicles.
The TLX is Acura's answer to small luxury sedans like the BMW 3-series, Audi A4, Mercedes Benz C-class, Lexus IS and Genesis G70.
A base Acura TLX starts at $40,0000 and comes with a turbocharged inline-4 that produces 272 hp.
The sportier Type S variant starts at $55,000 and features a turbo V6 that produces 355 hp.
The current generation of the TLX has evolved significantly and is now more than just a glorified Accord.
The Type S gives it a significant power upgrade, adaptive dampers and SH-AWD that allows it to compete better in the compact sport sedan segment.
Related: How Long Do Acura TLX Last?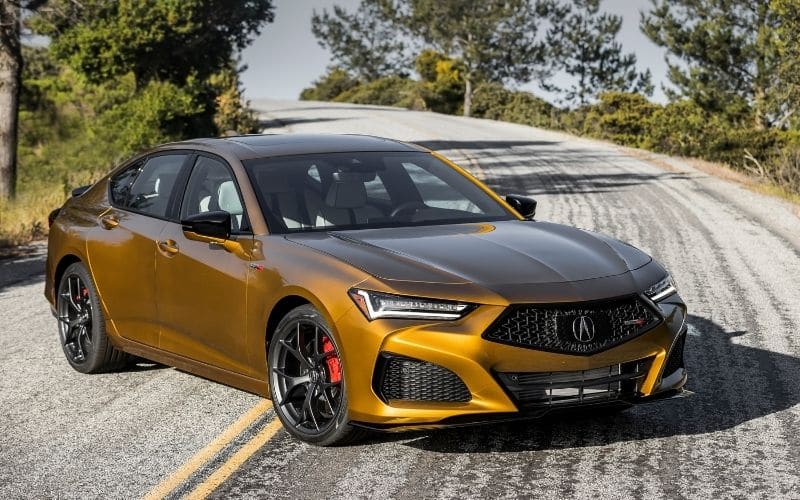 Acura MDX
The Acura MDX is a midsize SUV that also features three-row seating.
It's an extremely popular model for Acura and it consistently tops the sales charts in the midsize luxury SUV segment.
Older generations of the MDX were based on the Honda Pilot. Starting with the 2022 model year, it now uses its own platform — just like the rest of Acura's current lineup.
The base model Acura MDX starts at $50,000 and comes with 290 hp.
The top of the line Type S variant goes for about $68,000 and comes with 355 hp.
Some of the MDX's competitors include the BMW X5, Volvo XC90 and Lexus RX.
Although it may seem like just a regular SUV, the MDX has always been praised for its great handling.
The MDX definitely offers a lot of value for money. It's a great family vehicle that combines performance, comfort and reliability.
Related: How Long Do Acura MDX Last?
Acura RDX
The Acura RDX is a compact SUV that was first introduced in 2007.
The RDX is one of Acura's best sellers and it was the first model that Acura designed from the ground up starting with the third generation model in 2019.
Older generations of the RDX used the same platform as the Honda CR-V, but they had more powerful engines.
The base model RDX starts at around $40,000 and comes with 272 hp.
The top of the line Advance trim level goes for $50,000.
The RDX also has a limited run PMC Edition which goes for around $55,000.
The RDX is one of the cheapest options in the compact luxury segment. It competes with the likes of the BMW X3, Lexus NX, and Volvo XC60.
Compared to many of its rivals, the RDX has a better combination of value, agility and reliability.
Related: How Long Do Acura RDX Last?
Acura Integra
The Integra sports car is one of Acura's most iconic and successful models.
In its early years, the Acura Integra was simply a rebadged North American market Honda Integra. In the 2000s, it was renamed as the Acura RSX before it was discontinued.
With the revival of the Acura Integra nameplate in 2023, it's now based on the Civic Si and basically replaces the Acura ILX as the cheapest model in the Acura lineup.
A base model Integra starts at $32,000 and comes with 200 hp
The top-of-the-line A-Spec model with the Technology package goes for about $37,000.
The latest Acura Integra hasn't lost any of its sporting heritage. It can be equipped with a manual transmission and adaptive suspension which makes a really great driver's car.
It definitely packs a lot of value for money but It's not as refined or luxurious as many of its rivals like the BMW 2-series or the Audi A3.
Acura NSX
The Acura NSX is often considered to be one of the best handling sports cars ever made.
Honda's intention with the NSX was to design a supercar that you could live with every day.
The first-generation NSX was first sold in 1990 and had a pretty successful 15-year run and is now considered a collector car.
The NSX was reintroduced in 2017 sporting a very powerful hybrid drivetrain.
The Acura NSX retails for around $170,000 and comes with 600 hp
The second-generation NSX features blistering acceleration thanks to its turbo V6 and three electric motors.
It also won't disappoint in the handling department given its mid-engine layout and AWD.
It will be discontinued after the 2022 model year and will likely reach the same collector status as the original NSX.
What's Your Bottom Line?
Acura's model lineup is not that big but they have something to offer for most types of buyers.
If you're looking for a luxury sports sedan that's also extremely reliable, it's hard to go wrong with the Acura TLX.
The Acura ILX and the new Acura Integra are basically luxury trim versions of the Honda Civic.
The best selling Acura MDX is one of the best family vehicles in the market that combines luxury and lots of practicality.
If you don't need the extra passenger capacity, the Acura RDX offers great value for money.
And for those with supercar tastes, the Acura NSX not only looks sleek and sexy but also delivers in the acceleration and handling department.
Consider Buying a Pre-Owned Acura Instead of a New Model
Acuras typically offer a lot of value for money whether you buy new or used.
All Acuras will have great reliability so it doesn't really matter if you're buying a 5 or 10-year old vehicle.
You won't really have to worry about expensive repairs once the warranty runs out on an Acura.
Lots of mechanics are familiar with the Honda drivetrains used in every Acura so you don't really need to pay extra for someone who specializes in the brand.
Buying a newer and lower mileage example is always recommended, but an older and higher mileage Acura can be a great deal as long as it's still in good overall condition.
Related: Are Mercedes Benz Worth the Money?
Things to Consider When Buying a Used Acura:
Research the model's reputation. Despite Acura's reputation for reliability, there are still some models with known issues. Some engines and transmissions that are prone to developing problems after a couple of years which might end up becoming your problem.
Maintenance history. Check that the car was properly serviced and the owner can provide proof of this.
Get a second opinion. Take it to a Honda specialist, or at least let a mechanic you trust take a look at it.
Check the CarFax. This doesn't guarantee anything but it will help provide a clearer picture of wear-and-tear. Ensure it has minimal damage if any. Review the information to make sure if something happened, it wasn't transmission related or mechanical.
Number of previous owners. As a general rule, less is better. More owners usually means more wear-and-tear. If one family owned it and drove the full mileage and serviced the car, then you can almost guarantee they took good care of it throughout their ownership.
Examine the interior. The condition of the interior tells the story of how well the car was maintained and cared for. Does the steering wheel, pedals, or shifter look suspiciously new? If so there's a good chance that the car was very heavily used, and those parts were just replaced before sale.
Inspect engine for obvious leaks and obvious damage. If the engine looks immaculately clean it means it was washed. The question is why? Most likely to hide oil leaks and similar nasty problems.
Check the car's VIN and get a full history report. Was it a taxi or rental car? Recalls? How many owners? Real mileage? Stolen? Any accidents? If you're buying a used Acura, always check the VIN – you never know what the car has been through.
Check for rust. Rust is a problem that will spread. Some dishonest salesmen cover up the rust with a bit of paint or some stickers. It's always a good idea to look under the car.
Sources
https://www.caranddriver.com/acura
https://repairpal.com/reliability/acura
https://caredge.com/acura/depreciation
https://www.best-selling-cars.com/usa/2021-full-year-usa-honda-and-acura-sales-by-model/
https://www.caranddriver.com/acura/tlx
https://www.caranddriver.com/acura/mdx
https://www.caranddriver.com/acura/integra