Victory Motorcycle was one of the few true American motorcycle companies—its assembly facility was in Spirit Lake, Iowa, until the brand wound down its operations in 2017.
Since closing the doors on their flashy big-twin brand Victory Motorcycles still have a large international following.
If you're not too familiar with their bikes, you might be wondering if they are in fact any good.
We'll answer that in this article, read on to find out…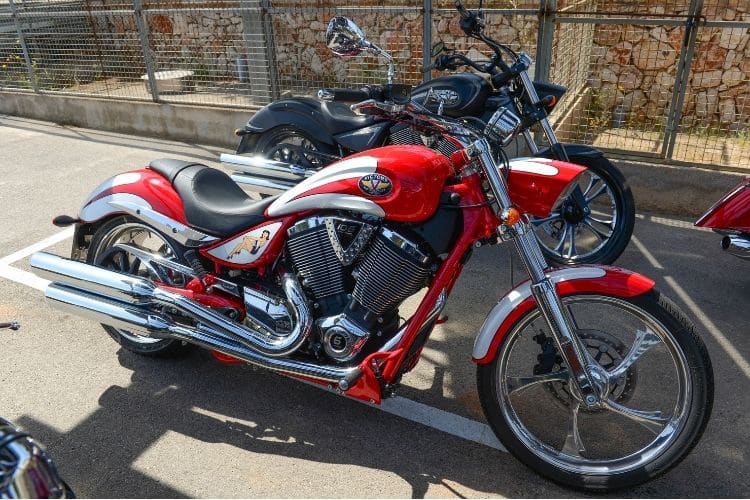 Here is the short answer to Are Victory Motorcycles Any Good:
Victory motorcycles are great bikes because they offer comfort, performance, and horsepower on a ride that's smoother than many other big twins. With their low center of gravity and efficient balance, Victory motorcycles handle better than most cruisers. They're all steel with high build quality.
Why Are Victory Motorcycles Considered Good?
Victory motorcycles are considered good because of their tight steering and low center of gravity, which makes riding them smooth and well-balanced compared to other big twin cruisers.
Victory motorcycles also offer premier performance and robust reliability, with longevity claims of 300,000+ miles.
Owners can't gush enough about how smooth, reliable, and performance-packed their Victory bikes are.
I know multiple mechanics that say:
Due to Polaris' backing and state-of-the-art engineer and design team, Victory's are a solid choice
Should there be any problems, Victorys are easy to work on.
Victory began as the first venture into motorcycle design and manufacturing by Polaris Industries, a proficient vehicle-building powerhouse.
The first Victory bikes ripped out of the Spirit Lake factory doors in 1998, as Polaris launched the brand in a bold effort to diversify their brand.
And love them or hate them, Victory's look unlike any other motorcycle, especially in America.
Victory helped solidify Polaris' reputation after already dominating industries such as watercraft, UTV, ATV, four-wheelers, and snowmobiles.
Since its initial introduction, the Victory motorcycle brand has designed about 60 moto models and achieved 25 industry awards.
So, if Victory motorcycles are so good, why did Polaris cease production?
In recent years, Polaris channeled the knowledge, organization, and facilities it cultivated by launching the Victory brand and re-directed its motorcycle energy and currency towards buying and relaunching the Indian Motorcycle brand.
From 2012-2017, Polaris was manufacturing both Victory and Indian.
In an effort not to compete with themselves at competing with Harley, Polaris decided to focus solely on Indian.
Polaris announced this decision in 2017, stating that they would wind down Victory's operations that same year in favor of developing Indian with the technical knowledge, confidence and skills gained through their Victory venture.
Polaris struggled to establish a market share for two brands while living in Harley's shadow despite the fact that their bikes were celebrated as superior by a growing base of Victory and Indian enthusiasts.
The decision was made as the brand admitted they couldn't compete with the legacy and emotional connection that Harley has with its loyal base.
Victory's American-style cruisers, baggers, and tourers were and still are objectively high-quality motorcycles.
Still, because of the iconic history of Indian, Polaris felt that devoting its resources to reviving the oldest American motorcycle brand would be a safer bet in competing for the Harley-heads admiration.
5 Reasons Why Victory Motorcycles Are Good:
In this section we'll give 5 rapid-fire points why we love Victory Motorcycles.
1. Polaris Formed Victory to Compete with Harley Davidson
The Victory was the first motorcycle division of Polaris, a brand legendary in all-terrain, snow, and water vehicle production for performance and reliability.
However, when Victory decided to produce motorcycles, they decided to market it as its own company, and they set their sights on competing against the legendary American bike brand, Harley-Davidson.
They knew they couldn't compete with Harley's style and legacy without producing a product that objectively outperformed Harley's engineering.
They had to be better, and so they were.
2. Unique Engine and Motorcycle Design
Polaris pushed the Victory design team to create their unique aesthetic.
The team went to the 1930s and 40s auto-scene for inspiration, mixing fender designs from the era and elaborating on them to create an aesthetic unlike anything else.
While some point to their unique look as a flaw, others appreciate it as a work of art.
Its uniqueness didn't stop at the bike's appearance though.
At its introduction, Victory made the largest displacement v-twin in production, and their performance and reliability gave the whole industry a run for their money.
3. Victory Produces Heavy-Duty, High-Quality Motorcycles
Competing with Harley meant engineering and manufacturing the best-quality moto-machine on the market.
Quality was the brand prerogative more than anything else, and since there have been Victory's reliably on the road since 1998, I'd say they achieved that mission.
The brand sought to make heavy-duty bikes, both in the context of the bike's engineering but also literally.
Steel-frame construction produced a robust machine that could stand up against the American heavy-hitter big twins Harley-heads adore so much.
4. Eight Years of Motorcycle Research and Development.
With the objective was to create an independent brand of unique high-performance motorcycles, Polaris wasn't afraid to learn from the cream of the crop worldwide.
They hired industry investigators to research other brands' engineering and design techniques for eight years before beginning the preliminary design process.
Polaris wanted to do bikes right.
They met this goal via a meticulous moto-research process leading up to its thorough development with an eye on performance and reliability.
You may also be interested in our article: Are Indian Motorcycles Worth the Money?
5. There are Victory Owners and Riders Clubs Around the World.
Victory riders clubs remain active even years after Polaris ceased Victory production to focus on the Indian brand.
The pride and dedication cultivated by Victory riders and enthusiasts didn't end with bike production.
In many ways, the end of Victory only strengthened the bond between Victory riders, with the added element of exclusivity.
Not only are there 100 plus American Victory Riders/Owners groups still as active as ever, but there are also at least five other countries with active Victory owners clubs to this day.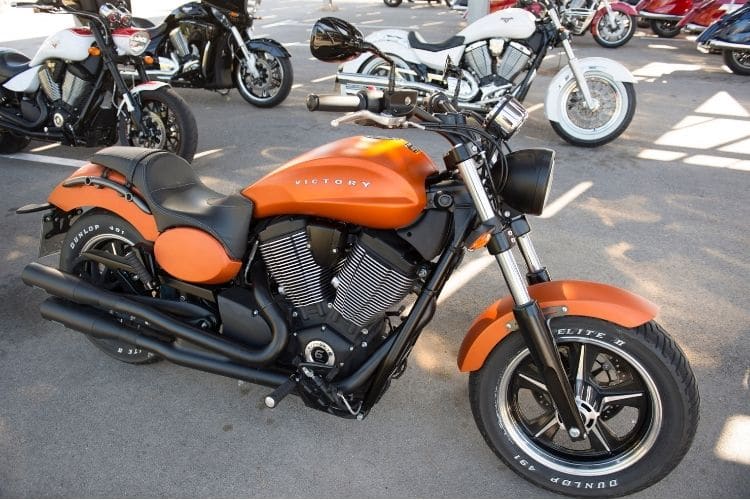 Are Victory Motorcycles Reliable?
Victory Motorcycles were found to be highly reliable in a study that analyzed 12,300 motorcycles from 10 different brands. The Polaris-owned motorcycle brand also came out on top in the consumer satisfaction category, with 80% of owners saying they'd repurchase a Victory bike.
That's right, Victory takes the blue ribbon in the world of happy moto-maniacs, as their score for rider/owner satisfaction soared above nine brands the study compared them to, a testament to Victory's reliability.
The study also considered dealership interactions, meaning that not only are Victory owners happy with their bike's rideability and reliability but they're stoked on the dealership personnel and mechanics that tune and upgrade their favored Victory bike.
Victory is a good choice for anyone in the market for a reliable V-twin cruiser.
In addition to the rider satisfaction score, Victory scored high in the general reliability category, almost on par with the legendary reliability scores of the big four Japanese brands.
And that's not to mention the brand's score in comfort. Generally, we think comfort is limited to the bike's seat and ergonomic riding position; smooth and reliable operation significantly affects how comfortable a rider feels on the bike.
A motorcycle's comfortability score reflects the brand's reliability, and Victory scored high points for comfort.
That said, nobody gets it right 100% of the time, so what are some of the known issues and recalls of Victory motorcycles?
Victory issued a recall of up to 26,182 of various 2010-2017 models for fear of excess heat from the catalytic converter melting the rear brake line and nearby wiring. Victory also recalled 872 units of different 2014 models due to insufficient clearance between the crankshaft and the crankcase.
Neither of these issues is a minor concern, mind you.
Damage to the brake line or wiring could cause stalling or misfiring, increasing the risk of engine failure due to elevated exhaust temperatures or even a crash.
A Victory that's misfiring will experience:
Reduced engine performance
Poor run quality
Elevated exhaust temperatures.
To our knowledge, Polaris caught both the melting wiring and incorrectly machined crankcase issues before any casualties occurred.
Polaris called on their dealerships to recall and upgrade the affected Victory models even after the brand ceased production, testimony to its dedication to performance and reliability.
You may also be interested in our article: Are Triumph Motorcycles Any Good?
Are Victory Motorcycles Worth Buying?
Victory motorcycles are worth buying, especially now that they're no longer in production. Not only are they high-quality, fun-to-ride, reliable bikes, they are also viewed as collector's items which gives them an excellent re-sale value.
Someone who paid the full market price for a brand new bike takes a hit when they go on to sell it on the used market – for example, paying $5,000 for a bike that costs over twice that just a few years ago is considered a good deal.
Now, because there is a limited supply of Victory bikes, you could turn around and sell your Vic for at least what you paid for it, providing you kept it in good condition and serviced it regularly.
Are you better off buying a used Victory that isn't in production any more than a used Harley?
Yes, because:
Buying a used Victory motorcycle gives you a better chance of selling the bike for what you paid for it.
Victory motorcycles are out of production, increasing your chances of being able to sell them for what you paid for, if not more.
Victory may be out of production, but Polaris will be manufacturing Victory parts until 2027.
While there aren't any exclusive Victory dealerships still standing, various Polaris and Indian service centers stock Victory parts and have mechanics that are more than capable of repairing, servicing, and maintaining Victory motorcycles.
What are the Pros and Cons of buying a Victory?
Pros
Reliable
Comfortable
Extensive Research and Development
Quality Engineering and Design
High-Performance
Solid Longevity
Smooth Handling
High Customer Satisfaction Rating
Good resale value
Collectors Item
Unique Style
Unique Exhaust Sound
Fun to Ride
Cons
No Dealerships
No Aftermarket for Parts
Limited OEM Parts Available
Style Criticisms
Limited Exhaust Upgrades Available
Limited Air Intake Upgrades Available
Limited Suspension Upgrades Available
I would buy a Victory even though they are no longer in production. Polaris has one of the strongest engineering teams in the industry, and they put extensive research into these bikes. You can get a used Victory Motorcycle for cheap, and they hold their resale value due to their limited supply. There are still plenty of mechanics that work on Victory motorcycles.
Are Victory Motorcycles Parts Still Available?
Polaris continues to manufacture components that support Victory motorcycles. Polaris announced that they were ceasing the production of Victory motorcycles and that they would still manufacture spare parts until 2027.
Polaris committed to assisting dealerships in liquidating their inventories when they decided to put all bets on Indian.
Polaris only closed the Victory line, so they wouldn't compete with themselves to compete with Harley-Davidson – they have great pride in their Victory history.
Due to immense brand loyalty among Victory riders, Polaris decided to keep producing the parts required to keep Victory bikes on the road for at least the next decade.
While Polaris is committed to keeping the OEM components available, the situation is quite different with aftermarket upgrades.
The bikes are engineered and built well, though, and Victory owners feel confident their bikes will run for decades regardless of aftermarket options.
In some cases, victory motorcycle owners have found that they can use components from other bikes—putting the wheel bearings, oil, and filter of a Honda VTX on a Victory Cross Country, for example.
Recently, with Victory internet communities still in full swing, there's been a rising demand for Victory aftermarket parts too.
A few companies are popping up to scratch that itch and Victory people are confident that more will come.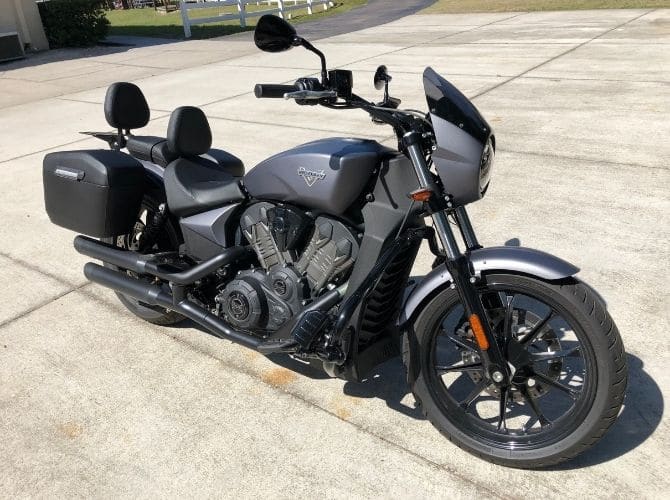 Do Victory Motorcycles Hold Their Value?
Victory motorcycles hold their value since they're no longer in production and are only available used. Victory enthusiasts view Victory bikes as a collector's item, making the resale value percentage on a used Victory better than on a new American motorcycle, still in production.
Let's take a look at a few examples of the resale value of a used Victory motorcycle.
| | | | |
| --- | --- | --- | --- |
| Year | Model | Mileage | Price |
| 2016 | Gunner | 1,866 | $11,000 |
| 2013 | Cross-Country | 10,745 | $11,999 |
| 2010 | Vision | 23,533 | $9,500 |
| 2008 | Jackpot | 5,326 | $10,599 |
| 2005 | Kingpin | 11,503 | $4,550 |
While $10,000 isn't cheap, a Victory Cross-Country is comparable to Harley baggers that cost almost $30,000 new and still around $17,000 used.
Victory motorcycles are right in the middle of the road as far as used motorcycle market prices go.
Still, it's easier to sell a Victory for what you paid for it than many other brands due to limited supply and ceased production.
How Much Do Victory Motorcycles Cost?
Empulse TT: $13,500
Gunner: $11,000
Cross Roads: $6,699
Vision: $9,500
Kingpin: $7,000
Hammer: $9,499
V92C: $4,000-$6,000
Octane: $7,999
Vegas: $6,999
Cross Country: $10,999
Are Victory Motorcycles Better Than Harleys?
Victory and Harley motorcycles are each better in different categories. Victory scores higher than Harley in comfort, reliability reports, and owner satisfaction, but Harley is recognized as more iconic, having better style, and a more classic exhaust sound.
It all comes down to taste.
As we mentioned elsewhere in this article, consumer reports put Victory ahead of Harley in the category of reliability.
They also scored higher than anyone in the arena of Customer Satisfaction.
Generally speaking, Victory's are considered more comfortable than Harley's and have a lower center of gravity and smoother handling, although it depends on the models you're comparing.
Choosing between a Victory and a Harley boils down to what you're looking for in your ride.
Nothing beats a Harley if you're looking for:
Iconic moto-maniac image
A recognizable and rip-roaring, throaty exhaust sound
That general American biker attitude as you hop around town, nothing beats a Harley.
Victory is the choice for riders who prioritize:
High-Performance
Reliability
Comfort
Smooth handling
More power
Unique hot-rod style
Collectibility Factor
Victory bikes have more power and tighter performance, and better handling.
Harley has the image, the sound, and the feel of American motorcycle history, though.
If you plan on doing more technical riding, especially riding hard for long distances, reliability and handling make Victory the choice.
If you're looking for some bad-to-the-bone style bar-hopping and city-ripping, Harley is the choice for you.
That said, both bikes are enjoyable to ride – it's really a matter of taste and what kind of ride you're looking for.
You may also be interested in our article: How Long Do Harley-Davidsons Last?
What to Look for When Buying a Victory Motorcycle:
1) Title Records
Make sure the title on the used Victory motorcycle you're looking into buying is clean, having never been in an accident.
2) Impound Records
Just like looking into the bike's accident records, be sure your Victory motorcycle has never been impounded by asking for the motorcycle's impound records.
Hopefully, it has none, but if it does have some, don't fret.
If the bike is in good condition, get the seller to knock off a few coins since it's been impounded.
3) Service History
Make sure your Victory motorcycle was serviced regularly, according to the schedule outlined in the service manual for the specific model you're looking into.
Also, ask for repair and upgrade records to make sure its never been damaged from weather or recalled for required repairs.
It's less about finding a bike that's never been worked on and more about finding a bike that's had all its problems resolved.
Keep an eye out for used Victorys that have had the same failure or repair repeatedly.
4) Theft Records
Make sure the Victory motorcycle you're looking into purchasing hasn't ever been reported stolen.
If it has been, make sure it has been reported as found and isn't still hot.
You can ask the previous owner, but go ahead and run the bike's VIN number to make sure.
5) Maintenance and Ownership Costs
A used Victory's ownership and maintenance costs vary from region to region.
Look into the maintenance and ownership costs, including storage and winterization, in your specific area to be sure it's something you want to take on and can afford.
6) Market Value
Look into the market values associated with the year and model of Victory motorcycle you're looking into buying.
Knowing the used market gives you negotiation legroom.
7) Motorcycle Specifications
Know the specific year and model Victory you are looking into purchasing.
That way you can determine if there have been any recalls.
If there has, you know what it's been recalled for, and you learn to ask the previous owner if the problem has been tended to.
8) Auction Sales History
If your Victory motorcycle has ever been auctioned, you'll want to know about it.
It's not a huge issue regarding reliability unless it's been auctioned due to a total wreck or impound.
Its value depreciates if it's been auctioned, though, even more so if it has been auctioned multiple times.
9) Odometer Info
Odometer is a clue to how hard the Victory has been ridden, but it's not the end all be all of assessing the condition of a used Victory motorcycle.
Service history, storage, and riding habits are better indicators.
That said, a high-mileage Victory that's been ridden respectfully and regularly is likely in better condition than a low-mile Victory that sat in a garage for years without use.
See if you can knock a few bucks off for high-mile Victories anyway, though!
10) Recall History
We hinted at this a few times on this list already but make sure the previous owner kept up your potential new, used Victory to date with recall upgrades and service notices.
You may also be interested in our article: Are Can-Am Spyders Reliable?
Resources:
https://www.consumerreports.org/cro/news/2015/04/which-motorcycle-brand-has-the-highest-owner-satisfaction/index.htm
https://www.victorymotorcycles.com
https://enginepatrol.com/bmw-motorcycles-worth-the-money/