Indian launched its first motorcycle in 1901, making them the first and oldest American Motorcycle company.
To this day, their distinct style and iconic imagery pay homage to the aesthetic of the original machines.
But does the value of an Indian motorcycle transcend its good looks; are Indian Motorcycles worth the money?
Indian Motorcycles are worth the money because, with Polaris behind them, Indians are among the highest performing bikes on the market and have a unique style with attention to quality. With routine maintenance and regular service, Indian motorcycles are reliable and hold their value.
Of course, to each their own; in this article, we'll give you the facts and let you decide if Indian Motorcycles are worth the cost for you.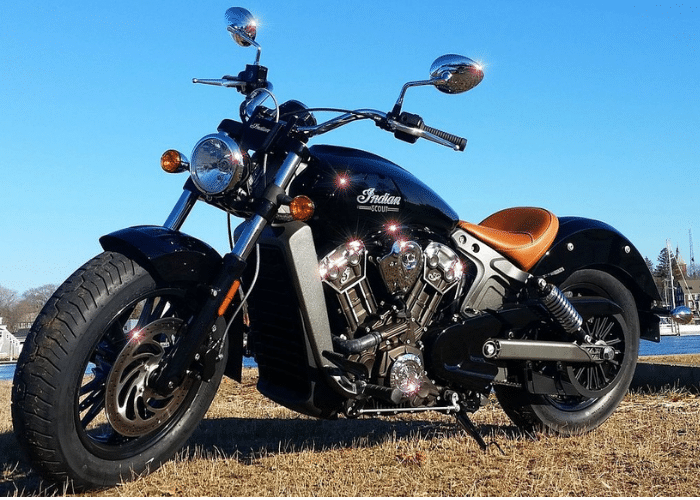 Why Indian Motorcycles are Worth the Cost:
Indian motorcycles are worth the cost because of their cutting-edge performance-based technology, high-caliber team of engineers, mechanics, and designers, distinct style, and quality build.
Owning an Indian also enlists you in the Indian dealership's nationwide support structure for routine maintenance, oil services, and part upgrades.
And it's not just dealership support, either.
Being the owner of an Indian Motorcycle welcomes you into a community of like-minded riders, all too happy to share the road with you and you're stylish new bike.
Indians are among the most distinct-looking motorcycles on the road, as Polaris went out of their way to maintain the vintage Indian style.
While Indian's distinguished vintage style looks nostalgic, the Polaris Indian engineering team re-designed the brand with modern, performance-oriented technology, the specs blow the competition out of the water.
An integrated gear-driven transmission makes riding an Indian feel like you are being launched out of a slingshot, in the best way.
Without the lag of a chain drive, shifting is instant and torque is immediately accessible from the throttle, all the way up through the gears.
Polaris' Ride Command system of GPS and Bluetooth features had been dominating the ATV world for years before they acquired Indian.
One of the things that make Indians worth the money is that this Ride Command system is available for a variety of their motorcycles.
Not only does Ride Command mean cross-country GPS navigation regardless of whether or not you have phone service, but the interface lets the rider know things like:
Elevation
Engine temperature
Tire pressure
Fuel capacity
Battery voltage
Oil temperature
And a built-in voltmeter flags you if anything in your wiring harness triggers abnormal readings.
Ride Command interfaces with your phone, playing all your songs, accessing your call logs and text messages, and playing your music through a rather impressive stock sound system.
Between its retro style, industry-leading performance, and myriad bells and whistles available thanks to the support of Polaris' world-class engineering, Indian motorcycles are well worth the money.
What is the Typical Cost of an Indian?
The price range of Indian motorcycles is between $9,499 and $38,999 and varies considerably based on what style of motorcycle, model, and performance package you choose.
Read on for a more detailed answer, as we've divided bikes into categories for a more specific example.
Baggers:
With their unique transmission design and aggressive specs, the big bad Indian baggers are the fastest and easiest to handle in the game.
Indian kicks off their line of big-twin, air-cooled, 116cc Thunderstroke engine-stocked baggers with the Indian Springfield at $21,999.
Named after the city as an homage to its role in Indian Motorcycle history, the Springfield equipped electronic-locking hard bags and a full windshield with quick release.
The entry-level Chieftain matches Springfield's $21,999 price tag but loses the old-school inspired, swooping front fender, but trades the windshield for a Bluetooth-stereo-and-GPS-map-equipped fairing.
For $25,999, you can split the difference with the Chieftain Classic.
You keep the swoop-fender and, while the Classic fairing differs from looking more vintage stylistically, it packs all the same modern perks mentioned above.
The scale starts to climb according to special-tech features and aesthetic flairs with the Chieftain Limited and the Chieftain Darkhorse; both tagged at $27,999.
The scale jumps again with the top-of-the-line Chieftain Elite to $34,999.
Indian's newer Challenger line breaks the American, v-twin bagger mold with an air-cooled, blacked-out PowerPlus liquid-cooled engine.
This monster motor rips its way out of the factory door with 128 ft-lb of torque and 122 hp, and three ride modes.
The base model Challenger goes for $23,999, and the Limited and Darkhorse editions bump the banknote up to $27,999.
Touring:
Indian Tourers all rock the 116cc, air-cooled Thunderstroke.
The full-dresser package starts with the Roadmaster.
Combining the Chieftain Classic frame, fairing, and fender with a roomie tour pack, lower leg covers, and a lush passenger seat, the Roadmaster starts at $29,999.
The Roadmaster Darkhorse and Limited Packages keep the touring add ons but look more like the CHieftain's of the same name and cost $29,999 and $30,749, respectively.
The top of the line Indian Roadmaster Elite brought back the classic style and equipped it with every bell, whistle, and weather tracking software Indian has available for $38,999.
Cruiser:
Indian offers one of the most skillfully engineered medium-cruisers on the market with the 6-speed, 1150cc Indian Scout for $11,999, available in a stripped-down "Bobber" package for a thousand dollars cheaper.
You can bag a smaller, 1000cc-motor-equipped version of the Scout for $9,499, $8,999 for the bobber design.
The beautiful, fully loaded Indian Scout Twenty stocks ape-hangers for that same fair price of $11,999.
It doesn't stop there, though.
Indians big-twin Thunderstroke stocked cruisers put bagger power on a cruiser frame.
The Chief Darkhorse, the Vintage Darkhorse, and the Vintage, cost $18,499, $19,499, and $20,499 respectively.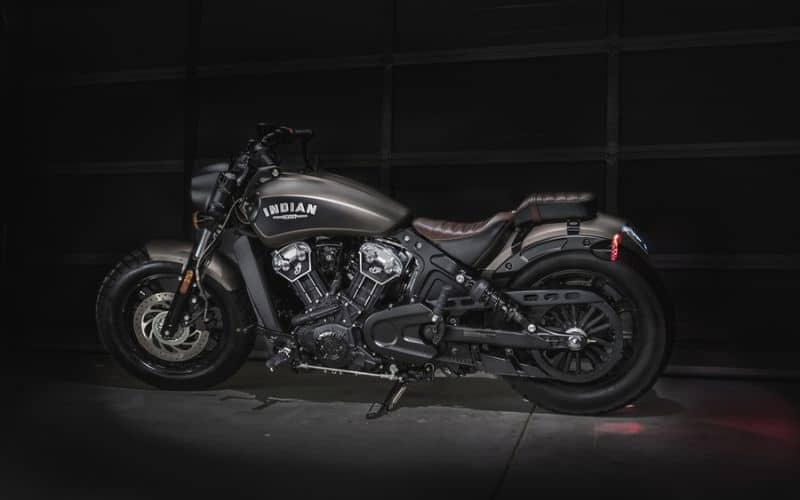 Street:
The Indian FTR street/track bike line rocks a race-adjusted version of the scout motor-s technology to produce 87 ft-lbs of torque and 120hp.
The FTR line uses 17 in wheels and street tuned suspension to give its rider access to some of the best cornering and handling around.
The base model FTR will turn you about $12,999, and the upgraded Rally and S models bump to $13,999 and $14,999.
The race-ready Carbon edition uses Carbon fiber bodywork to pound-shed down to a more track-oriented aerodynamic weight.
Its fully adjustable Öhlins® forks and shocks can accommodate any riding style and compensate for the wide variety of tracks and streets you'll find yourself roasting.
These features, plus its top-of-the-line seat and matching subframe, and the style and comfort they provide, make the Indian FTR Carbon well-worth the $16,999. 
Related: 7 Common Indian FTR Problems (Explained)
What's Your Bottom Line?
Indian offers myriad moto styles and features for various intents and purposes. The trick is to buy what you need.
If you're starting, you've little reason to spend thirty-eight grand on a full-package touring bike with heated grips and live weather updates,
That said, a base model Scout Sixty Bobber for $8,999 gives you all the power you'll need for a reasonable price.
Knowing what you need is the first step, and knowing what resources you have to work with is the second.
Just because you have the $16,999 to spend on an FTR Carbon doesn't mean that you need to pay for a race-ready frame.
If you're looking for something to ride to work, a slim and quick Scout Bobber will have more value to you and give you more bang for your buck, regardless of the lower price.
What Makes an Indian Different from other Motorcycles?
A rich, American history, true-to-tradition aesthetic, and Polaris's world-class design, engineering, and research and development teams make Indian Motorcycles different than any other bike in the world.
The Thunder Stroke
Polaris announced its acquisition of Indian in 2013 and resurrected the legendary bike brand by revealing the Thunderstroke 111ci, 1850 cc motor.
The Thunderstroke changed the game with its triple-cam design and chain-driven center cam that uses a gear to crank its front and rear cams.
Unlike other designs in the motorcycle industry, the Thunderstoke design allows for a visual throwback to its old-school roots by way of a parallel pushrod placement.
True to tradition, the Thunderstroke uses large fins to air cool.
Thunder Stroke bikes all rock aluminum-framed airbox design, and the engine is cross utilized, making it available on a variety of wheelbases and rake styles.
Another considerable difference between Indian and its American competitors is its integrated, gear-driven transmission.
It's not just the Thunder Stroke motor that makes them different, though.
The small-displacement, 1150cc Scout motor is a liquid-cooled v-twin unlike anything else in its class and packs an integrated gear-driven transmission just like its older siblings.
Indian Challenger
And finally, unlike anything else available on the moto-market is the Indian Challenger.
The Challenger is a fixed-fairing bagger stuffed with their new PowerPlus engine design.
This liquid-cooled bagger is unlike any other motorcycle with a 60-degree V-twin engine that produces 122 horsepower and 128 foot-pounds of torque.
Not to mention its inverted, 43 m fork on its front suspension and an adjustable hydraulic rear shock—the Indian Challenger is a very different bagger.
You may also be interested in our article: Are Triumph Motorcycles Any Good?
History
And let's not forget about Indian's rich history.
If you've seen the classic 2005 film titled "The Wolrd's Fastest Indian", you know that a famous bike racer from New Zealand broke the land speed record back in the 60s on a modified 1920s Indian Scout.
Yet another footnote on the long story that separates Indian bikes from other motorcycles.
Pros And Cons Of Indian Motorcycles
Pros
Indian motorcycles have more bang for their buck than competitors, giving more features than most cruisers, including Harley-Davidsons.
Indian Motorcycles have a distinct, vintage-inspired style.
Indian Motorcycles provide world-class performance and power and handle with agility uncommon for big twin bikes.
Indian Motorcycles are as comfortable to ride as anything else on the market.
Cons
Due to a lengthy hiatus, aftermarket support for Indian motorcycles isn't as fleshed out as it is for many other brands. Indian motorcycles, like any motorcycle make and model, tend to lose value as soon as the odometer starts clocking miles. Recently, though, aftermarket distributors have made strides to change this.
How Long Do Indian Motorcycles Last?
There are well-maintained Indian motorcycles on the road with over 100,000 miles on them.
While the used motorcycle market incorrectly dismisses a bike as high-mileage after a measly 50,000 miles, an Indian motorcycle that's been serviced regularly, ridden responsibly, and stored correctly can last well over 100,000 miles.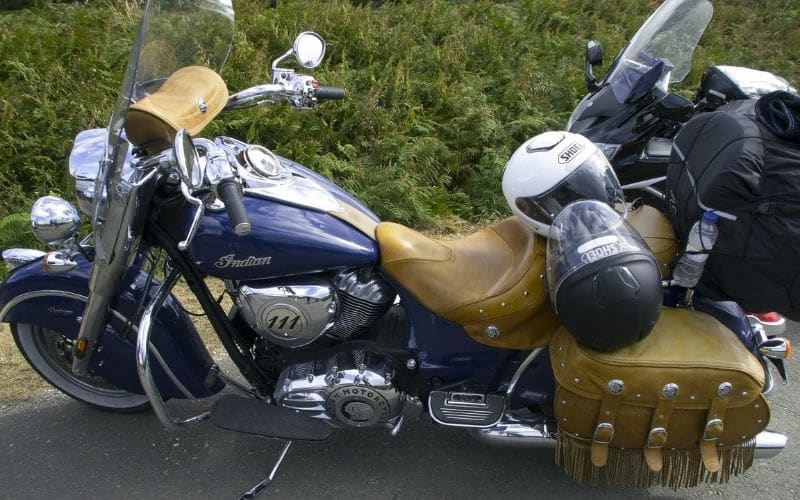 Are Indian Motorcycles Good Quality?
Indian motorcycles are some of the highest quality bikes on the market, as Polaris engineered the modern Indian line with performance-oriented attention to detail.
Polaris was well aware of the popularity of its American competitors while developing modern Indian tech.
Harley-Davidson is known for its style and attitude, sure, and Indians knew that its resurrection and grabbing the title depended on performing Harley's mechanics with a higher quality design.
Are Indian Motorcycles Reliable?
Overhead cams, integrated shaft transmissions, Ride Command navigation, and diagnostic systems to make the current generation of Indians the most reliable in the brand's history and one of the most reliable brands in the western hemisphere, if not the world.
Their v-twins may look similar to the Harley big twin technology, but the Indian's pack an extra over-head cam, adding three where Harley uses two to make the engine that much more dependable.
That said, no brand is perfect; Indian bikes have certainly hit a few speed bumps since their re-release.
In 2019, Indian concluded that there was a defect in the gear position switch equipped by their big twins (all the bikes with the 111ci Thunderstroke engine).
The potential oxidation on the switch's contacts caused concern, as oxidation on the contacts could alter the resistance values -the gear indicator could display an incorrect gear to the rider.
If the rider thinks the bike is neutral and isn't, and they release the clutch lever, the bike would lurch forward and die, catching the rider off guard.
This forward jump could injure the rider, so Indian thought it best to recall myriad Thunderstorke models that left the factory between 2014 and 2019.
Not all bikes had this problem, and the brand's swift recall response upgraded all bikes for this category with brand new gear sensors on the house when riders brought their bikes in for their next service.
If you do your own maintenance and haven't been by an Indian dealership since 2019, the Indian website has a VIN tool that lets you know if your Indian motorcycle has been updated with the new switch.
You may also be interested in our article: Are Harley Davidsons Worth the Money?
Do Indian Motorcycles Hold Their Value?
Indian motorcycles hold their value as well as any other bike, providing they're regularly maintained, have been appropriately stored, were ridden reasonably, and have never been involved in a collision or sustained damage due to being dropped.
Unfortunately, though, the used market considers a motorcycle to be high-mileage after 50,000 miles, making the depreciation of the value of any bike an impending reality.
Cost Of Ownership
While the maintenance cost on an Indian motorcycle is comparable to that of a Harley, accessories upgrades and replacements offer more performance for the same price.
Dealership maintenance has a reputation for being exploitative and indicative of a profit model due to the nature of warranty policies.
That said, routine maintenance is important, and going to a mechanic who specializes in a motorcycle design as unique as Indian's isn't a bad plan.
Routine service on an Indian big twin motorcycle, including an oil change, brake, hydraulic fluid change, and a top-to-bottom inspection, will run you around $450.
Of course, if you're a proper home mechanic with enough experience and know-how, you always have to option to wrench on your bike.
That said, we'd like to note that working on your motorcycle complicates the warranty process, should something go wrong with the bike, if you can't prove you've kept up with your owner's manual's suggested service intervals.
It gets even more complicated if the failure involves a component you've had your wrench on.
As far as performance upgrades go, the price tag of Indian accessories looks like that of some Harley upgrades.
But the performance enhancement specs attained post-upgrade tell a more dramatic story, as the value of the upgrade packs a heavier punch.
Consider Buying a Pre-Owned Indian Instead of a New Model
Buying a used Indian motorcycle from an owner who stored and serviced their bike properly allows riders access to state-of-the-art, world-class Polaris engineering at a reduced price.
That said, buying a used Indian motorcycle in bad shape can end up costing you more money and end up being quite a headache if you don't know what to look for.
3 Things to Consider when Buying a Used Indian Motorcycle:
Damage from Collisions:
Any scratches, dents, scuffs, bent pegs, snapped screws, or any indicators at all that the bike has been down on its side for an extended.

To be clear, cosmetic damage doesn't mean the bike doesn't run well. Just make sure your price is adjusted accordingly, as the bike's value certainly takes a hit.

Previous Owners:
Not only should the motorcycle appear to be in working order, but it should also be easy to tell that the bike has been well-maintained based on brake functionality, oil condition, smooth gear-box action, etc.

Also, consider the owner's attitude towards the cycle.
An owner who cares for his motorcycle and treasured it is more likely to keep up with routine maintenance and less likely to be apprehensive about forking up the dough for basic bike service.

You may also be interested in our article: Are Indian Scouts Reliable?
Storage:
This is a big one and easy to overlook.

Always ask the seller how and where the Indian motorcycle was stored and how often the previous owner rode it.

Although the used market tends to turn the nose up at high-mileage motorcycles, a bike that was ridden regularly and responsibly is more desirable than an Indian that's been sitting in the garage for an extended amount of time without being prepped for long-term storage.

Also, do your best to find out what else was stored nearby.
Storing a motorcycle next to abrasive or acidic chemicals, pool cleaner, for example, causes corrosion.
You may also be interested in our article: Are BMW Motorcycles Worth the Money?
Why Choose an Indian Motorcycle?
Indian motorcycle combines high-grade specs and performance-based engineering to create an aggressive, comfortable, and reliable ride into American Cruiser territory.
The Indian Scout is one of the best medium-sized cruisers on the market and makes a stellar first bike.
The Scout is available in two different sizes and multiple packages.
With the 61ci/1,000cc motor, the Scout Sixty gives the entry-level, 883cc Harley equivalent a run for its money, packing more power in the form of a more extensive and liquid-cooled engine for the same price.
And that's not to mention the lower seat, longer frame, and higher-grade, performance-based suspension package.
The Indian Scout 60 gives you a rowdier ride for the same price point.
And it doesn't stop at the entry-level; skip to the full-blown big-boy twins at the other end of the line, and you'll find a similar story.
For the price of a Street Glide, Indian offers the Challenger.
New to 2019, the Indian Challenger comes equipped with the Polaris Indian Engineering team's cutting edge new engine design—the liquid-cooled Powerplus motor.
With overhead cams, 128 foot-pounds of torque at 3800 RPS, the Powerplus smashed onto the moto-market with its throttle wide-open; 122 horsepower at 5500 RPMs.
Not only does the Indian Indian Challenger pack the Powerplus heat for the same $21,999 that gets you the basic Street-Glide, but the Challenger also out-performs the competition with brakes, suspension and handling.
And, as is the case with the Indian brand aesthetic, the Challenger is a sporty ripper for any bike, but especially for a bagger.
The current Indian stable doesn't stop banging for your buck with baggers, though.
2019 saw the launch of their FTR1200, one of the first recent American naked bikes.
The FTR1200 is an upsized rendition of a flat-track design they've been commanding pro-tracks with for years.
It's an American version of the Ducati Monster for less than 15 grand.
Trust me, take an FTR1200 for a spin around the Mesas of Northern New Mexico—they're definitely worth the price.
Resources
https://www.indianmotorcycle.com/en-us/motorcycle-reviews/
You may also be interested in our articles: