The Ducati Multistrada first hit the streets in 2003.
Marketed by the high-class Italian bike builders as a "street trailie," the versatile V-Twin is cross between a sport-tourer and a track-ready superbike.
In this article we'll take a closer look at its reliability.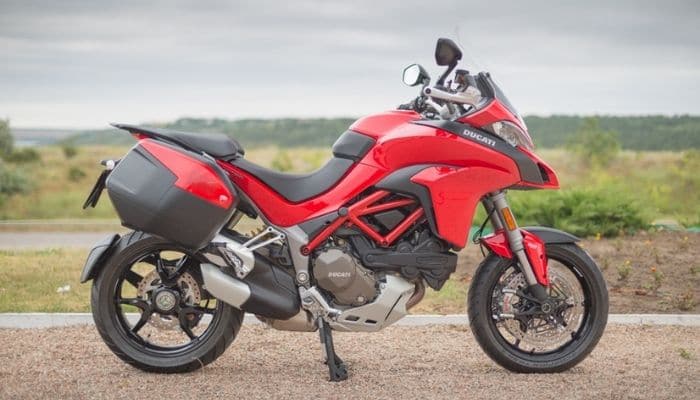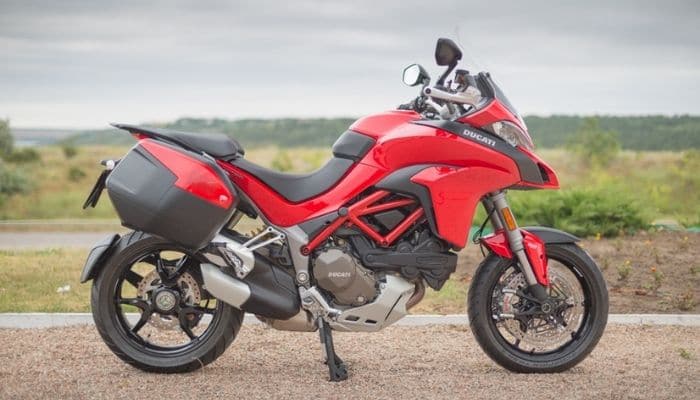 Here is the Short answer to are Ducati Multistradas Reliable:
The Ducati Multistrada is a reliable bike, although most owners will encounter some minor issues during ownership which can often be resolved via warranty. For the most part, the bike will offer reliable performance providing it's serviced every 9,000 miles, regularly topped up with oil and ridden responsibly.
How Reliable Are Ducati Multistradas?
Ducati bikes have a stereotype that they're unreliable, and whilst there may have been some truth to this many years ago, it's certainly not the case today – sure they're a bit more temperamental than the average Japanese bike, but unreliable is not a fair assessment.
The Multistrada has been continually refined since it was first released back in 2003 which means many of its teething issues have been rectified.
Many long-term owners report relatively few problems except for self-inflicted ones.
No bike is perfect though and some problems and complaints owners have encountered include:
The Desmo service provided by Ducati dealers is very expensive
The waterpump housing is known for containing a sponge inside it, from the factory – if the sponge isn't removed it can cause the panel of the bike to corrode and bubble – owners have had this resolved under warranty.
The switch gear, that controls the indicators and horn etc. has become stuck or broke, again this is covered under warranty.
The quick shifter cable was shorter, fixed via recall
The drive chain adjuster loosens off even with the correct torque spec
The heat from the engine in summer months can get hot when driving in slow traffic
Despite a few issues here and there most MS riders say the joy factor far outweighs any niggles and quirks.
The development of a machine like the Multistrada involves recalls and fine-tuning over time.
One example includes corrosion causing the exhaust valves to seize. Ducati fixed the problem by enhancing the finish.
Early Multistrada models received complaints about poor front brakes, which Ducati rectified with a redesign on subsequent models.
An early version of the Multistrada 1200 had a side stand sensor defect–in some cases, the sensor thought the kickstand was down when it wasn't, preventing the engine from firing up, while in others, it failed to prevent riders from taking off with the stand extended. Ducati fixed the bikes via recall.
In a similar situation, the Multistrada's fuel tank sensor failed, giving riders false full-fuel readings, leaving some stranded on the side of the road with an empty tank despite the gauge saying otherwise. Again this was fixed via recall.
Multistrada owners also have a habit of upgrading their bike with aftermarket, race-enhancing parts which can reduce reliability.
Similarly, hard riding, missing service routines, and improper maintenance and storage can all lead to more frequent problems.
What do Owners Have to Say About the Multistadas Reliability?
"5 out of 5. 5 years of ownership and the only two faults were the battery in the remote fob died, and a fork seal popped. Other than that, it's been sweet as a nut."
"So far, it has just required the scheduled servicing and replacement tires. I covered every fastener and anything that didn't move in anti-rust treatment, and it still looks as good as new. Silencer cover bolts were seized after 18 months, so I had to drill them out to get a new back tire fitted (the bike is garaged and not used in the winter). Some metal fittings corrode, fuel sender fails, exhaust valve sticks and has to be bypassed at extra cost (even under warranty)."
"The only problem was a gear selector sensor that failed twice (one time each year). This makes it difficult to select neutral at a standstill, and sometimes the gear indicator display gets confused. Once changed under warranty, but also failed the next year and was charged £120 to replace it. "
"I've owned Ducatis for 24 years, and the reliability stigma is as exaggerated as the reliability issues Harley incurred following the AMC years. The 1200 motor is shared across platforms, and issues have been sorted out over the years. I wouldn't hesitate to buy a 10k mile MTS1200. Right before I bought my SF848, I looked at an MTS1200 with 41k miles, the original owner who said it had never let him down."
How Many Miles Can a Ducati Multistrada Last?
A Ducati Multistrada could last for more than 70,000 miles if its owner rides and stores it responsibly and maintains it per the intervals suggested in the bike's owner's manual. Properly breaking in your Multistrada prolongs its life even further.
One of the most crucial variables on how long a Multistrada will live is how you ride it.
The Multistrada is a multi-purpose motorcycle, meaning that while some riders hit the track on it, others hit the highways for long trips.
I've known of a few Multistrada riders who take it on off-road trails – all good; the bike's meant to be versatile.
That said, all these different riding styles will put varying amounts of stress on the engine, some styles being far more stressful than others.
Your Multistrada could last over 70k before you need a rebuild, providing you're doing attentive upkeep based on your riding habits.
Don't take our word for it; let's turn to some online testimonies from real-life Multistrada owners:
"I have two customers with high mileage Multis. One DVT with over 50k and one with an 11 degree with over 75k. I have no doubts the motors will both make it easier to 100k if not much longer."
"As a data point, I did 96,000 Km on my 2013 Multistrada 1200S with little more than the recommended services, then a teenager in a car with no insurance totaled it. Up to that point, it was still going strong. I then found a replacement 2013 Multistrada 1200S with an 18,000Km that had been sitting in a garage for bout three years; the Serial number was only 95 different from the first, so it probably came off the production line on the same day. I have had to replace clutch slave (leaking) and fork seals (leaking) for this bike. I think these issues are due to the bike sitting for three years."
For any readers considering a brand-new Ducati Multistrada, one sure-fire way of extending its longevity is adhering to the break-in procedure.
Refrain from lugging the motor at low RPMs in high gears.
Refrain from cranking your throttle past the three-quarters mark for the first 1,000 miles.
Refrain from hard stops and aggressive starts.
Refrain from rapid RPM acceleration.
Refrain from redlining in any gear. Follow Ducati's spec RPM guide for each gear.
Related: Are Ducati Scramblers Reliable? & Is The Ducati Monster Reliable?
What is High Mileage for a Ducati Multistrada?
A Ducati Multistrada is considered high mileage at 25,000 miles, a figure established on the belief that all super sports are pushed redlined and stunted, especially a bike that hits trails or rips for long distances. The truth is that mileage has little bearing on a Multistrada's lifespan.
If the previous Multistrada owner maintained, rode, and stored the bike properly and serviced it regularly, its actual engine lifespan could be over 70,000 miles.
To ensure you're getting a Strada that is not at the end of its life, here are a few questions you can ask the seller.
How often did they use their Multistrada? Did they clean the dirt and debris off after rides through harsh conditions to prevent contamination and the hindrance of engine operation?
Did the last owner keep it indoors or under a hefty cover, away from corrosive weather and chemicals?
Did they ride it rightly, or did they rip it hard and stunt their way over trail jumps like it's a dirtbike?
Did they use quality fuel and fluid to reduce grime buildup?
In short, while the used market considers a Multistrada to be high mileage after a nominal 25,000 miles, there's no reason why a responsibly-owned model shouldn't run for much longer.
What Are the Best Model Years to Buy and Avoid?
Best Years: 2022 (Most recent) and the 2017 Multistrada 1200S
Ducati improves the Multistrada's with every model's iteration based on consumer feedback and advances in engineering.
This makes the obvious choice one of the bikes from the latest Multistrada lineup, bikes are machines, not fine wines!
That said, the 2017 DVT is a popular iteration for riders looking for something on the newer side of Ducati's development that doesn't break the bank quite as much.
Ducati shifted the geometry of the head angle on the 2017 Multistrada 1200S and upgraded the airbox with a unique intake area from the previous years.
These simple tweaks optimized the 2017's Testarretta DVT engine for a whole new breed of power delivery, particularly in the mid-range.
In addition to a slue of electronic Control features like Cornering lights and Wheelie Control, the modified engine tuning makes the 2017 Multistrada 1200S one of the models to keep an eye out for.
Worst Year: 2010 Multistrada 1200
Most of the reliability issues mentioned in the first section apply to the Multistrada 1200 models produced between 2021-2014, with 2010 being particularly plagued by throttle issues, fuel sensor failures, and side stands sensor malfunctions.
All of these issues have been addressed by recalls, meaning if yore in the market for the 2010 Duc MS 1200, you might be looking at a model that's been upgraded and updated via recalls.
Still, as there are bound to be neglected Multistradas out there that missed their repairs, it's not a bad idea to address these issues with the seller.
What Usually Breaks First on a Ducati Multistrada?
The electrical system is the first thing to fail on a Ducati Multistrada, mainly on the earlier generation models. While various monitor failures have been addressed via recalls, overheating Regulator/Rectifiers caused electrical problems on most old Ducati, including the early Multistradas.
Ducati Multistrada Maintenance Costs
Ducati Multistrada Maintenance cost is higher than the average motorcycle service due to its complex and technical maintenance on its Testarretta DVT engine. Some owners say standard services exceed $1,000.
Here are a few examples of Multistrada maintenance prices:
$350 for a set of tires
$150 for a stator replacement
$80 for a new battery
$150 for fork seals, bushings, snap rings, washers, seals, and fluid
$100 for the wheel bearings front and rear
$60 an oil change
$200-$500 for a full-service inspection(recommended)
There are other ownership costs to factor in, such as:
Jacket = $200
Gloves = $100
Winter riding gear = $200-$500
Rain gear = $75-$300
Helmets = $100-$500
Fuel = $15 a tank
Storage = $?
Insurance = average cost of motorcycle insurance for a mid-sized v-twin street bike like the Multistrada is $721 a year.
5 Tips to Make Sure Your Ducati Multistrada Is Reliable
Clean your Multistrada with Ducati-Approved Cleaning Products, Removing Dirt and Debris.
Ride your Multistrada Often, Per Ducati's Spec Instructions.
Follow Ducati's Recommended Maint your specific year-model, including regular inspections and lubrication.
Store Your Multistrada Protected from Harsh Weather.
Keep you Multistrada on a trickle charger in the winter months
Related: Are Triumph Tigers Reliable?
Alternative Bikes
| | |
| --- | --- |
| Make & Model | Base MSRP |
| Ducati Monster | $11,895 |
| Ducati Multistrada | $15,295 |
| Triumph Tiger | $12,000 |
| BMW GS | $20,920 |
| Kawasaki Versys | $8,399 |
| Honda Africa Twin | $14,399 |
| BMW R1200RT | $18,395 |
Related: Ducati Motorcycle Won't Start? (Solved and Explained)