The Triumph Tiger is one of the world's most revered adventure motorcycles, a bike equipped to go both on and off the road.
Triumph has released multiple versions and engine displacement-sized Tigers over the years; most commonly, it comes in a 650cc, a 600cc, and 1080cc engine size.
The Tiger is considered by many to be a top-tier adventure bike, but are they reliable?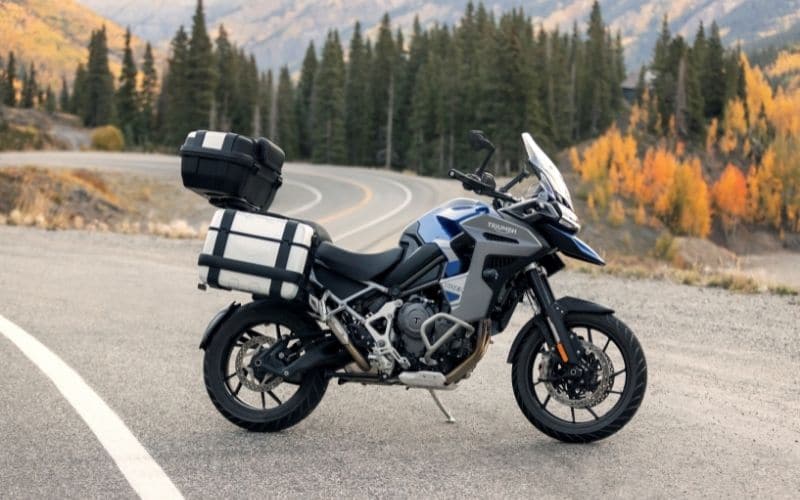 Here is the short answer to are Triumph Tigers is reliable:
The Triumph Tiger is a fairly reliable adventure bike, providing its owner maintains and rides it responsibly. A few models have had reliability issues; Triumph has addressed some of these via recall. There have also been reports of resistance encountered when problems arise that require warranty claims.
How Reliable Are Triumph Tigers?
There's no denying that Triumph builds very capable bikes, but it would be hard to give the Tiger a glowing review simply because of the negative experiences being shared online.
Some people have no issues at all, although others believe that in recent years build quality has slipped – this has been linked with the moving of production abroad to factories in Thailand.
Keep in mind no bike is perfect and whichever bike you opt for you'll always encounter some problems.
There have been numerous complaints pertaining to the TFT screen, in some cases, it just completely stops working.
Owners have also reported condensation in the headlights and across forums you'll find this isn't uncommon.
Paint fading issues have also been reported.
According to some older-gen-Tiger riders, the bike tends to chew the plastic off the chain runner that protects the swingarm and softens the sound of the chain during off-road rips. This cheap plastic part needs to be replaced as frequently as every 6,000 miles, though it's a quick and easy fix.
That said, this part has since been upgraded.
The 2011-2012 Tiger 800 and Tiger XC models were recalled due to a defective return spring on the bike's center stand.
Not only did Triumph issue a recall that swapped out the broken spring with a stronger replacement spring on the house, but they also upgraded the center stand's rubber feet.
These new rubber feet were more durable on the ground. Plus, they stopped it from scuffing up the bottom of the swing arm when the center stand was lited up.
The most severe reliability issue on the Triumph Tiger I found mentioned in the forums was a dreaded punched piston, sometimes called pinging or pre-ignition. While some owners say they did nothing wrong and the piston punctured through its dome due to a critical flaw with the bike, others say it's the result of using ethanol-infused gas and poor-quality oil.
I could not confirm or deny any of these claims; to my knowledge, Triumph has yet to address them.
Triumph has also faced some criticism from owners who are pursuing warranty claims as one owner said "Once the dealer had my money, they treated me like a nuisance."
With this in mind, it's always best to do your background research on the dealer before handing over your hard-earned cash but this is good practice regardless of which brand you're looking at.
Still, there are plenty of riders out there praising their Tiger's dependability–check out these positive testimonies from Triumph Tiger owners:
"I have three modern Triumphs: a 2009 Street Triple R, a 2018 Tiger 800 XRT, and a 2019 Speed Twin. All three have been 100% reliable with only the Street Triple needing a regulator/rectifier and gearbox part recall many years ago. I am completely satisfied with the brand, and have nothing but praise for the engineering and quality of the machines."
"A great bike and enjoying it overall. Plenty of performance even with only 94bhp. Light and maneuverable. Just the job solo. I take a pillion and luggage as well sometimes – on this model, essential to adjust the rear suspension. As an 800, it sits at higher revs at motorway speeds than a liter-class bike, but I'm ok with that. I dropped one star because of the finish quality – bolt heads, etc., furring up already. About to treat with ACF50 to try and alleviate this problem. I've had other makes, much older, where this is less of an issue."
"Top-notch equipment, nicely styled. Reliable engine. It is smooth as anything but needs a wind on to get the most out of it. Peak power comes in high in the rev range. It would have been better to have more torque lower in the range."
So what are the takeaways from all this?
Essentially, the Triumph Tiger is a bike owners fall in love with – it is an incredible piece of kit, although you should be prepared for more than a few niggling problems to arise.
How Many Miles Can a Triumph Tiger Last?
A well-kept Triumph Tiger can last for over 75,000 miles if serviced regularly, appropriately stored, and ridden responsibly and regularly. If you ride 4,000 miles per year, a well-kept Triumph Tiger could potentially last for over 18 years.
Below are reports from some Tiger owners on their way to hitting high numbers.
"The triple is an excellent engine that can go for a long time. I know several people with mileage examples [of 80,000 miles], and they all still run great. The older Triumph triples don't retain their resale value very well, so I'd try to get him to knock a few hundred dollars off the price."
"My 40th birthday gift to myself is a 2005 Tiger with the last version of the 955 engine with the readily accessible sprag clutch and the same easily maintained fuel injection….. Purchased with 10K miles in Feb 2011 and ridden with completely trouble-free 47k miles. I carry a spare relay under the seat and change the oil religiously every 5k miles. But as a daily driver (even in the Pacific NW), the battery and charging system is not generally under a load of stress or excess heat with the assistance of a battery tender. In the colder climate–heat destroys electrics. This bike is excellent for commuting cause you can see over the cars, and they can see you. Great for road trips cause you can crunch many miles in a sit due to the enormous fuel tank, and I usually get 50+ mpg. Great for camping trips cause you can take almost any unpaved road (depending on bravery). You can always find a lightly used example if you look hard enough……. These things are bulletproof and reliable, and surprisingly inexpensive to maintain."
"'05 Tiger 955i I am at almost 30,000 myself. I know of Tigers with 100,000 miles. These things are VERY, VERY good. The few "issues" are easily (and relatively affordably) fixable with little mechanical ability. They are the best value in motorcycling. I have been riding for 33 years and have owned 28 different bikes. This one will be with me for a loooooong time. Get the Tiger; you WILL NOT regret it. Simply put, you will not get more bike for that money anywhere."
Ultimately, how long a Tiger will last is down to the owner – stay on top of routine servicing and repairs and you shouldn't have too much trouble clocking up high miles.
Related: Are Ducati Multistrada Reliable?
What is Considered High Mileage for a Triumph Tiger?
A used adventure bike like the Tiger is considered "high-mileage" roughly around 40,000 – 50,000 miles, based on the idea that dual-sport bikes are raced, stunted, and exposed to harsh off-road conditions.
That said, for motorcycles, mileage considerations are generally just a pricing tool.
Or, as this rider put it:
"My first two Triumphs (Trophy 900 and Tiger 955) were sold after 80,000 and 64,000 virtually trouble-free miles. Neither ever needed any engine work. The most frequent repair tended to be fork seal replacement. Regular maintenance is the key."
If you're in the market for a used Triumph Tiger, the mileage is just one piece of the puzzle – what's most important is the bike's overall condition and how well it's maintained over the years.
If you're scoping out a used Tiger, consider the following:
Bring a checklist you made in advance that has all the issues with the specific year model Tiger you're considering and any other questions you're worried you may forget during the sales process.
Ask for records of part replacements, performance-enhancing upgrades, and routine service records.
Run the VIN to find reports of accidents, totals, or theft.
Take it for a test ride while it's cold by reaching out ahead of time and asking them not to run it before you get there; bikes show their wear much more clearly when their engine is still cold.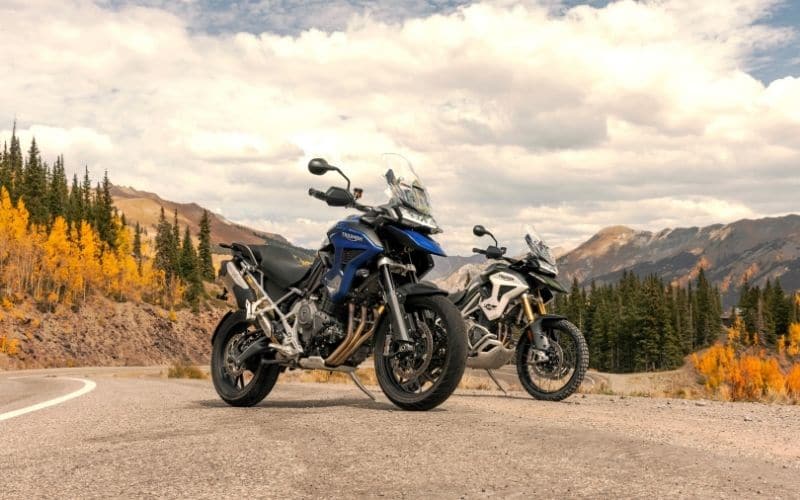 What Are the Best Model Years to Buy and Avoid?
Best Years: 2018-2022, 2010 Triumph Tiger 800 XR and 800 XC
The 2018-2022 Tiger lineup has enhanced specs that translate into more prominent power bands and ECU monitoring.
While the latest is typically the greatest from Triumph, the first-year 800 XR and 800 XC Tigers have more than just the added appeal of collectors value.
Thanks to its market leading specs and high satisfactory ratings circulated despite a few internet criticisms, these two Tigers were notably more assertive in performance than the mid-sized adventure competition was at the time.
Back in 2011, Cycle World called the 2010 Triumph Tiger 800 XC the Best Dual Sport motorcycle by Cycle World.
Worst Years: 2006 Tiger 1050
The worst year Triumph Tiger has to be 2006 1050, due to sticking problems with the master cylinder's pistons.
The pistons had a problem sliding passed their seals because the master cylinder diameter wasn't big enough.
'06 Tiger 1050 riders occasionally dealt with their piston retracting too far from the rotor.
In 2006, Triumph upgraded the 1050 Tigers to Teflon-coated pistons and increased the master cylinder diameter, meaning any Tiger 1050 produced after 2006 is likely a better choice.
What Usually Breaks First on a Triumph Tiger?
In extreme cases, often due to using the wrong oil type or running ethanol-infused gas, the first thing to break is the piston due to pre-ignition.
Corrosive deposits in the combustion chamber can transfer too much heat to the piston until its center is scorching enough to be punctured during combustion.
Triumph Tiger Maintenance Costs
The maintenance cost of a Triumph Tiger is relatively expensive compared to other dual-sport motorcycle brands' dealership service prices based.
Here are a few examples of Tiger maintenance prices:
$500 a set for tires
$220 for stator replacement
$100 for a new battery
$175 for chain and sprockets
$150 for fork seals, bushings, snap rings, washers, dust seals, and fluid
$100 for the wheel bearings front and rear
$80 an oil change+ the labor cost of routine service inspections and lubrication.
There are other ownership costs to factor in, such as:
Jacket = $250+
Gloves = $150
Winter riding gear = $200-$500
Rain gear = $75-$300
Helmets = $100-$500
Fuel = $25 a tank
Storage =$?
Insurance =average cost of superbike motorcycle insurance is $721 a year.
7 Tips to Make Sure Your Triumph Tiger Lasts Long
If buying new, heed your Tiger's break-in period per Triumph's suggestions.
Change your Tiger's oil every 5,000 miles. Change it more often when riding off-road or in harsh or dusty weather.
Clean or replace your Tiger's air filter according to the service schedule outlined in the owner's manual.
Maintain your Tiger's tire pressure; get yourself a new pair of tires as soon as your tread is worn–best practice is to replace them both at once.
Preserve your Tiger's chain drive by keeping it clean, lubed, and tightened; consult Triumph's owner manual recommendations for the exact specs.
Store your Tiger away from harsh weather, either indoors or under a rugged cover.
Ride your Tiger often, keeping its fluids topped off and fresh and preparing it for storage before long periods without use.
Related: Are Honda Africa Twins Reliable?
Alternative Bikes
| | |
| --- | --- |
| Make & Model | Base MSRP |
| Ducati Monster | $11,895 |
| Ducati Multistrada | $15,295 |
| Triumph Tiger | $12,000 |
| BMW GS | $20,920 |
| Kawasaki Versys | $8,399 |
| Honda Africa Twin | $14,399 |