Everything changes. Motorcycles are no different. In the past year or two, electric Motorcycles have taken the moto-market by storm. With a variety of electric bike-styles out there for riders of all backgrounds, it's no wonder your curiosity is piqued. You're probably asking yourself just how different they are from gas-guzzlers and exactly how much an electric motorcycle weighs?
The average weight of an electric motorcycle is 450 pounds. An electric sports bike weighs between 400 and 550 pounds while cruisers weigh 750 pounds. Electric dirt bikes and dual sports, weigh between 200 and 350 pounds.
That said, there are a variety of electric bikes out there, each with its own style-specific stats. Read on for more specific bike weights, broken down into the various styles of electric bikes that the current market has to offer.
Weight of Various Electric Motorcycles
| | |
| --- | --- |
| Electric Motorcycle | Weight |
| Harley Davidson LiveWire | 549 pounds (249 Kg) |
| Victory Empulse TT | 470 pounds (213 Kg) |
| Lightning LS-218 | 495 pounds (225 Kg |
| Brutus V9 | 780 pounds (354 Kg) |
| Hadin Panther | 595 pounds (270 Kg) |
| Evoke 6061 | 372.5 pounds (169 Kg) |
| Denzel Electric Cafe Racer | 198.5 pounds (90 Kg) |
| The Tarform | 440 pounds (220 Kg) |
| KTM Freeride E- XC | 245 pounds (111 Kg) |
| Zero FX | 246 pounds (112 Kg) |
| Alta Motors Redshift MX | 258 pounds (117 Kg) |
| Curtiss Hades | 390 pounds (177 Kg) |
| Johammer J1.200 | 392.5 pounds (178 Kg) |
Street Bikes
1. Harley Davidson LiveWire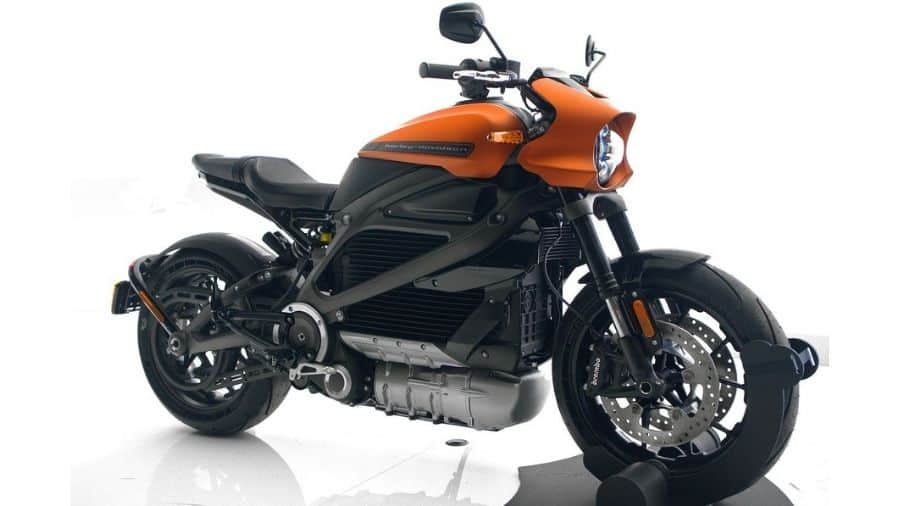 Harley Davidson has managed to stay in front of the ever-shifting bike trends for over a hundred years, and while the brand is known for consistency in style and performance, they're no strangers to taking chances.
Their all-electric LiveWire has an industry-leading electric motor that rips from 0-60 in 3 seconds and goes 146 miles per charge, putting the bike right in the middle of the list that ranges from light to mid to heavyweights.
The Harley Davidson Livewire weighs 549 pounds (249 Kg).
You may also be interested in our article: where are Harley Davidson's made?
2. Victory Empulse TT
Polaris' pre-curser to reviving Indian Motorcycles was to use their world-class engineering to launch their Victory Motorcycle brand back in 1998.
The name's been quiet, but the AC Magnet Motor in this little nugget of theirs makes it one of the best performers on the list, delivering heavy power for midweight.
The Victory Empulse TT weighs in at 470 pounds (213 Kg).
3. Lightning LS-218
As the name implies, this electric enigma right here can clear 218 mph.
Considered the fastest electric-bike to date, the LS-218 roasts it's way from 0-60 in 2.2 seconds with a 12 kWh battery pack under the seat. Who said electric bikes aren't a threat?
The Lightning LS-218 weighs 495 pounds (225 Kg).
Cruisers
4. Brutus V9
The big-bad bagger called Brutus is one of the only electric bikes with a classic, tough-bike character about it.
While it's got a governed top speed of 115 mph, the Brutus V9 boasts a Horsepower of 125 and a pavement-crushing 277 foot-pounds of torque.
The V9 electric battery is no joke, offering 270 miles at an average speed between charges. Still, its battery and fairing put this bike in the upper-heavyweight class of electric motorcycles.
The Brutus V9 weighs 780 pounds (354 Kg).
5. Hadin Panther
The Hadin Panther is a genuine, casual cruiser.
This modern modest moto lounges down the road at a max of 80 mph and its battery wattage offers its rider the equivalent of about 60 horsepower.
Its two-up seat comes stock, as does its fairing, forward controls, floorboards, and wide handlebars, rounding it up to the heavyweight side.
The weight of the Hadin Panther is 595 pounds (270 Kg).
6. Evoke 6061
Evoke Motorcycles refers to their 6061 Cruiser as a "performance muscle motorcycle." With their careful attention to detail during its design, it's easy to see what they were going for.
The Evoke 6061 clears 125 mph, with a supposed wattage equivalent to 160 horsepower. This bike is a torquey ride, even by gas-bike standards.
They've equipped this electric ego-trip with dual disc brakes, a low-positioned seat, and forward-mounted footpegs, and they claim its fast-charging DC battery hits an 80% charge in 15 minutes.
The 6061 takes its name from the material used in its battery and frame- 6061 billet aluminum, easing this comfy cruiser down onto the lighter side of the list.
The Evoke 6061 weighs 372.5 pounds (169 Kg).
Electric Cafe Racers
7. Denzel Motors Electric Cafe Racer
The Denzel Motors Electric Cafe Racer looks impressively like an old-school cafe racer.
Based on the Honda CB aesthetic, this torquey little ride maxes out around 56mph and goes about 85 miles before its battery needs to be charged, a crucial city-ripper living up to its name.
It's humble and straightforward design makes it one of the lighter electric bikes around, and priced at just $5000, it's one of the more affordable.
The Denzel Electric Cafe Racer weighs 198.5 pounds (90 Kg).
8. Tarform Motorcycles- The Tarform
Calling the Tarfom a Cafe Racer might be a stretch; it looks more like a Cafe Racer ridden by one of Philip K Dick's heroes.
The Tarform can travel just under 200 miles on a single charge, with a top speed of 95 mph and a 9kWh rating that equals about 53 horsepower.
A true electro-renewable resource champion, The Tarform is assembled of parts made from sustainable materials. In addition to the effect these materials have on its weight, the company claims using these parts also lowers the energy expenditure from production and makes for a healthier human and environment interaction.
The Tarform weighs in at 440 pounds (220 Kg).
Dirtbikes
9. KTM Freeride E-XC
The KTM Freeride can reach about 60 mph. It comes equipped with an electric motor and a power pack that lasts about 2 hours before it needs to be re-juiced.
Equipped with a chain drive, a practical display with multiple options, and high-performance controls, the only significant difference between this bike and KTM gas-guzzlers besides its electric motor is how quiet it is as it rips through the dunes.
The weight on the KTM Freeride E- XC is 245 pounds (111 Kg).
10. Zero Motorcycles Zero FX Bike
The Zero FX boats everything it needs to qualify as a dual sportbike.
From its deep suspension to its electric power-train, to the fact that this little dirt-banger can reach 85 mph, impressive for any dirtbike, the Zero FX is off-road and on-road ready.
The Zero FX from Zero Motorcycles weighs in at 246 pounds (112 Kg).
11. Alta Motors Redshift MX Electric Dirt Bike
The Redshift MX from Alta Motors features an electric motor with three different riding modes. It clears 70 mph with an equivalent wattage rating of around 50 horsepower.
Dirt bike riders get about an hour and a half of saddle time before they need to recharge the electric battery this little ripper equips.
The weight of the Alta Motors Redshift MX is 258 pounds (117 Kg).
Electric Motorcycles of their Own Class
12. Curtiss Hades
These are the bikes that classic motor-heads fear when they consider the future of electric bikes, and our first example is probably the one that scares them the most.
A horizontally mounted 399-volt battery pack powers the Curtiss Hades, and it's hidden away in a finned case that looks like a bullet from an old-school Mario game.
The electric battery pack on the Curtiss Hades pushes out the crazy equivalent of 217 horsepower in watts and 147 foot-pounds of torque.
This mean, modern machine practically flies atop its disk-brake-equipped carbon fiber wheels and its space-age girder fork.
The bike's base frame is made of aluminum, chromoly, and titanium.
The Curtiss Hades weighs 390 pounds (177 Kg).
You may also be interested in our article: why are Indian motorcycles so expensive?
13. Johammer J1.200
The aluminum-framed Johammer J1.200 is every chopper-hipster's nightmare. Sleek, straight, and as minimalistic as a toaster oven, this sci-fi, futuristic, fantasy-bike is caged in polypropylene.
If you were to peak up its polypropylene skirt, you'd see an air-cooled electric battery pack that can top 75mph with little more than 20 horsepower.
Even with its fancy spaceship cover, the Johammer J1.200 sits right in the middleweight class.
The Johammer J1.200 finishes our list with a weight of 392.5 pounds (178 Kg).
So how much an electric motorcycle weighs? There are a lot of variables. The market offers everything from dainty dirt bike to brutal bagger, reflected in a range of 200-800 pounds, with the average being a weight of about 450 pounds.