The Ford Bronco is an iconic off-roader that was revived in 2021 after a 25-year break.
It shares many styling cues with its older brothers but is now based on the Ford Ranger midsize truck platform.
Behind its boxy retro exterior lies modern powertrains and amenities, off-road ruggedness, as well as unique features such as removable doors and roofs.
In this article, we'll take a look at the new Ford Bronco's common issues…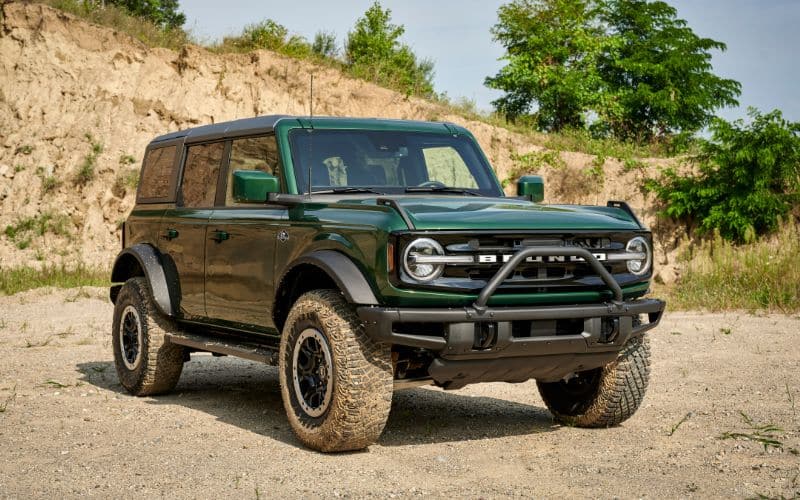 1. Engine Failures Due to Valve Issues
The most concerning issue of the latest Ford Bronco is the sudden failures of the 2.7-liter V6 EcoBoost which comes standard in the Bronco Wildtrak and as an option on other trim levels.
Dozens of Bronco owners have reported that their engines would suddenly lose power and then refuse to start even before they had reached 5,000 miles.
They would later find out that they needed a new engine because the valves had broken apart and severely damaged the engine block and/or head.
According to different Ford and Bronco forums, the issue is caused by a bad batch of valves used during the first few months of the Bronco's production run.
People who have been keeping track of the issue say that engines that were made between July and October 2021 are more likely to have valvetrain failures.
Ford has also announced that the issue is caused by faulty valve keepers not holding the retainers and valve springs in place which eventually caused the valves to drop and hit the piston.
Here is how one owner described their experience:
"On November 14th, 2021, the 2.7 EcoBoost engine on my 2021 Bronco, with 2,744 miles, shut off without warning. The Bronco lost all acceleration and the "service engine" light came on. Based on the paperwork given to me by the dealership, cylinders 4, 5, and 6 had low compression, cylinder 6 spark plug was found mashed from the piston, and they found catastrophic failure in cylinders 4, 5, and 6."
Solution
So far, Ford has not issued a recall or a TSB (Technical Service Bulletin) to address the potential valve failures of the Bronco's 2.7-liter EcoBoost engine. The NHTSA has also launched an investigation into this issue which is estimated to affect over 25,000 Broncos, but there haven't been reports of any accidents caused by the engine failures.
Dealers just replace the damaged engines since the failures usually occur at relatively low mileage and the vehicles are still under warranty.
But there's no telling how long the other engines that haven't had valvetrain failures yet will hold up over time.
If you're worried about suffering from dropped valve issues, you can check your engine's build date using its serial number. You can find this on a QR code sticker near the oil fill tube.
After the first five characters, there will be five digits that will tell you exactly when your Bronco's engine was made.
The first two digits indicate the year while the last three digits signify the Julian date or which day of the year, out of 356 days, it was built.
If your engine is part of the supposed 'bad batch', you can wait and see what Ford will do to correct the problem or get rid of the car before the warranty expires to avoid expensive engine repairs in the future.
2. Faulty Turbo Wastegates
A few Broncos equipped with the base 2.3-liter inline four EcoBoost engines have suffered from early turbocharger problems.
A common theme among those who have experienced turbo failures is that it usually happens in the first 100 miles.
According to a TSB released by Ford, this issue can affect 2021 to 2022 Broncos and Rangers, as well as 2022 Explorers, that were built from December 14, 2021 onwards.
It's not actually the turbo itself that fails, but rather its internal wastegate.
This part controls the boost pressure and is prone to getting stuck.
When the wastegate starts acting up, it will result in:
Check engine light
Powertrain Malfunction or Service Engine errors
Low boost issues
Severely reduced performance
Trouble codes indicating a turbo/wastegate issue
Here is one's Bronco owner's unhappy tale:
"Got my Bronco delivered two weeks ago. Drove it 150 miles over three days. On the fourth day, I was driving on the highway when a check engine light came on. FordPass app informed me of a powertrain malfunction, followed up a day later with a wastegate malfunction. I took it into the dealer for repairs. First, they isolated the issue to the turbo wastegate. They ordered a new one, installed, didn't fix it."
Solution
In most cases, fixing the faulty wastegate requires replacing the entire turbo.
Sometimes, the turbo issues are also caused by a simple leak, which only requires replacing some hoses, or a faulty wastegate actuator.
In some cases, the issue completely goes away once the codes are cleared.
Replacing the turbo will be covered under warranty.
Some owners have complained that the repair can take a couple of weeks because replacement turbos for the Bronco are not readily available, which means they can't properly enjoy their brand-new vehicle.
3. Broken Tie Rods
A number of sixth-gen Ford Broncos have snapped their tie rods, usually while off-roading. When a tie rod breaks the affected wheel is no longer connected to the steering rack, which leaves the car undrivable.
The Ford Bronco is touted to be a very capable off-road vehicle so most owners use it for rock crawling and extreme trails.
But the Bronco's independent front suspension (IFS), which gives it more civilized road manners, isn't as robust as the solid axles used in dedicated off-roaders.
This weakness is exacerbated when the Bronco's suspension is lifted and fitted with larger tires because these change the steering geometry and put more strain on the tie rods.
Poor off-roading technique is also a huge contributor to these tie-rod failures.
Here is how one Bronco owner broke their tie-rod:
"As expected, that tiny little threaded tie rod on the rack and pinion was the weak point. Hardly even sent it but as my tire crested the top of the log, the force on the back of the wheel snapped the tie rod."
Solution
If you're worried about breaking your tie-rods out on the trail, there are lots of aftermarket products for the Bronco that can reinforce or replace the stock steering and suspension components.
You can keep spare tie rods in the car so you don't get stranded in the middle of anywhere in case they break.
You should also avoid turning the steering wheel when the car is at a dead stop, especially if you have larger tires on, because this puts a lot more strain on the tie rods.
Unless you frequently drive your Bronco over large boulders, deep ruts and other obstacles, tie-rod failures shouldn't be too big of a concern in normal driving conditions.
4. Water Leaks and Windshield Issues
The first model year of the new Bronco has had issues with water leaks coming through A-pillars near the side airbag cover. The leaks usually only occur during heavy downpours.
According to Ford, these leaks are usually caused by gaps in the windshield header. Though many dealers have found that the leaks can also be caused by improperly applied windshield adhesives.
2022 Broncos built on or before April 28, 2022 have also suffered from a whistling noise coming from the bottom of the windshield due to improperly applied adhesives.
Aside from possible water leaks, Ford has determined that the windshield can come off during a crash and cause a safety issue.
Here is how a few Bronco owners described their issue:
"I was on a 10-hour road trip a couple weeks ago and there was a whistling noise above 60 MPH that I swear was coming from the windshield and not a weather seal. My build date is March 10th."
"Caught in heavy rain today with the MIC top. Water started dripping then running from passenger side airbag near windshield."
"Just got my leak fixed. Turns out the culprit was the windshield. There were 2 spots at the apex where the urethane was not placed properly."
Solution
Ford has issued a TSB to fix the windshield water leaks and a recall for the windshield adhesion issues.
The windshield recall should be fully covered by Ford even after the warranty expires since it presents a safety issue.
Usually, the vehicle is taken to a glass shop who will remove the windshield, prep the surfaces and reapply the correct adhesives to make sure the windshield is properly attached.
However, the water leaks will only be covered while the vehicle is still under warranty.
Dealers typically fill in the gaps with sealant to stop the leaks. Although some owners have reported that they've had their cars repaired more than once and still continue to deal with leaks.
5. Hard Top Issues
The new Ford Bronco has had numerous quality problems and cosmetic issues with its removable hard top which prompted Ford to replace early hard tops with updated versions, but owners continue to report issues.
Some of the hard top issues Bronco owners encountered include:
Panel gaps
Rough edges
Misaligned panels
Mismatched colors
Water leaks
Finish developing a honeycomb or snakeskin pattern/texture
Rattles, squeaks and popping noises
Rubbing against body panels
Headliner/sound deadening peeling and sagging
Delamination or bubbling
Cracking on edges
Corners breaking off
Newer MIC (Molded-in-Color) hard tops typically have less issues, but there are still many reports of fit and finish problems and manufacturing defects. The hard tops are also not the most durable things in the world and they can crack if they're dropped or stored incorrectly.
Here are some accounts from a couple of Bronco owners:
"Just noticed our MIC 2.0 hardtop is beginning to delaminate. Maybe it was the summer heat but this was a Nov 2021 build date."
"Top looked excellent at pickup. Did not notice any issues. 4 days later, appears to be pulling apart a bit on the rearmost panel by the windows."
"I got my Bronco 6 months ago and my roof has never looked right. Got in it last weekend and my roof was leaking by the aux switches and where the back roof panel connects to the back cap."
Solution
If you have an early model sixth-gen Bronco, you can get your hard top replaced with the MIC 2.0 version at the dealer free of charge.
If you already have the 2.0 version but continue to deal with defects, the dealer should also be able to replace it while the car is still under warranty.
However, some have reported that Ford has denied warranty claims for issues like honeycombing.
Ford is expected to eventually start producing the hard tops themselves instead of outsourcing them to another company.
When these Ford-produced hard tops will become available and how good they'll turn out to be still has to be seen.
At the moment, there are only a few aftermarket hard tops available and they usually cost around $5,000 which is close to the price of the OEM hard tops.
6. Brake Booster Issues
A few Broncos equipped with the 2.3-liter engine have suffered from brake failures where the pedal suddenly becomes extremely difficult to push down which severely affects braking performance.
The same problem has also been reported for the Escape-based Bronco Sport and Ranger which also use the same engine.
In a lot of cases, the issue starts off with a brake error showing up on the dash that goes away after the car is restarted.
The sudden brake failure seems to occur more often when cruise control is engaged or when driving at a constant speed.
This is even more concerning because the brakes need to be reliable when traveling at higher speeds.
Here is how one Bronco owner described their experience:
"At around 7k miles I started having issues with the brakes. Brake light came on while driving. Every time I stopped & restarted the truck, the brake light turned off. Brakes felt normal and was stopping without issue. Until one day while I was using regular cruise control on the highway. Went to brake and nothing but a rock solid pedal."
Solution
According to a TSB released by Ford in December 2021, the brake errors and eventual failures are caused by a contaminated brake vacuum line that needs to be replaced.
The brake vacuum pump pressurizes the braking system so you don't have to pump the brakes to slow down. When the vacuum system isn't working properly, the entire braking system is compromised.
While replacing a vacuum line seems like an easy enough fix, some Bronco owners have had to wait for several weeks to get their cars fixed due parts availability problems.
Other people who have encountered the problem have also reported that it was the vacuum sensor that was the culprit.
7. Auto Start-Stop
Although not a problem per se, for a number of Bronco owners the engine Auto Start-Stop feature is an annoyance.
The feature automatically shuts down and restarts the engine to reduce the amount of time the engine spends idling, in order to reduce fuel consumption and emissions.
The main complaint with the A.S.S is that it needs to be disabled every time you use the vehicle.
Solution
According to a number of Bronco owners, the auto start feature can be disabled using FORSCAN, in order to do this you will need a moderate level of programming skill.
Other owners have had success with the "Autostop Eliminator" which is a plug & play device.
The device remembers when you turn the auto start-stop feature off and works to retain your preference for this functionality, automatically.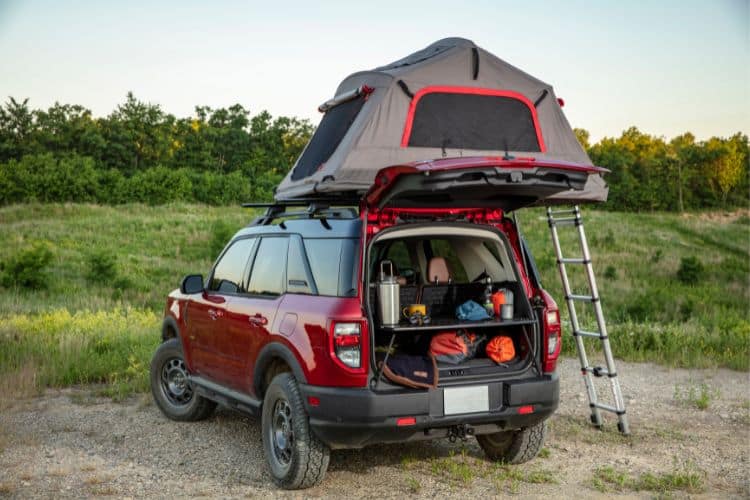 Ford Bronco Pros and Cons
If you're considering a Ford Bronco as your next car you might be wondering what its strengths and weaknesses are…
Pros
Rugged yet stylish looks
Comfier ride compared to rivals
Lots of configurations and options
Highly capable off-roader
Comes with modern tech
Cons
Interiors are an acquired taste
Lacks refinement of crossovers
Long wait times
Related: Ford Bronco in Snow & Winter Driving? (Explained)
Ford Bronco Reliability Compared to Similar Cars
Consumer Reports gave the Bronco a sub-par score of 30/100.
Make & Model
Consumer Reports
Reliability Score
Toyota 4Runner
71
Ford Bronco
30
Jeep Wrangler
25
Source: Consumer Reports
Ford Bronco Recalls
2021
Malfunctioning child safety lock
Forward Collision Avoidance: misaligned radar module
Airbags – improper deployment
2022
Windshield may separate during a crash
Malfunctioning child safety lock
To see if you have been affected by a recall run a VIN check on the NHTSA website.
Ford Bronco Used Value
We've taken a look on Car Gurus to gauge the resale value of a Ford Bronco, below are typical asking prices for each model year.
According to Car Edge, a Ford Bronco will depreciate 35% after 5 years and have a 5 year resale value of $30,955.
Note: Used model prices will vary depending on trim level.
| | | |
| --- | --- | --- |
| Model Year | Mileage (miles) | Resale Price |
| 2022 | 1,393 | $65,698 |
| 2021 | 8,824 | $69,599 |
Source: Car Gurus
Related: 19 Best & Worst Ford Escape Years (With Facts & Stats)
What Do Owners Like and Dislike About the Ford Bronco?
Based on owner feedback from the Kelley Blue Book site here are what real-life owners love and hate about the Ford Bronco.
Likes
Awesome build
Fun to drive
Looks great
Unique
Powerful
Dislikes
Poor gas mileage
Poor factory speakers
No hard top option available for some models
Cabin noise
Rear view wiper motor causes blind spot
Owners Reviews
"Bronco can handle any terrain. Style is an instant classic. Will hold value for many years to come."
Source: Kelley Blue Book
"Fun! Great on and off-road. Set up to customize. Soft top up / down in 10 minutes or 1/2 open in 20 seconds."
Source: Edmunds
"Hands down one of the coolest cars I've owned. I have the soft top, yes it's a little noisy but hey it comes with the territory. If I wanted something quiet I would have bought a Lincoln."
Source: Edmunds
Love the unique retro style that sets it apart from the sea of SUV's. Minor downsides: don't care for the auto start/stop feature, and I'm still not in the habit of disabling it every time I start up. Rear window wiper motor creates a blind spot. Overall, very happy with this vehicle.
Source: Kelley Blue Book
How Reliable Are Ford Cars?
According to a recent report from Consumer Reports, Ford are ranked the 18th most reliable car manufacturer out of 28 brands, with a score of 44/100.
| | | |
| --- | --- | --- |
| Rank | Brand | Score |
| 1 | Lexus | 76 |
| 2 | Mazda | 75 |
| 3 | Toyota | 71 |
| 4 | Infiniti | 69 |
| 5 | Buick | 66 |
| 6 | Honda | 66 |
| 7 | Subaru | 66 |
| 8 | Acura | 64 |
| 9 | Nissan | 63 |
| 10 | Mini | 60 |
| 11 | Hyundai | 56 |
| 12 | Chrysler | 54 |
| 13 | Porsche | 52 |
| 14 | Chevy | 48 |
| 15 | Audi | 47 |
| 16 | Cadillac | 47 |
| 17 | BMW | 45 |
| 18 | Ford | 44 |
| 19 | Kia | 43 |
| 20 | Volvo | 42 |
| 21 | Ram | 40 |
| 22 | GMC | 37 |
| 23 | Mercedes-Benz | 34 |
| 24 | Volkswagen | 31 |
| 25 | Genesis | 30 |
| 26 | Jeep | 26 |
| 27 | Tesla | 25 |
| 28 | Lincoln | 18 |
Source: Consumer Reports
Related: Ford Bronco Alarm Going Off? (14 Common Causes)
Sources
https://www.consumerreports.org/cars/ford/bronco/
https://www.carcomplaints.com/Ford/Bronco/2021/
https://www.carproblemzoo.com/ford/bronco/
https://www.kbb.com/ford/bronco/
https://www.edmunds.com/ford/bronco/
https://caredge.com/ford/bronco/depreciation