The Honda Gold Wing is a classic cross-country touring motorcycle that offers a long list of features including a compact design, sizeable storage capacity, and a strong engine.
But is it reliable in the long run?
In this article we'll discuss the durability of Honda's flagship motorcycle…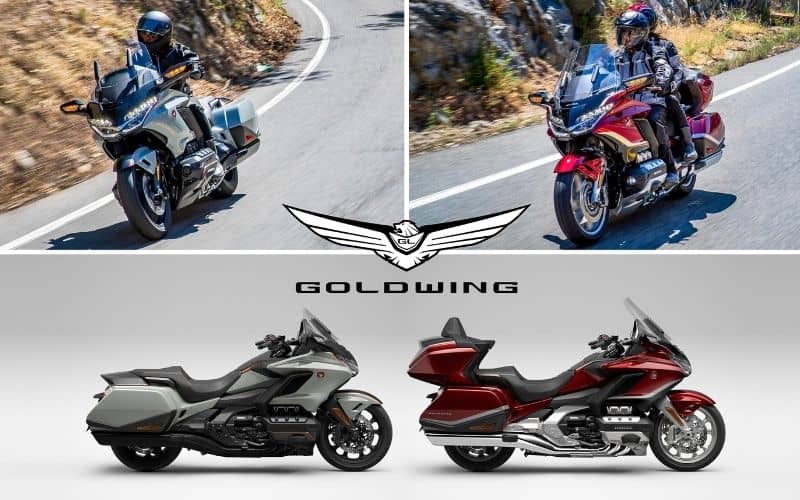 Here is the short answer to how long a Honda Gold Wing will last:
Honda Gold Wings are incredibly durable and can last on average between 250,000 and 300,000 miles with instances of some even lasting up to 400,000 miles. When properly maintained and ridden responsibly the Gold Wing will easily deliver well over 15 years of service.
How Many Miles Can You Expect from a Honda Gold Wing?
Since its production in 1974, the Gold Wing has proven to be a very popular model across the globe – particularly in Japan, North America, Europe, and Australia.
Although hard to believe, based on the reports of several owners, a Honda Gold Wing can serve up to 400,000 miles on the odometer but this is only possible with the help of diligent automotive service.
This means if you drive, on average, around 10,000 to 20,000 miles annually, your Honda Gold Wing can last about 20 to 40 years before giving up on you.
One owner has even cited a Gold Wing that has clocked 425,000 miles, which is definitely on the high-end, but certainly not impossible when driven with caution.
As one of the best touring motorcycles in the market, the Honda Gold Wing can withstand long distances of traveling without any major faults.
The Honda Gold Wing is powered by high-performance automobile engines, similar to that of a car, unlike a high maintenance motorcycle such as a Harley Davidson Road Glide.
Honda Gold Wings are massive machines with a 1,833cc horizontally opposed six-cylinder engine which is liquid-cooled with radiators, water pumps, and thermostats.
This tends to extend the life of the Gold Wing by several years as its engine remains cool irrespective of the speed at which it is driven and the surrounding temperature.
Proper care and maintenance is crucial to take a Honda Gold Wing past the 400,000 miles milestone.
Without regular service and responsible management, you might have to face frequent breakdowns and the disappointment of a shortened lifespan of your vehicle in the long term.
To ensure a dependable performance and satisfactory emission control, the Honda Gold Wing should be serviced every 4000 miles traveled or 6 months, whichever comes first, according to the Honda Gold Wing Owner's Manual.
However, it should be serviced more regularly if driven in remarkably dusty or wet areas.
Following the first service at 4000 miles, most owners give their Gold Wing a more in-depth service when it crosses the 8000 miles mark while checking the valve clearances at 32,000 miles.
How Soon Should You Expect Rust On A Honda Gold Wing?
Although the Honda Gold Wing is an excellent product of remarkable craftsmanship, one of the biggest disappointments when it comes to the Gold Wing is its susceptibility to rust, especially its aluminum parts.
How soon a Gold Wing may rust depends on a number of factors such a humidity, maintenance, and the saltiness of the air.
Additionally, the salt used on the roads in the gritting process can also rust your motorcycle.
Some owners have noticed rust on the aluminum parts of their Gold Wing within the first year of purchase while some have reported no rust till the second year.
The biggest drawback of aluminum parts is that they may corrode easily when in contact with dirt, mud, or road salt.
One of the best ways to prevent your bike from rusting is to keep it stored inside out of the elements and ensure it is cleaned regularly.
Based on the experience of several owners, the following parts/areas of a Gold Wing are the most vulnerable to rust:
The exhaust collector box
The swing-arm area
Wheel bearings
Exhaust pipe
The frame
You may also be interested in our article: where are Honda Goldwing made?
How Long Does Honda Gold Wings Last Compared to Similar Motorcycle Models?
We have learned that the Gold Wing is a durable motorcycle that one can rely on in the long run but where does it stand with competitors of similar models in the market in terms of its longevity? Let's find out.
Honda Gold Wing vs Yamaha Star Venture
The Honda Gold Wing and the Yamaha Star Venture are both high-end, luxury touring bikes but they differ in engine design and handling.
In terms of longevity, these two bikes are evenly matched and you can expect both motorcycles to last 200,000 miles plus if properly looked after and well maintained.
The Gold Wing is a sportier ride and features a massive flat-six engine and has better ground clearance.
While the Star Venture uses a V-Twin powerplant engine and has a more laid-back seating position that many find more comfortable especially on all-day rides.
Cornering is a bit more dicey with the Yamaha, but again, it's a touring bike, not a cafe racer.
Long-term reliability between the two dominant Japanese motorcycle brands is pretty much equal, and in fact, many of the Japanese brands have spectacular longevity and reliability scores.
Ultimately though it comes down to owner responsibility.
If you follow recommended maintenance schedules, either doing the work yourself or taking it to the dealer, you can expect either the Gold Wing or the Star Venture to perform flawlessly for a very long time.
Each motorcycle will deliver its own unique experience and it will come down to personal taste which one is right for you.
Honda Gold Wing vs Harley Davidson Road Glide
When it comes to longevity, the Harley Davidson Road Glide gives the Gold Wing tough competition and a run for its money.
Keep in mind that in many cases people will buy a Harley based on brand loyalty and the extended, world-wide brotherhood (and sisterhood) that you'll immediately belong to once you make your purchase.
Gold Wings have their devotees too, but it's nothing like the fan base you get with a Harley.
Harley Davidsons are known to survive 150,000 to 200,000 miles before major repairs are required and as a general rule, a Gold Wing will perform much better in terms of longevity. The Gold Wing starts at $23,800 whereas the Road Glide starts at $21,699.
While the Gold Wing is a few thousand dollars more expensive than the Harley Davidson, it offers quite a few amenities the Road Glide doesn't. Some say that the Harley is cheaper thus the better option whilst others say that the Gold Wing is worth the extra money.
The seating position of the Harley Road Glide is something many riders find more comfortable but the vibrations through the frame, especially on older models is something you'd never experience with a Gold Wing.
Although an intimidating vehicle on the streets owing to its large size, the ride and drive train of a Gold Wing are beyond comparison.
Overall, the Honda Gold Wing might be a better choice if you're looking for a touring motorcycle that lasts longer with Hondas engineering, ride quality and overall reliability tough to beat.
How Reliable Is The Honda Gold Wing?
We can safely say the Honda Gold Wing is an extremely reliable motorcycle and you should have no issues passing the 100k and even 200k mile mark without any serious hiccups.
Many owners have seen their Wing survive for years without any issues. Motor Cycle News rates the Honda Gold Wing GL 1800 a 5/5 in terms of reliability making it one of the most well-built motorcycles on the market.
The Best and Worst Years for Honda Gold Wing
Although the Gold Wing's reputation precedes itself, there were some years in which the models did not live up to Honda's reputation. This includes their 1984 and 1985 models, family to the GL1200 generation.
These models reported failures in the functioning of wheels, ignition problems, brake issues, and seating problems.
Based on these reports, we advise that you avoid the 1984 and 1985 models and choose the 2018 and 2013 GL 1800 instead which have received positive responses and might be the best models out there.
Please also read our article: How Long Do Yamaha Star Ventures Last?
Honda Gold Wing Model Year List:
Here are the model years for the Honda Gold Wing:
GL1000 generation:
1975
1976 (K1)
1977 (K2)
1978 (K3)
1979 (K4)
GL1100 generation:
1980
1981
GL1100I '81
1982
GL1100I '82
GL1100A '82
1983
GL1100I '83
GL1100A '83
GL1200 generation:
1984
GL1200I'84
GL1200I'85
GL1200L
GL1200I'86
GL1200I'87
GL1200A'84
GL1200A'85
GL1200A'86
GL1200A'87
GL1500 generation:
GL1500'88
GL1500'89
GL1500'90
GL1500SE
GL1500A'91
GL1500SE'91
GL1500I'91
GL1500I'92
GL1500A'92
GL1500A'93
GL1500SE'93
GL1500A'94
GL1500A'95
GL1500I'95
GL1500A'96
GL1500I'96
GL1500A'97
GL1500SE'97
GL1500CT
GL1500A'98
GL1500SE'99
GL1500A'99
GL1500CF
GL1500A'2000
GL1500SE'2000
GL1800 generation:
GL1800'2001
GL1800'2002
GL1800'2003
GL1800'2004
GL1800'2005
GL1800'2006
GL1800'2007
GL1800'2008
GL1800'2009
GL1800'2010
GL1800'2012
GL1800'2013
GL1800'2014
GL1800'2015
GL1800'2016
GL1800'2017
2018 GL1800 generation:
Is Honda Gold Wing Expensive to Maintain?
The cost of maintaining a Honda Gold Wing can charge you around $400-$500 annually during the first few years if you get the maintenance done by a dealer. However, if you do the maintenance yourself and have the proper expertise and experience to do it, it will cost around 200-250$ annually.
Considering how maintenance is key to keeping your vehicle running longer, although slightly costly, this investment into maintenance costs is worth paying for.
Related: Honda Gold Wing: 8 Common Problems (Solution Guide)
How Long Do Brakes Last?
Although the lifespan of a Gold Wing's brakes depends a lot on how folks ride and how often they ride it, the brakes can last over 30,000 miles before needing replacement.
How Long Do Tires Last?
According to reports from owners, the tires on a Gold Wing can last about 20,000-25,000 miles but may vary according to usage.
How Long Do The Transmissions Last?
When taken care of, the transmission on a Honda Gold Wing is expected to last around 300,000-400,000 miles.
How Long Do The Spark Plugs Last?
The Honda Manual states that the spark plugs in a Gold Wing have to be replaced every 16,000 miles.
You may also be interested in our article: How Long Do Honda Motorcycles Last
What about Insurance Costs?
The average cost of insuring a Gold Wing is around $1640 per year.
Tips to Prolong the Life of Your Honda Gold Wing
Follow the maintenance schedule
Store inside
Clean regularly
Avoid Buying Cheap/Fake Parts;
Perform periodic checks at least once a month.
Resources
https://enginepatrol.com/where-are-honda-goldwing-made/