The Kia Optima is a mid-size car manufactured by Kia Motors from 2000 to 2020 and marketed globally through various nameplates.
With the introduction of the Kia K5 as the brand's next generation of midsize sedans, the Kia Optima has been discontinued.
However, if you're in the market for a midsize sedan but aren't quite willing to shell out the price for a brand new K5, then a used Optima is worth looking into.
This article will examine how long you can expect a Kia Optima to last.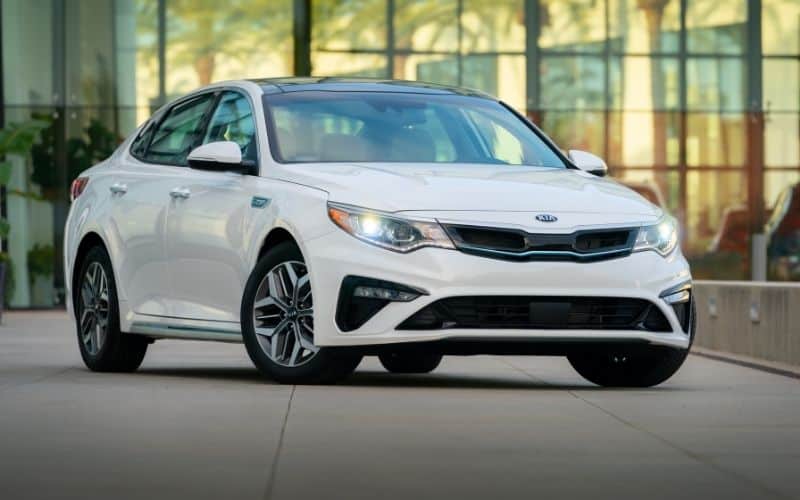 Here is the short answer to how long do Kia Optimas last:
The Kia Optima has an average lifespan of 200,000 miles, which translates into roughly 13 years of service when taking into account the average miles driven per year of 15,000. This makes the Kia Optima an affordable choice in the used car market which is set to last you for years to come.
How Many Miles Can You Expect from a Kia Optima?
Unlike its Japanese rivals such as the Honda Accord and Toyota Camry which often last up to 300,000 miles, reports of the Kia Optima going past 200,000 are a much less common occurrence.
This doesn't, however, diminish the reliability rating of the Kia Optima with RepairPal awarding the Optima 4.0 out of 5.0, and ranked 8th out of 24 for its class of mid-size cars.
2019 and 2020 Kia Optimas come standard with Kia's Advanced Driver's Assistance System across all trim levels.
Features include:
Forward collision warning system
Driver attention warning
Lane keep assist
Lane departure warnings
This means that you get a car with a wealth of safety features which can last up to 13 years for as low as $18,000.
Consult with your servicing manual and keep up to date with maintenance and oil changes, and you'll be well on your way to 200,000 miles.
How Soon Should You Expect Rust on a Kia Optima?
Frame rust issues are prevalent in older Kia Optima year models, specifically 2001-2005.
Rust problems become less abundant in newer models of the Kia Optima. However, regular cleaning and rust-proofing should be enough to keep major rust problems at bay for at least the first 5 years of ownership.
Residents of States in the Salt Belt should consider investing in rust protection and ceramic coating, as cars in these areas are more prone to rust problems within the first few years of ownership.
Salt buildup on vehicle surfaces is corrosive, and the sand, dirt and snow that accumulate can trap moisture in wheel wells and underbody structures.
Regardless of where you live, good habits such as keeping your interior dry and a regular car cleaning routine can play a big role in keeping your car rust-free for as long as possible.
How Long Does the Kia Optima Last Compared to Similar Car Models?
On its own, the Kia Optima will undeniably give you good value for money in terms of features and durability. However, with the abundance of choice in the midsize sedan segment, it doesn't hurt to see how the Kia Optima stacks up to the competition.
Kia Optima vs. Hyundai Sonata
Being the parent company of Kia, the Hyundai Sonata shares many similarities with the Kia optima in terms of design language, interior features, and performance numbers.
The Hyundai Sonata wins the longevity comparison, averaging 250,000 miles, which means the Hyundai Sonata can offer up to 16 years of service compared to the Kia Optima's 13.
When it comes to the cost of maintenance, the Hyundai Sonata wins by a small margin, costing $458 annually to maintain. The Kia Optima comes in at $471 annually, making a difference of $13 between the two cars.
Despite having near-identical features, the Hyundai Sonata can reach higher mileage with less cost to maintain. However, the Kia Optima remains the more affordable option being that it is now exclusively on the used market.
Kia Optima vs. Toyota Camry
The Toyota Camry eclipses the longevity of the Kia Optima with an average lifespan of 250,000 to 300,000 miles. This means that the Toyota Camry offers up to 7 more years of service when compared to the Kia Optima average lifespan of 13 years.
The Toyota Camry also manages to reach those high miles with less money spent, averaging just $388 a year to maintain. This equals an $82 difference when compared to the $471 annual maintenance cost of the Kia Optima.
While the Toyota Camry clearly offers better longevity and value for money in maintenance costs, drivers who are not a fan of Toyota's understated design may find themselves leaning towards the Kia Optima, which offers considerably sharper and more sporty lines in the 2019 and 2020 model years.
Kia Optima vs Nissan Altima
These two cars have been close revivals for some time, however when it comes to longevity the Altima excels.
The Nissan Altima has an expected lifespan of 250K – 300K miles, which is approximately 15 -20 years of service.
The cost to maintain a Kia Optima is $471 annually, which is slightly more affordable than the Nissan Altima's $483 yearly maintenance cost.
Although the two cars have differing longevity numbers, it is once again important to note that the Kia Optima is now available exclusively on the used car market, the Kia Optima modern-day equivalent is the K5.
Please also read our article: how long do Nissan Altima's last
How Reliable is a Kia Optima?
Kia has gone from once being known as a manufacturer that produces low-quality cars with cheap materials to one of the most reliable brands on the market.
RepairPal ranks Kia 3rd overall in reliability, while the Kia Optima ranks 8th out of 24 midsize cars. J.D. Power also rates the Optima high in reliability with a rating of 83 out of 100.
With the launch of the K5, Kia's flagship next-generation midsize sedan, the Kia Optima becomes one of the most affordable options in the used car market offering reliability, durability, low-cost maintenance, and standard safety features across all trim levels.
Reliability Compared to Other Midsize Cars
| | |
| --- | --- |
| Model | Reliability |
| Honda Accord | 4.5 / 5.0 |
| Mitsubishi Galant | 4.5 / 5.0 |
| Toyota Camry | 4.0 / 5.0 |
| Toyota Prius V | 4.0 / 5.0 |
| Hyundai Sonata | 4.0 / 5.0 |
| Mazda6 | 4.0 / 5.0 |
| Chevrolet Malibu Limited | 4.0 / 5.0 |
| Kia Optima | 4.0 / 5.0 |
| Chevrolet Malibu | 4.0 / 5.0 |
| Toyota Prius | 4.0 / 5.0 |
| Nissan Altima | 4.0 / 5.0 |
| Chrysler 200 | 4.0 / 5.0 |
| Buick Regal | 4.0 / 5.0 |
| Honda Crosstour | 4.0 / 5.0 |
| Buick LaCrosse | 4.0 / 5.0 |
| Subaru Legacy | 4.0 / 5.0 |
| Volkswagen Passat | 4.0 / 5.0 |
| Ford Fusion | 4.0 / 5.0 |
| Dodge Challenger | 3.5 / 5.0 |
| Ford Mustang | 3.5 / 5.0 |
| Chevrolet Camaro | 3.5 / 5.0 |
| Honda Accord Crosstour | 3.5 / 5.0 |
| Chevrolet Corvette | 3.0 / 5.0 |
| Volkswagen CC | 2.5 / 5.0 |
| Avg. Midsize Car | 4.0 |
The Best and Worst Years of the Kia Optima
In the last decade, the Kia Optima has had some notably problematic years. Specifically years 2011-2015.
CarComplaints ranks 2011 as the worst year of the Kia Optima, based on records kept on complaints made about the Kia Optima throughout its lifetime. Years 2012-2015 are similarly problematic with an average of 500-1000 complaints made over the 4 year period.
The biggest problem with the 2011 Kia Optima is engine failure, with an average cost of $4,600 to repair, and an average of 102,000 miles when the problem occurs.
Other problems throughout 2011-2015 include:
Steering problems
Fuel system problems
Faulty interior accessories
Electrical problems
Faulty brakes
Body/paint problems
2016 saw the decline of most problems found in previous years, while years 2017-2020 saw the elimination of most major issues. With the Kia Optima now exclusive to the used market, the best model years of 2017-2020 can now be found at affordable price points.
Related: 15 Best & Worst Kia Optima Years (With Pictures)
What About Recalls?
The Kia Optima had a healthy lifetime, and despite having multiple problemed years, the Kia Optima has faced little to no recalls since it began production in 2000.
Below is the full list of recalls from 2000 to 2020:
2000: 0 recalls
2001: 3 recalls
2002: 3 recalls
2003: 2 recalls
2004: 1 recall
2005: 0 recalls
2006: 2 recalls
2007: 2 recalls
2008: 3 recalls
2009: 1 recall
2010: 1 recall
2011: 4 recalls
2012: 3 recalls
2013: 5 recalls
2014: 4 recalls
2015: 2 recalls
2016: 4 recalls
2017: 2 recalls
2018: 1 recall
2019: 1 recall
2020: 0 recalls
Kia Optima Model Year List
Here are all model years for the Kia Optima
2001 Kia Optima
2002 Kia Optima
2003 Kia Optima
2004 Kia Optima
2005 Kia Optima
2006 Kia Optima
2007 Kia Optima
2008 Kia Optima
2009 Kia Optima
2010 Kia Optima
2011 Kia Optima
2012 Kia Optima
2013 Kia Optima
2014 Kia Optima
2015 Kia Optima
2016 Kia Optima
2017 Kia Optima
2018 Kia Optima
2019 Kia Optima
2020 Kia Optima
Are Kia Optimas Expensive to Maintain?
The average cost to maintain a Kia Optima is $471 annually and an estimated cost of $3,456 over a 5 year period.
Model
Avg. Annual
Repair Cost
Frequency of
Unscheduled Repairs
(per year)
Probability of
Severe Repairs
Honda Accord
$400
0.3
9%
Mitsubishi Galant
$448
0.1
10%
Toyota Camry
$388
0.3
11%
Toyota Prius V
$437
0.5
9%
Hyundai Sonata
$458
0.3
11%
Mazda6
$481
0.4
9%
Chevrolet Malibu Limited
$448
0.2
12%
Kia Optima
$471
0.2
12%
Chevrolet Malibu
$532
0.3
11%
Toyota Prius
$408
0.5
11%
Nissan Altima
$483
0.3
12%
Chrysler 200
$549
0.3
12%
Buick Regal
$563
0.2
12%
Honda Crosstour
$520
0.7
9%
Buick LaCrosse
$569
0.3
12%
Subaru Legacy
$563
0.3
12%
Volkswagen Passat
$639
0.5
9%
Ford Fusion
$581
0.3
12%
Dodge Challenger
$650
0.2
14%
Ford Mustang
$709
0.2
14%
Chevrolet Camaro
$585
0.2
17%
Honda Accord Crosstour
$493
0.8
13%
Chevrolet Corvette
$737
0.3
22%
Volkswagen CC
$880
1.4
12%
Avg. Midsize Car
$526
0.3
12%
How Long Do the Brakes Last?
Kia Optima brake pads typically last between 30,000 and 70,000 miles. Driving habits affect the longevity of the brakes.
How Long Do the Tires Last?
Kia Optima tires are designed to last up to 50,000 miles, which equals roughly 3 years.
Factors that affect tire longevity include poor roadway conditions, driving style, heavy brake use, extreme temperatures, and frequency driving.
How Long Does the Transmission Last?
The transmission on the Kia Optima can last anywhere between 100,000 and 150,000 miles.
How Long Do Spark Plugs Last?
The spark plugs on the Kia Optima need replacement at around 30,000 to 40,000 miles.
What About Insurance Cost?
The average insurance costs for a Kia Optima is $181 a month, or $2,172 annually.
You may also be interested in our article: How Long Do Kia Optima Hybrids Last?
Tips to Prolong the Life of Your Kia Optima
Avoid aggressive driving, use controlled acceleration and braking
Keep up with scheduled maintenance
Rinse / wash salt off as soon as possible
Check engine oil once every 2 weeks and top up fluids regularly
Check your tire pressures
Keep vehicle weight down (don't overload your vehicle)
Consider rust proofing
Resources
https://www.carcomplaints.com/Nissan/Altima/
https://www.carproblemzoo.com/
https://www.edmunds.com/mercedes-benz/