The Subaru Legacy is a midsize car that offers all-wheel-drive as standard, roomy cabin space, and a comfortable driving experience.
The Legacy made its debut in 1989 and is a practical option for car buyers, but can it withstand the test of time?
In this article we'll take a closer look at the average lifespan of the Subaru Legacy...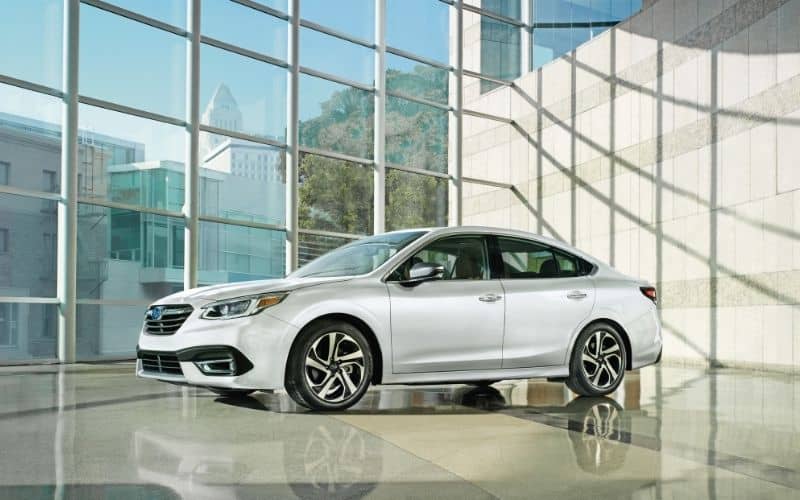 Here is the Short Answer to How Long Subaru Legacy Last:
The average Subaru Legacy has a lifespan of 200,000 to 300,000 miles before breaking down or needing expensive repairs. This equates to 15 to 20 years of service when driving 15,000 miles per year, provided you maintain it regularly and drive conservatively.
How Many Miles Can You Expect from a Subaru Legacy?
From our research we would expect a well maintained Subaru Legacy to last on average between 200,000 and 300,000 miles.
A Consumer Reports article stated that the Subaru Legacy is the second most likely vehicle to last 200,000 miles.
This was based on a study conducted by iSeeCars.com, which based its figures on vehicle listings of over 30 million units for sale.
A Subaru Legacy owner even commented on allwheeldriveauto.com that his 1992 Legacy is still going strong at roughly 450,000 miles.
Several other owners have added to the life expectancy of the Legacy in cargurus.com, stating that their Legacy models have lasted upwards of 200,000 miles.
Quality of materials and design play a major role when it comes to longevity, ultimately though it is down to the owners to get the most life from their car.
To keep your Legacy running smoothly for many years to come, we advise:
Staying up to date with the manufacturer's maintenance schedule
Carrying out basic routine checks such as fluid levels and tire pressures.
Controlled and smooth driving to help reduce wear and tear on components
What is High Mileage for a Subaru Legacy?
A Subaru Legacy with over 100,000 miles on the odometer is considered high mileage and a riskier purchase although there are several factors to take into consideration, most importantly the vehicle's maintenance history.
Buying a used Legacy with over 100k miles doesn't necessarily equate to a bad outcome.
Some important factors to consider are:
Service history. That the car was properly serviced and the owner can provide proof of this.
How many owners there were. As a general rule less is better. More owners usaully means more wear and tear. If one family owned it and drove the full 100k miles and serviced the car, then you can almost guarantee they took good care of it throughout ownership.
How long you are planning on keeping the car. If you're planning on keeping the car for many years, you have to ask yourself – do the short-term savings outweigh spending a little extra into something more reliable.
Check the CarFax. This doesn't guarentee anything but can help give a clearer picture of wear and tear. Make sure it has minimal damage, if any. Analyze the data to make sure if something did happen, it wasn't engine related or mechanical.
How Soon Should You Expect Rust on a Subaru Legacy?
The early generation Subaru Legacy models used to accumulate more rust than average, but the more recent models are known to be resilient if basic rust prevention methods are adhered to.
By our estimates, you could expect your Legacy to accumulate some degree of rust in four to five years, however this can vary greatly based on a number of factors, such as
exposure to road salt and/or salty air (coastal areas)
Climate (drier areas are less prone to rust)
According to Subaru owners, rust is most likely to appear in the undercarriage or lower panels of the Legacy, as these are the parts that are most exposed to moisture and road salt.
To avoid any problems with rust or corrosion, we recommend
Regular car washes to remove dirt that can trap moisture, especially in the undercarriage.
Investing in reputable rust treatment every year if you live in an area that uses salt on the roads.
Keep your Legacy stored in a garage to protect it from the elements
Subaru offers a 5-year corrosion warranty for the Subaru Legacy, but this offer only applies if the rust has corroded through the panels and not surface rust.
How Long Do Subaru Legacy Last Compared to Similar Models?
The Subaru Legacy has a good life expectancy and great user feedback.
In this section, we'll compare the longevity of the Subaru Legacy to the competition.
Subaru Legacy vs. Honda Accord
The Subaru Legacy is on par with the Honda Accord in terms of lifespan. A well-maintained Accord can provide you with up to 300,000 miles or 20 years of driving.
In terms of annual maintenance costs, the Honda Accord is the better option, with an average of $400 in service expenses. The Subaru Legacy's average annual cost is $563, according to RepairPal.
Subaru Legacy vs. Mazda6
The Mazda6 has a slightly lower range when it comes to longevity, and is expected to last in the region of 200,000 – 250,000 miles which is roughly 13-17 years of service.
The annual maintenance bill for a Mazda6 is lower than that of the Legacy, and is expected to set you back $481.
You may also be interested in our article: How Long Do Mazda6 Last?
Subaru Legacy vs. Toyota Camry
Compared to the Subaru Legacy, the Toyota Camry has an equivalent expected life span, with most models reaching up to 300,000 miles or 20 years of driving.
In terms of annual maintenance costs, the Toyota Camry is much more affordable. The Toyota Camry has an average $388 in yearly service charges. The Subaru Legacy's average annual cost is $563, according to RepairPal.
How Reliable is a Subaru Legacy?
The Subaru Legacy is one of the most dependable cars on the road, however some of its competitors in the segment have performed just as well, if not better, in terms of reliability.
According to the reliability rankings of RepairPal, the Subaru Legacy is placed 16th out of 24 for midsize cars, with a total reliability score of 4.0 out of 5.0.
J.D. Power gave an 'average' quality and reliability rating of 73/100 to the 2021 Subaru Legacy, and an overall rating of 76/100, placing the Legacy in the tenth spot, right behind the Mazda6 which scored 79/100.
Based on consumer reviews, Kelley Blue Book has given the Legacy 5/5 stars for reliability.
Despite the relatively low Repair Pal rankings, the Subaru Legacy has been lauded as one of the most reliable options in the market.
Please also read our article: are Subaru's easy to work on, repair and maintain?
Reliability Compared to Other Midsize Cars
| | |
| --- | --- |
| Model | Reliability |
| Honda Accord | 4.5 / 5.0 |
| Mitsubishi Galant | 4.5 / 5.0 |
| Toyota Camry | 4.0 / 5.0 |
| Toyota Prius V | 4.0 / 5.0 |
| Hyundai Sonata | 4.0 / 5.0 |
| Mazda6 | 4.0 / 5.0 |
| Chevrolet Malibu Limited | 4.0 / 5.0 |
| Kia Optima | 4.0 / 5.0 |
| Chevrolet Malibu | 4.0 / 5.0 |
| Toyota Prius | 4.0 / 5.0 |
| Nissan Altima | 4.0 / 5.0 |
| Chrysler 200 | 4.0 / 5.0 |
| Buick Regal | 4.0 / 5.0 |
| Honda Crosstour | 4.0 / 5.0 |
| Buick LaCrosse | 4.0 / 5.0 |
| Subaru Legacy | 4.0 / 5.0 |
| Volkswagen Passat | 4.0 / 5.0 |
| Ford Fusion | 4.0 / 5.0 |
| Dodge Challenger | 3.5 / 5.0 |
| Ford Mustang | 3.5 / 5.0 |
| Chevrolet Camaro | 3.5 / 5.0 |
| Honda Accord Crosstour | 3.5 / 5.0 |
| Chevrolet Corvette | 3.0 / 5.0 |
| Volkswagen CC | 2.5 / 5.0 |
| Avg. Midsize Car | 4.0 |
The Best and Worst Years for the Subaru Legacy
Based on our research, the best Legacy is the 2022 model year version, while the worst is the 2009 model year version.
We have deemed the 2022 Subaru Legacy to be the best model in recent history since it is the most refined and has the most up-to-date features and technology.
This was supported by Edmunds.com, which gave a consumer review rating of 4.8 out of 5 stars to the 2022 Legacy.
The 2009 Subaru Legacy is the worst model in the series according to carcomplaints.com, which listed a total of 11 complaints, in addition to a higher repair cost and more frequent issues at lower mileage.
Most of the issues the Subaru Legacy has faced were engine related.
The most common engine problems of the Legacy required roughly $3,400 to repair and occurred at 77,000 miles.
Related: 15 Best & Worst Subaru Legacy Years (With Facts & Stats)
What About Recalls for the Subaru Legacy?
According to the National Highway Traffic Safety Administration NHTSA, the Subaru Legacy has been recalled a total of 86 times since 2010.
From earliest to latest, below are the figures of Subaru Legacy recalls per year:
2010: 18
2011: 16
2012: 16
2013: 12
2014: 10
2015: 3
2016: 3
2017: 2
2018: 2
2019: 2
2020: 2
2021: 0
Subaru Legacy Model Year List
Below is the list of every model year for the Subaru Legacy since 1990:
First Generation
1990 Subaru Legacy
1991 Subaru Legacy
1992 Subaru Legacy
1993 Subaru Legacy
1994 Subaru Legacy
Second Generation
1995 Subaru Legacy
1996 Subaru Legacy
1997 Subaru Legacy
1998 Subaru Legacy
1999 Subaru Legacy
Third Generation
2000 Subaru Legacy
2001 Subaru Legacy
2002 Subaru Legacy
2003 Subaru Legacy
2004 Subaru Legacy
Fourth Generation
2005 Subaru Legacy
2006 Subaru Legacy
2007 Subaru Legacy
2008 Subaru Legacy
2009 Subaru Legacy
Fifth Generation
2010 Subaru Legacy
2011 Subaru Legacy
2012 Subaru Legacy
2013 Subaru Legacy
2014 Subaru Legacy
Sixth Generation
2015 Subaru Legacy
2016 Subaru Legacy
2017 Subaru Legacy
2018 Subaru Legacy
2019 Subaru Legacy
Seventh Generation
2020 Subaru Legacy
2021 Subaru Legacy
Are Subaru Legacy Expensive to Maintain?
Subaru Legacy's are no more expensive to maintain than any other mid-size car.
RepairPal estimates that you would have to pay approximately $563 on average per year to have your Subaru Legacy serviced – this is on par with the average maintenance costs of a mid-size car.
Model
Avg. Annual
Repair Cost
Frequency of
Unscheduled Repairs
(per year)
Probability of
Severe Repairs
Honda Accord
$400
0.3
9%
Mitsubishi Galant
$448
0.1
10%
Toyota Camry
$388
0.3
11%
Toyota Prius V
$437
0.5
9%
Hyundai Sonata
$458
0.3
11%
Mazda6
$481
0.4
9%
Chevrolet Malibu Limited
$448
0.2
12%
Kia Optima
$471
0.2
12%
Chevrolet Malibu
$532
0.3
11%
Toyota Prius
$408
0.5
11%
Nissan Altima
$483
0.3
12%
Chrysler 200
$549
0.3
12%
Buick Regal
$563
0.2
12%
Honda Crosstour
$520
0.7
9%
Buick LaCrosse
$569
0.3
12%
Subaru Legacy
$563
0.3
12%
Volkswagen Passat
$639
0.5
9%
Ford Fusion
$581
0.3
12%
Dodge Challenger
$650
0.2
14%
Ford Mustang
$709
0.2
14%
Chevrolet Camaro
$585
0.2
17%
Honda Accord Crosstour
$493
0.8
13%
Chevrolet Corvette
$737
0.3
22%
Volkswagen CC
$880
1.4
12%
Avg. Midsize Car
$526
0.3
12%
How Long do the Brakes Last?
Under typical scenarios, your Subaru Legacy's brakes will need replacing every 25,000 to 70,000 miles, or once every three years (based on 15,000 miles driven per year), on average.
The force and weight of the vehicle can quickly wear down a set of brake pads, so if you feel that the brakes are not working as effectively as they used to, have them checked as soon as possible.
How Long Do Subaru Legacy Batteries Last?
Subaru Legacy batteries should last between 3-5 years. This can vary, depending on factors such as driving habits, climate, the type of battery, and more.
Four tips below to help prolong your Legacys battery:
Keep you battery tightly fastened: The vibrations of your car can loosen the connections potentially resulting in short circuits and internal damage.
Limit short rides: Quick car rides prevent the battery from fully charging. To help maintain battery power, drive your Forester frequently and for extended periords.
Control Corrosion: Clean the terminals (toothbrush dipped in baking soda and water mixture) and keep them free from buildup.
Sorage: Keep your Legacy stored indoors away from extreme changes in temperature
How Long do the Tires Last?
With normal use and proper maintenance, the stock tires of the Subaru Legacy can last you up to 60,000 miles, or up to 4 years of use (based on 15,000 miles driven per year).
There are various factors that affect the life of your tires, the most important of which are the road conditions and terrain. If you drive your Subaru Legacy on rough terrain, you may have to have the tires upgraded or replaced sooner.
How Long do the Transmissions Last?
Under normal use, you can expect the transmission of your Subaru Legacy to last you around 200,000 – 300,000 miles.
Ensure fluid levels are topped up and fix any problems immediately to keep the transmission running smoothly.
How Long do the Spark Plugs Last?
Subaru Legacy spark plugs last between 30,000 – 100,000 miles before needing replacement.
Spark plugs are responsible for creating the spark that ignites the air/fuel mixture, causing the explosion which makes the engine produce power.
They are usually inspected and if needed, replaced when you go for a tune-up.
What About Insurance Cost?
According to carinsurancecomparison.com, insurance of the Subaru Legacy costs roughly $116 per month, or $1,392 annually
Tips to Prolong the Life of Your Subaru Legacy
Here are a few important tips to prolong the life of your Subaru Legacy:
Follow the maintenance schedule outlined in the owners manual
Use original parts and quality fluids
Always use reputable mechanics
If possible, keep the car stored in a garage, out of the elements
Invest in ceramic paint protection to protect the paint job
Drive smoothly and conservatively
Check your tire pressure regularly and rotate your tires
Resources: