In 1983 the first incarnation of the Yamaha Star Venture hit the streets; a full-dress touring bagger designed to withstand long and arduous travels.
It was discontinued in '96 and after a notable hiatus, was relaunched for the 2018 model year boasting a new torque-rich, air-cooled V-twin.
If you're considering one as your next bike, you might be keen to know more about its average lifespan.
We'll cover that in this article…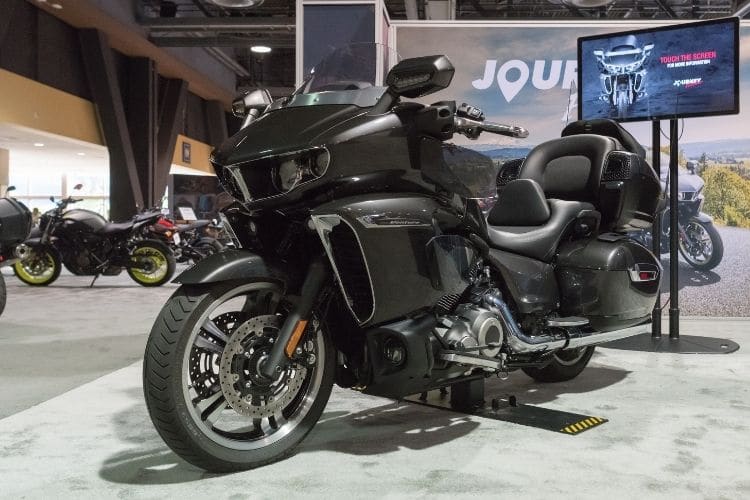 Here is the short answer to how long Yamaha Star Ventures last:
The Yamaha Star Venture can last for well over 150,000 miles, and since the average mileage for a motorcycle is between 3,000 and 5,000 miles a year, a responsibly ridden, well maintained Yamaha Star Venture should last for a minimum of 30 years.
How Many Miles Can a Yamaha Star Venture Last?
Yamaha are without question, one of the worlds leading motorcycle manufacturers and when it comes to building long-lasting machines, the Japanese bike makers have a solid reputation.
With the latest Star Venture models (2018 and onwards) there has already been a report from an owner who has clocked over 100,000 miles and the bike is still going strong.
Long Haul Paul shares that he's still in the stock seat, the bike is well stocked and hasn't had to do anything to the exhaust or engine except religious oil changes roughly every 10,000 miles and the usual replacing of consumables such as spark plugs and tires.
But it's not just the new-school Star Venture that can last for miles on end.
The original generation Venture/Eluder was famous for lasting over 200,000 miles in an era where very few people were putting that kind of mileage on bikes for the sheer fear of breaking down on the side of the road halfway across the country.
But don't take our word for it, below are some testimonies from a few real-life high-mile Star Venture owners:
"I'm fortunate to have two 1986 Venture Royale in my stable with relatively low mileage [96,000 and 47,000] on the clock…..but I know these engines are pretty much bulletproof if cared for properly. I have heard stories of venture motors with 250,000+ miles still running strong."
"The current 83 Venture that my wife, Tippy, and I ride is named Tweeks. Tweeks will be the 5th 83/84 Venture that I have worn out… 200k plus has been no problem. All but one of mine lost second gear fairly early in their lives. I short shifted 'em out to their terminal ends of over 200k miles."
"[My Star Venture] has 244k and change on her now BUT, her speedo finally came apart during last summer's fiasco while riding thru Denison, Texas. After that happened, we went to Big Bend, Grand Canyon, California, Washington, back to California, Salt Lake City, Alberta Canada, down to Sturgis SD, home to Muskegon Mi, down to a place called "Guntersville Alabama," over to within a couple of hundred miles of the east coast by Roane Oak, ran into rain and came back home to Michigan, headed over to Detroit, up to Drummond Island, down the West side of Michigan."
"As hard on these Ventures as I have been, I can honestly see where – with proper care and by following the maintenance schedule laid out by Yamaha – 300k NO PROBLEM!! [Mine] has over 250k on her. She is the highest mileage Venture that I have had so far. I have to say, though, it's one tired scoot. I have read of lots of folks with 300k plus on these bikes; I am sure you will hear from some."
Based on these real-life testimonies, we find it safe to say that not only can the new Ventures last for more than 150,000 miles, if they're anything like their ancestors, they'll run for over 200,000 miles.
How Reliable Are Yamaha Star Ventures?
The Yamaha Star Venture is one of the most reliable touring motorcycles on the market. Yamaha's motorcycle engineering department is considered one of the strongest in the industry, and they designed the Star Venture to perform reliably for prolonged periods during cross-country trips.
The new Star Venture is so far proving to be just as reliable, if not more so than its predecessors, this is thanks to advances in modern-day engineering.
The original Venture used the same four-cylinder motors as the standard touring competitors at the time although it still had a reputation for being one of the most durable tourers of the decade.
From 1996-2009, Yamaha ran the second generation of Venture, upgrading its motor for the first time.
Unfortunately for Yamaha, reliability wasn't enough to compete with the fast-growing American V-twin bagger market and production was halted.
In 2018, after a long hiatus away from tourers, Honda launched the modern V-twin edition of the Venture we know today.
The new Yamaha Venture is more reliable than ever due to its unique, purpose-built, air-cooled V-twin engine.
Not only is the big-inch torque monster true to the American Bagger design and style, but it also packs Yamaha's signature reliability.
Consumer Reports have found Yamaha to have the highest percentage of reliable performance, the lowest rate of failures, and the highest rating of customer satisfaction on the market; as a touring bike, Yamaha intended the Venture to be one of the most robust models.
A few new features that help bolster the Star Ventures reliability:
Adjustable hand levers: The rare possibility of different positions make rider input more consistent and performance more reliable.
Both of the Star Venture's seats, the handgrips, and the backrest all come heated as part of the standard equipment package. You might be wondering what this has to do with reliability—since you don't have to modify your Venture with an aftermarket seat and hand warmers before cold trips, you don't have to meddle with your bike's wiring. Leaving the factory wire harness intact increases the reliability of any motorcycle.
The new Venture has an industry-leading Infotainment system. While features like the Bluetooth phone, music connectivity and touch screen are just for kicks, it includes some reliability-enhancing features like engine feedback monitors that let you know your performance is optimal and tell you when something is off before it becomes a problem.
Tire-pressure monitors make sure your tires stay inflated to spec. Any mechanic will tell you that an engine performs more reliably when the tires are at the ideal pressure.
In short, the Yamaha Star Venture is and always was one of the most reliable touring bikes on the market; owner maintenance, riding, and service habits need to be regular and efficient to keep it that way.
Yamaha Star Venture Problems
Although the Star Venture is a fantastic luxury cruiser, no bike is perfect.
GPS: Whilst its GPS is of a good standard it can't compete with a cellphone (although most bike GPS can't) when it comes to ease of use, especially for route planning. It will feel a bit slow and even outdated.
Rattling on the dash: Some owners have complained about a rattling noise coming from the dash but have remedied this with diy fixes.
Too much weight: The new Star Venture weighs over 100 lbs more than the Gold Wing, and this is especially noticeable during slow-speed maneuvering. When all the storage is full, you've got a passenger on the back and a tank of fuel you could be looking at over 1000 lbs of weight.
Engine: Whilst the engine is solid and produces plenty of torque, in terms of outright performance the k1600 and Goldwing are superior. If you wanted a big American v-twin that exudes character and personality and the noise to go with it, you might be better off with a Harley or Indian.
You may also be interested in our article: How Long Do Honda Gold Wings Last?
What is Considered High Mileage for a Yamaha Star Venture?
A used Yamaha Star Venture is considered high mileage after 45,000 miles. The mileage has little bearing on the actual lifespan of the motorcycle, as Star Ventures are known to run past 200,000 miles. That said, this number is nothing more than a pricing tool for the used market.
What we're saying here is that it's not just the Yamaha Star Venture that's considered high mileage after 45,000 miles; the blue book believes all touring bikes to be high-mileage after 45,000 miles. And they price them accordingly.
That said, if the previous owner stored the bike properly and regularly maintained it, it will still have plenty of life left.
Look back at those numbers we quoted in the first section; you could get a good deal on a "high-mile" Star Venture with 50k on the clock that could last another 150,000 miles.
A high-mileage Star Venture might cost you less money than the identical bike with half the miles, but that doesn't mean the lower mileage model is in better condition.
What if the low mileage is the result of neglect?
How do we know the owner of the less-ridden Venture didn't leave it sitting in the driveway with expired gas corroding its tank and fuel lines?
Maybe the 50k-mile Venture was serviced per the Yamaha-suggested schedule and well looked after.
On top of regular maintenance, if it was ridden responsibly and stored correctly on top of that, it's still a better buy than the low-mile neglected Venture.
What Are the Best Model Years to Buy and Avoid?
Best Years: 2018-2022
The latest Venture redesign not only packs a powerful, American-daddy-bagger style V-twin motor, but it also includes an updated infotainment suite.
A 7-inch LCD-touchscreen display with all the usual phone compatibilities like USB, Bluetooth, and AM/FM receiver.
Starting in 2021, the standard infotainment package also included the addition of a CB radio, SiriusXM, satellite weather, GPS, and another pair of speakers.
The post-2018 generation includes a tour pack, saddlebags, and in-fairing storage, adding up to a whopping 37.3 gallons of luggage space, with the option of opening that gallon number up to 38.
The 27.4-inch seat height, on the other hand, is comfortable for all riders.
The passenger gets two-position-adjustable footboards and a 17-inch wide, adjustable backrest.
The mean biker-style fairing is a broad, flat-top piece that houses a quartet of LED headlights and a power-adjustable windshield.
Worst Years: 1983
As we said, there's no shortage of Venture enthusiasts who claim figures of 200,000 of a year-one model.
However, we have a duty to our readers to answer their questions; we chose the debut year, 1983, as the worst year model Venture for one simple reason – its gearbox had straight cut gears.
Rather than the helical-cut gears, Yamaha eventually upgraded to, the gearbox on the early Star Venture models featured straight-cut gears.
While straight-cut gears allow for more power and efficiency, they are significantly noisier than their helical-cut counterparts.
The only major complaint we've encountered from early-Venture owners is how noisy the gearbox is, making 1983 the least favorite year.
You may also be interested in our article: Are Indian Motorcycles Worth the Money?
What Usually Breaks First on a Yamaha Star Venture?
The fuel pump on the older Yamaha Venture models was known to fail first.
Numerous online consumer reports claim that the fuel pump on their Yamaha Ventures failed at 50,000 miles.
While the lifespan of the Venture fuel pump wasn't uncommon for its day, the rest of the motor was rock solid, making the 50k failing fuel pump the first thing to break.
Yamaha Star Venture Maintenance Costs
The Maintenance costs of a modern Yamaha Star Venture are affordable compared to the high costs of its American V-Twin bagger counterparts. Keep in mind that the more you spend on routine maintenance, the less you pay in the long run to replace failing components.
Here are a few examples of Star Venture maintenance prices:
$350 for a set of tires
$100 for a stator replacement
$80 for a new battery
$150 for fork seals, bushings, snap rings, washers, dust seals, and fluid
$100 for the wheel bearings front and rear
$60 an oil change
There are other ownership costs to factor in, such as:
Jacket = $200
Gloves = $100
Winter riding gear = $200-$500
Rain gear = $75-$300
Helmets = $100-$500
Fuel = $15 a tank
Storage =$?
Insurance =average cost of naked bike motorcycle insurance is $721 a year.
How Long Do the Spark Plugs Last?
The spark plugs on a Yamaha Star Venture should last between 10,000 and 30,000 for the copper spark plugs and iridium spark plugs should last between 50,000 and 80,000 miles.
Switching over to an iridium spark plug will allow you to double or even triple the life of the spark plug so instead of changing spark plugs every 8,000 miles, as recommended by Yamaha, you can extend that to every 16,000 miles or even 24,000 miles.
Iridium spark plug should easily go 35,000 miles on these engines.
How Long Do the Tires Last?
The tires on a Yamaha Star Venture should last around 20,000 miles, providing your not too hard on the throttle all the time.
How long your tires last will vary depending on various factors such as climate, riding style, road conditions, suspension settings etc.
3 Tips to Make Sure Your Yamaha Star Venture Lasts Long
Store your Venture indoors, or, if outside, under a rugged tarp, unexposed to extreme weather.
Service your Yamaha bagger per the owner's manual's maintenance schedule, including the detailed part inspection and lubrication.
Ride your Venture responsibly and often, ensuring you prepare it for long stints of inactive storage.
Clean your bike regularly
Resources
https://www.yamahamotorsports.com/transcontinental-touring/models/star-venture