The Dodge Dart made its debut in 1960 and was discontinued in 1976, it then returned in 2013 and was in production until 2016.
The most recent Dart models offer a unique style, responsive handling and a comfortable ride.
If you're looking to buy one you might be wondering how long they last.
We'll cover that in this article, read on to find out…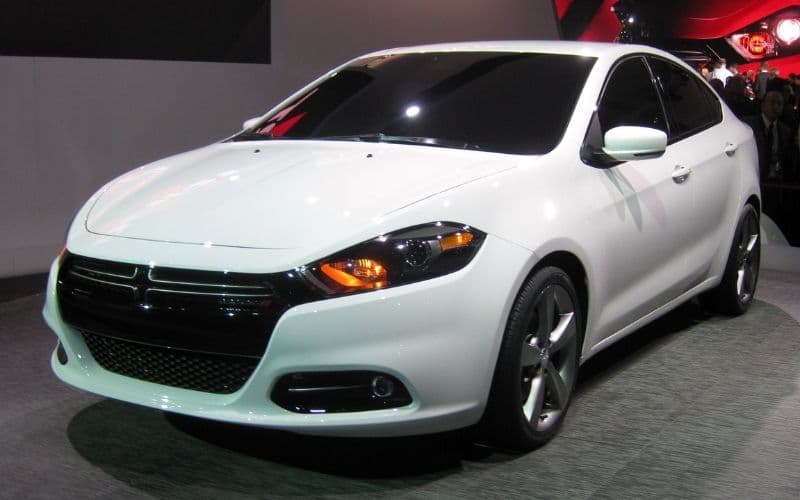 Here is the short answer to how long the Dodge Dart lasts:
The Dodge Dart is a reliable compact car that can last between 200,000 – 250,000 miles when adequately maintained and driven conservatively. Based on driving 15,000 miles per year, you can expect the Dodge Dart to last 13 – 17 years before requiring major repairs or breaking down.
How Many Miles Can You Expect from a Dodge Dart?
The most recent Dodge Dart only had a brief production run spanning all of 4 years, but it's been around long enough now to gauge how long it can last.
Despite its disappointing reviews from automotive outlets and poor sales success, there's no questioning the Darts durability, and with good ownership habits these cars are capable of hitting the 200,000-mile mark.
Note: The 2013 model was plagued by engine and transmission problems, so while the 2013 Dart may hit high numbers it will likely cost quite a lot more in repairs to get it there.
The longevity of the Dart becomes more apparent when looking through used car websites like Car Gurus where you can find models with over 200,000 miles and plenty more with over 150,000 miles and still in good condition.
One owner on the Dart dedicated forum dodge-dart.org posted:
"I'm just over 122k on my '13. All you have to do is regular maintenance and repair little things before they become big things. Don't forget to change transmission fluid and coolant. I'll own my dart till the day It's not worth fixing anymore ( ie rusted in half ) but even that I don't see happening."
The Dodge Dart is a robust enough car overall, however keep in mind it's not all about the car's design and the quality of its parts that will determine how long it lasts.
Regular maintenance and smooth driving habits can add thousands of available miles to the odometer, and failure to do so will have negative consequences.
The life expectancy of your Dodge Dart will be cut short if you avoid:
Using quality parts
Service appointments
Routine oil changes
Regular car washes
Tire rotations
Driving smoothly
Do Dodge Dart Rust Easily?
The Dodge Dart is susceptible to rusting although no more so than similarly priced cars from rival manufacturers. Regular washing, especially during the winter will help keep rust at bay.
There's no time frame when you can expect rust to occur on your Dart although as the car gets older there is a greater likelihood of rust setting in.
It goes without saying the modern-day Darts are far more resilient than the models produced in the 60's and 70's as material quality and factory rustproofing have advanced in leaps and bounds.
Owners have reported rust spots on their Dodge Dart in the following places:
On the roof on the inside of the car (moisture in the head liner and cabin areas)
Calipers
Passenger rear door
There have been reports of paint fading too, on the bodywork in front of the wheels.
Your location will be a big factor on how much of an issue rust will be – those living in States that aggressively salt the roads in the winter will be the worst affected and similarly those that reside by the coast where salt air is prevalent.
Regular washes are your best defense against rust induced by salt.
For those living in drier states, rust will be much less of a problem, however paint fading will be more common.
Tips to protect your Dodge Dart from rust:
Repair paint damage and scratches: Exposed metal will oxidize. If it's beyond a DIY fix, speak to your local body repair shop – get it repaired before it gets worse.
Garage: Store your Dodge Dart in a garage to protect it from harsh weather and bird droppings.
Waxing: Wax your car twice a year. Not only will this give your Dodge Dart a nice shine, it also gives it a protective coating against rust.
Regularly wash and dry your car: This includes its underside (especially during the winter) to remove the salt, dirt and grime that causes rust. We recommend having a detail shop wash everything underneath at the end of each winter.
Rustproofing: If you're planning on keeping your Dodge Dart for a very long time, consider a rustproofing treatment; popular choices are Krown and Rust Check.
Ceramic Coating: A popular choice for those who want to add an extra layer of protection to the paint job.
What is High Mileage for a Dodge Dart?
A Dodge Dart with over 100,000 miles is considered high mileage. Although these cars can last much longer, once the car has reached 100,000 miles the car will have developed some degree of wear and tear and therefore repairs and replacing parts will be more common.
That's not to say buying a high mileage Dart is a bad idea, and you can probably find some great deals out there on the used market.
It really depends on the previous owner and the maintenance performed.
A well-kept Dodge Dart with over 100,000 miles might be a better option than one with 70,000 miles that had lots of owners and led a rough life or was used as a rental car.
It's important not to make assessments purely based on mileage alone.
If you're buying a used Dodge Dart, consider the following:
Maintenance history. Check that the car was properly serviced and the owner can provide proof of this.
Get a second opinion. Take it to an independent auto repair shop or have it inspected by a mechanic you trust.
Check for rust. Rust is a problem that will spread. Some dishonest salespeople cover up the rust with a bit of paint or some stickers. It's always a good idea to look under the car.
Check the CarFax. This can provide a good overview of the car and includes the vehicle's title, mileage, previous ownership, accident reports, and it might tell you what the vehicle was used for, such as whether it was a personal or commercial vehicle.
Number of previous owners. As a general rule, less is better. More owners usually equate to more wear-and-tear. If one family owned it and drove the full mileage and serviced the car, then you can almost guarantee they took good care of it throughout their ownership.
How long you are planning on keeping the car. If you're planning on keeping the car for a long time, evaluate whether the short-term savings outweigh spending extra on something more reliable.
Examine the interior. The condition of the interior tells the story of how well the car was maintained and cared for. Does the steering wheel, pedals, or shifter look suspiciously new? If so, there's a good chance that the car was heavily used, and those parts were just replaced before sale.
Inspect engine for obvious leaks and obvious damage. If the engine looks immaculately clean, it means it was washed. The question is why? Most likely to hide oil leaks and similar nasty problems.
Check the car's VIN and get a full history report. Was it a taxi or rental car? Recalls? How many owners? Real mileage? Stolen? Any accidents? If you're buying a used Dodge, always check the VIN – you never know what the car has been through.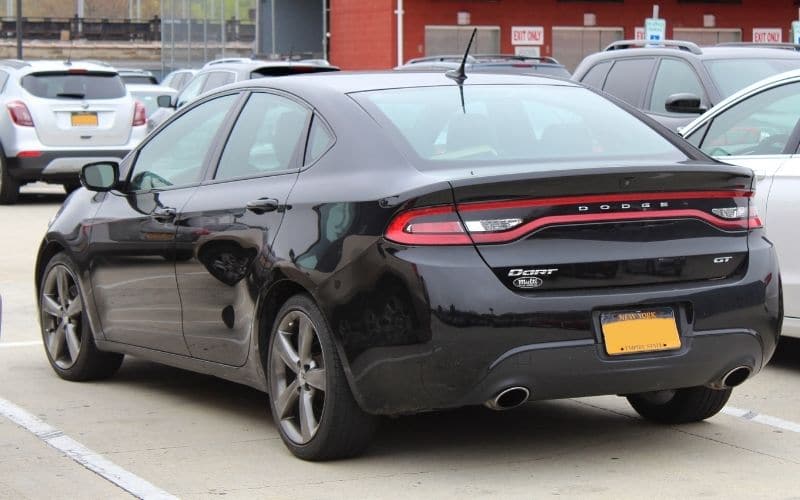 How Long Does the Dodge Dart Last Compared to Similar Car Models?
In this section, we'll take a look at how the Dodge Dart compares to some of its rivals.
Dodge Dart vs. Chevy Cruze
Making its US debut in 2010 and discontinued in 2019, the Cruze was Chevrolet's entry in the ultra-competitive compact-car segment
The Chevy Cruze can last 200,000 – 250,000 miles or 13 – 17 years, equal to what is expected of the Dodge Dart.
Dodge Dart
Chevy Cruze
RepairPal Reliability Rating
4.0/5.0
4.0/5.0
RepairPal Reliability Ranking
28th / 36
Compact Cars
26th / 36
Compact Cars
Average Annual Repair Cost
$597
$545
Kelley Blue Book Reliability Score
4.1/5.0
4.0/5.0
JD Power Quality & Reliability Score
67/100
85/100
These cars are closely matched across the board and the deciding factor between the two might come down to size.
Though officially compact, the Dart is longer and wider than nearly all of its competitors and the Cruze is notably smaller in comparison.
You may also be interested in our article: How Long Do Chevy Cruze Last?
Dodge Dart vs. Honda Civic
The immensely popular Civic is well known for its affordability and practicality.
The Honda Civic can last 250,000 – 300,000 miles or 17 – 20 years, greater than what is expected of the Dodge Dart.
Dodge Dart
Honda Civic
RepairPal Reliability Rating
4.0/5.0
4.5/5.0
RepairPal Reliability Ranking
28th / 36
Compact Cars
3rd / 36
Compact Cars
Average Annual Repair Cost
$597
$368
Kelley Blue Book Reliability Score
4.1/5.0
5.0/5.0
JD Power Quality & Reliability Score
67/100
82/100
The Dart is outpointed by the Civic which is far superior in almost every aspect.
The Civic is one of the highest-rated compact cars and many of its competitors in the segment struggle to match its reliability, cutting edge designs and superb handling.
Dodge Dart vs. Ford Focus
The Focus is one of the best-selling Ford models ever produced.
The Ford Focus can last 200,000 – 250,000 miles or 13 – 17 years, equal to what is expected of the Dodge Dart.
Dodge Dart
Ford Focus
RepairPal Reliability Rating
4.0/5.0
4.0/5.0
RepairPal Reliability Ranking
28th / 36
Compact Cars
27th / 36
Compact Cars
Average Annual Repair Cost
$597
$569
Kelley Blue Book Reliability Score
4.1/5.0
3.8/5.0
JD Power Quality & Reliability Score
67/100
76/100
The Focus and the Dart are close competitors and are both aesthetically pleasing vehicles.
Deciding between the two will likely come down to brand loyalty.
We'd advise taking both for a test drive if you're unsure which one to pick.
Comparison Chart
| | | | | |
| --- | --- | --- | --- | --- |
| | Dodge Dart | Chevy Cruze | Honda Civic | Ford Focus |
| Annual Repair Cost | $597 | $545 | $368 | $569 |
| Reliability Rating | 4.0/5.0 | 4.0/5.0 | 4.5/5.0 | 4.0/5.0 |
| KBB Consumer Rating | 4.1/5.0 | 4.0/5.0 | 5.0/5.0 | 3.8/5.0 |
| J.D. Power Rating | 67/100 | 85/100 | 82/100 | 76/100 |
| Lifespan (miles) | 200k – 250k | 200k – 250k | 250k – 300k | 200k – 250k |
Is the Dodge Dart Reliable?
The Dodge Dart was available in the U.S. for four years and over that time has received fairly average reliability scores and is middle of the pack for the compact car segment. The later models from 2014-2016 received better reliability scores than the 2013 model.
As long as you steer clear of the 2013 models, you shouldn't have too many problems with the Dart.
There's nothing drastically wrong with the reliability of these cars but you have to consider there are a number of better alternatives out there.
The reliability of your Dodge Dart will also depend on keeping up to date with the service schedule and adopting good driving habits.
If you're buying a used model, how the previous owner looked after it will also play a big part in how reliable it is.
The Dodge Dart received the following reliability reviews:
RepairPal gave the Dodge Dart an above-average reliability rating of 4.0/5.0.
RepairPal ranks Dodge Dart 28th out of 36 compact cars in terms of reliability
Kelley Blue Book's consumer rating index gave the Dodge Dart an above-average reliability rating of 4.1/5.0.
| | |
| --- | --- |
| Model Year | J.D Power Reliability Score |
| 2016 | 67/100 – Fair |
| 2015 | 73/100 – Average |
| 2014 | 67/100 – Fair |
| 2013 | 60/100 – Fair |
The Best and Worst Years for the Dodge Dart
We've done some digging to find the best and worst model years for the Dodge Dart.
Worst Model Year
The worst model year for the Dodge Dart is by far, 2013. The 2013 Dart was plagued with engine and transmission problems and received significantly more complaints than any other model year.
According to Car Complaints, the transmission on 2013 Dodge Dart models typically failed in the region of 38,000 miles.
There were also a number of complaints lodged stating that the engine stalls whilst driving, in some cases the whole engine had to be replaced.
One distraught owner shared "Car constantly stalls while driving and goes into neutral while driving as well. Recently, I was meeting up with my husband and I came to a red light and my car wouldn't stop. My car finally stopped in time thank god; but when I went on to continue driving the car would not move or shift into other gears. Police came and car got towed, huge safety concern!"
On CarProblemZoo.com there were a total of 1,768 complaints filed against the 2013 Dart which was more than all the other years added together.
Most of the problems reported were powertrain related.
Best Model Year
The 2016 Dodge Dart is the best model year, it has received the fewest number of complaints overall and has the most up-to-date features and tech.
By the time the 2016 model was launched, Dodge had managed to iron out most of the problems faced by previous model years, this is reflected in the low number of reported problems in comparison to previous model years.
Standard features in the 2016 base Dodge Dart SE trim:
A four-speaker stereo
Power windows
Notable available features include:
Air conditioning
Power locks
Cruise control
Upper trims standard features include:
A touch-screen infotainment system
Satellite radio
A navigation system
Dual-zone automatic climate control
Are there any problems with this model?
Some owners have reported an engine cooling problem that causes the car to overheat and leads to a complete loss of power.
You may also be interested in our article: How Long Do Mitsubishi Lancer Last?
Model Year and Number of Complaints
Here is the total number of complaints and problems for every Dodge Dart model year from the CarComplaints and Car Problem Zoo databases:
Model Year
Car Complaints
No. of Complaints
Car Problem Zoo
No. of Problems
2016
37
249
2015
73
618
2014
101
459
2013
401
1,768
What About Recalls for These Models?
The Dodge Dart has had a total of 18 recall campaigns.
You can check if your Dodge Dart has been subjected to a recall campaign by entering your VIN (Vehicle Identification Number) on Dodge's recall site or the NHTSA recall database.
It is important to note that recalls are manufacturing faults repaired at no charge for the consumer.
Here is the total number of recall campaigns for every model year of the Dodge Dart:
2016 Dodge Dart: 4
2015 Dodge Dart: 5
2014 Dodge Dart: 3
2013 Dodge Dart: 6
Dodge Dart Model Year List
First Generation
1960 Dodge Dart
1961 Dodge Dart
Second Generation
Third Generation
1963 Dodge Dart
1964 Dodge Dart
1965 Dodge Dart
1966 Dodge Dart
Fourth Generation
1967 Dodge Dart
1968 Dodge Dart
1969 Dodge Dart
1970 Dodge Dart
1971 Dodge Dart
1972 Dodge Dart
1973 Dodge Dart
1974 Dodge Dart
1975 Dodge Dart
1976 Dodge Dart
Fifth Generation (PF Platform)
2013 Dodge Dart
2014 Dodge Dart
2015 Dodge Dart
2016 Dodge Dart
Are Dodge Dart Expensive to Maintain?
The Dodge Dart is reasonably affordable in terms of maintenance costs however it is slightly above average for the segment. Parts are still readily available and you should have no problem taking it to an independent Dodge mechanic for servicing and repairs.
According to RepairPal:
The Dodge Dart will cost an average of $597 per year in repairs and maintenance. This is higher than the average of $526 for other compact cars but lower than the average for all vehicles in different segments, which is estimated at $652.
How Long Do the Brakes Last?
Dodge Dart brake pads will typically last between 30,000 and 70,000 miles. This can vary widely and depends mostly on your style of driving and the traffic conditions you normally experience.
You can expect your brakes to wear out sooner if you frequently stop and accelerate in rush-hour traffic
Brake pad replacement, which includes parts and labor, can cost anywhere between $206 and $225.
Full and complete stops from a high speed are the #1 cause of premature brake pad wear.
A sporty driving style will lead to faster deterioration of brakes. A slow and steady style will help them last longer.
How Long Do the Tires Last?
The Dodge Dart's stock tires usually last around 40,000 to 50,000 miles or 3 to 5 years. However, they can wear out much sooner. This depends on various factors, such as driving habits, climate, and road conditions.
Rotate tires every 5,000 miles to ensure even wear.
If you have to drive on rough or flooded roads, or go off-roading, your tires will take more of a beating.
Check your tire pressure every few weeks to make sure they're at the correct tire pressure.
Have a mechanic or tire shop check your wheel alignment every 6 months.
How Long Do Dodge Dart Engines Last?
The engine of the Dodge Dart should last at least 200,000 miles with proper maintenance and regular oil changes.
Dodge recommends having your oil changed every 3,000-5,000 miles for conventional oil.
Synthetic oil frequently should be changed every 7,500 – 10,000 miles.
How Long Do Dodge Dart Batteries Last?
The Dodge Dart battery should last between 3 – 5 years. A vehicle's battery life varies depending on many factors such as climate, driving habits, and battery type, among many others.
Keep your battery tightly fastened: The vibrations of your car can loosen the connections, potentially resulting in short circuits and internal damage.
Limit short rides: Quick car rides prevent the battery from fully charging.
Storage: Keep your Dodge Dart stored indoors to protect it from extreme temperature changes.
Control Corrosion: Clean the terminals (toothbrush dipped in baking soda and water mixture) and keep them free from build-up.
You may also be interested in our article: How Long Do Dodge Avengers Last?
How Long Do the Spark Plugs Last?
The spark plugs on the Dodge Dart should last 30,000 miles before they should be replaced although they may require replacing sooner in the region of 20,000 – 25,000 miles.
Spark plugs are usually inspected every time you take your car in for routine maintenance.
Signs of a fouled spark plug include:
Poor fuel economy
Reduced performance
Lack of acceleration
Rough idling
Hard starts
Engine misfires
What About Insurance Costs?
The average cost of full comprehensive coverage for a Dodge Dart is $1,530 per year or around $128 per month.
In comparison, its rivals in the compact car segment cost an average of $1,270 per year, which is roughly $260 more expensive.
Insurance costs can vary from person to person; be sure to shop around to find the best potential deal for your Dodge Dart.
Tips to Prolong the Life of Your Dodge Dart
Adopt smooth driving habits.
Keep up to date with factory-recommended maintenance.
Use quality parts and fluids.
Keep on top of repairs to prevent them from developing into larger problems.
Regularly wash your Dodge Dart to remove dirt and grime to protect the paint and undercarriage from rust developing.
Check your Dodge Dart's engine oil, coolant, brake, and transmission fluid levels and top them up when required.
Keep your Dodge Dart stored in a garage to help protect it from the elements.
Read the owner's manual to learn the location of important components, what your Dodge Dart needs and what quantity, and to understand the symbols and dashboard warning lights.
Resources