Available as a sedan or hatchback, the Mazda3 is a Japanese compact car that was first introduced in 2003.
It's well known for its striking designs and sharp handling – earning it multiple awards over the years.
The interiors of the newer generations have also become more upscale, making it one of the best cabins in its class.
If you're considering the Mazda3 as your next vehicle, you might be wondering about its average lifespan.
We'll cover all that in this article, read on to find out…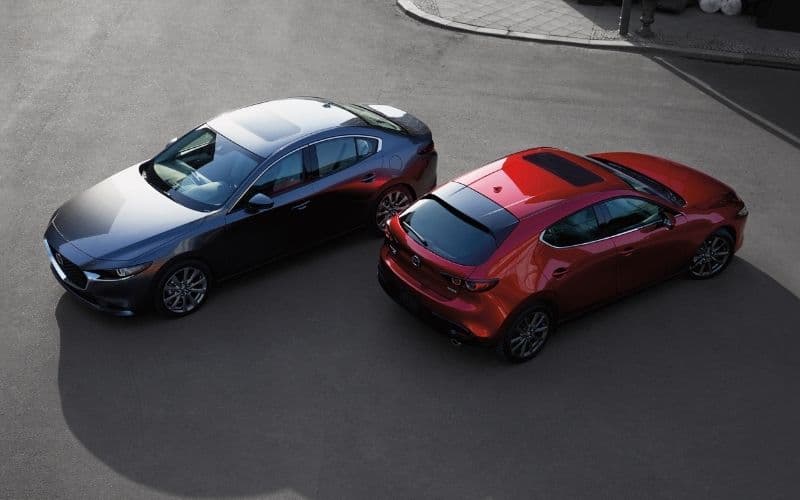 Here is the short answer to how long the Mazda3 lasts:
The Mazda3 is a well-built, reliable car that can last between 200,000 – 250,000 miles with proper care and good driving habits. If you drive an average of 15,000 miles per year, it can deliver 13 to 17 years of service before breaking down or requiring expensive repairs.
How Many Miles Can You Expect from a Mazda3?
The Mazda3 has been around for close to 2 decades and has always been considered a very reliable, practical vehicle.
It's not unusual for a Mazda3 to reach 200,000 – 250,000 miles. In fact, first generation models that date as far back as 2003 can still be found on the road today.
Your result will be heavily impacted by usage, personal care, and to some extent, luck.
However, we've made a general assessment based upon trusted industry data, giving you a better idea of what you can expect.
Across owner forums you'll find many accounts of owners who have cruised past the 100,000-mile mark with very few issues, and you'll even find the odd report from owners who have reached 300,000 miles, although these are far less common.
These reports not only demonstrate the durability of the Mazda3's drivetrain but also how well the chassis and interior have held up over time.
Of course, any vehicle that's lived a hard life and hasn't been properly taken care of will face big problems much sooner.
The life expectancy of your Mazda3 will be cut short if you avoid:
Using quality parts
Service appointments
Routine oil changes
Tire rotations
Driving smoothly
Do Mazda3 Rust Easily?
Modern Mazda3s are very resilient against rust and corrosion, and it is uncommon for a model past 2010 to rust easily. On newer models rock chips and neglect will be the biggest contributing factors of rust.
Mazda has made significant improvements since the Mazda3 was first released, and later model years of the Mazda3 don't have any widespread rusting or corrosion issues.
The first generation 3 did have a reputation for excessive rusting on the rear fenders, wheel wells and the underbody and this was partly due to welding defects.
This was much more of a problem for owners residing in states where salt is used on the roads during the winter.
Owners residing in drier, hotter states such as Arizona are far less likely to experience rusting issues – although paint fading is more common.
Tips to protect your Mazda3 from rust:
Regularly wash and dry your car: This includes its underside (especially during the winter) to remove the salt, dirt and grime that causes rust. We recommend having a detail shop wash everything underneath at the end of each winter.
Repair paint damage and scratches: Exposed metal will oxidize. If it's beyond a DIY fix, speak to your local body repair shop.
Garage: Store your Mazda3 in a garage to protect it from harsh weather and bird droppings.
Waxing: Wax your car twice a year. Not only will this make your Mazda look better, it also gives a protective coating against rust.
Rustproofing: If you're planning on keeping your Mazda3 for a very long time, you might want to consider a rustproofing treatment; popular choices are Krown and Rust Check.
Ceramic Coating: A popular choice for those who want to add an extra layer of protection to the paint job.
All new Mazdas come with a 5-year/unlimited mileage anti-perforation warranty that covers any excessive corrosion on the body panels.
Related: 8 Most Common Mazda3 Problems
What is High Mileage for a Mazda3?
A Mazda3 with 120,000 miles or above on the odometer is considered high mileage. Although the vehicle itself will likely still have many years of life left in it, it will be more susceptible to niggling issues and repairs will be more common, both mechanical and electronic.
An example of this is the alternator, these have been known to go on the Mazda3 around the 100k-150k mile mark and can cost upwards of $600 to replace.
A Mazda3 with high mileage won't necessarily end up being a money pit – a well-kept model with 120,000 miles might be a better investment than one with 60,000 miles that had lots of owners and led a rough life or was a prior rental car.
When buying a second-hand Mazda3, consider the following:
Maintenance history. Check that the car was properly serviced and the owner can provide evidence of this.
Get a second opinion. Take it to an independent auto repair shop or have it inspected by a mechanic you trust.
Check the CarFax. This doesn't guarantee anything but it will provide a clearer picture of wear-and-tear. Ensure it has minimal damage, if any. Review the information to make sure if something happened such as engine- or transmission-related.
Number of previous owners. As a general rule, less is better. More owners usually means more wear-and-tear. If one family owned it and drove the full mileage and serviced the car, then you can almost guarantee they took good care of it throughout their ownership.
How long you are planning on keeping the car. If you're planning on keeping the car for a long time, you should evaluate whether the short-term savings outweigh spending a bit extra on something more reliable.
Every new Mazda3 comes with a 3-year/36,000-mile warranty and a 6-year/60,000-mile powertrain warranty.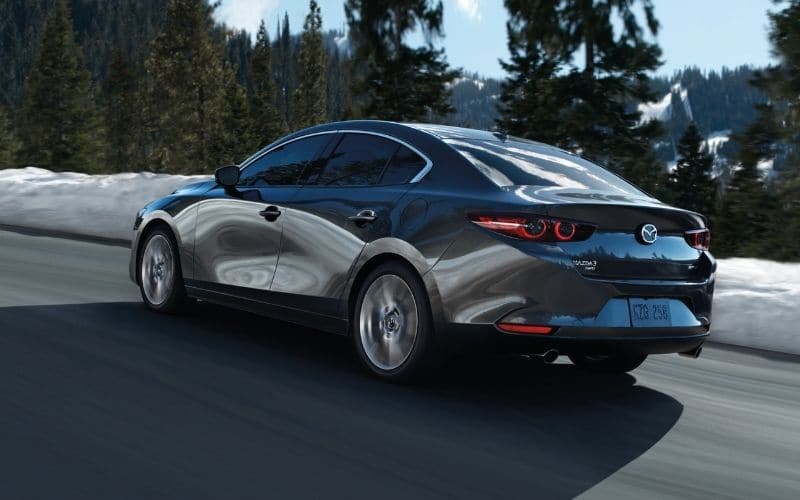 You may also be interested in our article: How Long Do Mazda6 Last?
How Long Do Mazda3 Last Compared to Similar Car Models?
In this section we'll compare the Mazda3 to some of its rivals.
Mazda3 vs. Honda Civic
The Honda Civic is the Mazda3's main rival. Its reputation is unmatched when it comes to reliability.
Most Civics will have no trouble lasting 250,000 – 300,000 miles or 17 – 20 years with proper care and maintenance.
RepairPal gave the Honda Civic a reliability rating of 4.5/5 stars while the Mazda3 received 4/5.
The Civic is cheaper to maintain and costs an average of $368 a year in repair and maintenance costs compared to $433 for the Mazda3.
Kelley Blue Book consumer ratings scores the Civic at 4.7/5 vs. 3.9/5 for the Mazda3, although the Mazda's score is dragged down by a lot of 1-star reviews with zero details.
J.D. Power scores the Civic at 76/100 for quality and reliability while the Mazda3 got 74/100.
The Civic edges out the Mazda3 when it comes to reliability and cost of maintenance. They're both pretty evenly matched in all other categories.
The decision will ultimately boil down to personal preference and if you need the Mazda3's AWD since the Civic only comes in FWD.
Mazda3 vs. Hyundai Elantra
Hyundai has not always been known for reliability but the brand has improved in leaps and bounds in the last 10 years or so.
The Elantra is just as durable as its Japanese counterparts and can last 200,000 to 250,000 miles on average, which equates to 15 – 17 years of service.
RepairPal gave the Hyundai Elantra an excellent reliability rating of 4.5/5 while the Mazda3 got 4/5.
The Elantra has an average annual repair and maintenance cost of $452 vs. $433 for the Mazda3.
Kelley Blue Book consumer ratings scores the Elantra at 4.1/5 vs. 3.9/5 for the Mazda3.
J.D. Power rates the Elantra at 87/100 for quality and reliability while the Mazda3 got 74/100.
These cars are very evenly matched and both offer solid driving dynamics. The Elantra is slightly cheaper to buy however the Mazda3 has a superior cabin.
You may also be interested in our article: How Long Do Hyundai Elantras Last?
Mazda3 vs. Subaru Impreza
The Impreza has been sold in the US since the 1990s and offers a comfortable ride and secure handling.
Subaru Imprezas are durable cars that are capable of reaching 200,000 – 250,000 miles or 15 to 17 years, on par with the Mazda3.
RepairPal gave the Subaru Impreza an average reliability rating of 3.5/5 while the Mazda3 got a slightly higher 4/5.
The Impreza has an average annual repair and maintenance cost of $653 vs. $433 for the Mazda3.
Kelley Blue Book consumer ratings scores the Impreza at 4.1/5 vs. 3.9/5 for the Mazda3.
J.D. Power rates the Impreza at 74/100 for quality and reliability — the same as the Mazda3's rating.
The Impreza is cheaper than the Mazda and comes standard with AWD however it lacks the 3s refinement and more powerful engine options.
Comparison Chart
| | | | | |
| --- | --- | --- | --- | --- |
| | Mazda3 | Civic | Elantra | Impreza |
| Annual Repair Cost | $433 | $368 | $452 | $653 |
| Reliability Rating | 4/5 | 4.5/5 | 4.5/5 | 3.5/5 |
| KBB Consumer Rating | 3.9/5 | 4.7/5 | 4.1/5 | 4.1/5 |
| J.D. Power Rating | 74/100 | 76/100 | 87/100 | 74/100 |
| Lifespan (miles) | 200k – 250k | 250k – 300k | 200k – 250k | 200k – 250k |
Is the Mazda3 Reliable?
Japanese automakers are known to produce some of the most dependable cars on the planet, and the Mazda3 is further proof of this.
Automotive journalists, industry experts, and consumers have scored the Mazda3 very highly for reliability and in their most recent annual reliability survey, Consumer Reports named Mazda's new cars as the most reliable in the world
Newer Mazda3s that are equipped with Skyactiv engines use timing chains instead of timing belts, this change alone has made them more reliable.
Chains are housed within the engine and receive lubrication from engine oil and can last a long time, while belts are located outside of the engine and tend to dry out and crack.
The Mazda3 also uses a more traditional and durable torque-converted automatic transmission instead of the CVTs typically found in other cars in its price range which are more difficult to repair.
Consumer Reports gave the 2021 Mazda3 a Predicted Reliability Rating of 4/5 while the 2020 model got an outstanding 5/5.
Kelly Blue Book gave the Mazda3 a 4.4 Expert Rating and a 3.9 Consumer Rating. Though the consumer rating is heavily affected by 1 star reviews with no details. Older Mazda3s also fared better with a 4.5 Consumer Rating which is more realistic.
J.D. Power gave the Mazda3 74/100 for Quality and Reliability while older models got scores greater than 80.
RepairPal ranked the Mazda3 9th in reliability out of 36 compact cars and gave it an above average rating of 4/5.
Mazda has been making compact cars since 1963, the company has a huge wealth of experience and a drive to continually improve.
Reliability Compared to Other Cars
| | |
| --- | --- |
| Model | Reliability |
| Toyota Corolla | 4.5 / 5.0 |
| Kia Forte | 4.5 / 5.0 |
| Honda Civic | 4.5 / 5.0 |
| Toyota Matrix | 4.5 / 5.0 |
| Chevrolet Cobalt | 4.5 / 5.0 |
| Hyundai Elantra GT | 4.5 / 5.0 |
| Hyundai Elantra | 4.5 / 5.0 |
| Mazda3 | 4.0 / 5.0 |
| Ford C-Max | 4.0 / 5.0 |
| Kia Forte Koup | 4.0 / 5.0 |
| Hyundai Elantra Coupe | 4.0 / 5.0 |
| Chevrolet HHR | 4.0 / 5.0 |
| Nissan Sentra | 4.0 / 5.0 |
| Buick Verano | 4.0 / 5.0 |
| Dodge Caliber | 4.0 / 5.0 |
| Dodge Avenger | 4.0 / 5.0 |
| Chevrolet Cruze Limited | 4.0 / 5.0 |
| Hyundai Veloster | 4.0 / 5.0 |
| Mitsubishi Eclipse | 4.0 / 5.0 |
| Volkswagen Jetta | 4.0 / 5.0 |
| Mazda5 | 4.0 / 5.0 |
| Nissan 370Z | 4.0 / 5.0 |
| Volkswagen Beetle | 4.0 / 5.0 |
| Volkswagen Golf | 4.0 / 5.0 |
| Chevrolet Cruze | 4.0 / 5.0 |
| Ford Focus | 4.0 / 5.0 |
| Dodge Dart | 4.0 / 5.0 |
| Mitsubishi Lancer | 3.5 / 5.0 |
| Chrysler PT Cruiser | 3.5 / 5.0 |
| Volkswagen Golf SportWagen | 3.5 / 5.0 |
| Subaru WRX | 3.5 / 5.0 |
| Subaru Impreza | 3.5 / 5.0 |
| Volkswagen GTI | 3.0 / 5.0 |
| Volkswagen Eos | 3.0 / 5.0 |
| Subaru WRX STI | 2.5 / 5.0 |
| Avg. Compact Car | 4.0 |
The Best and Worst Years for Mazda3
After almost 20 years in the market, there are bound to be good and bad years for the Mazda3…
Worst Model Year
According to Car Complaints, the 2010 Mazda3 was the worst model year, not only because of the many complaints it received but also due to the high cost of repairs and more problems occurring at lower mileages.
The 2010 model received a significantly higher number of complaints than any other model year – a whopping 177 in total – most of these were attributed to clutch problems and problems related to interior accessories.
"CARCOMPLAINTS.COM NOTES: Issues with clutch failure might be giving 2010 MAZDA3 owners headaches, but the lack of support from Mazda is giving them migraines."
The worst problems for the Mazda3 are:
Clutch failure on the 2010 and 2011 models – costing $1200 repair, occurring at an average mileage of 40,000 miles.
Gears grinding on the 2012 models – costing $4800 to repair at an average mileage of 20,000 miles.
For peace of mind, we'd advise steering clear of the 2010 Mazda3.
Best Model Year
The best model years for the Mazda3 are the most recent ones, particularly those sold from 2016 onwards.
These saw a significant drop in complaints compared to the older model years, and are usually limited to minor issues.
The newer models receive more standard safety features, more variety in trim levels and a turbocharged engine option.
2017 also saw the introduction of G-Vectoring Control which gives it better handling and driving dynamics.
Related: 13 Best & Worst Mazda3 Years (With Facts And Stats)
Model Year and Number of Complaints
Here are the total number of complaints for each Mazda3 model year from the Car Complaints database.
| | |
| --- | --- |
| Model Year | No. of Complaints |
| 2020 | 0 |
| 2019 | 6 |
| 2018 | 8 |
| 2017 | 11 |
| 2016 | 16 |
| 2015 | 25 |
| 2014 | 57 |
| 2013 | 35 |
| 2012 | 33 |
| 2011 | 36 |
| 2010 | 177 (Worst year) |
| 2009 | 16 |
| 2008 | 28 |
| 2007 | 16 |
| 2006 | 18 |
| 2005 | 22 |
| 2004 | 37 |
What About Recalls for These Models?
The Mazda3 has had 48 recalls over the years which is a relatively low number considering it's been sold since 2003.
You can check if your Mazda3 has been subject to a recall campaign by going to Mazda's Recall Information Center.
Recalls are manufacturing faults repaired at no charge to the customer.
Here are the total number of recall campaigns for every model year of the Mazda3:
2021: 1
2020: 2
2019: 6
2018: 2
2017: 1
2016: 5
2015: 3
2014: 3
2013: 1
2012: 1
2011: 2
2010: 3
2009: 4
2008: 3
2007: 3
2006: 2
2005: 3
2004: 3
Mazda3 Model Year List
First Generation:
2004 Mazda3
2005 Mazda3
2006 Mazda3
2007 Mazda3
2008 Mazda3
2009 Mazda3
Second Generation:
2010 Mazda3
2011 Mazda3
2012 Mazda3
2013 Mazda3
Third Generation:
2014 Mazda3
2015 Mazda3
2016 Mazda3
2017 Mazda3
2018 Mazda3
Fourth Generation:
2019 Mazda3
2020 Mazda3
2021 Mazda3
2022 Mazda3
Are Mazda3s Expensive to Maintain?
Mazda3s are very affordable to maintain thanks to their reasonably priced parts and excellent reliablity.
According to RepairPal, yearly repair and maintenance costs for the Mazda3 will average out at $433 which is lower than the average of $526 for all compact cars and significantly lower than the $652 estimated for all vehicles.
Car Edge estimates a Mazda3 will cost you roughly $5,409 in upkeep during its first 10 years. This beats the average maintenance and repair costs for compact sedans by $1,430.
You can find a full breakdown of maintenance and tune-up costs here.
Model
Avg. Annual
Repair Cost
Frequency of
Unscheduled Repairs
(per year)
Probability of
Severe Repairs
Toyota Corolla
$362
0.4
7%
Kia Forte5
$424
0.2
8%
Honda Civic
$368
0.2
10%
Toyota Matrix
$396
0.5
7%
Chevrolet Cobalt
$453
0.2
9%
Kia Forte
$451
0.2
9%
Hyundai Elantra GT
$397
0.3
9%
Hyundai Elantra
$452
0.3
9%
Mazda3
$433
0.3
10%
Ford C-Max
$557
0.3
10%
Kia Forte Koup
$469
0.3
11%
Hyundai Elantra Coupe
$497
0.4
9%
Chevrolet HHR
$542
0.3
10%
Nissan Sentra
$491
0.2
12%
Buick Verano
$478
0.2
12%
Dodge Caliber
$501
0.2
12%
Dodge Avenger
$541
0.3
11%
Chevrolet Cruze Limited
$498
0.4
11%
Hyundai Veloster
$493
0.3
12%
Mitsubishi Eclipse
$510
0.2
13%
Volkswagen Jetta
$609
0.3
10%
Mazda5
$581
0.4
10%
Nissan 370Z
$504
0.3
13%
Volkswagen Beetle
$612
0.4
10%
Volkswagen Golf
$630
0.4
11%
Chevrolet Cruze
$545
0.4
12%
Ford Focus
$569
0.3
13%
Dodge Dart
$597
0.3
13%
Mitsubishi Lancer
$646
0.2
15%
Chrysler PT Cruiser
$641
0.2
14%
Volkswagen Golf SportWagen
$606
0.8
11%
Subaru WRX
$682
0.3
14%
Subaru Impreza
$653
0.3
17%
Volkswagen GTI
$791
1.0
11%
Volkswagen Eos
$824
1.1
13%
Subaru WRX STI
$758
0.5
21%
Avg. Compact Car
$526
0.3
11%
How Long Do the Brakes Last?
The Mazda3's brakes can last up to 60,000 miles if you do a lot of highway driving but can be cut in half to approximately 30,000 miles if you spend a lot of time in stop-and-go traffic. Brake pad life can vary widely and depends a lot on your driving habits.
You can expect your brakes to wear out sooner if you frequently stop and accelerate in rush-hour traffic
Brake pad replacement, which includes parts and labor, can cost anywhere between $150 – $300 per axle.
Full and complete stops from a high speed are the #1 cause of premature brake pad wear.
A sporty driving style will lead to faster deterioration of brakes, a slow and steady style will help them last longer.
How Long Do the Tires Last?
Stock tires on a Mazda3 usually last around 50,000 miles or 3 to 5 years, however, they can wear out much sooner. This is dependent on various factors such as driving habits, climate, and road conditions.
Rotate tires every 5,000 miles to ensure even wear.
If you have to drive on rough or flooded roads, or go off-roading, your tires will take more of a beating.
Check your tire pressures every few weeks to make sure they're at the correct tire pressure.
Have a mechanic or tire shop check your wheel alignment every 6 months.
You may also be interested in our article: How Long Do Mini Coopers Last?
How Long Do Mazda3 Engines Last?
The engines of the Mazda3 can last on average 200,000 – 250,000 miles, however there are reports of Mazda3 engines lasting over 300,000 miles.
Modern Skyactiv engines used in the third and fourth gen Mazda3 use a timing chain that typically lasts the entire life of the vehicle.
Older 3s had timing belts that need replacing every 60,000 to 100,000 miles and can result in catastrophic damage to the engine if it's worn out and suddenly breaks.
How Long Do Mazda3 Batteries Last?
The Mazda3's battery usually lasts between 3 – 5 years. A vehicle's battery life varies depending on many different factors such as climate, driving habits, and battery type, among many others.
Keep your battery tightly fastened: The vibrations of your car can loosen the connections, potentially resulting in short circuits and internal damage.
Limit short rides: Quick car rides prevent the battery from fully charging.
Storage: Keep your Mazda stored indoors away from extreme changes in temperature.
Control Corrosion: Clean the terminals (toothbrush dipped in baking soda and water mixture) and keep them free from build-up.
How Long Do the Spark Plugs Last?
Mazda3 spark plugs need replacing every 75,000 miles and is part of the vehicle's scheduled maintenance. 3s equipped with the 2.5 liter turbocharged Skyactiv engine need new spark plugs every 40,000 miles to ensure optimum performance.
Spark plugs are usually inspected every time you take it in for routine maintenance, and may be replaced earlier than expected if necessary.
Signs of a fouled spark plug include:
Reduced gas mileage
Lack of acceleration
Rough idling
Hard starts
Engine misfires
What About Insurance Cost?
The average cost of full comprehensive coverage for a Mazda3 is $1,446 per year or around $121 per month. In comparison, its rivals in the compact segment cost an average of $1,521 per year, which is $75 more expensive.
Insurance costs can vary from person to person; be sure to shop around to find the best possible deal for your Mazda3.
Tips to Prolong the Life of Your Mazda3
Adopt smooth driving habits.
Keep up to date with factory-recommended maintenance.
Use quality parts and fluids.
Keep on top of repairs to prevent them from developing into larger problems.
Regularly wash your Mazda3 to remove dirt and grime to protect the paint and undercarriage from rust developing.
Check your Mazda3's engine oil, coolant, brake, and transmission fluid levels and top them up when required.
Keep your Mazda3 in a garage to help protect it from the elements.
Read the owner's manual to learn the location of important components, what your Mazda needs and what quantity, and to understand the symbols and dashboard warning lights.
Resources
https://www.mazdausa.com/siteassets/pdf/owners-optimized/2021/mazda3-hatchback/2021-mazda3-hatchback-scheduled-maintenance.pdf
https://repairpal.com/reliability/mazda/3
https://www.kbb.com/mazda/mazda3/2020/
https://www.jdpower.com/cars/2020/mazda/mazda3
https://repairpal.com/reliability/honda/civic
https://www.kbb.com/honda/civic/2020/
https://www.jdpower.com/cars/2020/honda/civic
https://www.jdpower.com/cars/2020/hyundai/elantra
https://repairpal.com/reliability/hyundai/elantra
https://enginepatrol.com/how-long-volkswagen-passat-last/
https://www.kbb.com/hyundai/elantra/2020/
https://www.jdpower.com/cars/2020/hyundai/elantra
https://repairpal.com/reliability/subaru/impreza
https://enginepatrol.com/how-long-mazda-cx-5-last/
https://enginepatrol.com/how-long-mazda-cx-9-last/
https://enginepatrol.com/how-long-mazda-cx-30-last/
https://www.kbb.com/subaru/impreza/2020/
https://www.jdpower.com/cars/2020/subaru/impreza
https://www.consumerreports.org/cars/mazda/3/2021/reliability
https://www.carcomplaints.com/Mazda/MAZDA3/
https://caredge.com/mazda/3/maintenance
https://www.mazdausa.com/siteassets/pdf/owners-optimized/2021/mazda3-hatchback/2021-mazda3-hatchback-scheduled-maintenance.pdf